By Val Schoger
Photography by Dylan Carney and Courtney Ward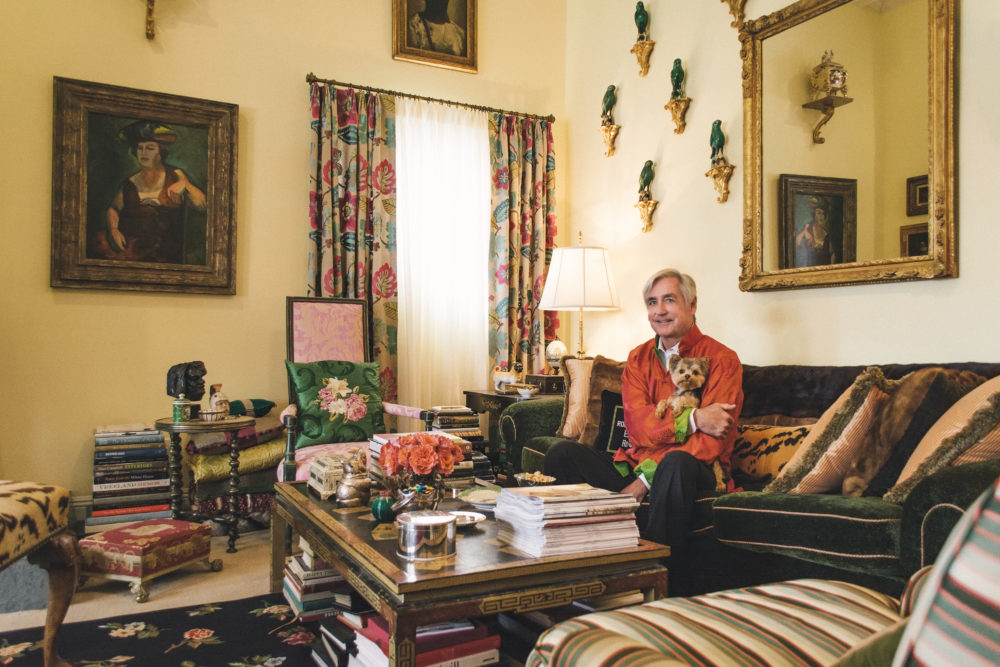 He worked with politicians, diplomats, Hollywood stars, and royalty in the world's most elegant mansions. He mingled with businessmen, artists, and media, bringing them together for charitable causes.
Until now, Robert Higdon, board member of the Ronald Reagan Presidential Library Foundation, former managing director of the Margaret Thatcher Foundation, and former executive director of the Prince of Wales Foundation in the U.S., has not had many chances to spend time with family in his native Panama City, Florida. Beckoned by a quieter lifestyle, he began thinking about moving back. The Bay Point area with Panama City Beach's picturesque and peaceful golf and marina communities seemed ideal. When one of the Marina Villas became available, he did not think long.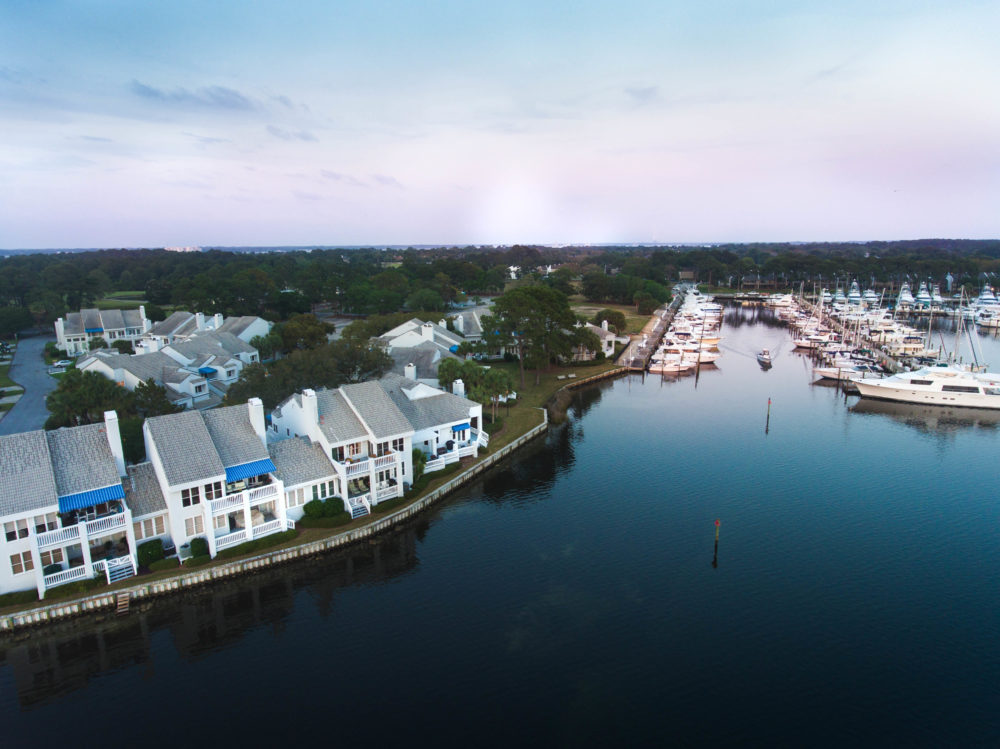 He loved the panoramic views of St. Andrews State Park across the water. The unit needed work, but it also presented a blank canvas that could be refined to his taste. Dedicating the better part of last year to designing and working with a contractor, he completed the daunting task of transitioning from a three-story townhome in Washington to a two-bedroom condominium in Northwest Florida.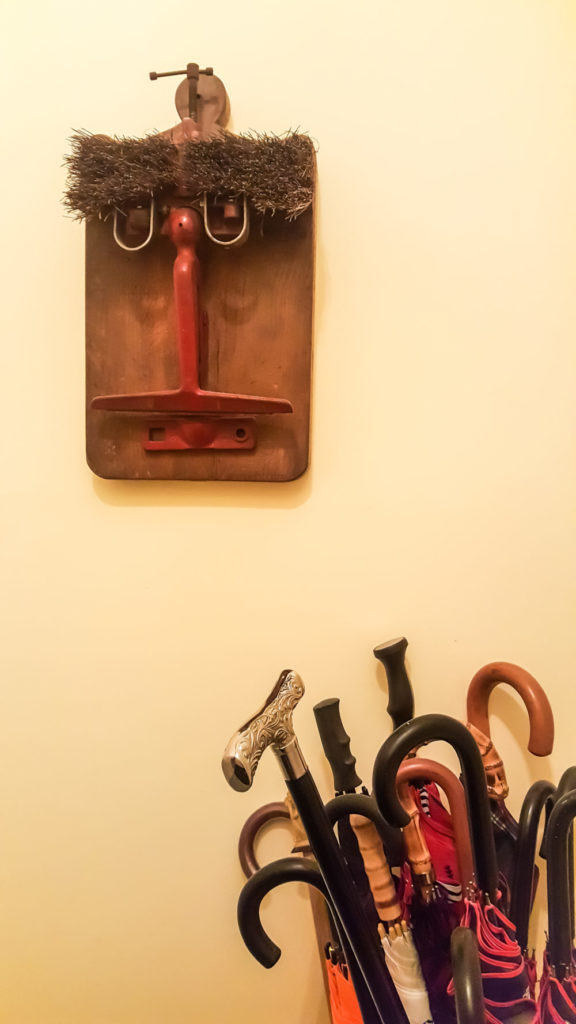 One of Thierry W. Despont's masks greets visitors with drawn eyebrows in the entryway, while Wilby, Robert's young miniature Yorkie, enthusiastically joins the welcoming committee.
Light floods through windows and skylights. Stairs lead up to the hallway and main living area. With breathtaking water views as a backdrop, the residence reveals the eclectic taste of an avid art and antiques collector's world travels.
Stacks of art and history books complement unique furniture pieces and décor. Artwork can be admired in every room. Yes, even the bathroom. Gilded mirrors reflect the light, and on the periphery of skillfully arranged colors, patterns, and furnishings, people he loves and admires smile from photo frames.
In many ways, his home offers a glimpse into his soul. On a shelf by the window, a 17-year-old Robert smiles half confidently into the camera. In another frame he is 27, standing next to Ronald Reagan and Mikhail Gorbachev. "I was a kid when I started running around the White House. I first worked for Senator Lawton Chiles, who later became Florida governor." Events placed him at the right times in the right places. He joined a communications firm and worked with Carolyn Deaver. Her husband Michael was the deputy chief of staff at the White House at the time–this lead to Robert's work assignments with the Reagans.
"Mike Deaver scared the hell out of me," he remembers with a wry smile. "'Be a well and not a fountain,' he once told me. I will never forget that. When someone asked a question, I would say 'yes' and 'no' without ever volunteering details."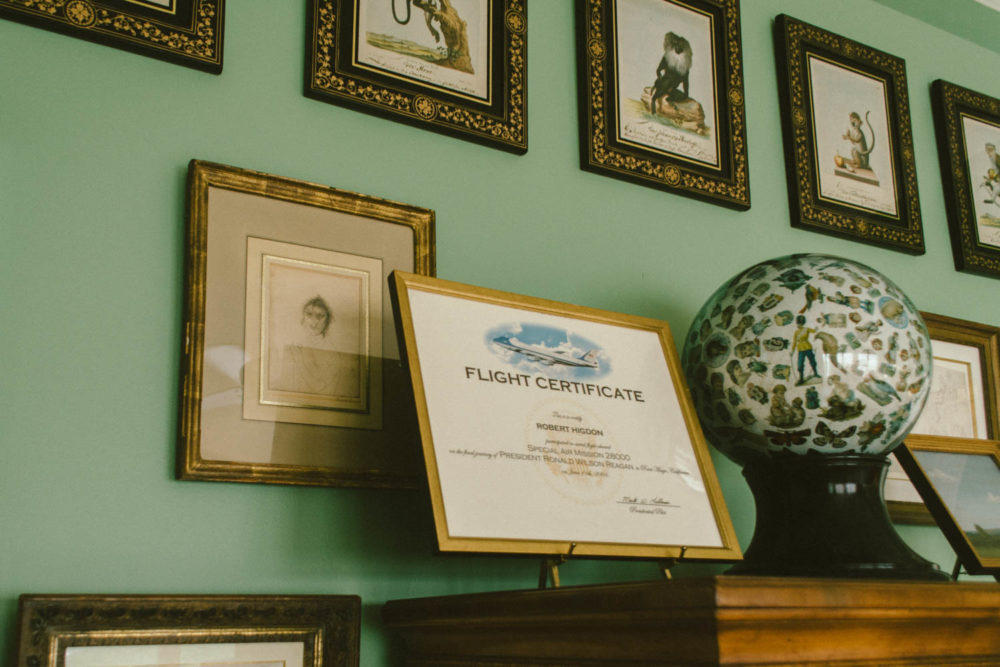 Carefully placed heirlooms speak of his trusted positions with the Reagans. "They were the most wonderful people and very social. They were my world." His eyes glint with tears. He has not quite recovered from the recent deaths of so many of his friends. "Attending Nancy Reagan's funeral was very hard. She was one of the best people I knew. She is dearly missed." The same year, he lost beloved Digby, Wilby's predecessor. "It almost killed me. I had many ghosts up there," he says about the last few years in Washington.
There is a balance. Robert Higdon's freshly decorated waterfront condo reflects his nonconventional personality and delightfully defies teal and gray color palettes. Vibrant patterns play off each other—a bright orange and red sofa with green pillows, bold floral carpet, an antique chair covered in pink brocade. It looks happy, fun, and comfortable. A tiny embroidered pillow reads, "You can never be too skinny or have too many blue blazers." It was a gift from close friend Joan Rivers, he explains.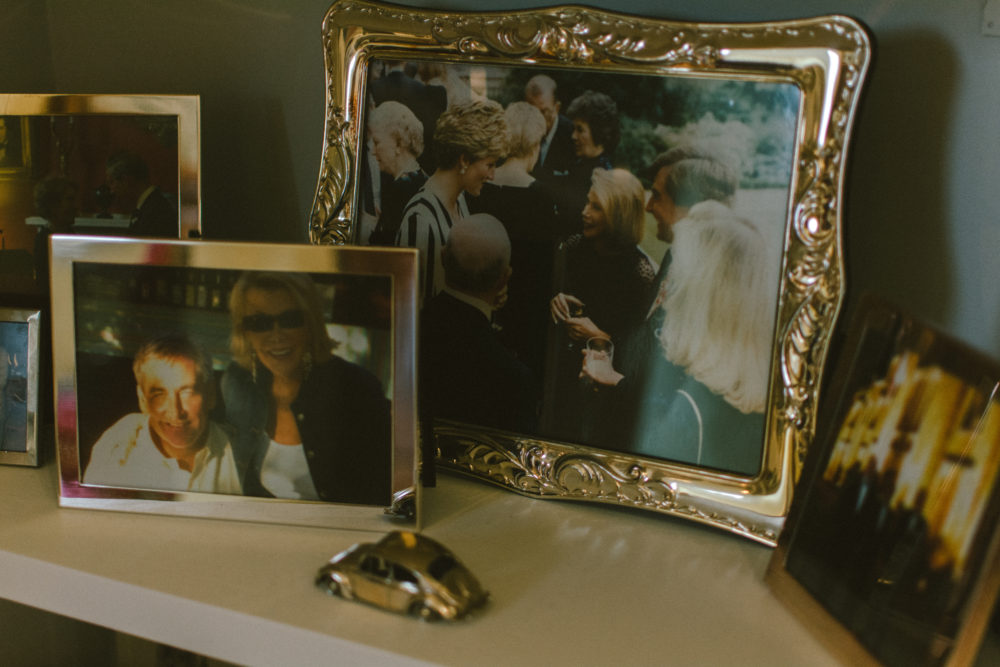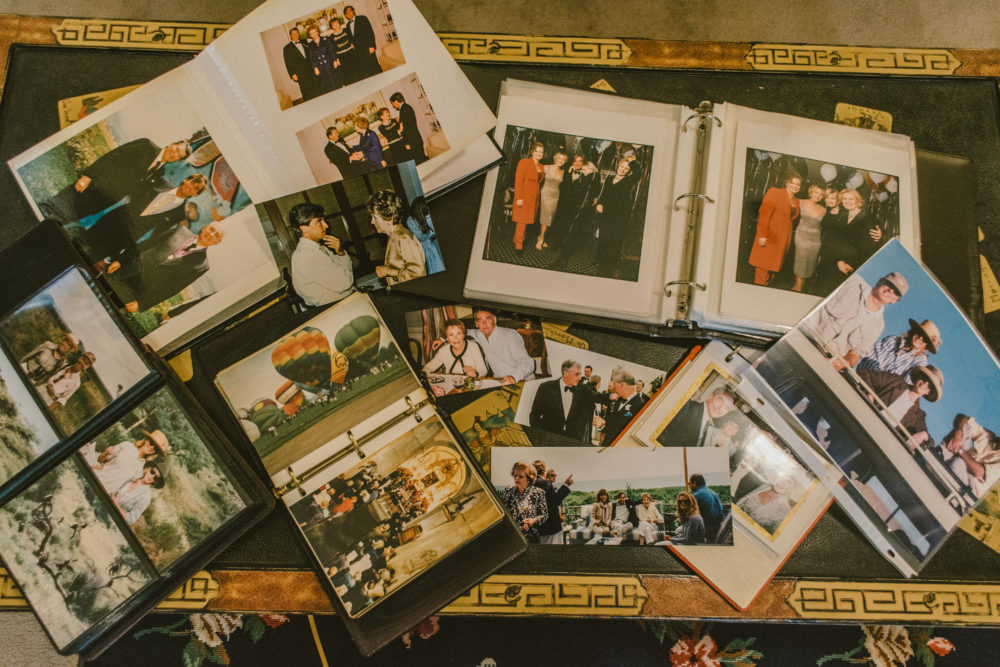 "Each time we visited she gave me one of these. There used to be a store in New York where she had them custom made." Several photographs show Joan and Robert. They are speaking to Lady Diana one year; in another, they are on an Abercrombie & Kent safari with Marylou Whitney and Robert and Blaine Trump. Yet another shows them on a yacht with Walter Cronkite and wife Betsy. Along the way of these and many more adventures, he collected art and antiques: Meissen porcelain, furniture which belonged to famous personalities, paintings by renowned artists. He found the most interesting pieces while in London, sourcing them at the Olympia Art and Antique Fair or in small antique shops on excursions to the countryside.
In 1991 he left the Reagans for a position with the Margaret Thatcher Foundation, a difficult decision but one that would open new possibilities. In 1995 in London, the city was abuzz with Prince Pavlos and Princess Marie-Chantal of Greece's wedding preparations. Robert remembers sitting on the terrace of the Forbes House in Battersea, adjusting to a new work environment and to being "the American." When the butler announced that there was a phone call for him from Buckingham Palace, he first thought someone was playing a prank. The following meeting with His Royal Highness' staff members would set the first stone to a new career path that would make Robert Higdon the man in charge of establishing good relations with American philanthropists to support HRH Prince Charles' many charitable efforts.
He started working for the Prince of Wales Foundation in 1997. Princess Diana was killed later that year. He would stay with the organization for 14 years, working for and with the world's elite. His schedule is best described as "always-on."
Lodging and working in the most beautiful mansions and seeing talented interior design professionals at work has influenced Robert Higdon's approach to design. "I observed Californian designer Ted Graber when he redecorated the White House during Nancy and Ronald Reagan's residence and I was there when Robert Kime renovated Clarence House for Prince Charles."
There are too many others to name–he witnessed the best architects, designers, and decorators at work. He absorbed, he learned, he added his personal taste, and on his rare days at home, his residence in Washington DC and a country home in Virginia became projects and masterpieces that were soon admired by friends. "First, they asked me to help them decorate their homes as well," he remembers. "Then a friend said, 'I will pay you to decorate my house.'" Among his clients and friends who have relied on his taste and opinion were Joan Rivers and Linda Carter.
A growing art and antiques collection prompted frequent redecorations. Every time he found new treasures, they sparked his imagination. When he moved his household to Florida, his most iconic pieces became focal points in a new setting, paying homage to the past while successfully showcasing timeless style. By adding fresh touches and ideas, Robert Higdon proves design can create atmospheres that can transport a person to far-away places, triggering ideas and emotions.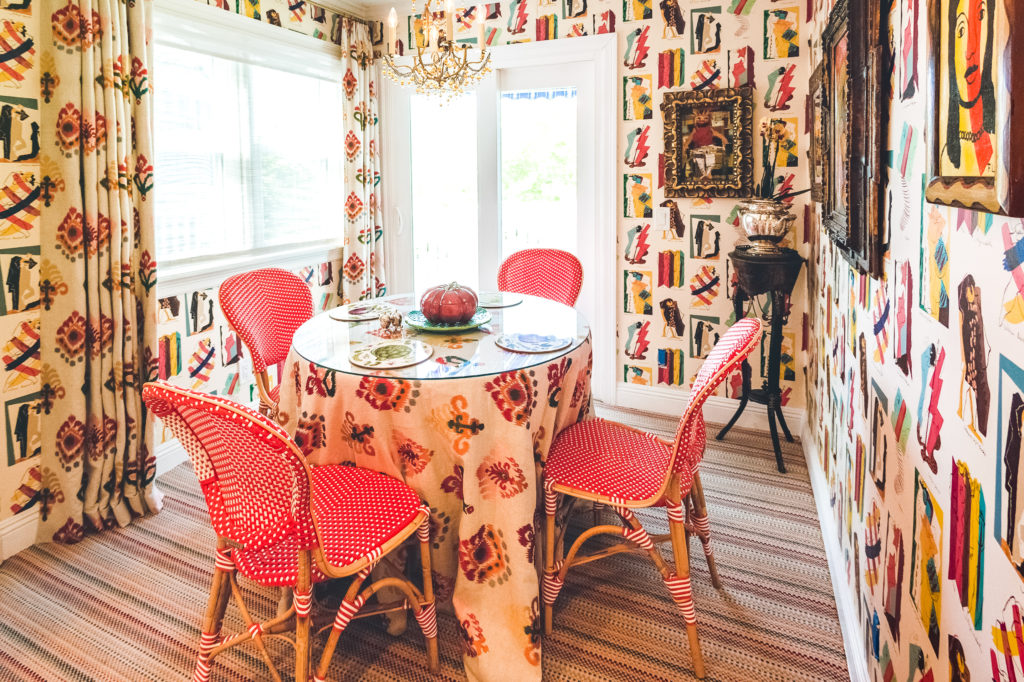 "The dining room is my proudest room. It all came together conceptually and the result makes me and my visitors smile. Interestingly, I bought all paintings at different times from different places and never quite noticed that the color scheme was similar until I created this room.
The artwork dictated the color palette. Conceptually, I wanted to evoke a feeling of Parisian lifestyle, sitting in one of Paris' street cafés on a sunny afternoon, sipping café au lait. The antique chandelier represents the city's history; the artwork pays tribute to les artistes. The wallpaper, carpet, and furnishings mimic the art and help create atmosphere. The whimsical centerpiece on the table pays homage to my upbringing in the south. And note there is a Champagne bucket in the corner of the room. I visited five different showrooms and pulled from them and brought it all together. Like painting a painting." Robert Higdon has created his personal masterpiece. He thinks that Northwest Florida is ready for a bold approach to color and timeless design and embraces each opportunity to share his experiences while defying trends in favor of preserving traditions and heirlooms–with deeper thoughts and meaning. Enjoying the Florida lifestyle, he pays tribute to the past. And there is Champagne for those moments when old friends must be mourned or life can be celebrated.
---
—
Update on June 23, 2018: Robert M. Higdon, Jr. died on June 19, 2018 at his home in Bay Point, Panama City Beach.
Leave a Reply
comments
Powered by Facebook Comments