BY VAL SCHOGER
PHOTOGRAPHY BY MIKE FENDER
IRONMAN COMPETITION PHOTOGRAPHS COURTESY OF ALEX BURGANS
Triathlete Alex Burgans Talks About Athletic Success and How to Learn From Failure
What gives a person the motivation to work harder than anyone around them? How does this ambitious individual deal with failure? Is there an easy path to achieving goals? And how can one best prioritize personal and career goals? Panama City native Alex Burgans has never asked himself these questions. He explains that he simply lives his life with purpose.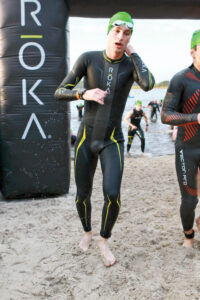 "I consider myself among the lucky ones. I have been extremely goal- oriented since an early age. In the second grade, I had set a goal for myself to graduate from high school with straight As. While pursuing the most rigorous coursework available through honors, dual-enrolled, and advanced placement courses, I completed high school with only one B in dual-enrolled biology."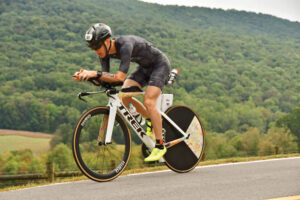 Pressing forward determined where Alex is today. He explains that his career path always took precedence over his athletic goals, which resulted in his decision to give up team sports and take up and excel in triathlon.
Alex graduated Mosley High School in 2014 and competed in his first full Ironman event in November 2016. In 2018, he graduated with honors from the University of Alabama with a bachelor's degree in aerospace engineering, and in 2020, he graduated from Florida State University, Panama City Campus, with a master's degree in systems engineering. He is currently employed as an engineer at the Naval Surface Warfare Center Panama City and has completed six full Ironman events. His best overall finishes are fourth in his age group at Ironman Chattanooga in 2018 and fifth at the 2019 Ironman Florida competition.
Is a strong will all it takes? Is failure in Alex's vocabulary? Alex answers our questions humbly and with a true desire to share his positive outlook on any challenge. No, it did not all come that easy, we learn. But it's all a matter of how you choose to proceed.
You are very ambitious. Is this in your nature, or how do you explain your goal-oriented mindset?
I have ways been fortunate to have outstanding role models in my life, from teachers, coaches, and administrators, to parents, grandparents, and friends.
One of my teachers, Ray Wishart, had quite an impact on me. He lost his life in a cycling accident very soon after his retirement. I remember his words like it was yesterday. We were sitting next to each other in the high school gymnasium filming yet another "motivational" speaker who had come to share his story with over 1,500 impressionable young adults. As all the others before him had done, he talked about making poor decisions, getting addicted to illegal drugs, and serving time in prison. He now understood the error of his ways and he was there to make sure none of us made the same mistakes. I so vividly remember Wish looking over at me and saying, "Just once, I'd like to hear from someone who got it right. I want to hear from the kid who stood strong in the face of adversity, didn't give in to peer pressure, and is the better because of it. I want to hear from that kid."
"I have always been fortunate to have outstanding role models in my life, from teachers, coaches and administrators, to parents, grandparents, and friends."
What was going on in your life at that time?
I was working diligently to hone my skills on the soccer field by playing on school, travel, and recreational teams. I completed my high school career as the highest goal-scorer on both my school and travel squads.
At the same time, I spent many late, caffeine-fueled nights buried in biology notes, a subject I couldn't possibly have been less interested in and with a teacher who wore her reputation to crush the best students and their grades like a crown. I learned a lot about myself that semester. I learned that I could hunker down when the going got tough and, as my soccer coach used to say, grind out a result.
My achievements did not come without mental setbacks. While playing soccer at my high school, I also played on a travel squad based out of Gulf Breeze and was one of two players who were not local. The coach, David McCarthy, was a huge role model for me. He had scouted me over a number of tournaments and extended an invitation to join the squad. He was the coach at Gulf Breeze High School where, you guessed it, the rest of the travel team played their school soccer.
In what turned out to be the final game of my high school career, we came up against Gulf Breeze in a regional semifinal. The winner would advance; the loser's season would be over. For reasons I still don't know, my high school coach pulled me out of the game only 10 minutes in. I sat on the bench, helpless, as I watched us go one, then two, and eventually, five-nil down.
But you replaced soccer with triathlon?
Yes. As I began making the decision about where to attend college, I knew my first priority had to be to choose a university that could offer me the very best academically. Whether the college had a soccer program was important to me, but it was secondary in my decision-making process. Shortly after arriving at the University of Alabama, I realized that the hours of practice with the soccer team would hinder my performance in the classroom. It was about this same time that a family friend introduced me to triathlon.
What fascinated you about triathlon?
Initially, I had the same attitude toward the sport as anyone else who has never competed: Why would you want to swim some long-distance, then get on a bike and ride another huge distance, then get off your bike and run? I had been a recreational cyclist for quite a while and I really enjoyed being on the bike. I had started out training with a couple who taught me all they knew. In their words, I left them in the dust.
I was desperate to learn more, do more, and accomplish more. I went out in search of a challenge, and boy, did I find it. I signed up to compete in my first triathlon in the spring of my freshman year. Without the slightest idea of what I was doing, I set out on a training regimen. I grabbed a pair of goggles and headed to the pool. I could barely swim 50 yards without stopping for a breather, but I certainly saw a time in the future when I could. When it came to running, I felt I was in a great position. After all, I had been a competitive soccer player nearly all my life. I thought to myself, how hard could it be to throw on a pair of running shoes and go for a jog? As it turned out, that two- hour race was the hardest physical challenge I had ever faced.
I found out that when you combine these sports on race day, they are completely different animals. That day, triathlon had shown who the boss was, and it certainly wasn't me. I was as exhausted as I had ever been, my legs felt like pure Jell-O, and all I wanted to do was throw up, but I was hooked. I had found the challenge I'd gone in search of. It had shaken me to my core, mentally and physically.
In the fall of my sophomore year, I took the plunge and signed up for the 2016 Ironman Florida competition in my hometown of Panama City. Known for starting at dawn and seeing the majority of competitors finish well after sunset, an Ironman consists of 2.4 miles in the water, 112 miles on the bike, and finally, a 26.2-mile marathon. It is known as the hardest one-day sport in the world.
"I have always been fortunate to have outstanding role models in my life, from teachers, coaches and administrators, to parents, grandparents, and friends."
How does one prepare for an Ironman competition?
There is no magic recipe for training for an Ironman. It is a unique beast that requires the utmost attention to detail and a personalized approach for each athlete. While challenging, Ironman is inherently fair. You will get out what you put in. The hard yards and long hours on a weekly basis are a given for anyone preparing to compete, but it's very important to always understand and respect the challenge at hand.
I have always believed in embracing my weaknesses and absorbing as much information as possible. I am always willing to listen. Certainly, it takes humility to embrace your naivety and look to those around you to grow your knowledge base.
My advice to anyone looking to take on an Ironman, or any challenge for that matter, is to develop and rely on your support system. After finding my feet in the sport, I've been extremely blessed to have the support of some exceptional coaches, top-level sponsors, and of course the unwavering support of my friends and family.
Once I decided to compete, a good friend put me in contact with his coach, who agreed to accept me as an athlete. This was a really big step for me. Honestly and naively, I took pride in knowing that I had achieved what I had without any help. But I realized that everyone needs help. Everyone has a weakness or falls short in some area.
In many of my races, I had been falling apart on the back half of the run. No matter what I tried, I just couldn't seem to crack the code. Like a Dr. Seuss book, I had tried running more, running less, running faster, and running slower. I soon found that there was another key element to triathlon that I had been missing out ongt the willingness to listen and learn. For the first few weeks with my coach, he was doing his best to get to know me as an athlete and a person. Obviously, this wasn't his first rodeo, but it was mine.
I came to him for help, and now I was prepared to listen and learn. In my first race under my coach, I had a personal best day, clocked a 10th best run split for the entire field and won my age group. It was extremely humbling to experience what I had worked so hard for, and all it took was asking for a little help and being willing to listen and learn.
Leave a Reply
comments
Powered by Facebook Comments