BY BRITTANY HAWES
PHOTOGRAPHY BY TIFFANI CASCADDEN
On
March 15, 2019, U.S. Congressman Neal Dunn and Verizon Wireless Vice President of the East Field Network Andrea Caldini visited Verizon's new network installations. After outages caused by unprecedented damage to Verizon Wireless' fiber network, the cell phone service provider replaces part of their network with the latest technology and provides 5G connectivity to Bay County.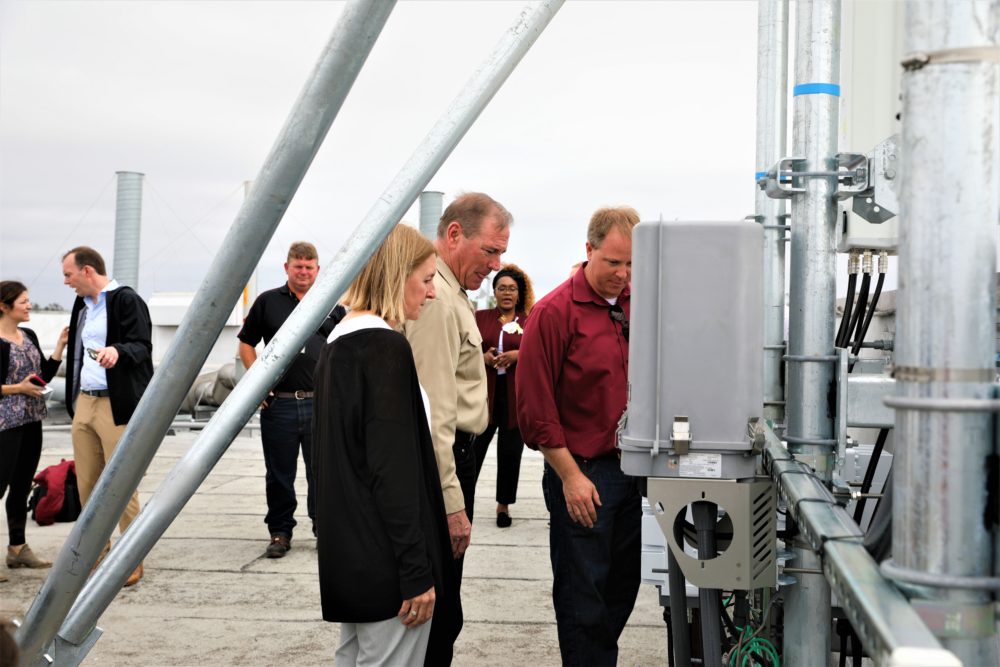 When Hurricane Michael struck the Panhandle at a strength that was just shy of classifying it as a Category 5 hurricane, cell phone service was lost across the eastern and northern part of Bay County. With a number of cell towers downed and damage to the fiber network, communication became extremely difficult, if not impossible, for several thousand Bay County residents. Prominent network carriers in the area rushed to restore communications by sending out satellite hubs and recovery crews. Verizon Wireless, one of the network carriers that faced criticism from their Panhandle-based consumers after the communications halt, states that it has invested around $25 million in their network – both enhancing the existing 4G LTE network as well as laying the groundwork for 5G. They have given an additional $2.4 million to multiple non-profit organizations involved in short and long-term recovery efforts, and have invested further funds to support other grassroots relief/recovery efforts.
Congressman Dunn has been highly supportive of companies investing in the Panhandle, as every effort will help our community regrow strength.
Although there was initial pushback from residents who do not wish to have the installations in their neighborhoods in Bay County, over the possible introduction of 5G network, Caldini promises that although extremely powerful, these hubs are "hidden in plain sight" and that they are "about the size of a backpack." Panama City and Lynn Haven will be among the first cities in the United States to have 5G-capable cell phone service. Verizon is planning to launch 5G mobile service on April 11 in Chicago and Minneapolis. 5GHome service (not cellular) has been available in limited areas of Sacramento, CA; Los Angeles, CA; Houston, TX; and Indianapolis, IN.
The harnessing of 5G service in Bay County and Panama City and Lynn Haven specifically, remains limited to users who have subscribed to the Verizon network and who own a 5G compatible cell phone such as the newly released Motorola 5G Moto Mod. The release of the Samsung Galaxy S10 5G is planned and Apple reportedly plans to make iPhones 5G-compatible by 2020.
Congressman Dunn and Verizon's Caldini addressed pressing questions on the adaptations with local media in a conference room in Gulf Coast Regional Medical Center, the home of Verizon's rooftop 5G installation.
"Verizon is currently rebuilding our communications—our cell communications," Congressman Dunn said. "That is the ability to have a 5G, a true 5G mobile network, so that once we get the appropriate phones and equipment, you can actually work at 5G speeds out of your phones."
Caldini said Verizon has a personal investment in this community and that they have been working very closely with the local teams.
Verizon's 5G network installation is anchored on the roof of Gulf Coast Regional Medical Center. The device is built to withstand wind speeds up to 200mph.
When asked why Panama City was chosen specifically to be a 5G mobile city, the U.S. congressman replied, "Verizon wanted to make things right by Panama City."
As far as reach, the 5G network will extend as far north as Lynn Haven, possibly further, according to Verizon's engineers on site.
"Adding 5G on top of a 4G network will put us at about a 10GB download speed," Caldini stated. This will be an amazing advancement for remote surgery and telemedicine overall.
"This is a remarkable thing. To have the entire [area]: Panama City, Parker, Callaway, Tyndall Air Force Base, Panama City Beach…. This is a great, huge opportunity, for us."
Congressman Dunn also took the time to address the validity of remarks made by Representative John Garamendi of California on the future of Tyndall Air Force Base. In a House subcommittee meeting on Capitol Hill on 3/13/2019, Rep. Garamendi questioned if the base, which plays a vital role in the lives of so many in our county, should be rebuilt.
In response, Congressman Dunn said, "President Trump, Vice President Pence, and Air Force Secretary Heather Wilson have all made it abundantly clear that Tyndall Air Force Base is key to our national security and have ordered concrete steps toward its rebuild."
He clarified, "There are NO serious threats of closing Tyndall."
As of now, there is no set date for Panama City and Bay County to achieve full 5G status, but Caldini says, "Once we achieve a certain number of nodes [in the area], it will be launched."
For comprehensive information on the nationwide development of a 5G network, read: https://www.zdnet.com/article/what-is-5g-everything-you-need-to-know/
UPDATE: Verizon will also host a two-day food drive benefitting Feeding the Gulf Coast on March 23 and 24, 2019, at its corporate store in Panama City and four Bay County authorized retail locations, to support their efforts in the Panhandle following Hurricane Michael.
Leave a Reply
comments
Powered by Facebook Comments