By Jennifer Jones; Photos by Katie DeSantis
Panama City has more than its fair share of musicians and musical enthusiasts. The combination of beach music, outdoor venues, and southern hospitality and roots all lend themselves to a coalescence of musical potential that is now being satisfied by the simple four- stringed, easy to play, always friendly, ukulele.
On a Sunday late in November 2013 in Historic St . Andrews, Florida, the first meet-up of the Ukulele Orchestra of St . Andrews occurred. Within five months, the "Ukes of St . Andrews" performed their first concert at the annual Spring Festival of the Arts. Panama City Living Magazine spoke with Ron Merritt, and other charter members of The Ukes of St. Andrews and music retailers to describe the peculiar magic of the worldwide sensation that has reached the Gulf Coast.
How did there come to be a Ukulele Orchestra of St. Andrews?
Ron Merritt: "I was surfing the web, looking up biographical information about a folk duo from New Zealand who had found some recent success on the HBO special series, Flight of the Conchords. I was reading about Bret McKenzie and was amused to see that he had been involved with a ukulele orchestra in Wellington. A quick follow-up search of ukulele orchestras landed me on YouTube watching a group of British musicians known as the Ukulele Orchestra of Great Britain. Since Panama City has one of the most open and accepting local music scenes to be found anywhere on the planet, I thought it would make a perfect environment to start a uke orchestra."
Are ukuleles as big in Great Britain and New Zealand as they are in Hawaii?
Ron Merritt: "Well, ukes are pretty small all over the world and they're are all over the place…. hanging on walls in forgotten corners of those rarely used rooms in the house…under beds in dusty cardboard cases, under a pile of stuffed animal s at the corner of the bed. Everyone has a ukulele story of some kind . My dad sent me a uke from Hawaii in the early 1970s when he was on R&R from Vietnam . Seems like there has always been one nearby. I have a picture of my mom with a uke when she was four years old.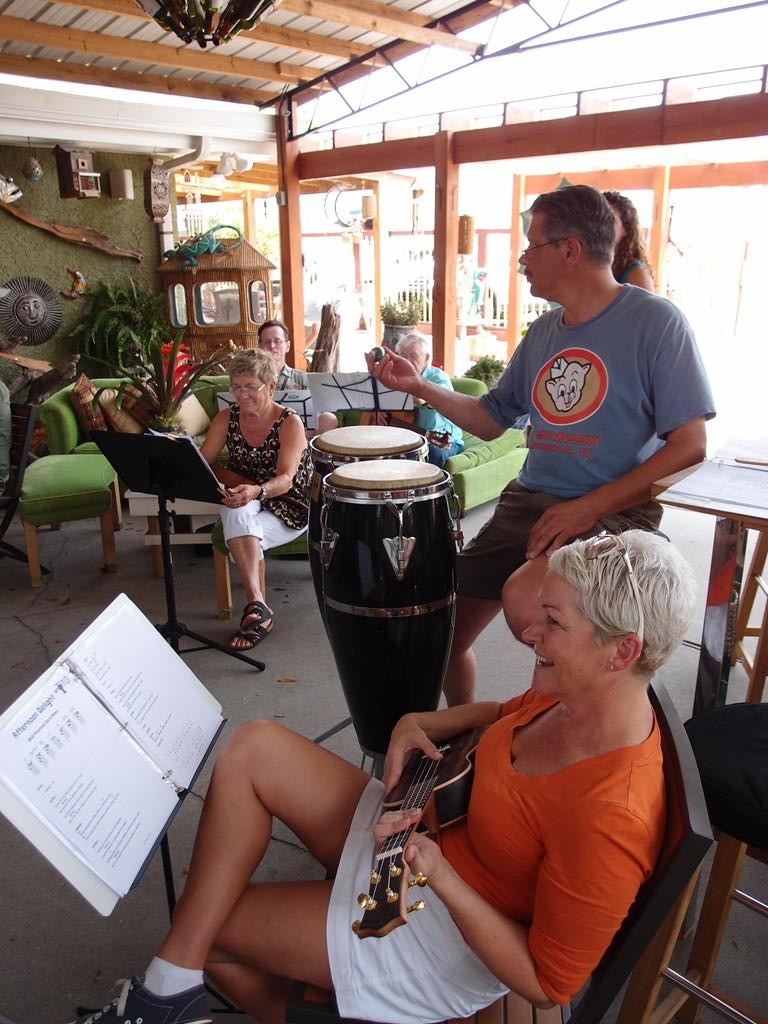 So, what attracted you before you came to the first meet-up?
Jeremy Bazata: "I got involved because of Julie and Ron Merritt and Larry Hayes, three very dear friends who are a lot of fun. Combine that with my love of 20's and 30's music and the sound of the ukulele – I knew I would love it. Judging from the delight on the faces of our first audience at the Festival, folks will definitely enjoy it. I have zero experience playing an instrument and am still not sure I will ever master the uke, but it sure makes me happy to play. Really happy. I am crazy about being part of the group!"
Lois Carter: "It just sounded like fun. I like music, but I don't play an instrument and thought I'd love to participate . Playing a uke sounds like something I could actually do."
Pat Nease: "When I was at Florida State – in the 60's – several of us played ukuleles, thinking we were the Mamas and Papas. Then I worked a summer at Chatham Bars Inn Resort on Cape Cod and a few of us waitresses formed a ukulele band and played during the twice-a-month lobster cook-out. We were terrible, and so hokey, but everyone had a good time, even the guests. I've picked it up a couple of times since, (I actually have two) but haven't really played or worked on it much. I'd love to try and incorporate it into my storytelling activities."
Bob Albers: "I have played guitar off and on for years. I have some friends that get together about once a quarter for guitar jams. I wanted to play more often with others. I saw the announcement regarding ukes and thought it might be fun. It was!"
Jeannie Just: "I am not a 'joiner," nor am I a musician. I have never had any desire to be in the spotlight. I do love music. Over the years, I have puttered with various instruments, but inspiration leaves me within the first few weeks. This uke deal is just so "no-pressure." It's a neighborhood sing-along, with instruments and frequent excursions to humor. I'd never held a uke in my hands before. For me they still sort of carried the Tiny Tim stigma, but they are so inexpensive that I thought, 'why not. . . what's to lose?' About the orchestra . . .maybe we should call it, Ukulele Orchestra and Chorus . There really are no neighborhood opportunities for simply singing in a group for the fun of it . Until now."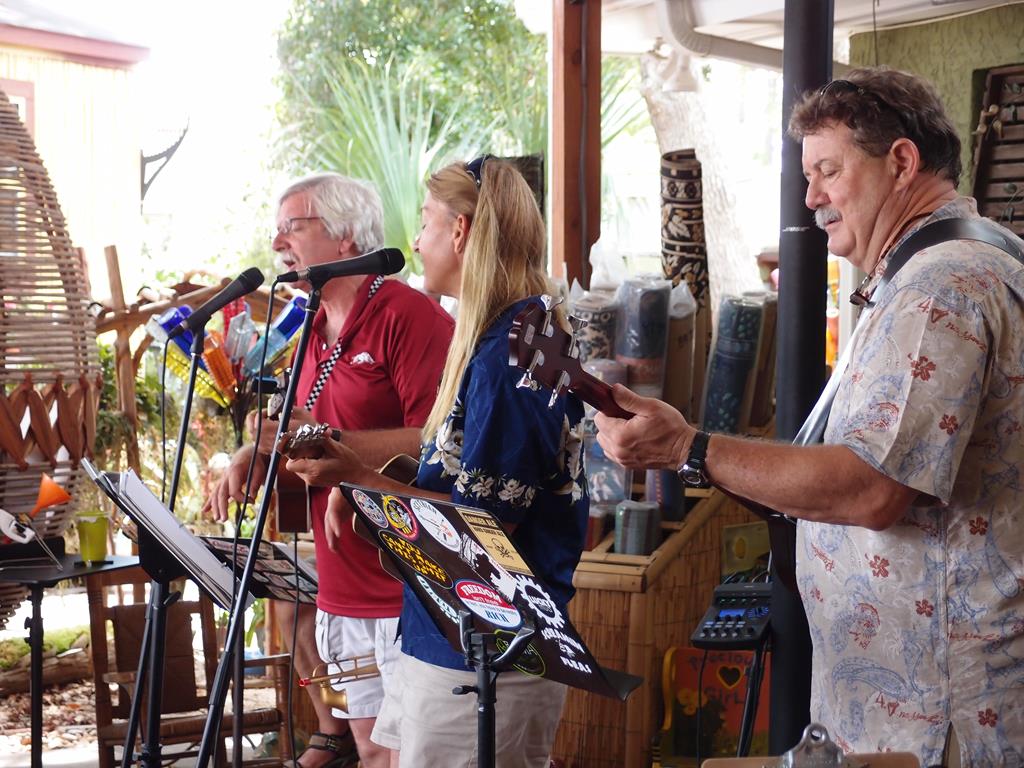 Ukuleles are relatively inexpensive and can be acquired for as little as $30-$45. It doesn't take long before you can play your first song . If you get hooked on the fun, you can spend a few hundred dollars and have an extremely nice sound quality that exceeds your skill level, like the writer. Online searches yield the most expensive ukuleles with some selling for just over $10,000. A $20,000 uke was apparently spotted in Hawaii.
Learning to play is easy. If you search "easiest string instrument to learn" online, ukulele is the overwhelming result. Two or three chords are all it takes and you're playing "Under the Boardwalk" and "Jambalaya".
Everyone is welcome. The Ukulele Orchestra of St. Andrews invites anyone who would like to join. The only thing that takes less time than learning to play is becoming friends with your new band mates. The group is estimated to be about thirty-five strong currently and welcomes new members. If you are willing, prone to smile and love music, you have passed the audition!
Besides being many, the people involved in moving this group along are from a wide variety of professional backgrounds and musical skill levels. Scanning the list of members, you'll find rocket scientists, environmental physiologists, zoologists, teachers, middle school students, computer network architects, speech therapists, interior decorators, jewelers—all musicians. The thing they have in common is that they all have something to share and smile about.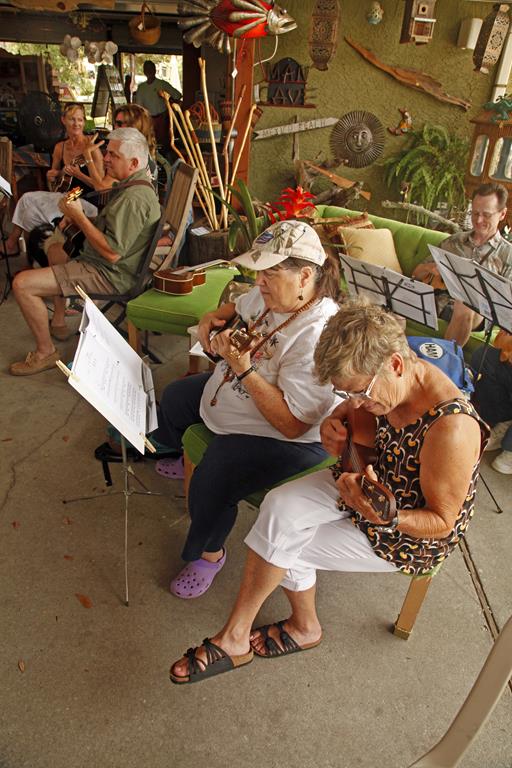 This fellowship on four-strings has something for all comers: music, fun, friendship, discovery, nostalgia and a lot of joy to the world.
You can become friends with the Ukes of St . Andrews on Facebook and find links, pictures, videos, and announcements about meet-ups and more information about the happy ukulele….or you can visit their brand new website: standrewsukes.com.
Upcoming Uke Events:
Little Village Meet-Ups:
Tuesday, July 15 @ 6:00 PM
Tuesday, August 5 @ 6:00 PM
Tuesday, Sept 9 @ 6:00PM
Tuesday, Oct 7 @ 6:00 PM
Sunday, Nov 9 @ 1:00 PM
Sunday, Dec 7 @ 1:00 PM
Uke Facts: 
The ukulele, widely thought to be a native instrument of Hawaii, was brought over from Portugal in the late 1800's. 
The word "ukulele" means jumping flea in Hawaiian. 
The ukulele was first introduced to the United States in 1914 at the Panama Pacific International Fair in San Francisco, California.
Famous Ukulele enthusiasts: Bill Gates, Warren Buffett, Francis Ford Coppola, George Harrison, Eddie Vedder, Taylor Swift, Paul McCartney.
Leave a Reply
comments
Powered by Facebook Comments