BY JODY WOOD-PUTNAM PHOTOGRAPHY BY SAVANAH JANE &
JODY WOOD-PUTNAM
A garden can be many things to different people. I find my garden to be both soothing
and fascinating in its day-to-day changes. It is a place to be with nature; it is a place for
reflection. During my 30-plus year career as a physicist with Panama City's Navy Support
Activity Center, my garden was a place to release work stresses. Since I retired last year, I
have more time to tend and enjoy my garden's many facets.
LOCATION
My home is located along the shores of St.Andrews Bay. My husband, Tom, enjoys the outdoors as much as I do. We fell in love with the mature oaks, hickories, pines, magnolias, and palms on our 1.3 acres when we bought it in 1999. Otherwise, the yard was mostly sand with a few palmettos and overgrown azaleas.
MAIN OBJECTIVES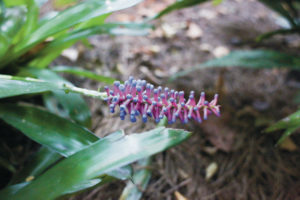 First, I want flowers and features of interest throughout the year. A key to achieving this is having a wide variety of plants that bloom throughout the year. I also pair plants with different foliage colors and textures to add interest, even when not in bloom. Second, I want my garden to be attractive for wildlife. Having a wide variety of plants, particularly native plants, is key to achieving this objective. When I add or extend a bed, I define its area with a layer of mulch, which serves many purposes in the garden. It is attractive, helps retain moisture, and minimizes weeding. I prefer pine straw, which decomposes to add organic matter and nutrients to the soil. After doing this over many years, the beds have a rich organic component in the soil instead of just sand. This has brought an abundance of earthworms to the garden, which further improves the soil.
IMPORTANT STEPS
My garden has evolved as I focused on one bed at a time over the years, including foundation plants such as camellias, a pindo palm, bottlebrushes and Majestic Beauty hawthorns that are now mature and quite beautiful. I also planted many bulbs and perennials. As I became satisfied with an area, I would add new beds or extend the existing beds. In addition to mature trees, today our yard has a wide variety of understory trees, shrubs, and perennials. I am mindful of what I plant in areas that may flood from the occasional tropical storm, planting either salt tolerant plants, those that are easily replaced, or those that I do not mind losing. In 2004 I became a Master Gardener, following completion of the comprehensive course offered by the Bay County Extension Office, UF/IFAS.* I remain active in this program and have had many opportunities to expand my gardening knowledge, have met many gardening friends and have found that I really enjoy sharing my knowledge and love for gardening with others. I also enjoy photographing my garden, giving presentations on different aspects of gardening, sharing plants I have propagated, and hosting garden walks. I have also enjoyed being a member of the Florida Native Plant Society and am presently president of the local Sweetbay Chapter.
Leave a Reply
comments
Powered by Facebook Comments