STORY AND PHOTOGRAPHY BY MIKE FENDER
IN MEMORY OF TYLER JONES (July 14th, 1990 – January 19th, 2021) This article was written while Tyler Jones was still alive, and just as it was ready for press, we heard the sad news that Tyler had passed away, another tragic victim of Covid-19. Ty- ler and Nicole had battled side by side and worked through Tyler's lifelong health concerns. When Nicole went through surgery together with Tyler, donating one of her kidneys to him in September of 2020, everyone was very hopeful that it would be the new foundation of many years of happiness and fewer concerns.
In her own words, Nicole gives this tribute to her late husband: "The transplant going so well, and Tyler passing from something that didn't exist a year ago is a tough pill to swallow, but I am thankful for the three months of health Tyler had. It was three months of him being 100 percent Tyler, and I wouldn't trade those three months for anything. I'll never understand the timing in how all this occurred, but life is never guaranteed. You have to be thankful for each moment and find joy in all circumstances. Tyler made every moment meaningful. That is my biggest takeaway from Tyler's life. He had so many reasons to be less than joyful, and he never let his health challenges stop him from infusing kindness, joy, and laughter into the lives of those he met. He is the most positive and loving person I've ever met. Knowing him certainly made me a better person, and I'm thankful for every second we spent together.
Like hundreds of thousands of couples every year, when Tyler and Nicole Jones said their wedding vows, they promised to be there for each other "in sickness and in health."
But where most love stories end with "they lived happily ever after," just four years after dedicating their lives to each other, Tyler became very ill and Nicole had the chance to save his life.
Tyler was born with brachio-oto-renal (BOR) syndrome, a genetic disorder that can affect the development of the neck and ears, and causes abnormalities in kidney structure and function. In Tyler's case, it meant he was born with only one kidney. And it was failing.
Tyler needed a kidney, and Nicole had two of them. So, in September of 2020, the couple found themselves next door to each other in hospital operating rooms, awaiting surgery.
In the medical world, this is called a living donor transplant. The United Network for Organ Sharing (UNOS), a private, non-profit organization that manages the nation's organ transplant system for the federal government, lists more than 91,000 people on a waiting list for kidneys. When you need a kidney and can find a living donor in your family or network of friends, you can bypass the uncertainty of relying on the list.
Tyler's kidney started failing when he was 20 and, back then, he benefitted from a kidney donation from his father. But only eight years later, his body started rejecting the transplanted kidney, which is common. "They usually only last between 10 and 14 years," Tyler says. At age 30, he found himself once again looking for a donor.
The road that led the couple to kidney-sharing started in 2012 over cake. Nicole grins when she talks about the first time they met. She was stuffing red velvet cake into her mouth at a fundraiser and Tyler had come to her table to greet some people he knew, but they were too busy talking to each other, so he spoke to her instead.
She wiped red velvet cake crumbles from her mouth and found out they had plenty in common. Both had graduated from Mosley High School two years apart but didn't remember each other. Both played on the golf team in high school, but the teams didn't practice or play together, so, again, they had failed to meet. Their parents knew each other, but they still had never crossed paths. For a first date, Tyler asked Nicole to go golfing. "He didn't seem like a serial killer, so, why not," Nicole says with a hearty laugh.
It was the beginning of a beautiful romance. In the years that followed, Tyler was always by Nicole's side. She was a student at the time and he would visit her at Auburn University to attend football games and be her date at sorority functions. When she graduated and wanted to continue on to grad school, Tyler followed her to Florida State University in Tallahassee. When Nicole decided law school was next, Tyler packed up and followed his girl to Birmingham, where Nicole enrolled at Samford. She graduated in May and currently works as a law clerk in Panama City while studying for the bar exam.
Along the way, they got married and added Walter, a white West Highland Terrier, to the family. That was in 2016. While Nicole went to school, Tyler worked in insurance and property management in Birmingham.
After Hurricane Michael, and recognizing the community's needs, Tyler made a career transition to sell commercial real estate and procure investment properties alongside his father, working remotely from Birmingham, with frequent trips to the area.
Around the same time, Tyler became aware that something was wrong. He started feeling some pain and his kidney function numbers were going down. The glomerular filtration rate (GFR) measures how well your kidneys filter blood; a normal rate is above 60 percent, while his was at 40. By the time of the transplant, Tyler's GFR had dropped to a mere 13 percent.
Tyler spent 2019 going through various types of treatments, hoping to avoid another transplant. "It was six months of shots and hooking up to IV machines all day," he says. All of this was happening while Nicole was in her last year of law school.
Understandably, the whole ordeal put a lot of stress on everybody. By summer, Tyler's medical team told him a kidney transplant or continued dialysis were his only options. "We tried what we could to salvage the remaining function, but unfortunately, retaining the kidney was just not going to happen," he says.
The second it was determined that he needed a transplant, Tyler's name was put on the national kidney waiting list. "The wait time starts at three and a half years, averages five, but a lot of people have been on it ten years or more," Tyler remarks. "It is awful for everyone."
Many factors determine a recipient's waiting time—age and health ,along with the characteristics of the organ needed. Tyler was aware that 15 people die waiting each day while on the list. Another 10 people a day become too sick to receive the organ.
"It puts life in perspective," Tyler says, with the situation's severity visible in his eyes. "You gain empathy for the people ahead of you and the people below you," he says. "It's really not something I want someone to experience. You wake up every day wondering how many people are ahead of you. And you try to maintain the utmost hope while knowing, behind you, the list has thousands more waiting."
For Nicole, the decision to get tested to become a donor was an easy one. "I knew this was going to be an issue in our marriage at some point," she says. She knew about his kidney but thought it would be something they faced in their 40s or 50s, not their 20s. "And not during law school," Tyler points out.
Throughout her time in law school, Nicole went to appointments with Tyler at the UAB Hospital in Birmingham and learned more about kidney transplantation and living donor transplants. After Tyler was listed, she went in for testing over spring break, right before the start of the COVID-19 pandemic.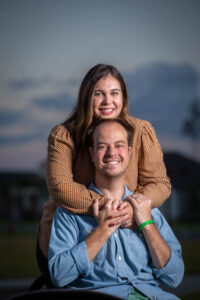 The probability of finding a match is one in ten, while it goes up to 50 percent with a family member. It would have never occurred to Tyler and Nicole that they could be a match. But then they received a phone call from the hospital—Nicole was a blood match for Tyler. A second call, a few weeks later, was the news Nicole had hoped for. She was a direct tissue match. "That meant I would be able to give him my kidney directly," she says.
But it was a tough moment for Tyler. He says he would rather have left her out of the process. She was going through law school and had the bar exam on the horizon. "It's just a lot of stuff. I would have rather waited for a deceased donor or another donor to try and take some of the stress off her."
Nicole viewed it differently. She said that many people in that situation either don't have family members to match, or family members who test but don't match. For her, it was a way to control the situation. "It was a relief that I was a direct match and was able to do something about it instead of just taking a back seat and watching the process."
In September, both were admitted to the hospital in Birmingham. Nicole's surgery started first. While her kidney was being removed, the medical team started to get Tyler ready to receive her kidney. "They literally have a door between the two rooms," Nicole says. "And they just remove [the kidney], flush it out, and walk it between the rooms."
The two stayed in separate rooms, just down the hall from one another. By the next day, they were able to visit each other by slowly wheeling their IV drips down the hall in their hospital gowns.
Nicole was out of the hospital in four days; Tyler left after six. She came back to Panama City, while Tyler stayed in Birmingham for daily testing to make sure the surgery had worked. For Tyler, the transplant happened just in time. Daily dialysis was imminent and he was not eating or drinking well. He says he lost 30 pounds before the transplant. "It was a rough time for both of us and our families," he adds.
Looking back on the surgery, Nicole knows she made the right decision. "At the end of the day, we are friends first and I did something for my best friend," she says. "Having that ability to help the person you love is a gift in itself." She can't imagine people who have to sit and watch loved ones wait on the list knowing they may not get a kidney in time.
Nicole doesn't notice any difference so far living with only one kidney. She says that since she is young, the health risk is not that significant as long as she stays hydrated, takes care of herself, and avoids diabetes. "You can live a perfectly normal life with one kidney," she says.
It's sort of payback as well. Nicole likes to joke that Tyler has gotten her through school three times. "He put up with me through undergrad, grad school, and law school, so it's an even trade at this point," she remarks. "If it costs a kidney for her to get a law degree, I guess that is a good trade," Tyler adds, jokingly.
Both have become big supporters of organ transplants and encourage everyone to at least become a donor when they die. Nicole says live organ donation may not be an option for everyone, or you may not match, but if you can be an organ donor when you pass, you are still chipping away at the national waiting list.
Looking at Tyler and Nicole today, bantering and laughing, it would not occur to anyone that they have endured such trials in their lives. Tyler calls Nicole his hero. Nicole says she just wants her husband around a while longer. At one point, she told him he was not getting out of the marriage that easily. "I'll give you my kidney," she laughs, remembering her words. "Now you are stuck with me." She thinks for a moment and adds, "Besides, now I'll always be with you, creeping around inside."
Tyler smiles thoughtfully and deep emotions are written clearly on his face before he gives in to her teasing and says with a grin, "We like to say matching tattoos are overrated."
HOW TO DONATE AN ORGAN More than 108,000 people are on waiting lists for organ transplants in the United States, according to UNOS.org. Over 91,000 of them are awaiting kidneys. One organ donor can save up to eight lives. To register as an organ donor, you can sign up on your state's registry by visiting
https:// www.organdonor.gov/register.html
or when renewing your driver's license.
Leave a Reply
comments
Powered by Facebook Comments