By Jeannie Weller Cooper, Photography by Savannah Jane

"Every time I look, every room changes in the sunlight. Every time I look, it's a new piece of artwork," declares Gayle Paynter, perched in her new kitchen like an excited songbird chirping on a summer morning in the nearby park.
Gayle and husband Brian Humboldt's new home features an upstairs deck overlooking the cascading fountain that marks the entrance to McKenzie Park. According to history books, the 201 Harrison Avenue address where their new house stands now was once the Alabama Hotel.
In fact, the Humboldt-Paynter home is an intriguing combination of old and new, reflecting the taste and style of the vibrant and accomplished owners. 14-foot ceilings and industrial design are combined with reclaimed building materials and accented with antique and vintage furniture.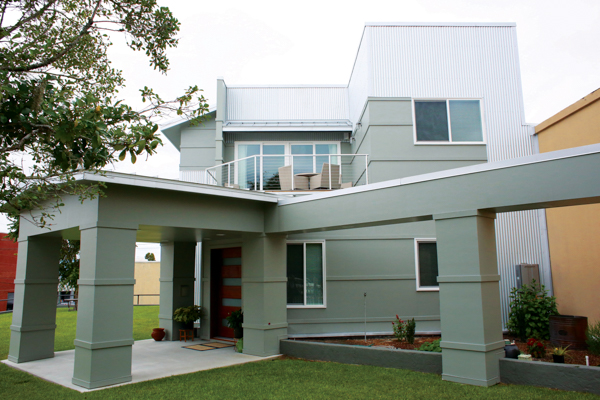 In 1920, the Alabama Hotel with its customary long shady second story walk was replaced by a small cement block gas station to service cars. That little structure stood longer than many of its neighbors and contributed to the Humboldt's fashionable Mediterranean-inspired porte-cochère. It is the only remainder of the old building and leads to a modern front door, reclaimed from a Miami mansion.
Even so, Gayle cups her hands to illustrate, the entrance is so inviting-cozy that on one of her first visits she found a small, brown bat with its wings tucked under, sleeping over the doorway, welcoming her home.
For centuries, cities and towns have, by design, provided living space for people—until the popularization of the automobile. Early Panama City was no exception, featuring large airy clapboard dwellings facing St. Andrew Bay, some surrounding the oak-lined City Park. In its beginnings, Downtown Panama City with its main thoroughfare, Harrison Avenue, offered housing above and alongside the commercial spaces. Today, only 17 residential spaces remain, according to Brian Humboldt. Offices, retail spaces, and restaurants occupy most of the buildings in Downtown Panama City.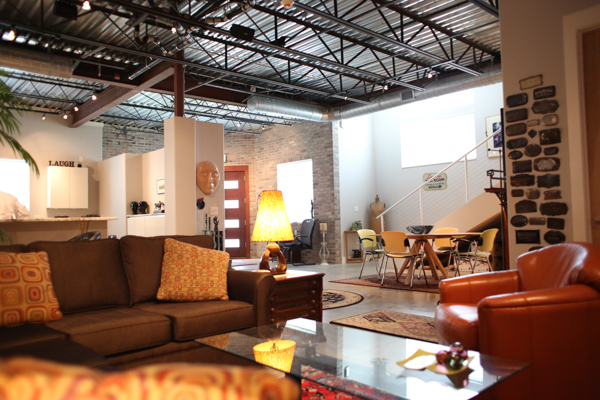 Why build new and why build downtown when surrounding residential areas have move-in ready houses? Many contractors and many onlookers wondered and told Brian and Gayle flatly that it couldn't be done.
Almost in unison, the homeowners declare, "Always! I've… we've ALWAYS wanted to live in the city. Cities are alive." They both interject they like activity; they like to walk everywhere. Despite the discouraging reaction from others, Gayle and Brian sought to bring their vision to life. When we asked the couple, "Why this city?" Gayle passionately exclaims, "Panama City is the most generous city anywhere."
The couple came to this area in the late 1990s and moved to the beach in spite of Gayle's firm conviction that Florida was a place New Yorkers only went to die. She took an art trolley tour of downtown Panama City and saw the art show in the park and numerous little art shops on the surrounding streets. She remembers thinking, 'Now THIS is somewhere I could LIVE.' Already they had made friends, and, as they bought their first Panama City building and renovated it as a home and office space, their new friends brought them meals. Fast forward a couple of decades and their friends are bringing them meals again as they are in the process of building the new house.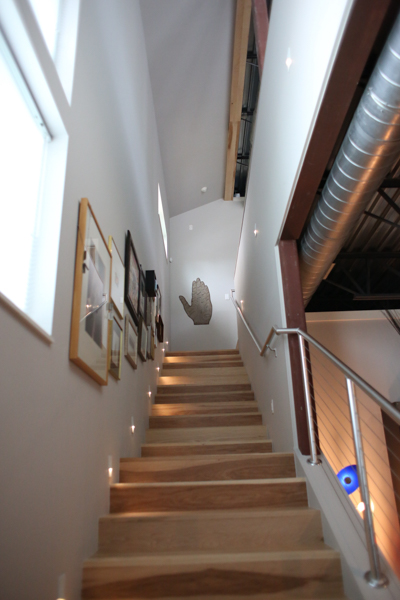 "Never fear." Brian flatly states their credo. Even though the cement crumbled under their initial idea of renovating the old structure, the Humboldts were able to find a forward-thinking architect in Larry Taylor, who melded the old American South (corrugated tin) with modern design, evident in the flat, clean geometrical lines of the newly built house. Phoebe Masker, a building contractor and descendant of one of the oldest families in Panama City, works diligently, efficiently translating big ideas into common sense. The project took shape and with what Brian and Gayle describe as a "great bank" that was willing to back "two senior citizens in their third act."
Asked about his favorite feature on the corner of Harrison and Oak, Brian finally narrowed it to two. The rain head shower in the master bathroom and the stairway leading to the aerie that is the second floor. He said they studied stair design to build the sleek hickory steps with their custom 6 ¼ inch rise. He especially likes the aisle lighting, which is complemented by the placement of a few lights above the stairwell.
Old, new, comfort, high style—this in-town dwelling is truly an impressive collaboration. How did they do it? "Our minds had to change from 're-do,'" Gayle explained, "to building our dream house."
Leave a Reply
comments
Powered by Facebook Comments