BY BRITTANY HAWES
PHOTOGRAPHY BY MIKE FENDER AND PATRICIA MCNEAL

P

atricia McNeal: athlete, grandmother, stroke survivor. On December 22, 2013, Patricia had a stroke that left her unresponsive and facing days of physical therapy. On September 29, 2018, Patricia began a cross-country journey that would push her beyond her limits and go on to make news all over the nation.
Imagine the following scenario: It's three days before Christmas. You and your loved one are lying together in bed. The night is cool; it had been a normal day, just like any other. A few hours past midnight, when the moon is still out, you're suddenly awake and staring at the ceiling. You want to move, but your body doesn't respond to your will. Strange noises that you assume are words escape from your mouth. Your sounds awaken your loved ones and they move to hover above you. On their faces, they wear terrified expressions. They call 911 and firefighters arrive. You don't know it until you're at the hospital, but you have just suffered a stroke.
On December 22, 2013, Patricia McNeal returned home in Tampa after riding her bike for 68 miles. She remembers feeling fatigued. After finishing her tasks, she and her husband, Tommie, lay down for what they thought would be a night of rest. But, at exactly 4:17 a.m., Tommie woke up and found that his wife could not respond to him. Patricia recalls that she had a severe headache. Doctors would later discover that Patricia had a stroke, caused by a brain aneurysm. Patricia was brought to the Florida Hospital of Tampa that day. She knows things could have taken a turn for the worse. "My dad, my mother, my sister, my grandmother… they all died from strokes." Feeling helpless in the hospital bed, unable to communicate with the world around her, the biggest fear she had was for her family. "I was wondering who is going to take care of my family. I know that may sound silly, but I love them. I was worried about them."
Thankfully, Patricia 's story did not end that day. After a week, her condition was almost back to normal. She stayed in the hospital for another week to complete vigorous physical therapy before she was able to return to her home. The very next day, she had her cleats back on the pedals.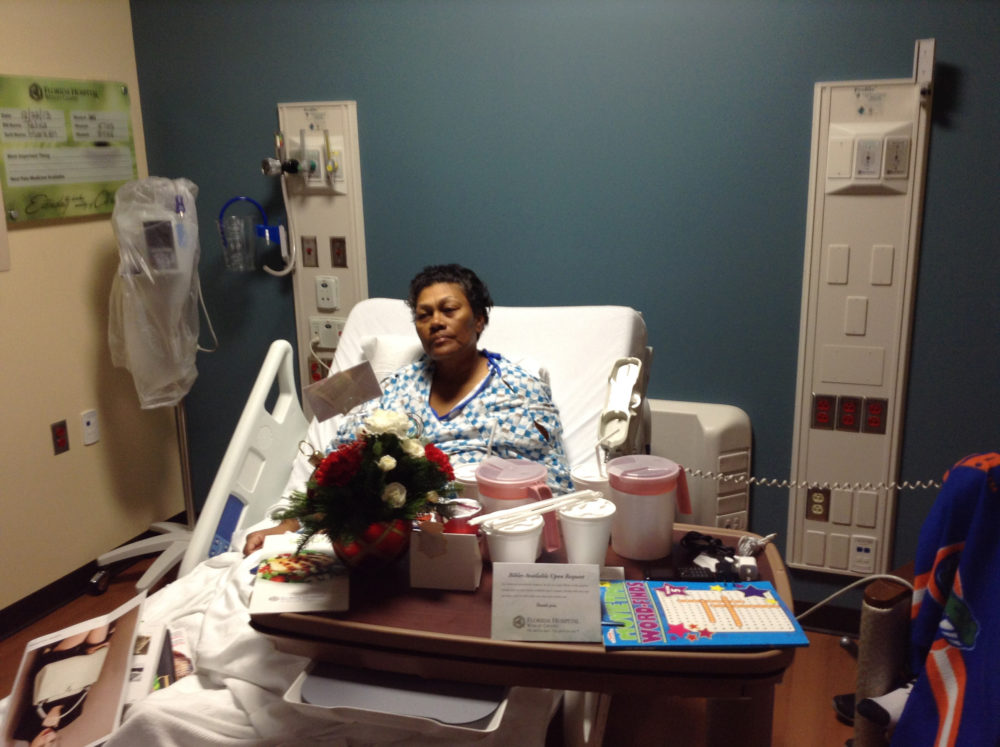 "I rode 35 miles," she remembers. She grins over at her husband, who reciprocates with a faux-exasperated shake of his head. After recovering from her stroke, Patricia and Tommie moved back to Panama City to be near their grandchildren. She used to ride her bike daily before the stroke but started pushing herself to go farther and faster. "Cycling saved my life, along with a change of diet—if I hadn't been cycling as much as I was, I might not be here.
After my experience, I feel like I have a purpose."
Fast-forward to almost five years later. Picture this: You're riding a bike with your hands clenched tightly around the handlebars, chin held just a few inches above them, and you're pedaling beside hundreds of cars traveling at speeds above 60 miles per hour. The sun beats down on you for hours each day. As the day progresses, the sun curves behind the horizon, and the heat quickly hardens into a biting chill.
There's nothing between you and those speeding drivers but a couple of feet, often less than that. As they cut through the wind, the cars push the air towards you. You sway a bit, but maintain your balance. You wipe the sweat from your brow and tell your legs to keep pushing. There is a smile on your face; this is what you live for and, in that moment, you're living your dream. Only 2,000 miles to go.
On September 29, 2018, at 4:30 a.m., Patricia got on her bike in Panama City, Florida, and began heading west to Burbank, California, in a cross-country venture that some believed she wouldn't be able to complete. This was just five years after she suffered a stroke, and she wanted to celebrate being alive.
"I just looked over at my husband one day and said, 'I'm going to ride across the country.' He said, 'How will we pay for this?' I said, 'Don't worry, dear.' I felt that someone was going to help. And I wasn't looking for a handout—it was going to happen. It was going to happen if we had to overdraft our account—which we did, a couple of times."
Before this, the farthest she had biked was to Cottondale, which was close to 100 miles. From Panama City to Burbank, the distance is more than 2,000 miles. When she first started cycling, Patricia remembers that Tommie had to push her up steep hills and provide much of the guidance. In fact, he was part of the reason she began the sport. Tommie has been cycling since the '80s.
Patricia acknowledges that she wasn't always as dedicated to cycling as she is now. "Choosing to cycle was a major "Cycling saved my life, along with a change of diet—if I hadn't been cycling as much as I was, I might not be here. After my experience, I feel like I have a purpose." decision because it was a commitment. When my husband first bought me a bike, I took it right back to the store and used the money to buy a new purse," she laughs. Patricia now loves her bike and no longer requires help. She is now skillful enough to tackle any journey. "I ride every morning. I try to do 50–100 miles each day," she states. "I was mentally and physically ready for this ride because, four years ago, I was supposed to do it. Someone talked me out of it. They said, 'You're a woman, you're not going to do this.' So, I stopped."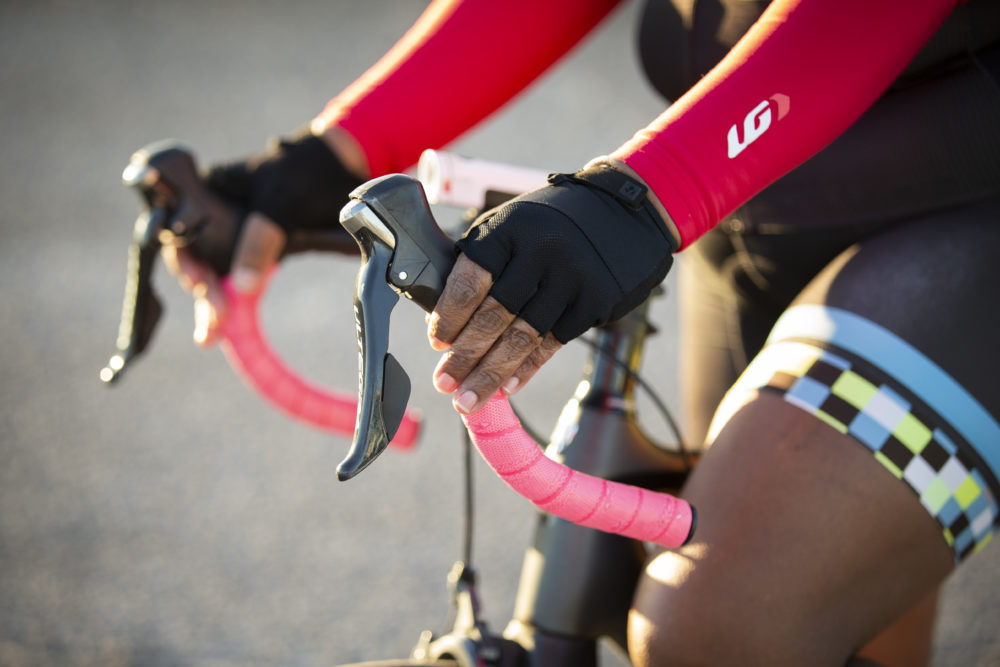 Others were rooting for Patricia right away. As the day of departure drew closer and closer, Patricia began to pick up some surprising support. Soon, she found herself as the happy recipient of bike gear and she was also attracting attention from other cyclists, media outlets, and fans who wanted to help in any way they could.
Carrying the motivation from her family, friends, and supporters, and with a strong desire to meet her idol, Ellen DeGeneres, Patricia set out from Panama City. She, Tommie, and some of his biking friends rode to Freeport, and then she and Tommie continued together to Pensacola, where Tommie turned around and left after a tearful farewell. From there on, it was just Patricia, her bike, and the open road.
Riding a 22-speed Trek Emonda carbon-fiber road bike with 11 gears, Patricia carried a 45-pound bag on her back filled with consumables, water, and bike accessories. She didn't possess clothing for severe weather; she wore cycling shorts and hoped for the best. Her husband and family advised her to moderate her speed to keep from getting burned out. "I was excited, and I was happy! I was doing 135 miles a day, sometimes. I was trying to go 18 to 22 miles per hour. But they wanted me to do 15 miles per hour."
Along the way, Patricia encountered obstacles. There were establishments that didn't want her to bring her mode of transportation into the building. There were nights when she thought she would have to sleep on the side of the road. Running out of water was also a worry. "I always kept at least two bottles on me—one filled with ice and the other filled with water and ice. I would stop at rest areas to fill up. If a rest area wasn't in sight, I'd head to a store," Patricia recollects.
… she has a fear of bridges.

There were many times she had to

pause, get off her bike, and pump herself

up to get over a bridge.
At one point, all she had was $2.50 in her pocket. Hurricane Michael was moving towards Bay County, disrupting communications in the area. "I couldn't get in touch with my husband. So, I made a video and asked for help on social media. I told people I had $2.50 to my name and I was going to have to sleep on the side of the street if I couldn't get help."
A member of Black Girls Do Bike, a biking group that Patricia is a member of, saw her video and came to the rescue. "She was 30 miles away. She came and picked me up," Patricia smiles. "Her name was Yaya. She hosted me for about three days in Houston, so it turned out okay."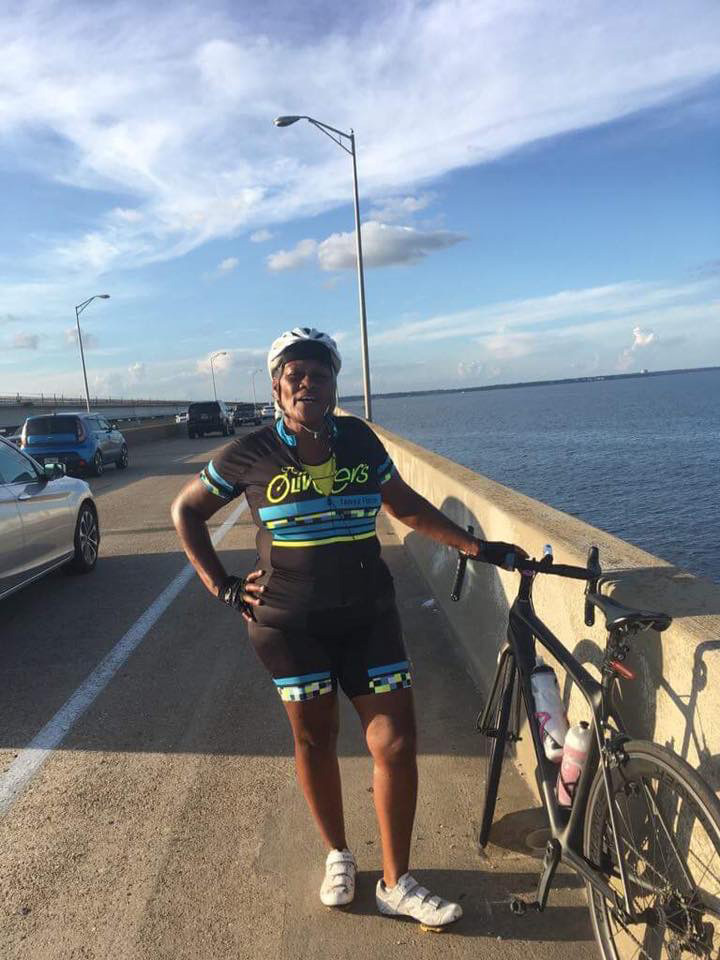 It should also be mentioned that Patricia has a fear of heights. More specifically, she has a fear of bridges. There were many times she had to pause, get off her bike, and pump herself up to get over a bridge. "Somewhere in Alabama, I looked back and knew that I could either continue forward or go back. And turning around meant going right back over a darn bridge. So, I said, 'Uh-uh!'"
Throughout her journey, this "ride on" attitude pushed her forward, despite prolonged sun exposure and an illness that had her off the bike for a week while in Texas.
On Tuesday, November 13, 2018, Patricia arrived in California. As she pedaled into Los Angeles, her jersey's once-vibrant colors were faded from the sun. Her skin was tanned. Her limbs were sore, but the smile never left her face.
"I used to joke with my husband, 'Dear, I'm going to take you to France and I'm going to see you on the Tour de France. I wasn't good enough at the time to do that kind of thing myself. After I finished my cross-country ride, Tour de France, in a sense, came to me."
Kathryn Bertine was following Patricia's journey on social media. The athlete, activist, writer, and documentary filmmaker is a co-founder of Le Tour Entier, an organization campaigning for the re-establishment of the Tour de France Féminin— as the name suggests, it is a female version of the Tour de France that traditionally only allows male participants. Kathryn is also the founder of Homestretch Foundation, a non-profit organization that provides free temporary housing and other support for working women living or earning below the poverty line, with a focus on women who have careers in endurance sports.
She invited Patricia to the Homestretch Foundation in Tucson, Arizona. At the beautiful two-story mansion, a dinner was held in Patricia's honor. Professional cyclists from all over the world came to meet and dine with the woman who defied the odds. Her portrait was hung on a wall in the mansion that is dedicated to cycling champions. She and her husband both received new cleats and pedals for their bikes.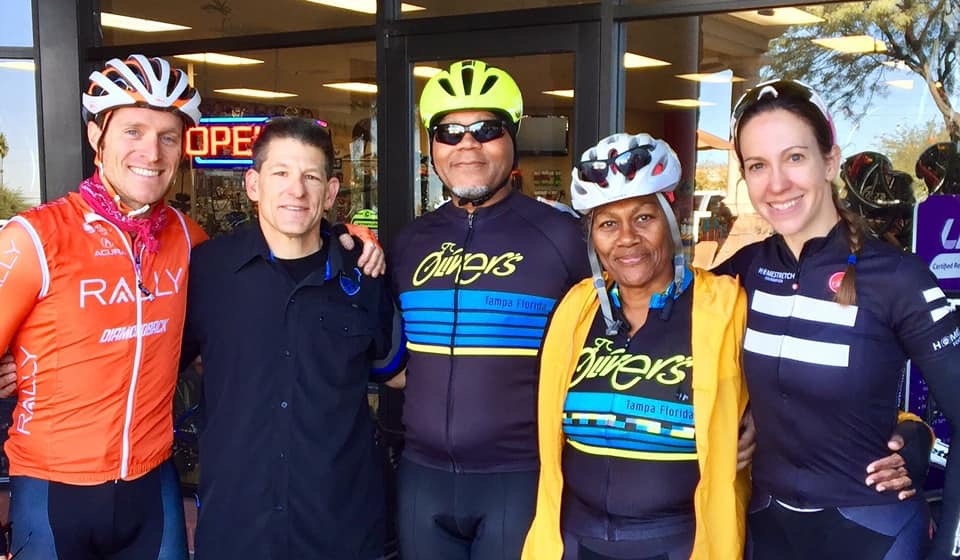 Tommie could not have been more proud of his wife in that moment. "We're just normal people. It's just that when you do something that you're passionate about, you do great things with it." To Patricia, this celebration was the pinnacle of her journey.
Patricia was not famous and did not have a huge following that was financially paving the way for her. She says that it was those choice supporters, her family, and her own determination that helped her get to Burbank.
With thousands of miles of experience and following tragic recent events, she is very much aware of the dangers of being on the open road. In January, her husband was struck by a motorist while he was cycling across the road, following traffic, when a car tried to slip in between two cars and hit him. Tommie broke his leg in two places. Fortunately, he survived the accident but will be off his road bike for twelve weeks.
The accident will not slow either of them down, they say. Patricia is already planning her next big bike adventure and is working on a book detailing her trip. "For my 60th birthday, I want to ride from Seattle to Key West. This time, I will get my sponsorships ahead of time and my lodging as well. I will have my husband on this journey and two bicycles—a tandem and a road bike. I will also have a van, or sag wagon, and a group of cyclists with varying abilities."
One thing is for sure: Patricia has proven herself to be a survivor. Today, Patricia continues to ride every morning. She is planning to work with bicycle manufacturers Trek and Liv Cycling to donate 10,000 bikes to children during the month of May, Stroke Awareness Month. She has also been asked to speak at various events about her greatest adventure yet. To people who want to go on their own cross-country endeavor, she says with a smile, "Eat healthy and get plenty of exercise. If I can do it, so can you!"
Follow Patricia on Facebook:
@heelzonwheelz
Q&A with Patricia McNeal
What new "biking terms" did you pick up from your travels?
Right Hook. That's when a vehicle turns to the right in front of you and causes you to fall, or worse, be hit.
What was the most fun part of your venture?
Meeting so many different people and finishing the ride.
How many miles total did you bike?
3100 miles.
Any funny moments encountered on your trip?
The funniest moments on my trip were getting the many misdirections from Siri. For example, while trying to get to New Orleans, Siri sent me to Slidell, Louisiana.
Also, realizing after I traveled all the way to Arizona that I stayed on the same gear. By this time, I was riding in the high mountains and the young lady I was riding with told me, "You know, you can change gears; it'll be a lot easier."
Scariest bridge crossed?
The scariest bridge I crossed was going into Mobile, Alabama. It was called Cochrane-Africatown USA Bridge. It's 140 feet high (7,291 feet long) and has no bike lane.
Most beautiful sights?
The cacti in Arizona; visiting Geronimo's birthplace; the beautiful mountains in Morenci, Arizona; riding Mt. Lemon and seeing the lights at night in Mexico from El Paso, Texas.
Kindest moment(s)?
There is still humanity left in the world. Some people paid for my meals, hotel stays, cooked meals for me, bicycle shops did maintenance work on my bike, and bicycle clubs donated supplies.
How many different places did you sleep?
I stayed in numerous hotels and was hosted by friends and family in their homes.
Hardest part of the journey?
The hardest part of the journey was going down the mountains and going down the bridges.
PHOTO GALLERY
Leave a Reply
comments
Powered by Facebook Comments