STORY AND PHOTOGRAPHY 
BY MIKE FENDER
Barbara Jones still remembers her first trip to Bike Week in Daytona Beach. She was on the back of a red Harley Ultra Glide Classic, with her arms around the waist of her husband. The back-seat perspectives were typical for women back then.
This was in the 1980s and Bike Week was a man's world. She remembers the huge impression the bikes made on her—there were thousands of them. Looking back, Jones, a lifelong Panama City resident, recalls only a handful of women with their own bikes. "And the female riders were hard core," she remembers.
It's not to say they weren't a big part of Bike Week. What they lacked in numbers, they made up with a strong presence. She remembers their clothes, or lack thereof. "Some of the women were dressed in sexy clothing that I had never seen before—in outfits that you would never wear to town," Barbara recalls. And there was skin, lots of it, and tattoos, lots of those, too.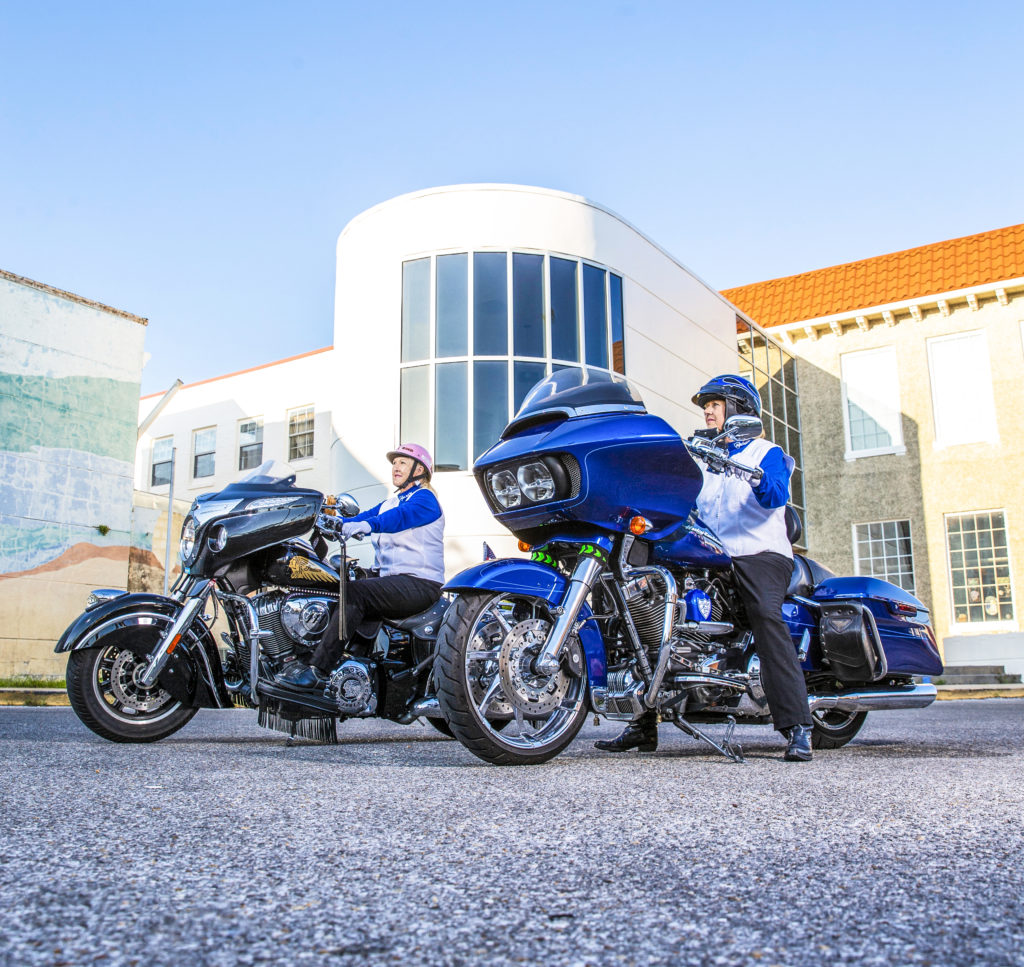 Jones, a hairstylist who operated three salons in the Panama City area, no longer wanted to be on the back of the bike. She wanted her own. Mac, her husband of now 30 years, was supportive and got her started with a dirt bike. Next came a Honda Shadow. Now, three decades later, Jones is 65 and rides her 2015 Indian Chieftain as a member of the Panama City Motor Maids, the oldest continuously running ladies' motorcycle organization in the United States. Formed in 1940, the Motor Maids came into existence long before the Hell's Angels.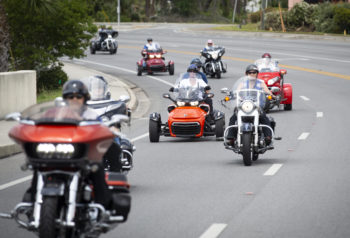 The Motor Maids replace leather jackets with white linen vests worn over blue mock-turtlenecks. They wear black jeans, black boots, and, of course, white gloves for formal events and parades. Nationally they number about 1,350 members, with 135 in Florida and 15 in the greater Panama City area. Members in Northwest Florida call themselves the Panhandle Pearls.
According to a survey conducted by the Motorcycle Industry Council (MIC) in 2018, 19 percent of motorcycle owners are women. That number is up from just 10 percent a decade ago. A large portion of female motorcycle owners are young, with Gen X owners coming in at 22 percent and millennials at 26 percent. The organization predicts the number of female motorcycle owners could reach 25 percent soon.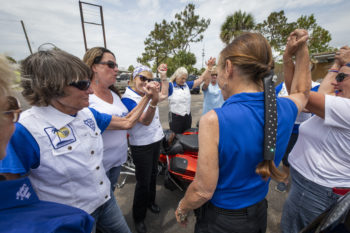 Jones, a four-time cancer survivor, began riding with the Motor Maids in 2006. She also founded a local group, The Thunder Angels, in Panama City. That group was active in local cancer fundraisers for 20 years, disbanding last year. She felt it was time to become a part of the national group, lovingly referring to them as "the biggest thing since grits." Four years after she joined, she convinced her cousin, Pam Tiller, to come along with the group.
Tiller, 62, works as executive vice president and chief financial officer of a construction company in Panama City. She says it took 10 years to convince her husband, Slim, to let her get a motorcycle. "He was always worried about me being out there riding," she says. Finally, her mother-in-law stepped in and told her son he should be ashamed for not letting her ride since this was the only thing she had ever really asked for.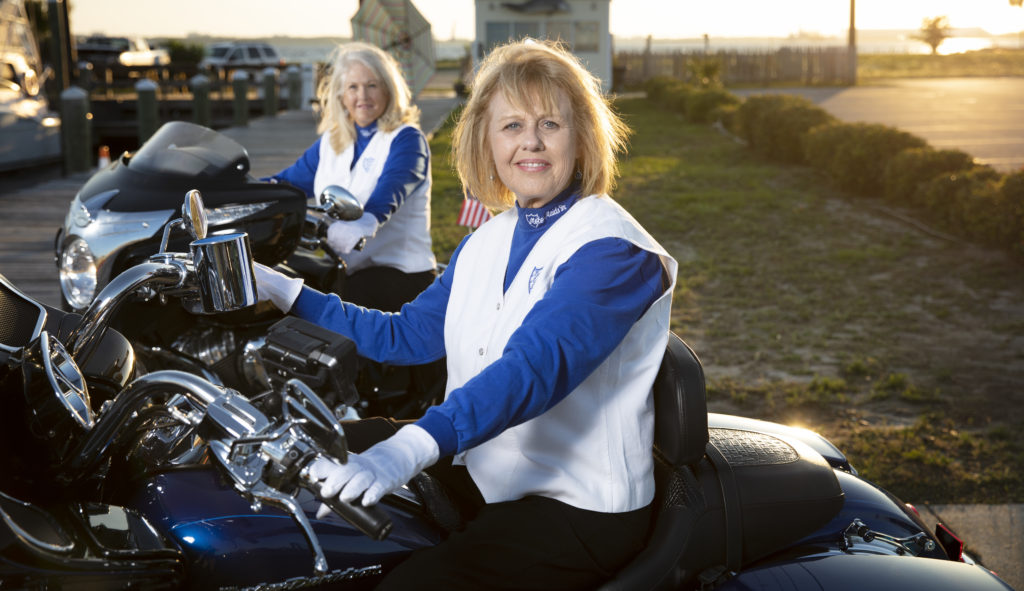 Slim relented and she signed up for a class in 2010, buying herself a Honda that Barbara drove home for her. Two weeks later, Pam had passed the test and two months after that, she bought her first Harley. Now, nine years and nine motorcycles later, Tiller rides about 30,000 miles a year. She says motorcycles are her stress reliever. She currently owns three Harleys, a Can-Am, and just purchased an Indian Chieftain.
Tiller serves as the national treasurer for the Motor Maids. And Slim? He now rides a motorcycle as well. Tiller has biked to six national conventions and Slim has ridden with her to four of them in Canada, New Mexico, Texas, and Illinois. They plan on making the ride to the 2019 convention in California together, averaging 600 miles a day for the 2500-mile trip.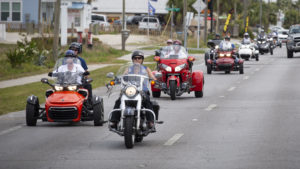 One of the things that sets the Motor Maids apart from other women's riding groups is that members have to ride their motorcycles to and from the national convention if they want to participate in the convention activities. Tiller will make the trip on a 2015 Harley Road Glide Special painted in official Motor Maid blue.
A mother of three and grandmother to six, Tiller admits her kids were not keen on her riding when she started and have reservations even today. "It's only because they worry," she says. "But I tell them I am enjoying life and a tomorrow is never guaranteed."
Joining the Motor Maids has opened doors to new friendships for her. "You are meeting women who have the same passion as you and you become friends for life," Tiller points out. But it is also about the memories. "It's always about the adventure," she says with a smile. "There's never a wrong turn."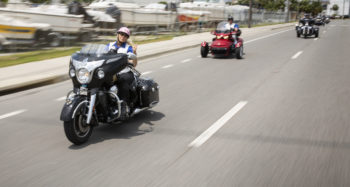 When the Motor Maids get on the road as a group, reactions range from "thumbs up" to stares of disbelief. Jones and Tiller say the Motor Maids are highly respected. "They know who we are," says Jones. Even clubs like the Outlaws and Hell's Angels recognize the Motor Maids. "They know us as respectable ladies who ride," says Jones. During events such as Thunder Beach in Panama City Beach, the local group welcomed members from Indiana, Alabama, Georgia, and other states.
The Motor Maids attract ladies from all walks of life. At the luncheon during Thunder Beach the gathering included Lisa Snow, a retired schoolteacher; Judy Steed, a registered nurse; Sandy Culbreth, a financial specialist; and Di Cox, a blood bank analyst. Other local riders include Mary Youngblood, a bus driver; Kathy Greenwood, a corporate field rep; Deborah Fretwell, a retired shipping coordinator; Debbie Cuthbert, an IT specialist; and Skeets Roche, a retired IRS agent. The list goes on and one remarkable lady, Jane Stafford, a truck driver and accomplished motorcycle instructor from Palmetto, Florida, is a silver life member of the Motor Maids, celebrating 40 years with the organization.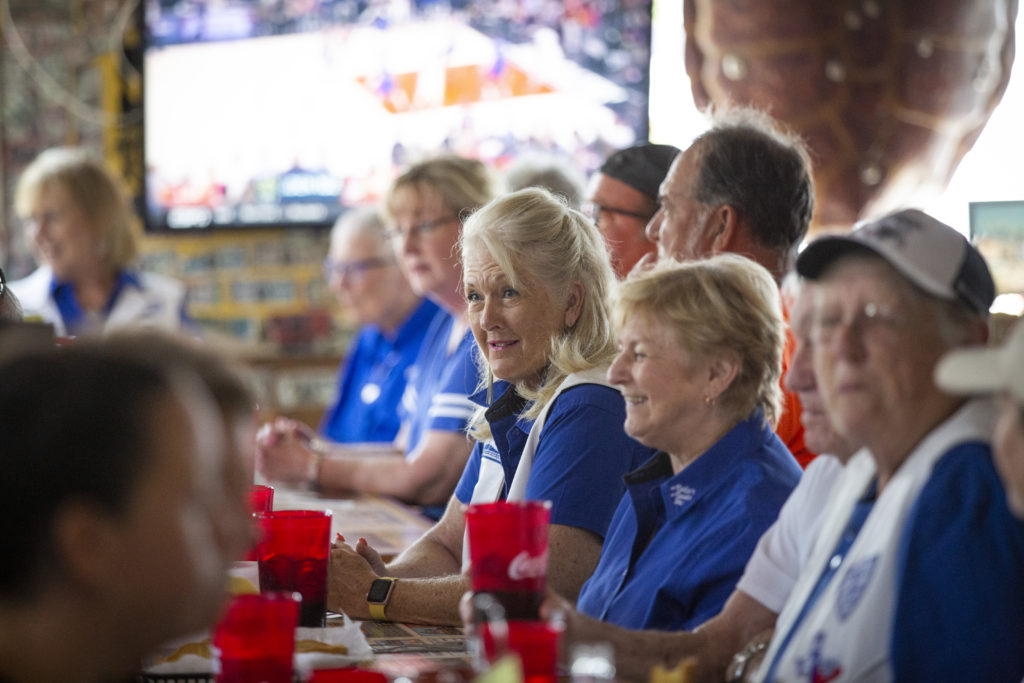 Riders come together for parades and social gatherings, and stand by each other during life-changing events. "When my mother died, the Motor Maids escorted her to the cemetery, in full uniform," says Tiller. "We all share that bond," Jones adds. "[When you ride,] Politics go out the window, your aches and pains seem to go away; your worries, too." For her, the group is about the awareness for women as riders and their shared love of the same passion.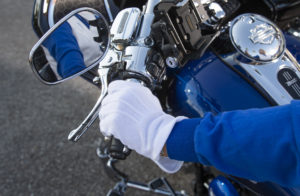 Wearing white gloves was meaningful since the beginning. The original founders of the Motor Maids felt that female riders needed to show they were ladies. This is only one of quite a few rules and goals of the Motor Maids as an organization. Jones and Tiller say new recruits figure out pretty fast if they fit in or not.
The proud owner of five motorcycles, Jones likes to have extras for friends to ride when they visit. One of her bikes, with a vintage sidecar, is her "grocery bike." She smiles and says, "Having motorcycles is kind of like having shoes."
Both Tiller and Jones see themselves riding for years to come. They are making plans for buying yet more bikes. "When we get to a point where we can't handle the big bikes, we plan to move to three-wheeled motorcycles." Tiller has her eye on a Spider, while Jones says, "I'd like to get one of those old Meter Maid trikes. I can see myself on one of those."
No matter what they ride, they plan on doing it in Motor Maid blue. With white gloves, of course.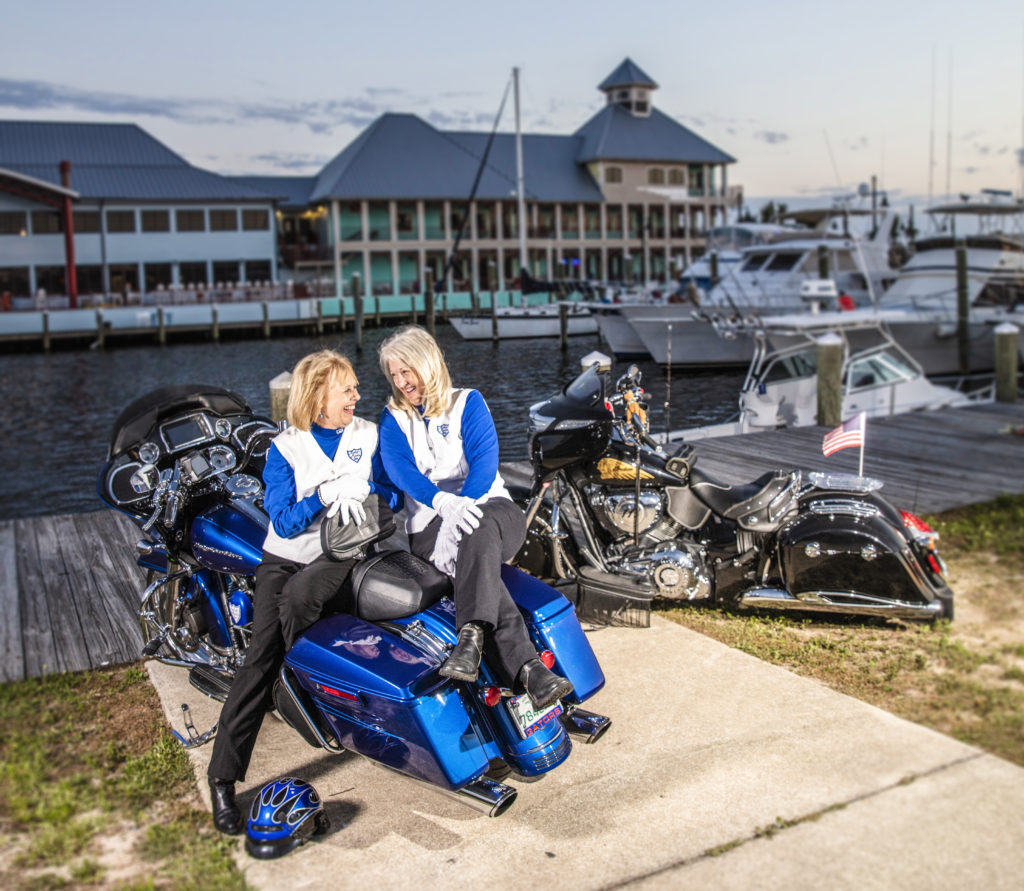 Leave a Reply
comments
Powered by Facebook Comments