BY JENNIFER A. SHEFFIELD
PHOTOGRAPHY BY MANDI SINGER
On the morning of the 2018 kick-off event for Chin Track Days, organized events where car enthusiasts "drive their sports car on the best tracks," participating solo driver and check ride instructor, Bobby Keene, is eating breakfast at 6:30 a.m. wearing his "Wonder Bread" polka-dot shorts.
By 8:30 a.m. he is suited up in orange, packed into an ice-cooled shirt and ready to loosen the gum on the four sticky tires under his 2007 Lotus Exige S on Road Atlanta's, 2.5-mile, 12-turn road course.
This is what close friends call, "Classic Bobby" Keene–a man who has met the major physical and mental demands of a 24-year military career but is happy to sit down and share his beer with you under his paddock tent at the end of a full day of driving.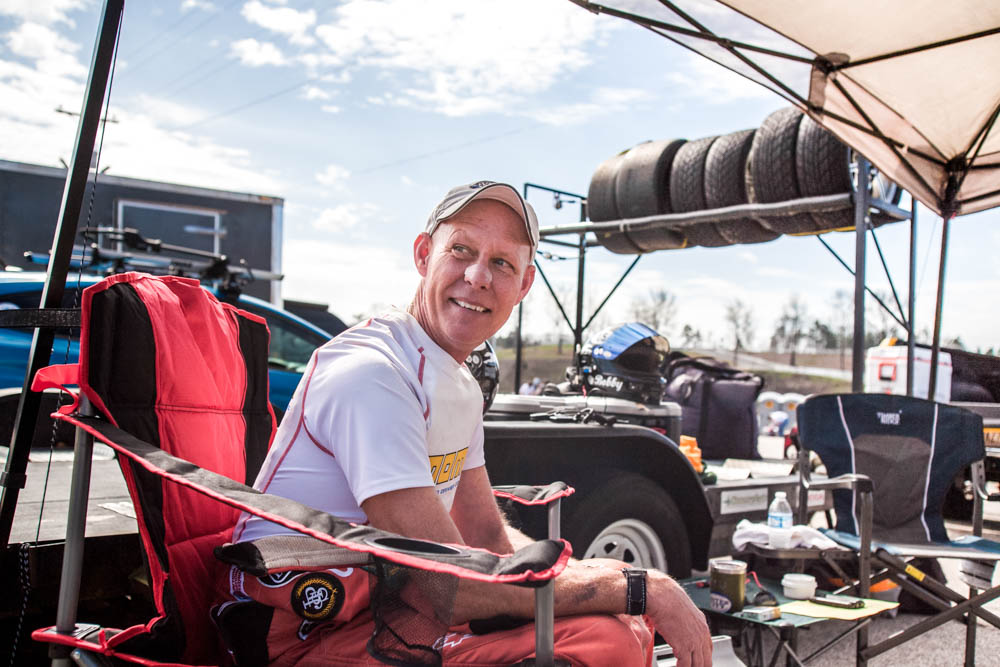 On the track, he wants his passengers to have a good time and learn to be better speed drivers and overall great motorsport community members with all safety aspects in mind. Off track and between group-level laps, Keene practices what he preaches while maintaining his car in performance condition.
As he helps push a Ferrari 488 from a trailer for tech inspection, he adds his two cents to placing a badge on the back of Chin Operations Analyst Maria Herrera-Hicks' 2012 Lotus Exige S and checks her tire pressure before she rolls down to start. He provides feedback for each student and shakes hands with everyone on his way to the Port-O-Let.
Herrera-Hicks' husband and COO of Chin Track Days, Mark Hicks, says half-jokingly, "He's the poster boy for everything right and wrong with the hobby," meaning he is in the top, Type-A class of adrenaline junkies, but also, he maintains the coolest head.
Keene, 52, grew up in Leesburg, Florida and, leading up to racing days, hasn't spent a lot of time hugging the ground. He joined the military in 1984 and served in the U.S. Air Force for 12 ½ years as a jet engine mechanic before being accepted into Army flight training school, "at 110 pounds," he remarks. A direct service transfer to the U.S. Army as a test pilot followed. Keene has been stationed in Texas and served in Italy, Turkey, Korea, and Bosnia and was deployed during Desert Storm. He was a test pilot for six years and says today, "I never wanted to instruct." Why? "Because it's not as dangerous or exciting."
He retired as a U.S. Army Chief Warrant Officer 3 (CW3) and today Keene serves as a government contracted AH-64D/E Apache helicopter instructor at Fort Rucker. He lives near Enterprise, Alabama with wife, Eden Keene, who is a retired U.S. Army Captain. She joined the military as ROTC, also flew Apaches and now works as an aircraft requirements coordinator.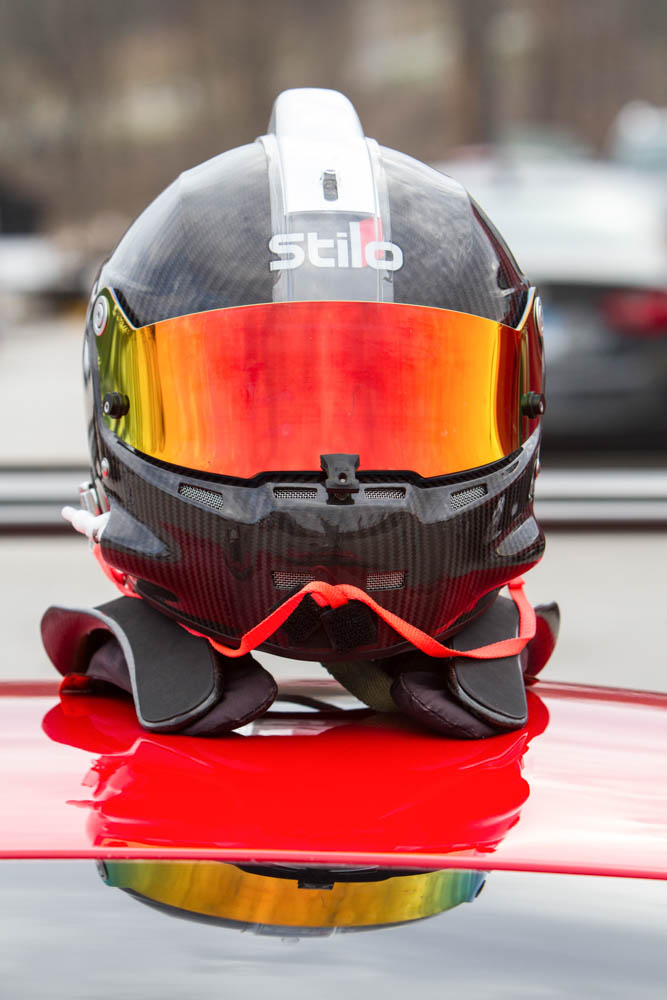 Between the two of them they own three race-worthy cars; the Exige, a Lotus Elise and Lotus Evora. Keene chooses Lotus because, "To me, it's the best-handling car in the world." In the year Exige came out, Car and Driver Magazine reported that it hits 60 mph in 4.1 seconds. Keene remarks, "It's not the fastest – but that's because you can't shove a Ferrari engine into that little thing."
Track prep included a total teardown of the car one year ago, "to lighten up," Keene says. "I took the AC out, the back off, and lowered it to put in the roll cage with the fire system." In addition, he removed "all the comfort stuff" and sound deafening, even the roof headliner. "If I could save grams," he said, "I did." Current weight has been stripped to 1,901 pounds, "With me in it and a tank of gas," he adds.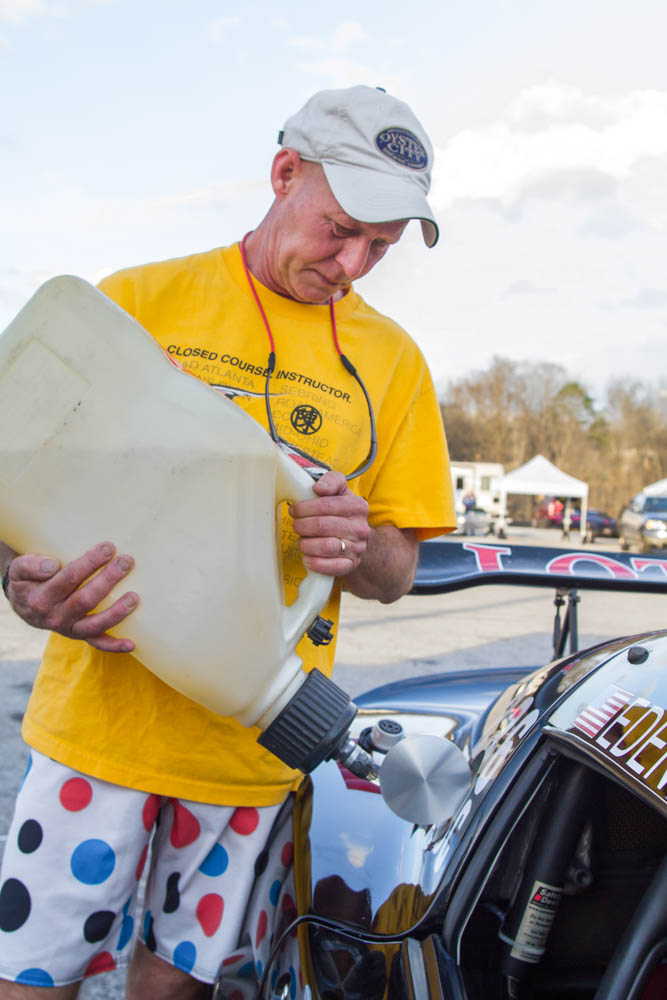 There is nothing about Keene that goes incognito and it was by this way of life that he and Eden got an unintended reputation, which they embraced during their autocross racing days and have reproduced as a sticker on the backside of the Exige that reads, "Old Guy with Hot Wife Racing."
Keene also races on the Chump car circuit and once participated in a 14-hour endurance event at Daytona during which Randy Pobst, known as "The Rocket" with over 90 pro wins, filled in.
Keene's first road track was Atlanta. He reflects about its daunting ride of elevation changes and blind corners, "Everybody said I was stupid but, looking back, I took negative things, plus positives, and learned to use it all again. We are not unfaultable."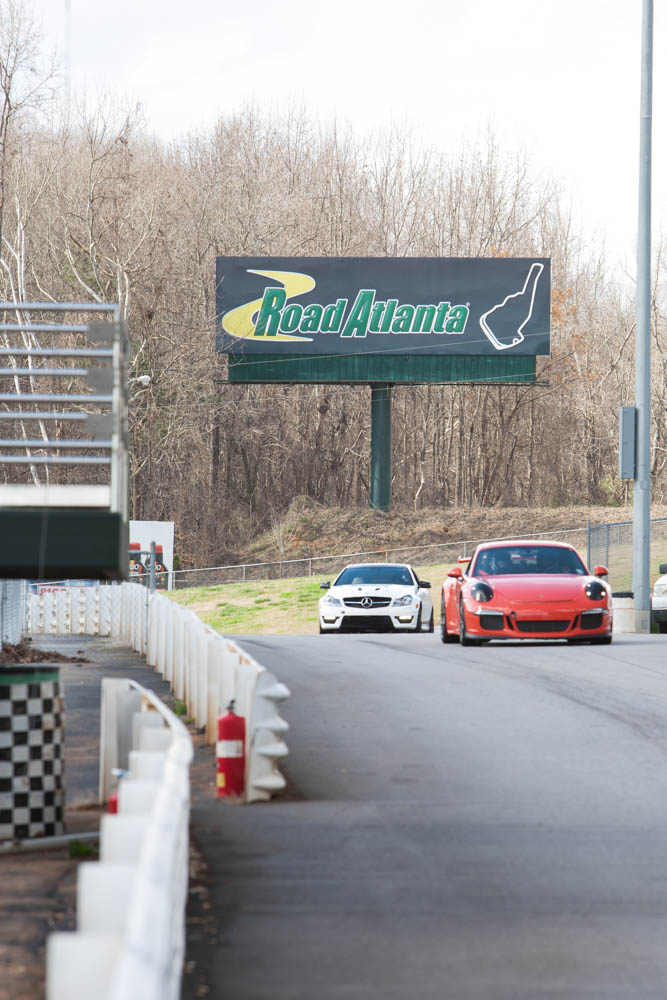 Point to Pass – Or Fail
Keene drives in the Advanced Solo "Red" group on the track. After four years of practicing, he was asked to instruct other enthusiasts. Like the Army, at first Keene didn't want to. Nor did King Shaw from Atlanta who drives a 2006 Porsche Cayman S but both were chosen to contribute real-time experience in supporting their peers.
Chin is where everyone shares track time and knowledge in important areas such as car control and vehicle dynamics fundamentals. Classroom sessions are required of all novices at each event. The 2018 schedule includes 114 days on 17 tracks.
Keene thinks teaching someone to drive at speed is harder than flight training. "I have minutes to learn the student," he explains, "and I don't have control. I'm talking them through and they have to listen or it can end badly. In an aircraft I can recover the thing going wrong. The hardest part is feeling out their comfort zones. Sometimes I have to reel in. I can't crack their heads to pour stuff in and teach them to react."
Keene tells a story about his time in Korea and, in a way, it sums him up. He was paired with a soldier who told him, "Things could be blowing up, and you're like John Wayne! You will emerge, a cigarette in your mouth, yelling at people!"
His body takes a beating from the lateral G-forces. About racing speeds reaching 140 miles-per-hour, Keene says, "It messes with you because your sight picture changes and your body wants to assimilate to it." He adds, "There is always something I can draw out of myself, make better, and pass on." Driving any car fast is also, "100-percent about consistency," in Keene's book. He also swears by walking a racetrack on foot.
Chin Chief Instructor, Jim Pomroy explains, "Coaching is about using goals as your contribution to each evaluation." From his own experience with students Keene knows, "They may drive the right lines and hit comfortable speeds but, if the ego appears, they can expect to fail." Whether he teaches the owner of a BMW Spec E46, or Porsche 911 S, "It's about warming their brain up and getting the car out of the mothballs."
Loving the Legend
The track is like a twisting river and is one of the angriest and greatest. The discipline Chin teaches is the safety measure the group depends on. "Guys like Bobby are the heart of the hobby," COO Mark Hicks notices. "They love the legend. It's awesome, scary, and thrilling, and they can't wait to do it again."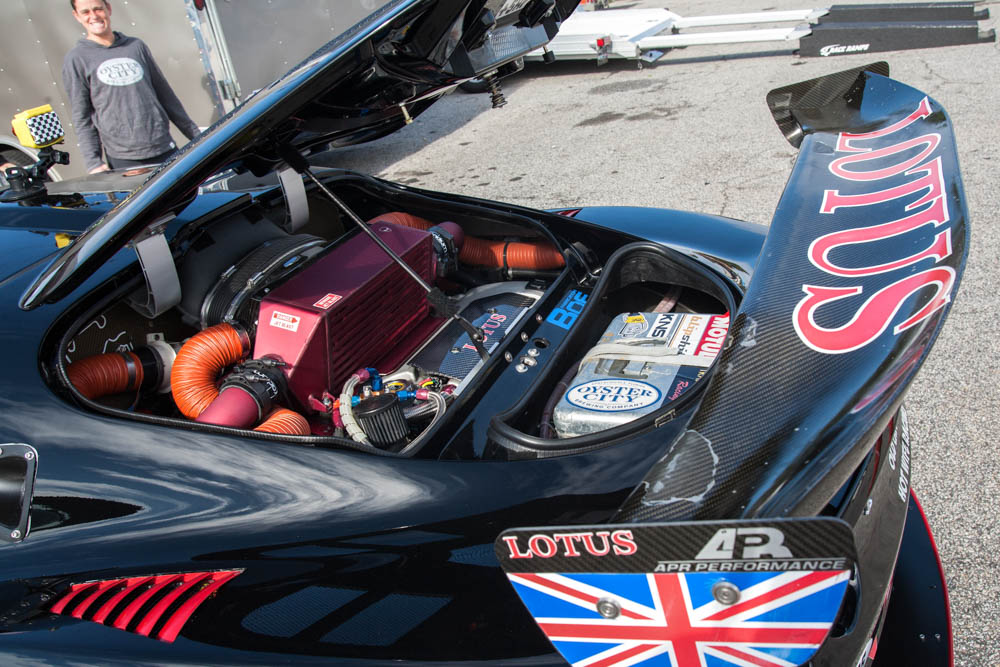 The first Atlanta race was held in 1970 and, in 2006, entrepreneur Don Panoz purchased it, making major improvements. On opening day, Keene's was the first group to try out the new turn three. The old landing could get a car airborne. Today it's smooth and, "the swells are serious," but it is his favorite, because, "I can pull up at full throttle."
"There is muscle memory for every inch of tracks," says Rich Boven, member of the Porsche Club of America (PCA). "At Chin events, 60 percent [of participants] come every time, and 40 percent try it. At the end of the day, there's a place for everybody and it attracts quality cars." Keene nods, "Even if a Corvette with 700 horsepower shows up to do 90 mph on the backstretch, you let him take home a smile and he'll come back. That's what we do."
After passing on his first student of the day into the next run session and before jumping back in his car, Keene says, "This is my fun… to legally drive as fast as I can and teach them to feel a clean race line."
Event Manager, Jack Beachem, counted 110 participants over two days in the February event. "It's Georgia with lots of wonderful vehicles and a bunch of good people enjoying cars as entertainment."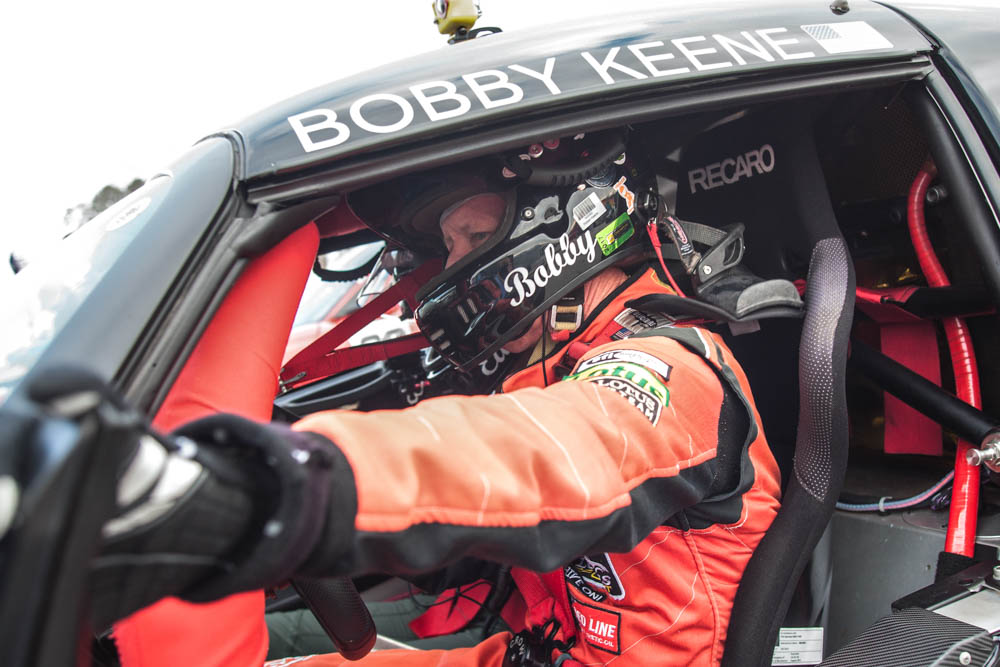 By 3:30 p.m., Keene, instead of zipping out of his suit, is refueling, getting ready again.
Finally, as the sun sinks into the horizon, Keene gets back in his shorts and sits down. "I stood in formation 24 years, I've earned time on my butt." He is anticipating a 4:00 a.m. start the next day.
He plans more racetrack action this year and prepares for Sebring International Raceway and Barber Motorsports Park. "It's not just about cars. It's about driving them." He smiles and admits, "If I had to buy another one my first choice would be an Alfa Romeo."
What matters most to him? "A good steak," he says, "and our dogs, Maggy, Piper, and Dagen mauling us when we get home."
Leave a Reply
comments
Powered by Facebook Comments