BY BRITTANY HAWES
PHOTOGRAPHY BY TIFFANI DANIELLE CASCADDEN
T
here is little that can exhibit love more perfectly than a piping-hot platter of delicious soul food. Just one item on a plate of Southern food favorites can bring back memories: a grandmother's smile and kind eyes, dinners spent with the family around the table, perhaps the first heartache, and so much more.
This is what Erick Rogers and his fiancée Cassandra Simpson have been bringing to their community since 2015. The power couple owns and operates The Bistro Southern Cafeteria, a 60-seat restaurant situated on East 5th Street in Millville, just five minutes driving time east of downtown Panama City. There is rarely a parking spot available next to the slate-gray building with the painted lettering on two of its sides.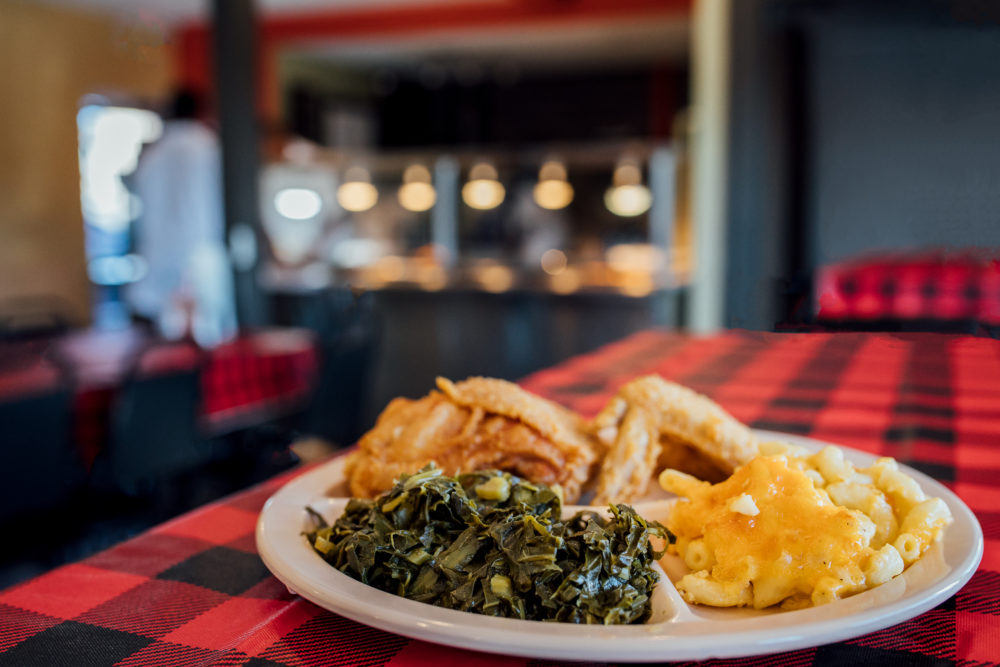 Often, a line of guests stretches far out the door. The comforting aroma of fresh cornbread and spiced-to-perfection chicken greets customers as they step closer to the buffet-style counter. Friendly, lively conversation between servers and customers complements the feel-good atmosphere. There is plenty of laughter to go around, as well as good food–platters are piled high with hearty helpings of fried and baked chicken seasoned down to the bone, always-fresh veggies that are flavored with turkey, meatloaf covered in gracious amounts of gravy, and the cheesiest baked mac-and-cheese you'll ever come across.
When Hurricane Michael ripped through Florida's Panhandle and beyond, The Bistro Southern Cafeteria sustained minimal damages and has thankfully been able to keep its doors open to the public. There were no other restaurants open in the neighborhood. For Erick and Cassandra, their blessing was a call to action—they wanted to provide comfort to those who weren't as fortunate. During the first few days after the storm, the couple drove from their home in Dothan, Alabama, and worked hard in their restaurant's kitchen to cook and pass out 150 free meals to members of the community.
With a passion for cooking and the pride to make every meal a great experience, Erick and Cassandra, who have been on the Ricky Smiley Morning Show and whose food and compassion have made waves all over the South, sat down with us on a busy day in December to share their recipe for success.
How did you meet?
Cassandra: High school, that's when we first met. We went our separate ways, then we found our way back to each other through social media. I was in Alabama; he was in Detroit at the time. It was a lot of back-and-forth for us. It was his idea to start the restaurant. He has a passion for cooking. And once I got into it, I wasn't going to half-do it. I'm giving it all I've got and I'm doing my very best.
Erick: What we learned about cooking from our families, it all comes together here, with me and her. What you see here are family recipes.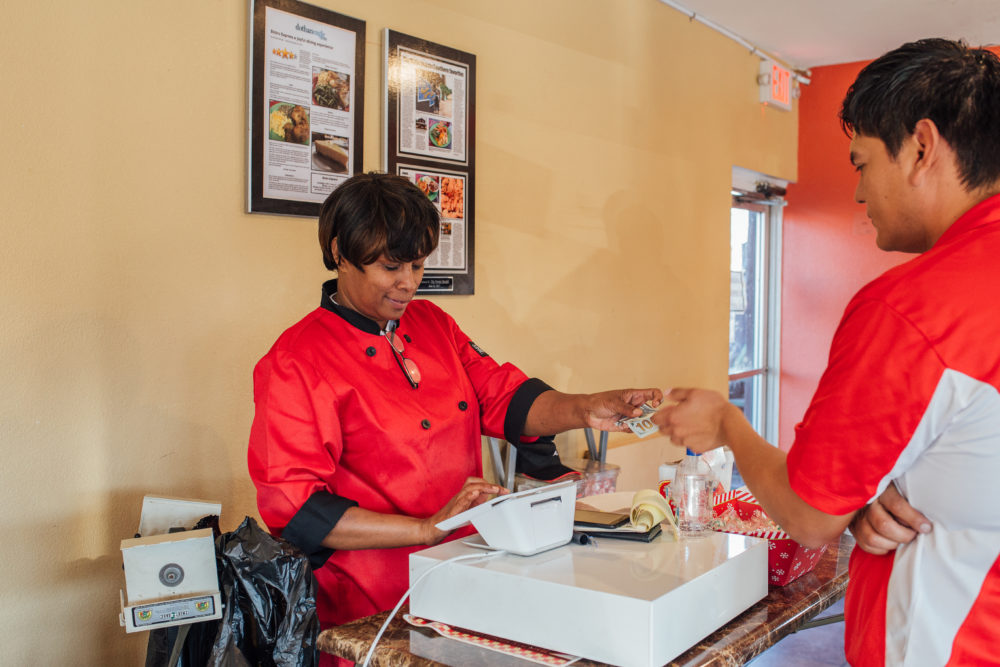 Why was Panama City the perfect place to set up a restaurant?
Erick: We've connected to the community. We've had the opportunity to help local schools and other organizations. We held a fundraiser with Bay High band students to help them get to Disney to play in one of the parades at the Magic Kingdom. After Hurricane Michael hit, we were focused on staying positive. We're looking at this as an opportunity for Panama City to grow and blossom.
Cassandra: We love it here. There's just so much opportunity. It's like our second home. If the chance comes upon us, we'd like to be in a larger building, but we'll for sure stay in this area.
Who are your most frequent customers and when are you the busiest?
Erick: Right now, we have a lot of people coming in from the power companies who are working on restoring electricity. Volunteers who are helping clean up the community drop by often for lunch. Sometimes, it gets so busy
that we have a line from the buffet all the way out the door.
Cassandra: We cook everything fresh early each morning and sell what we have. We sell out every day. The best time to come in and make sure you get a plate is during lunch—between 11 a.m. and 12:30 p.m. We have certain specials depending on the day of the week, so we get a higher number of certain customers that day.
Erick: Monday is our Official Contractors Day. Tuesday is Seniors Day and Wednesday is our First Responders, Military Active or Retired, and School Teachers Day.
What is your most ordered item on the menu?
Cassandra: Usually, it's the fish and chicken. On Sundays, it's oxtails. The meat takes about three hours to prepare and it's an item that always sells out. We serve different food on different days, so it all depends.
Erick: One of the things people say is that our food gives them a connection to their parents. The recipe for my chicken comes from my late grandmother. The recipe is 144 years old and people love it. I sometimes let customers try my own creations. One of these recipes is seafood lasagna. When we serve it on Friday, it sells out within thirty minutes.
Can you share with us some tips for other couples who work together?
Erick: It's all about openness. You've got to be open. That takes you a long way.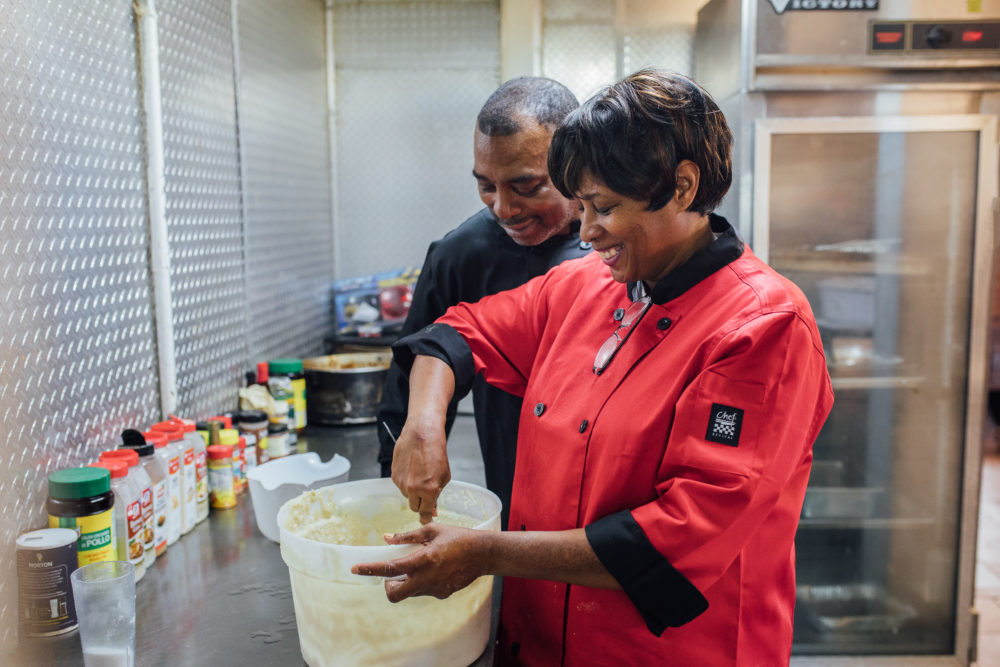 How do you share responsibilities?
Cassandra: I run the front, he runs the kitchen. I deal with the customers and he does all the cooking.
Erick: I am usually in the back, working to get the food up to her.
Cassandra: He loves to cook. If he had to do it for free, he would. It's all about seeing the happy expression on his customers' faces.
Erick: I couldn't run the restaurant without her. She keeps things flowing at the front and makes sure everyone's happy.
What special Valentine's Day tradition do you share? 
Cassandra: We had a nice getaway for Thanksgiving and we have plans for Christmas. But, on Valentine's Day, we will put the restaurant first.
Erick: At the restaurant, if we see a couple coming in on Valentine's Day, we give the lady a rose. But personally, we're connected to the business. Still, we always find time for one another when the restaurant is closed.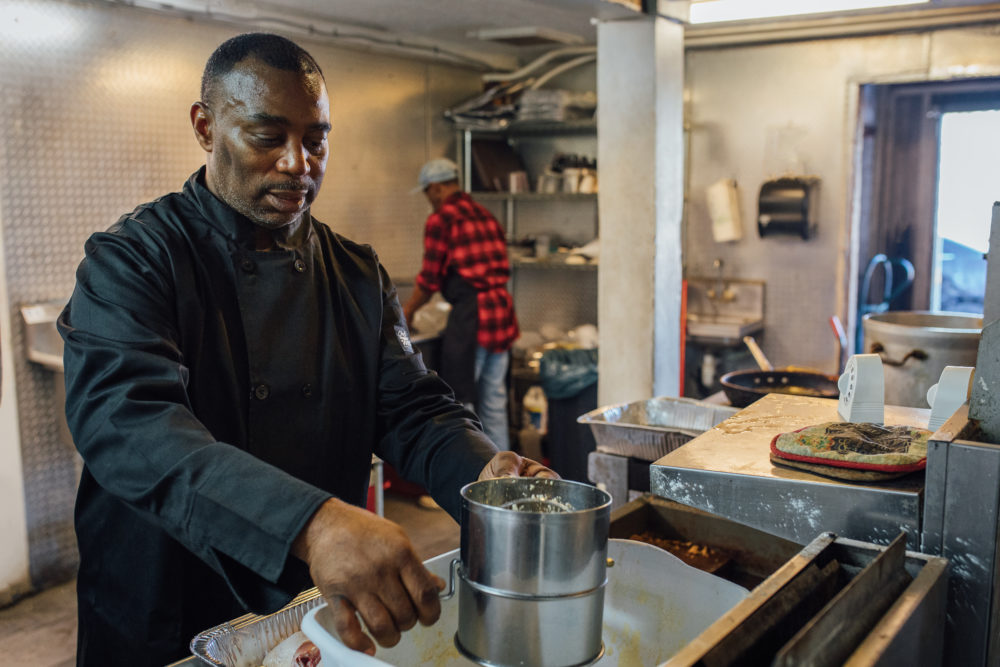 Find The Bistro Southern Cafeteria at 2900 E 5th St, Panama City, FL 32401
Call today: (850) 640-3400
For more information, find The Bistro Southern Cafeteria on Facebook
Leave a Reply
comments
Powered by Facebook Comments