BY VAL SCHOGER, WITH CONTRIBUTIONS BY DR. HANS CASPARY,
DAVE SMITH, DR GREGORY ENGLAND, AND WESLEY SMITH
PHOTOGRAPHY BY MIKE FENDER
A monthly meeting of automotive enthusiasts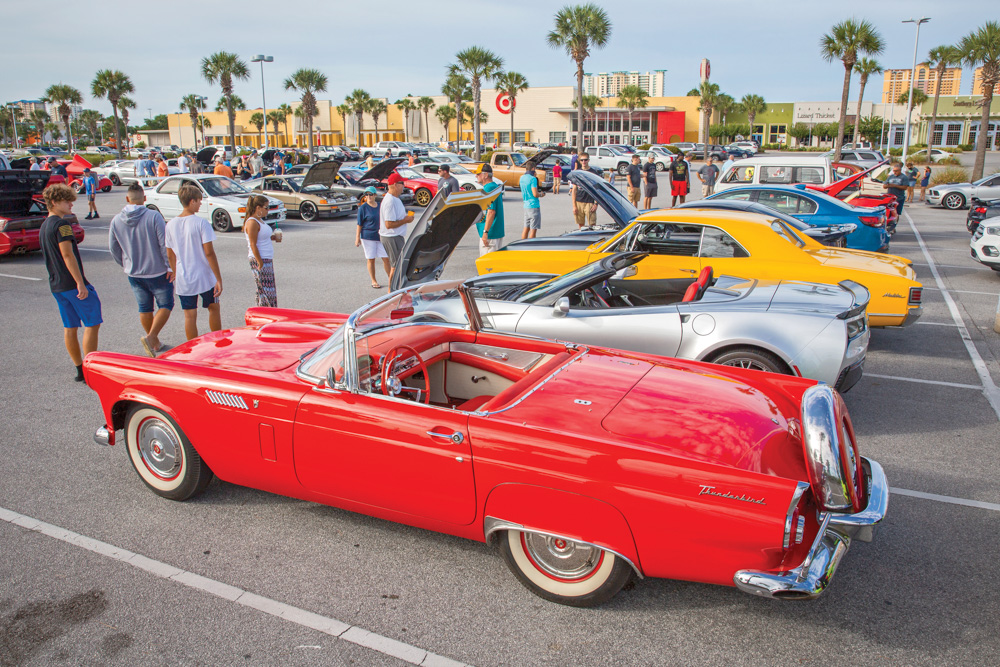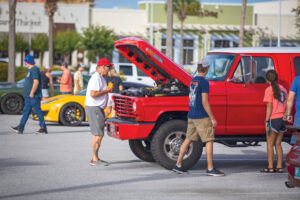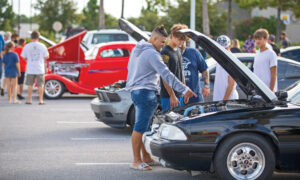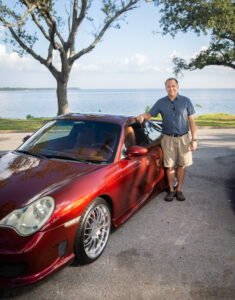 The Oxford dictionary defines a car as "a road vehicle, typically with four wheels, powered by an internal combustion engine and able to carry a small number of people."
When the I-Pace, a fully electric car, was released, its manufacturer, Jaguar, requested that the dictionary entry be corrected. While it might have been more of a PR-ploy than an attempt to contribute to the proper use of the term, the automotive industry has evolved and cars have become so much more than a means of transportation. Automotive designer and manufacturer Henrik Fisker expressed it this way; "My motivation for starting Fisker was simple: I thought there must be a market for beautiful, exciting, fast, environmentally friendly cars. The car is probably the only product you can still fall in love with and have a relationship with."
Those who have deeper feelings for cars will know the bliss and splendor of driving and maintaining them, and they will feel connected to others who feel the same. There are numerous events around the globe that bring car enthusiasts together—whether racing or exhibiting.
For our regional car lovers, Panama City Cars and Coffee is an event that invites all car enthusiasts and takes place on the last Saturday of the month. There are no membership lists or fees, only the passion for cars. A Facebook page announces relevant news and the next meetings. The driving force behind the local Cars and Coffee meetings are local residents who simply share their love for cars: Wesley Smith, Dr. Gregory England, David Smith, and Dr. Hans Caspary.
Dr. Hans Caspary on Cars and Coffee:
"The movement was founded in the early 2000s in Irvine, California. California has a massive car culture, and by 2003, the first original meeting was organized. Gradually, the event was copied at other cities and the movement spread. Car meets and gatherings have been a staple of American culture as long as cars have been around. The Automobile Club of Southern California began meeting in 1900! Currently, there is not one central Cars and Coffee organization, but the Internet has several websites that have organized the dates of the meetings at most cities. Our first local meeting was in September 2014 with about 10 cars. With social media and word-of-mouth, our Facebook group members are now over 2,000. Our monthly attendance varies depending on the weather, usually about 100 automobiles. This number is obviously much less than the larger cities. But per capita, it is a strong showing and the quality of cars that show up is impressive."
How have the founders of our local Panama City Cars and Coffee become such car enthusiasts?
Read their statements and thoughts about their passion on the following pages and feel invited to join their group: facebook.com/groups/1529486630620361
Dr. Hans Caspary
"I have been a car enthusiast since I can remember. I have seen pictures of myself as a toddler playing with Hot Wheels cars. I have fond memories of watching F1 races with my dad in the 1970s on a black-and-white TV. Later, in elementary school, I had a friend who had a go-kart and we would spend most afternoons riding around the neighbourhood. When I got to middle school, I subscribed to Car and Driver Magazine and would read it from cover to cover. By high school, I had worked and saved for my first car, a used 1987 Isuzu Impulse. The car was rear-wheel drive and I was too broke to buy new tires. With a little rain and a heavy right foot, I learned to power slide after work in the parking lot—fun times!
"My passion for cars and racing continued throughout my college and adult life. Watching Formula 1 and rally racing became a favorite pastime. Attending the Rolex 24-hour endurance racing has been my favorite. In 2007, I started high-performance driving events throughout the southeast. Back then, I had a Mitsubishi Evo VIII that was highly modified and extremely fun to drive. But I was longing for more and nine years ago I bought a track car, a 1987 Porsche 951 Turbo with all the safety equipment. The car is over 30 years old and can keep up with many new-model sports cars and it has also been a joy to own and drive. My current garage queen is a 2003 Porsche 911 Turbo and this one I will keep hopefully forever and pass on to my children."
Dr. Gregory England
"Becoming a car enthusiast is something that came very naturally to me, almost instinctual. Nobody ever said you should consider an interest in cars. It just happened.
"I grew up in a very small, rural town in southern West Virginia. My dad is a car guy even now at 83. He's into NASCAR and has been for as long as I can remember. Some of my fondest early memories are washing cars on Saturday mornings with my dad. He took me and my brother to races at Charlotte and Daytona in the 1970s. We're Chevy fans.
"Growing up, I always loved Memorial Day weekend because there was no school on Monday and we could stay up late Sunday night and watch the Indy 500. In those days, although the race was run during the day, it was televised that evening.
"Whenever I get to see my dad or brother or talk to them on the phone, part of the conversation is always about cars. In a similar way, my son is a car guy. He played with cars in his crib before he could stand up. We've been going to the 24 Hours of Daytona since he was 4 and have been to most of them since then, not to mention numerous other races. As he is fond of saying, 'It never gets old.' Whenever he comes home to visit, we hang out in the garage. Nobody ever said let's go hang out in the garage; it's just something we do.
"There's no place I would rather be than at a race track with family and friends, whether driving my own car on a track day or as a spectator watching a race. Most Saturday mornings you can find me in my driveway washing my car.
"My favorite car is generally the one I'm driving. Life's too short to drive a boring car."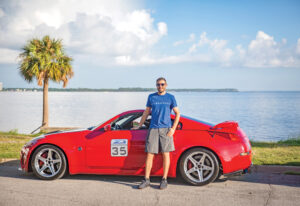 Wesley Smith with his 2004 Nissan 350Z 6MT featuring a gutted interior with racing seat and racing steering wheel, carbon fiber vented hood and rear diffuser, and racing 4-point roll bar. The car is primarily used for HPDE (high performance driver education) track weekends.
Wesley Smith
"I was very fortunate to start attending our local Cars and Coffee when it began. Originally, when we met, it was located in the smaller front parking lot, and soon moved to the side lot as the numbers began to increase. There I met Dave, Hans, Greg, Steve and a number of local auto enthusiasts who also had a passion for track weekends at road courses in the southeast.
"I have always been a huge car enthusiast from a young age. I began collecting Hot Wheels at a young age—most of which I still have in the packages. Most of my gaming youth was spent playing Gran Turismo racing on PlayStation. My enthusiasm for Nissan began with my first vehicle, which was a Nissan Hardbody pickup, followed by a Nissan Frontier 4×4.
"My Frontier got me hooked on modifying vehicles. I did a great deal to it and began regularly competing in car shows, winning a great deal of trophies, including a Best in Show trophy. After that, I got a Scion TC that I TRD-supercharged and modified bumper-to-bumper, also winning lots of awards, as well as getting an addiction for horsepower. I started taking my TC to the drag strip and had lots of fun with that. After the TC, I got a 94 RX7 project car, and then finally moved to my 04 Nissan 350Z.
"I frequently autocrossed the Z and became an enthusiast of car control events. As my skills increased at autocross and with encouragement from Dave Smith, I moved up to High Performance Driver Education (HPDE). I continually strive to improve my Z to be a more aggressive track car from one event to the next.
"My 350Z is easily the one car I never intend to get rid of. I bought it 12 years ago in nearly stock condition and have since invested lots of money and time making it the car it is today. I have turned every nut and bolt on the car myself. From suspension, brakes, drivetrain, interior—I have learned the car from bumper to bumper.
"My wife, who is also an automotive enthusiast, and I own, in addition to the Z, a 300Z that is our weekend driver, a 350Z track car, a G35S track car, a Q60S, my wife's daily driver, and an Armada, my daily driver."
 Dave Smith
"My passion for cool cars comes from my father. He was a mechanical engineer and he loved cars, and always had a classic car, in the garage. '54 Corvette, '57 Chevy Bel Air (which I still own), '63 Studebaker Avanti, '56 Ford Thunderbird etc. I remember playing in them in the garage and pretending I was racing. I even wore a helmet.
"Mechanical and technical things have always interested me. I enjoy figuring out how something works and then trying to improve it. When I moved to Panama City in the late 1980s, I bought my first Porsche. At that time, none of the shops had much experience with them, so I started learning everything I could about Porsche. I bought a few more and soon had other people asking me to work on their cars. That's how Smith Motorworks Inc. was born. Shortly after that, I was invited to a High Performance Drivers Education track day in Savannah, Georgia. After the first lap, I knew I was hooked.
"A few years of that allowed me to get my racing license. Sports car racing is my life's passion. I think most car guys just don't realize how easy it is to take their car to a racetrack and learn how to drive it at high speeds correctly and In a safe environment. Or they just don't know the path to get into track driving or racing.
"My shop specializes in Porsche and Ferrari, with an emphasis on high performance and racing.
"I enjoy helping cultivate new drivers to our sport and sharing my passion for performance cars.
"Panama City Cars and Coffee is a very casual event. We hope it gets a lot of the guys who keep their cars in the garage to come out on a regular basis. You could show up and be here 10 minutes or two hours. And if you need to leave, you can just take off and leave. It's not a structured event where you have to feel bad because you are leaving in the middle and everyone's going, 'Where's that guy going? How come he's leaving early?'
"It doesn't matter what you drive. It could be an antique or just a rusty car that you have a lot of appreciation for—bring it out. We enjoy looking at it as much as a full-blown race car that might show up. Those of us who have multiple cars, we'll bring a different car each month. So, it really makes it interesting and it keeps things fresh and you're not always looking at the same car every time.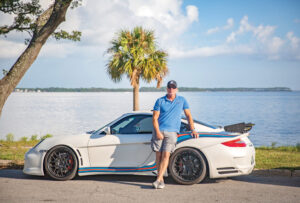 Dave Smith of Smith Motorworks with a Ferrari 360 Spider that features many performance upgrades and a white twin turbo Porsche with the "Martini racing livery"— a fully custom built car with one-off carbon fiber body work and 800 HP engine and suspension upgrades.
Leave a Reply
comments
Powered by Facebook Comments