BY LAURA ROESCH
PHOTOGRAPHY BY MICHAEL BOOINI
At the end of a multi-day trek to Pennsylvania in January 2010, the coldest it had been in recent memory, Vince Larsen bought his dream car, a first generation 1953 Volkswagen Kombi barndoor microbus.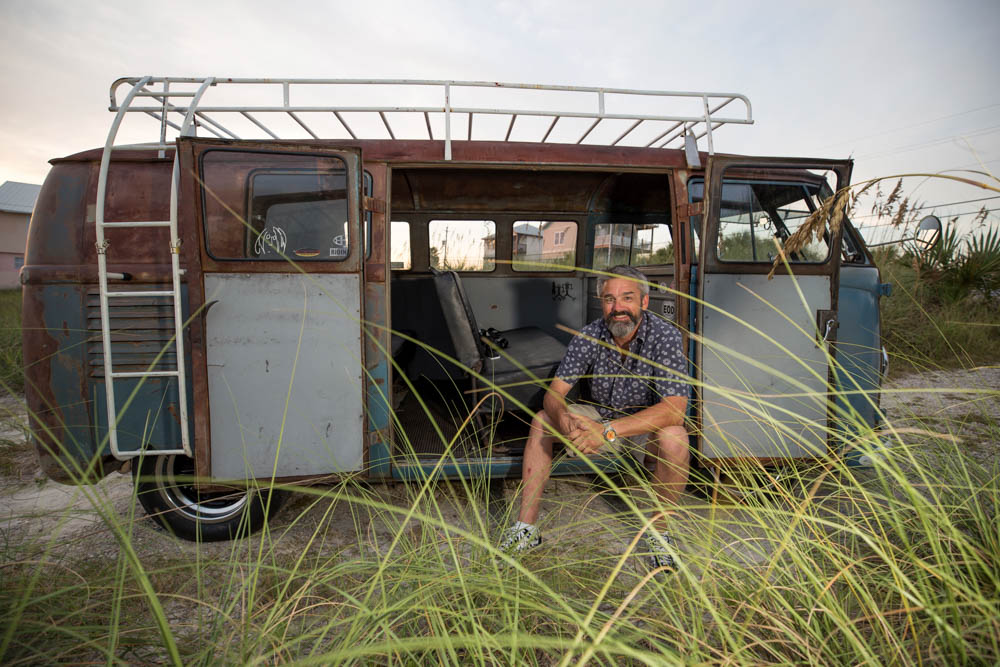 Designed by Ferdinand Porsche, the microbus was the second automobile product, after the Beetle, manufactured by Volkswagen. The Kombi model, short for the German word "Kombinationskraftwagen," was designed to be a cargo and passenger vehicle combination.
The "barndoor" describes the oversized rear engine cover. This model was produced from 1949 to 1955. Various VW bus models are identified by the number of their windows. Vince Larsen's model is a basic Kombi, an 11-window version that includes a split-screen front window design that was added to improve its aerodynamics.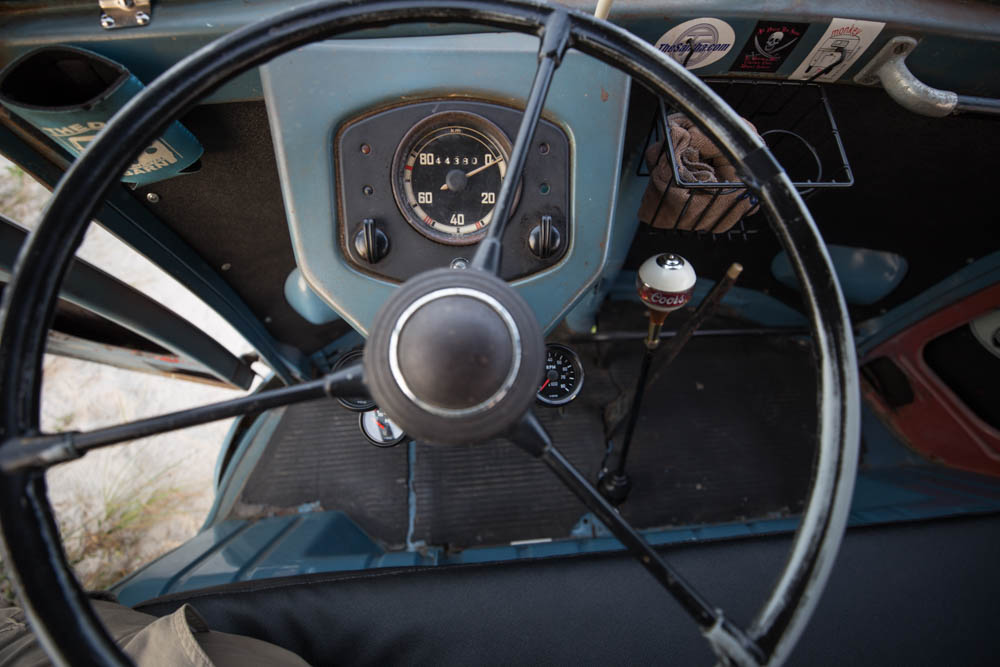 In the U.S., Volkswagen microbuses of the 50s and 60s are quintessential symbols of the hippy lifestyle. Vince's infatuation with VW buses dates back nearly thirty years to when he first saw one while he was in California for military training. Vince has owned several VWs throughout the years, including a Karmann Gia, a 1956 Beetle with just 6,000 original miles, two 21-window buses and a 23-window bus. The Kombi was "the one" to keep, Vinny says. "I always, always, always wanted a barndoor model because it is one of the earliest body designs with the unique, oversized engine cover." After exhaustive searches on the internet, and studying microbus websites and forums for years, Vince found his dream car and it already had a name: Winston.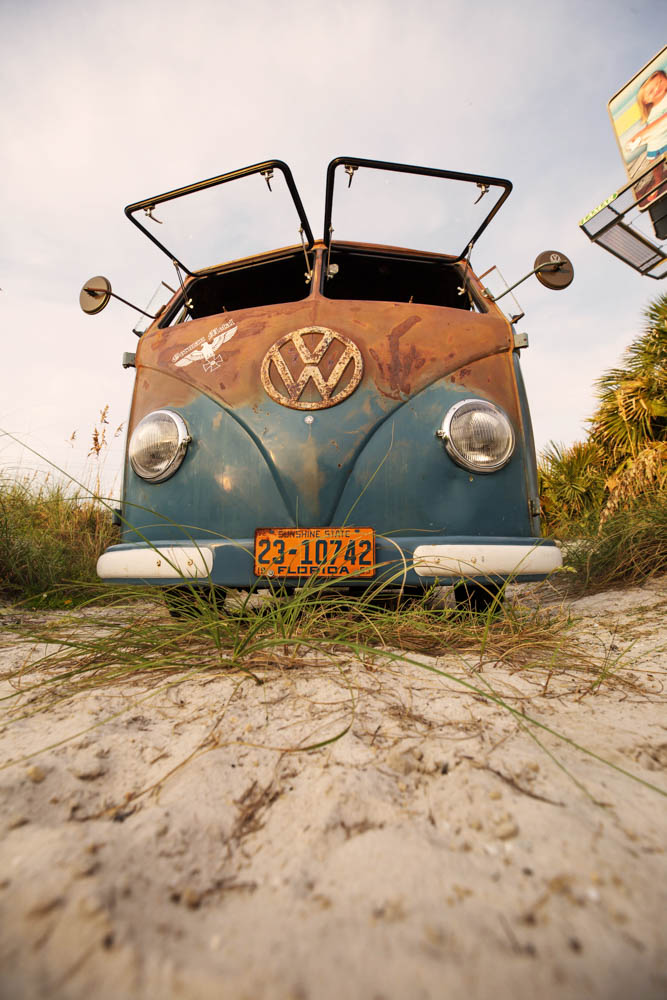 Driving Winston home to Florida turned into a memorable event. Ordinarily, Vince would not have made a 1,200-mile-trip in a 50+ year-old vehicle that he had just purchased, but he knew the brakes, engine, and transmission had recently been rebuilt. Mechanically, he considered it sound. He got on the road with little concern–at first. Soon he realized that his first journey with Winston would be the most uncomfortable of his life. Not only did the bus lack insulation, it lacked a heater. "In all my years, I have never been as cold as I was the day I drove Winston home from northern Pennsylvania. It had been snowing for days by the time I arrived to inspect and pick him up, and it snowed for hours and hours as I began the long drive south to Panama City Beach." Vince drove 27 hours straight, stopping only for gas and coffee, and to thaw out. He remembers that he felt his core temperature dropping and noticed that his hands were numb. Frosty air came through holes in the floorboard. Now he laughs when he recalls the conditions. "It was so cold the water bottle sitting next to me on the seat started freezing. When it froze solid, I knew it was time to stop for gas and coffee, and a quick warm-up." With a 36-horse power engine and a top speed of just 52 miles per hour, driving through Atlanta was a "white knuckle" trip. It may have been the coldest Vince has ever been, but he remembers the smile on his face the entire way home.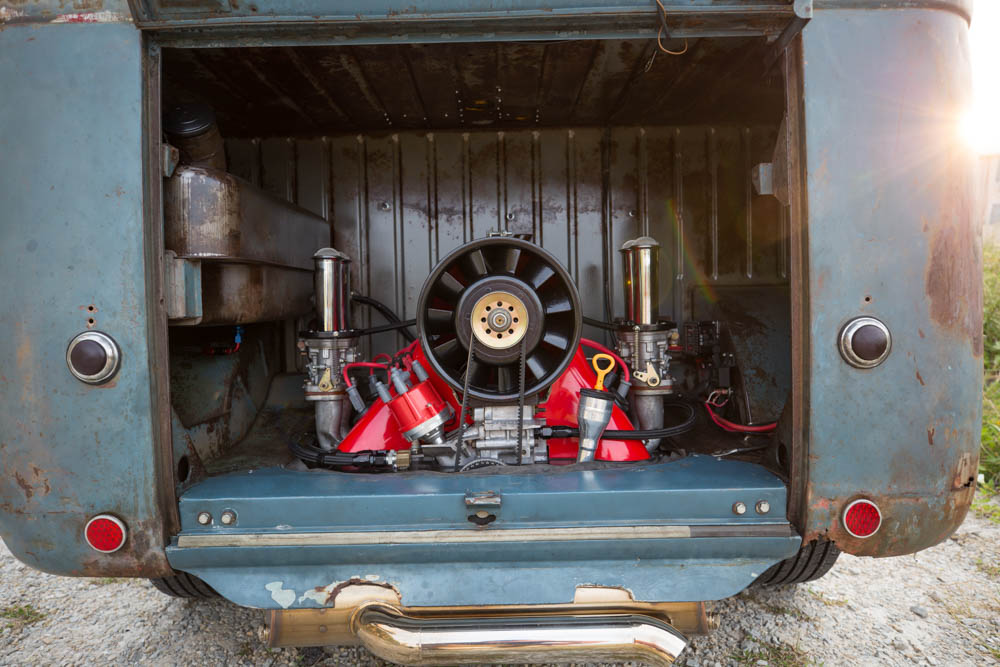 Vince describes Winston as one of the very few still fully operable 1953 barndoor microbuses on the American roadway today. He has made some upgrades, including replacing the original 35-horse power engine with a Type IV Porsche motor, which increased horsepower to 110. Dual carburetors and 6-inch stacks were also installed.
The suspension was changed and the overall stance was lowered by approximately 4 inches. Porsche wheels and disc brakes were also added.
Winston's appearance could be described as minimalistic, with the exterior and interior best described as rustic. Vince has no plans to paint the exterior–he likes the rugged look. He simply applies a resin wax occasionally to add a little protection and shine. He admits it can be somewhat like driving a tin can, and he plans to eventually add interior sound proofing and insulated door panels. Winston still does not have air conditioning, unless one counts the split windows that can be opened. The Winston-driving-experience depends on the weather conditions. If the temperature is hot outside, it is a hot ride. If it is cold, it is a cold ride. But Vince enjoys driving his VW bus daily and year-round; Vince just dresses accordingly.
Winston's value has nicely appreciated since purchased, with some microbuses selling in the six-figure range. In late 2017, a 1960 23-window bus was sold at RM Sotheby's auction for a record USD 207,200.
Winston's value to Vince is priceless and there are no plans to ever sell the microbus. Vince's 14 and 11-year-old daughters grew up with Winston and love it. For Vince, the daily experience of driving Winston as a family is a very happy event–with everyone smiling all the way.
Leave a Reply
comments
Powered by Facebook Comments