BY LAURA ROESCH
PHOTOGRAPHY BY BONNIE BRANT
One of Cam Stewart's fondest memories dates back to the early 1970s, drag-racing her daily driver at the time, a 1968 Dodge Super Bee. The Bee sported a factory experimental engine, a great prerequisite for one of Cam's favorite pastimes, racing "lead-footed" around the tracks near Atlanta.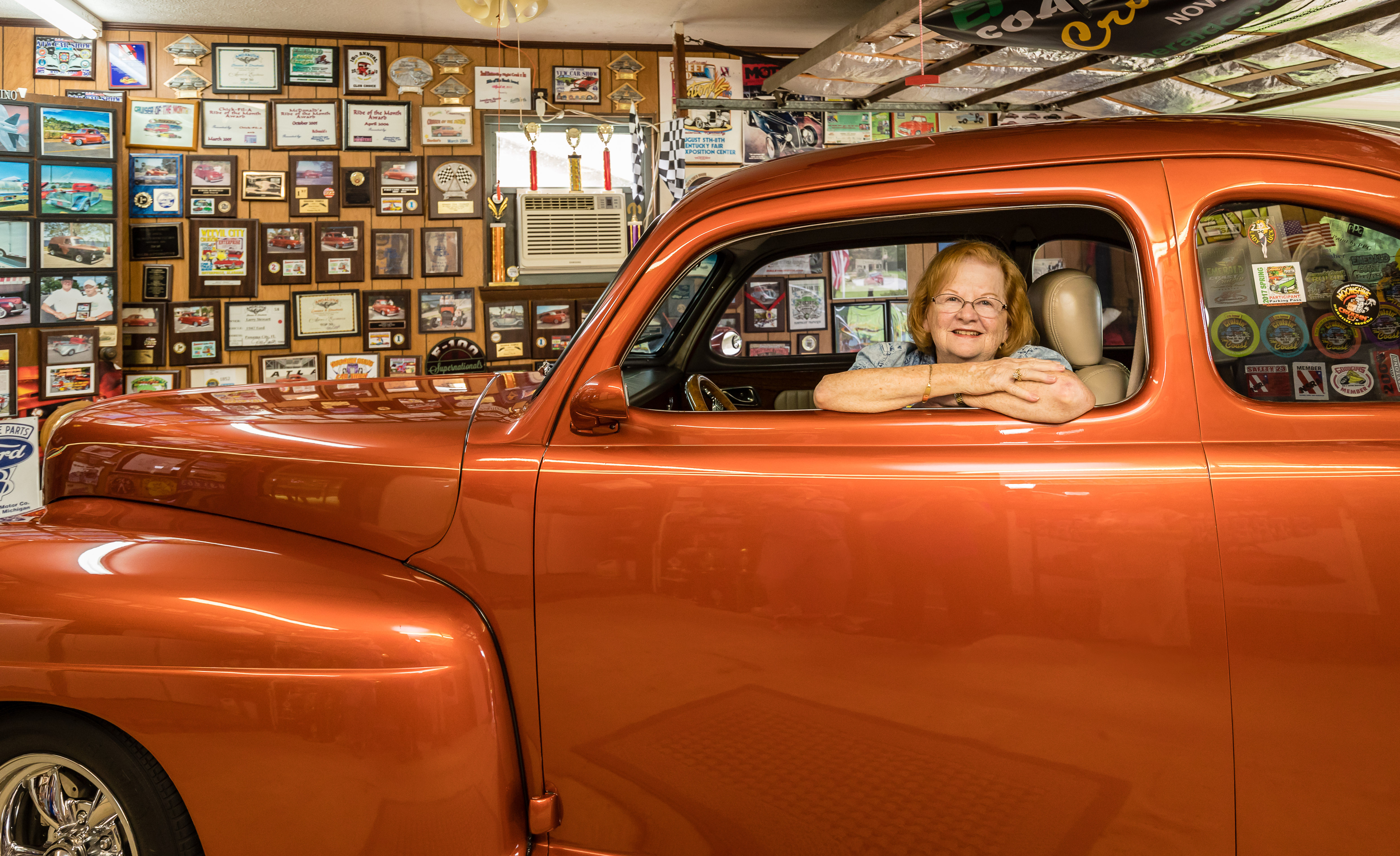 "I have always been impatient at the starting line," she says with a chuckle. "It's a waste of time and material to be smoking the tires." She settled for revving the Bee's engine while waiting on the countdown. Barely five feet tall, Cam is imposing in her presence, so when she expresses her lifelong love of speed and driving fast, she leaves no doubt that she knows what she is talking about. She once was a passenger in a ride-along at Road Atlanta in a car owned by NASCAR race car driver Dale Earnhardt Jr. She suited up, giddy with excitement, but with her small stature, she needed help to get into the race car. She swears Earnhardt reached speeds up to 165 miles an hour.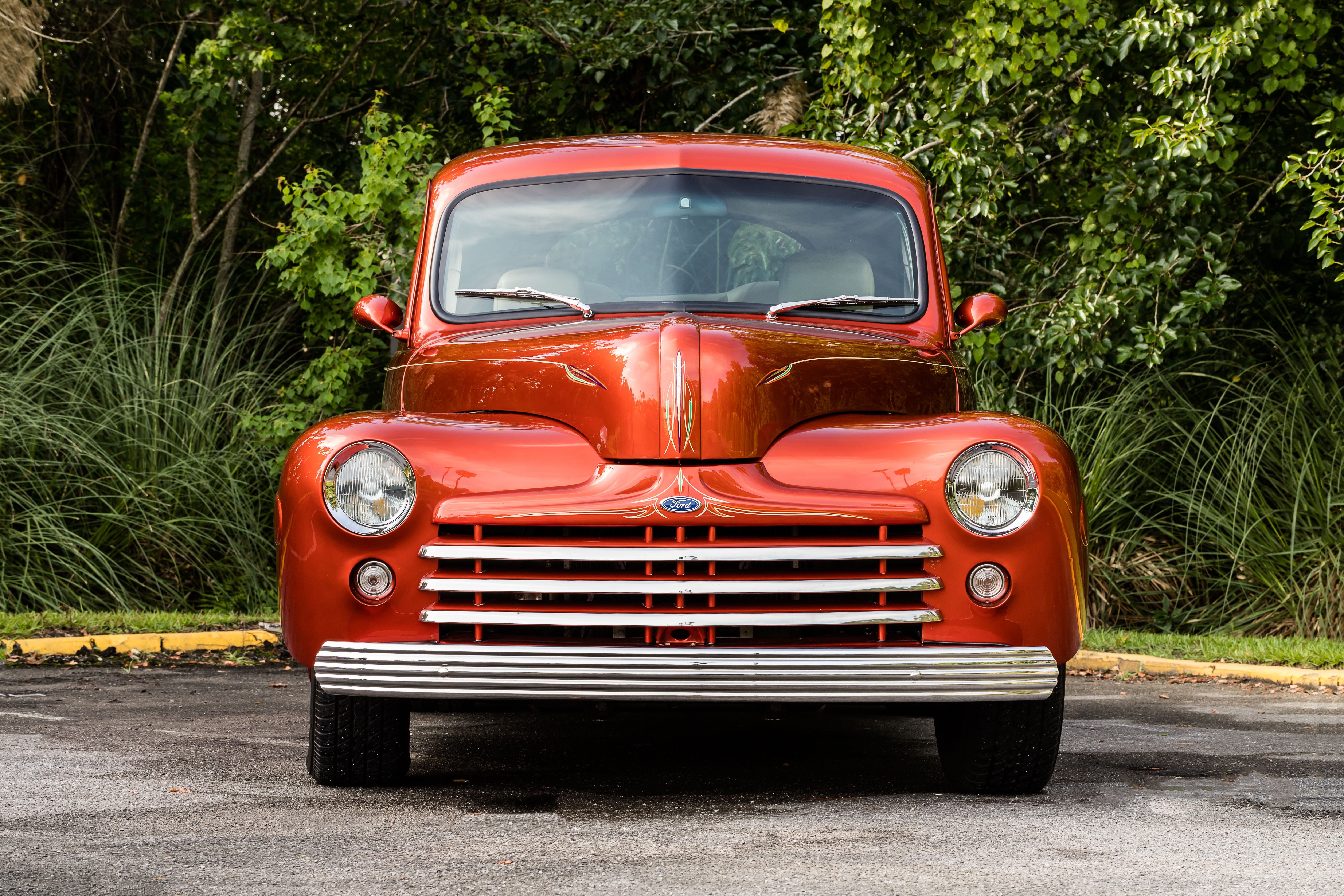 Fortunately for Cam, her husband, Larry, shares her automotive enthusiasm and Cam remembers the afternoon in 2002 when Larry made one of the best announcements ever in the many years of their marriage. He met her at the door with the words, "We need to talk." To some wives, this statement would have brought deep concern. Not so for Cam. Larry declared that, after hours and hours of searching the internet, he'd found a car in Tyler, Texas, that would be ideal for building her the custom street rod of her dreams: a 1947 Ford Coupe Deluxe. The model was of special interest to Larry because he drove the sedan version his senior year in high school in Ohio in 1965. Fifty years later, after a few months of hard work, the Stewarts drove their custom Ford to Larry's 50th high school reunion where it quickly became a "one-car car show" as his former classmates gathered around it. Wherever they drove it, it attracted spectators, and does so to this day.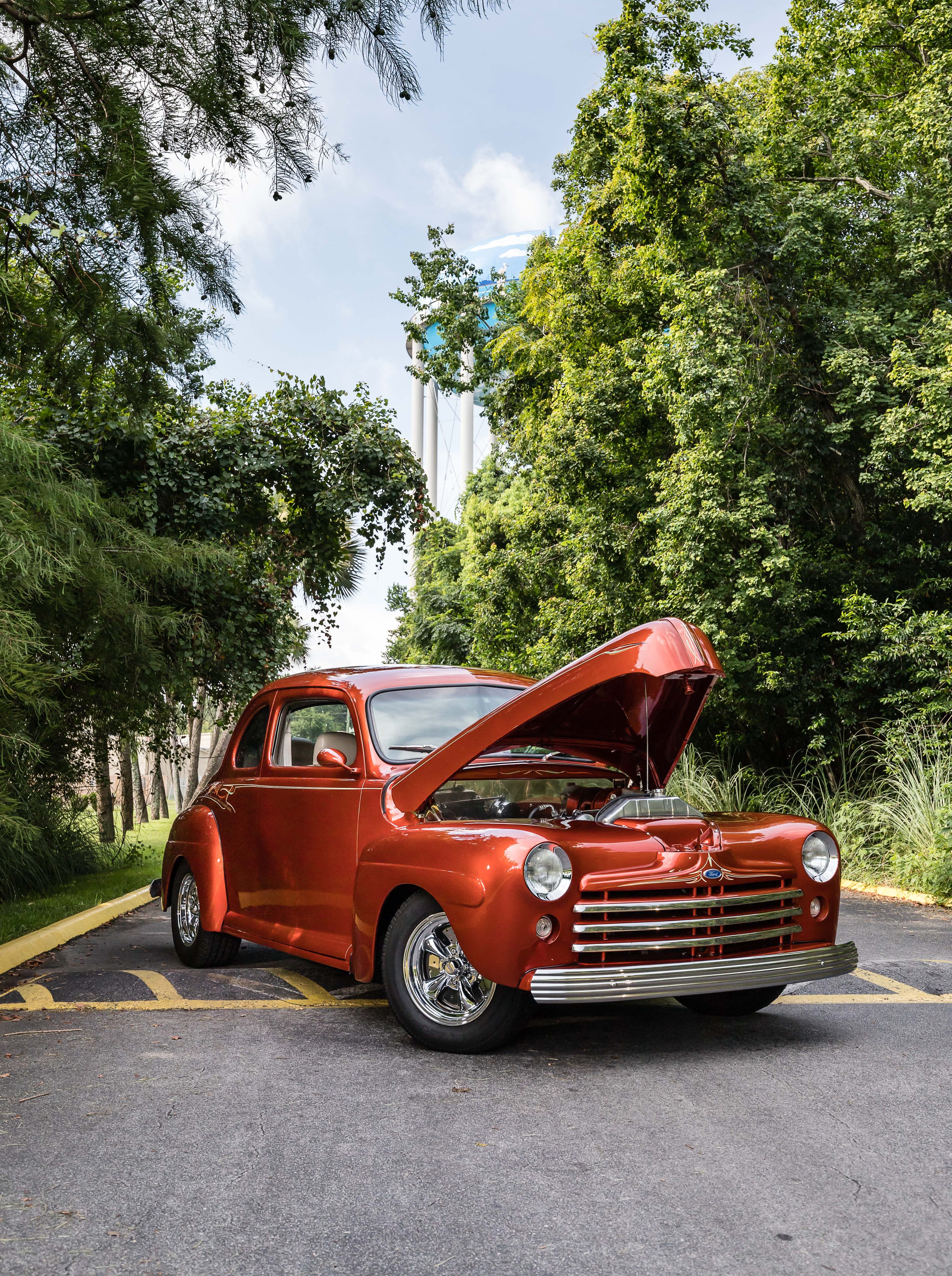 The Ford was truly a barn find—a car stored away and forgotten until it is discovered in a barn. The Stewarts' Ford was originally purchased new by a schoolteacher who owned it until late 1981 or 1982 when she traded it to a roofing contractor. That contractor lost interest in it after a few months, and the Ford went into a barn where it sat untouched for more than 20 years until the Stewarts bought it in August 2002. It still had the original license plate, with a 1982 expiration date. When it was delivered to her home in Panama City a few weeks later, Cam took one look at it and remembers being so excited that her "lenses fogged up."
Larry and his brother, Warren, dismantled the car and spent the next nine months rebuilding and customizing it. And it was done right. Larry learned the fine art of "lead swiping," paying a local expert to teach him, using lead for all body repairs and modifications, including "frenching" (recessing) the headlights, tail lights, and license plate. He also contoured the shape of the fenders, hood, and rear of the vehicle. Attractive, smooth, sweeping curves are the result.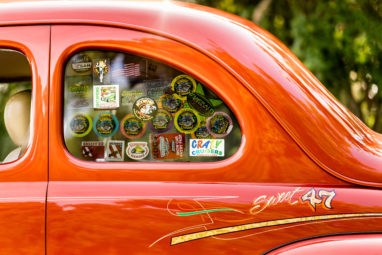 Larry says he built the car to be a comfortable drive and ride, with all the modern amenities Cam desired. He replaced the original V-8 flathead 239 engine with a 1996 port fuel-injected LT-1 Corvette motor with HPC headers and added a 4L60E four-speed automatic transmission with overdrive and the suspension from a Mustang II. With power steering, 11-inch power disc brakes, a sway bar, and 17-inch Cobra wheels, the driving experience is that of a brand-new vehicle.
The car is an excellent example of craftsmanship and attention to detail in customizing. The truly extraordinary color is Larry's creation, a triple pearl combination of orange, copper, and tangerine. It changes appearance depending on how the light strikes the exterior. To ensure the finish would be as smooth as possible once the paint was applied, Warren spent hours sanding the entire surface of the vehicle with a slim piece of wood about the size of a paint stick. In bright sunshine, the Ford looks like a ball of fire hurtling down the roadway. Larry also designed and installed the interior upholstery, working with seats from an Oldsmobile.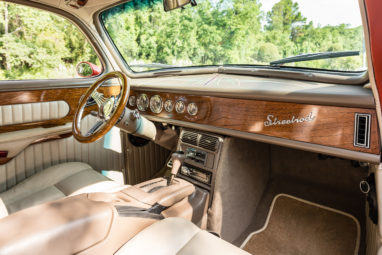 The Stewarts estimate they have driven the car 50,000 miles so far. Cam remains thrilled with her hotrod, and Larry acknowledges she drives it more frequently than he does. There is a rumor that Cam may have tested its speed on I-10 and reached 110 miles per hour, something she will neither confirm nor deny. Larry has his own tale of speed as he recalls the excitement of taking the 1947 Ford on laps around the Atlanta Speedway at 90 miles per hour. He sheepishly notes there was no pace car at the time, and since there were other cars on the track behind him, it was imperative that he kept going.
Cam and Larry routinely participate in local and regional car shows, as well as shows and cruise-ins in Ohio and Virginia while visiting family. They often meet people who share fond memories of a car "just like that" from their youth. It is not unusual for them to come out of a restaurant and walk across the parking lot to find a group of people surrounding the 1947 Ford in admiration. It is a beauty, with or without a lead foot.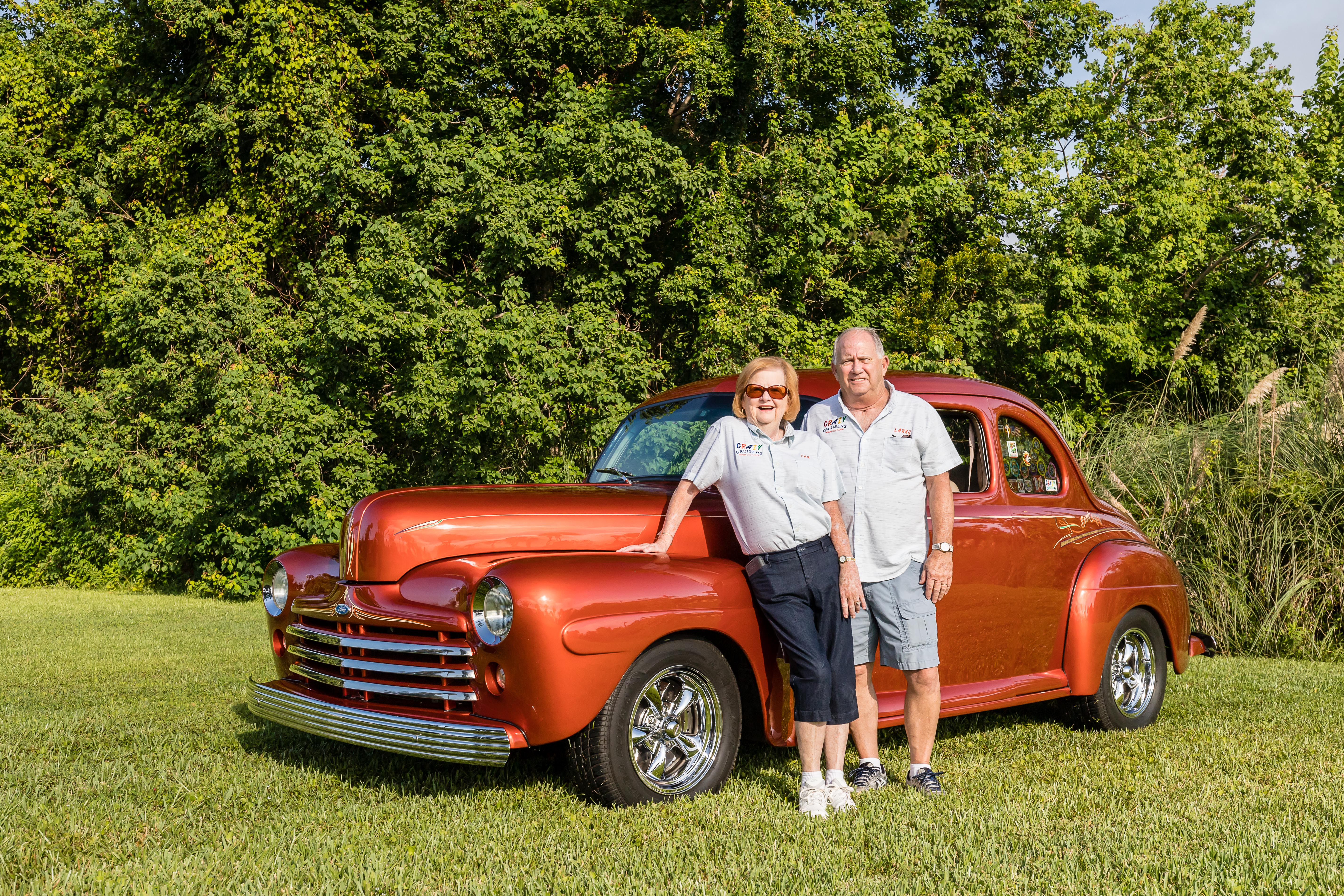 Leave a Reply
comments
Powered by Facebook Comments