Snapper Pontchartrain
Roasted red snapper with fried soft-shelled crab, creole remoulade, and creamy orzo with corn and tomatoes.
11040 HUTCHISON BLVD | PANAMA CITY BEACH | (850) 230-2739

Rock'n Lobster Salad
The perfect salad for a summer day at the beach! Lobster and rock shrimp chopped, tossed in a creamy mayo and dijon sauce with diced onion and celery, then served over chilled spring mix with pepperoncini peppers, bacon, grape tomatoes and red onions.
5121 GULF DRIVE | PANAMA CITY BEACH | (850) 235-3555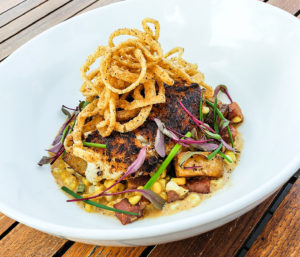 Nightly Feature
Created and crafted daily, g.Foley's Nightly Features source the freshest local ingredients, including fresh from the Gulf of Mexico seafood.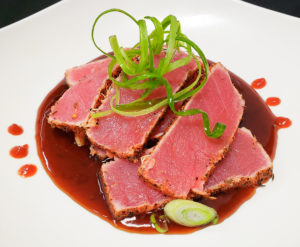 Ahi Tuna Appetizer
Featuring Tarpon Dock Ahi tuna, Napa cabbage slaw, and a sweet and sour soy reduction, this fresh fish dish is sure to delight!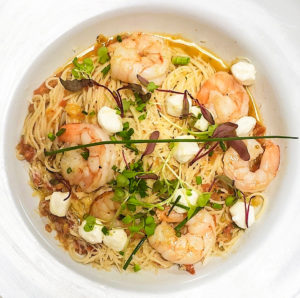 Pasta Alla Checca
Combining sautéed shrimp, fresh mozzarella, and angel hair,
g. Foley's Pasta Alla Checca utilizes fresh locally sourced summer tomatoes, garlic and basil to build a light and delicious summer pasta dish.
Follow g.Foley's on Facebook and Instagram for nightly details!
3214 W 23RD STREET | PANAMA CITY | (850) 481-0354

Sesame Crusted Ahi Tuna
The secret to this beautiful appetizer is starting with sushi-grade fresh tuna. The tuna is lightly seared and rolled in sesame seeds… served with tangy wasabi and soy sauce.­
5551 N. LAGOON DR. | PANAMA CITY BEACH | (850) 234-2225

Grandmama Paul's Fried Green Tomatoes
Fried crisp and topped with roasted red pepper sauce. Accompanied by a sweet onion relish, this is just one of Paula Deen's Southern-inspired dishes from the very same recipes that launched her career.
601 Pier Park Dr Suite 103 | PANAMA CITY BEACH | (850) 312-5354

Prosciutto Wrapped Swordfish
A beautifully arranged swordfish fillet, Chef Derek Langford's newest creation is wrapped in Parma prosciutto sourced from a local butcher, and complemented with Florida Hopper risotto— creamy meets zesty for the perfect summer flavor!­
535 R. JACKSON BLVD | PANAMA CITY BEACH | (850) 249-3359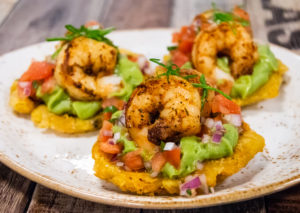 Shrimp Tostones
Four chilled blackened Gulf shrimp atop deep-fried smashed fresh plantains with guacamole, handcrafted pico de gallo, and fresh scallions.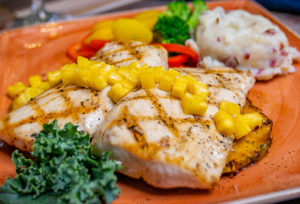 Calypso Mahi-Mahi
Flame-grilled mahi-mahi topped with marinated fresh pineapple and rum butter sauce. Served with choice of two sides.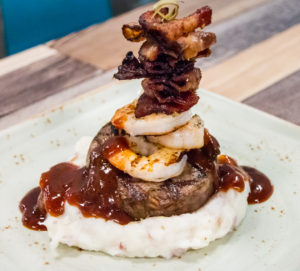 First-Class Filet & Shrimp
6-oz. beef filet flame-grilled and topped with candied jerked bacon, spicy handcrafted bbq sauce and grilled Gulf shrimp. Served over garlic mashed potatoes, and a choice of side.
473 R. JACKSON BLVD | PANAMA CITY BEACH | (850) 233-6033
Leave a Reply
comments
Powered by Facebook Comments