BY LAURA ROESCH
PHOTOGRAPHY BY MICHAEL BOOINI
What do the Queen of England, Winston Churchill, Trafalgar Square, and Big Ben have in common? Aside from being closely associated with England, their larger-than-life likeness can be seen rolling down the streets of Panama City and surrounding areas, heralding a swift and much-anticipated lunchtime stop of Temperley's British Eatery in your favorite neighborhood locale.
Jeff and Stacy Temperley's custom- outfitted 24-foot Freightliner MT55 food truck is designed to quickly serve an eclectic array of traditional British food but with modern twists, including the obligatory fish and chips and Cornish pasties. The menu is entertaining and includes something for everyone, with clever titles such as Drunken Leprechaun Burger, Jack the Ripper Burger, or Blackbeard's BLT yellowfin tuna salad. Hailing from Essex, England, Jeff and Stacy are entrepreneurs. Their vision, drive, and dreams can be illustrated by a Winston Churchill quote, "Never give up on something that you can't go a day without thinking about." This perfectly expresses the Temperleys' work ethic as they proudly point out they are doing nothing more than pursuing the American Dream. The food truck is just the latest step along the way of accomplishing what they trust will be their biggest success ever–a nationwide presence in the world of food trucks. Jeff Temperley is a businessman, a big thinker, an excellent chef, and he knows how to get things done. He tells us more in an interview during one of his regular and ever-changing lunchtime locations.
Why a food truck?
Several years ago, after we had recently immigrated to the United States we were homesick, so we decided to share flavors from our country with our new home. We started out small, selling traditional Cornish pasties in a food tent at local farmers markets. We were gobsmacked by how well our pasties were received! So, we perfected more recipes, created a menu and, in October of 2015, opened Eat My Pasty restaurant in Panama City Beach.* With the continuing success of that venture, we thought the timing was good to showcase British food culture in other places–the idea of opening a food truck was born. How does operating and cooking in a food truck compare with the experience in your brick and mortar restaurant? It has been a surprisingly easy transition.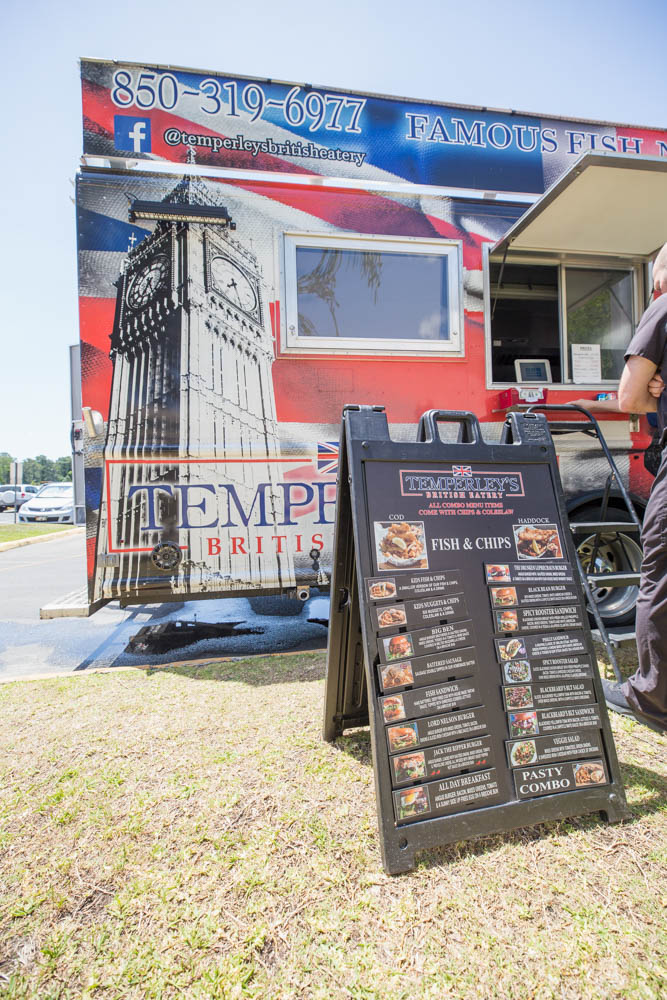 We have as much, if not just a little more, space in the truck than in our restaurant. And we have all the modern conveniences needed to quickly handle large crowds – freezer, refrigerators, an oven, a 48" flat top griddle, deep fryer, convection oven, microwave, and so on. All the right equipment and no more hand-peeling 200 pounds of potatoes! Everything we need is within easy reach. Is it a one-person show? Typically, there are three of us onboard which can mean rather snug working quarters but we are efficient and move about quickly with everything at our fingertips. Probably our most challenging encounter so far has been a recent event where we had over a hundred people in line at any given time waiting to order and be served. That's when I knew our system was working well. It may sound like we are abrupt in our communications with each other as we work to get food out the window, but it is really like shorthand to us–a few words, and everyone knows what is needed. You had some experience serving burgers from a small food trailer when you lived in England. I imagine your big food truck is a different experience, compared to the roads in your home country? Oh, yes! It would have been almost impossible to drive our food truck on our roads in England! I must admit, I experienced a bit of a shock to my system to learn how friendly Americans are. I would be driving through a neighborhood, minding my own business, and I would get a friendly wave. Southern hospitality is real! You describe yourself as a big dreamer. What's next? We are venturing out into the region and festivals here and there such as Pensacola and Tampa. Our long-range goal is to go even bigger with our next truck; I'm thinking the size of a semi-tractor trailer truck, which will be three times our present capacity. It will have slide-outs, a bar, and alfresco dining. The design is on the drawing board. Where else but in this country can a person dream this big after just a few years of opening a business? With a little luck, we may just see the adventures of the Temperleys and their food truck on the big screen. Find out more online: eatmypasty.com/foodtruck/
Leave a Reply
comments
Powered by Facebook Comments