BY VAL SCHOGER, PHOTOGRAPHY BY MATT KOEHNEMANN & JORDAN WILLIAMS
With the recently completed construction of their home in The Preserve, a gated Panama City Beach community, Stephanie and George Roberts fulfilled a dream. "This feels like home," the couple says as they invite us on a tour. Situated on two lots on a quiet cul-de-sac and bordered by a large expanse of wooded land, the two-story flagstone-clad house is exactly what Stephanie and George envisioned when they combined their ideas and went to the drawing board five years ago.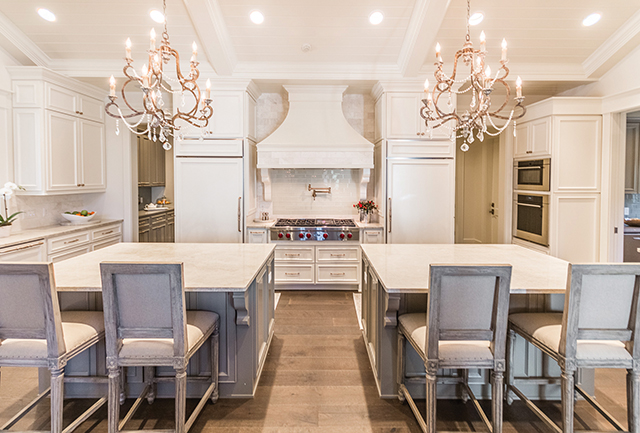 "I had found a picture of my ideal kitchen in a magazine. It showed a beautiful cathedral ceiling and two kitchen islands with a chandelier above each. It was my dream kitchen and I knew that one day we would build it. The entire house was planned around it," she explains.
A tall custom-built entrance door opens to a foyer and living room with 24 foot tall coffered ceiling. An imposing limestone fireplace and oversized chandelier, reminiscent of a French country estate, set the mood. Stephanie and George designed the house with their large circle of family and friends in mind as they wanted ample indoor/outdoor living areas for hosting large groups.
An oversized round dining table situated between the living room and the kitchen can seat ten guests, which is ideal for special occasions when the entire family gathers around it. When designing this amazing house, George and Stephanie thought about many details and comforts for family and friends and, in turn, their family and friends contributed to the interior planning and decoration choices. Stephanie's grandmother painted all but one of the framed oil paintings that decorate the walls. The only exception, while it looks like a painting at first glance, in fact is a retractable cover for an ultra-thin wall recessed television set.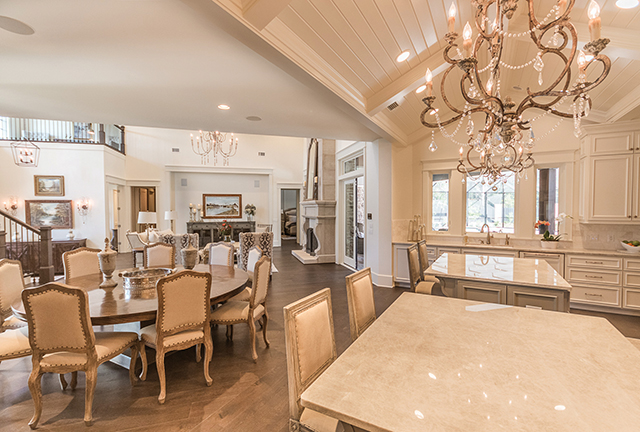 Each furniture and hardware piece in the home has its own story. For example, the one-of-a-kind carved Quartzite bar sink in the kitchen was exhibited at a home furnishing show in Las Vegas. They had not even started with the house plans but bought the eye-catching sink, knowing that they would find the perfect place for it. Similarly, the heavy front entrance doors could not be shipped from the original Texas manufacturer. After many hours of negotiation, Stephanie and George were given the building plans and permission to have the door reconstructed locally.
There is one particular furniture piece that Stephanie is very attached to "The solid wood antique cabinet in the dining room belonged to my parents. It originated in France and I have admired it for years in their house. I had other furniture picked out for the dining room but my parents knew how much I loved the cabinet. It means so much to me and it completes the room."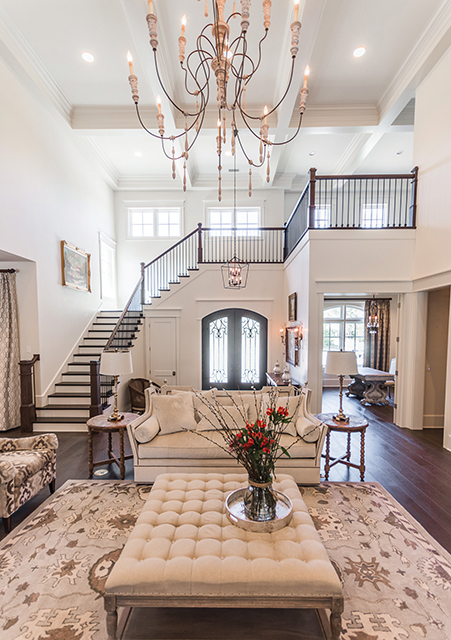 The open floorplan clearly follows a well-thought-out design concept, conveying elegance through intricate details and subtle color choices. It is the result of countless hours spent on sourcing, shopping, and selecting just the right materials, colors, appliances, fixtures, lamps, and furniture, Stephanie explains. "I have to thank my close friend Angie Wilson for helping me with the choices. I can't even tell how much time it took us to pick out handles and hardware for the cabinets. We walked around for hours with boards and catalogs. We traveled all over the south to source just the right materials. Angie picked out all the chandeliers in the house. We have many beautiful chandeliers that give each room distinct character. I am very grateful to her. She has wonderful taste."
Now that their dream home is complete, the couple does not have any regrets, and feel that the time spent on perfecting it was worth it. While George handled all construction aspects, Stephanie selected the materials for exterior and interior, the hardware, fixtures, furniture, and decoration. George recounts the typical conversations whenever his opinion was sought with a large smile, "I'd look at it and I'd say, 'Do you like it?' and she would respond, 'Yes,' and I'd say, 'Then I like it.'"
There is a saying that the kitchen is the heart of a house. In Stephanie and George's house, there are two. Yes, you read this right. Laughing, Stephanie and George explain that there is a "his" and "her" side of the house. "We spend all our time together, no matter what time of the day, but when we are having guests, we both like to cook. He grills the meat in 'his' kitchen and I use the ovens and stovetop for the other dishes in 'my kitchen.'"
With its two islands and plenty of additional counter space, Stephanie's kitchen would make the most demanding chef proud. All appliances and fixtures are easily accessible and offer a flowing workspace. With white as predominant color choice, a combination of metals for fixtures and hardware, lend elegance to the space. It stands in stark contrast to the dark color choices in "his side" of the house.  Designed for pure entertainment, George likes to call it the "man cave," but is much grander than this designation lets on. George's kitchen is fitted with commercial appliances, an eight-foot wide grill, and an impressive whisper-quiet commercial vent hood. A hallway connects the kitchens and "his and her" side of the house with a walk-in pantry that offers easy access and stocking, while permitting unloading from the garage. Just beyond George's kitchen with its large counter space is another dining room table and an impressive stage with a full set of instruments and exquisite sound equipment.
As part-owner of a road construction business with statewide projects, George treasures his time at home and, for him, relaxing often includes spontaneous jam sessions when he picks up his guitar or practices on the drum set. The entire back side of the house is "his area." Large windows and doors offer an excellent view and access to the enclosed pool deck with ample seating and strategically positioned loudspeakers. Any band could spontaneously throw a concert at George and Stephanie's house. Indeed, they frequently host musicians from Nashville, counting Andy Griggs, Monty Powell, Anna Wilson, Billy Dean, and Daryle Singletary among their friends.
"It is almost a progression when we have guests," George says. "We will eat in the dining room in the main living area and we move on to 'my side' of the house where we often end up playing music." The evening often concludes with everyone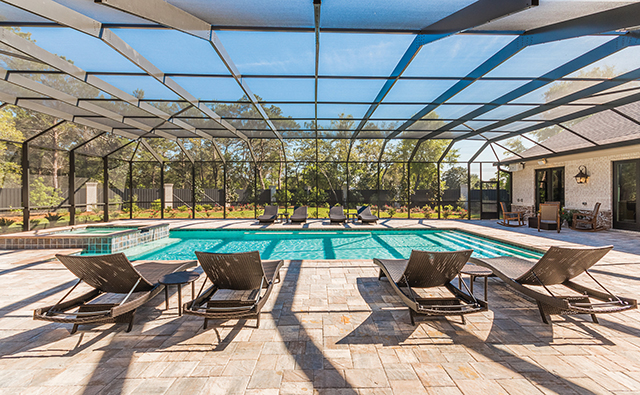 sitting by the pool and the outdoor fireplace.
As much as they enjoy company, the couple loves their quiet and peaceful mornings. Stephanie has her first coffee of the day by the pool. "I like to come out here in my pajamas. I can watch the deer come right into the backyard. It's very serene and the perfect start to the day."
Completion of their home, a very personal project, does not mean that Stephanie and George are slowing down. "When the house was finished, I didn't know what to do with my time," Stephanie laughs. It didn't stay that way long though. The couple has recently ventured into business together as the new owners of Hombre Golf Club in Panama City Beach. "We went into it full force and the course is in excellent shape now." Again, they are working well as a team. George handles the golf course improvements and Stephanie runs the day to day operations from the clubhouse. They have announced their next step, the development of a gated residential community. Their recipe is simple; "We work hard and we play hard, and we love what we do."
Leave a Reply
comments
Powered by Facebook Comments