BY OLIVIA CROSBY
PHOTOGRAPHY BY NICK TRAIL
Historic St. Andrews, one of the oldest neighborhoods in Panama City, attracts thousands of visitors every year. With an active commercial marina, Waterfront Farmer's Market, Oaks By The Bay Park, and a plethora of popular locally-owned restaurants and boutiques, the area has seen an influx in popularity. Undoubtedly, much of the success and growth can be attributed to the construction of Harbour Village Condominiums with its upscale amenities and beautiful unobstructed water views from every unit.
Charla and Chuck Perdue moved into their three-bedroom, three-and-a-half-bath condominium after a complete remodel. They have two grown children, Zac, 22, a combat medic with the 82nd Airborne Division, and Caleb, 19, who is entering his junior year at Florida State in Tallahassee. The Perdues enjoy their new lifestyle.
The weekends are often spent boating and the large balcony is probably one of the most-used "rooms" as it is perfect for entertaining and leisure. Planning, sourcing, remodel, and well-executed interior design have resulted in an open floorplan and a sophisticated look with interesting details and carefully selected colors and décor. The couple shares insights about their beautiful new home and lifestyle with our readers.
T h e  s o u t h  a n d  w e s t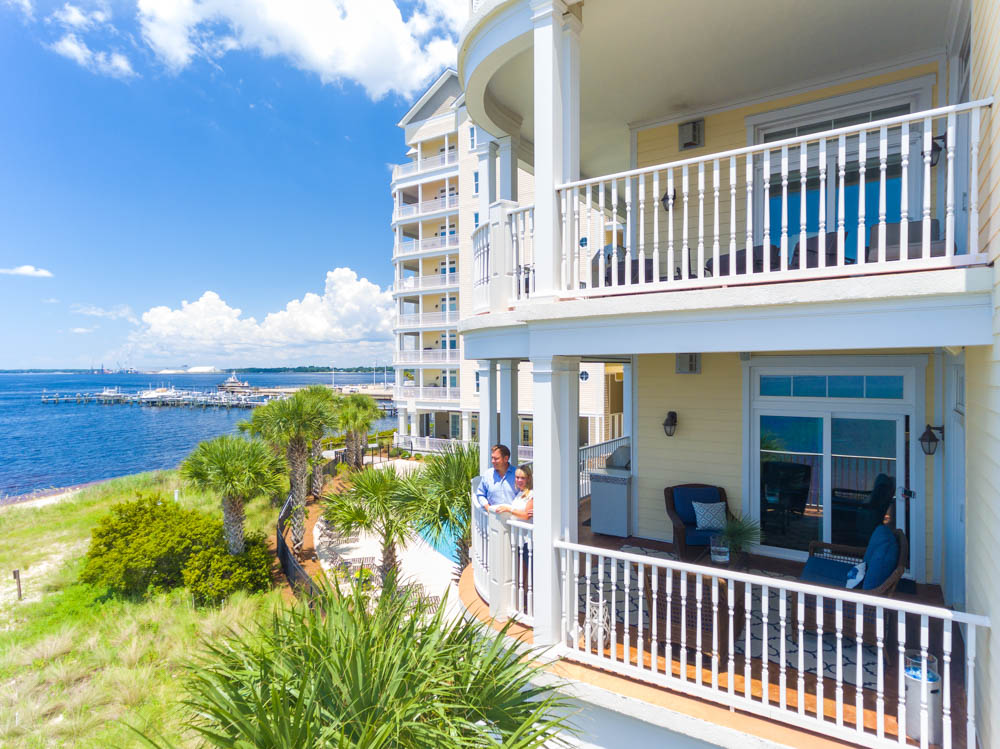 f a c i n g  v i e w s
a r e  t h e  m o s t
s p e c t a c u l a r
f e a t u r e
How long have you lived at Harbour Village Condominiums and why did you choose this location?
Charla: We moved in April of last year. It was always our dream to sell the house and downsize to a condo after the kids left home. We chose to live in St. Andrews because of the local lifestyle it offers over condos on the beach.
Describe your favorite room, design element, or other features.
Charla: The dining chandelier is my favorite. It reminds me of a firework and I love how unique it is. I had the most fun picking out the lighting. I wanted it to be unexpected. I also love that every room has a water view.
Chuck: The south and west facing views are the most spectacular feature. We have unobstructed views of the Panama City Marina, Tyndall AFB, Shell Island, all the way to the Port of Panama City.
Describe the design process. What were your must-have features? What influenced the design and was there anything that required special efforts?
Charla: Our contractor, Garrett Anderson, moved walls and doorways for us, took out columns, re-designed the master bath, and opened up the floor plan, We turned a bedroom into an office and the amount of space is perfect. I felt like the entire unit was an effort of love. This was my first complete renovation and I worried over every decision. I started out thinking I wanted to go with something coastal casual but pretty quickly figured out I needed a bit more sparkle so landed on coastal chic.
Chuck:  The St. Andrews Bay and surrounding area inspired the design. We tried to pull in as much of the outside as possible through colors and features from the bay. The unique lighting in every room set the tone for much of the design.
What makes the location unique?
Charla:  Locals live here. When we looked at condominiums on the beach, there were a lot of short-term visitors at the pools and the common areas. It is different if you are in a place only a few weeks. Here, we are with people who live and work in our community. Plus, there are so many things to do within walking distance–we could not find that in many other locations.
Which is your favorite room in the house or do you have a favorite time of the day that you like to spend in a certain room?
Charla:  I love when we grill on the balcony or when we are making dinner as the sun sets through the den and dining room windows. Why would anyone live anywhere else? This is the perfect way to end your day.
Chuck:  Being a corner unit we have water views from every room. Every room offers its own unique view whether it is the marina, boat traffic, endless wildlife… it's amazing to see all of it at various times of the day. During the morning hours, you can look out and see how the interior elements complement and bring out the natural surroundings. Midday brings brightness and vibrant colors. As the sun sets, the bay and sky light up and reflect beautifully in the chandeliers. At night, there is vast darkness across the bay so the moon, channel markers, and commercial boat traffic steal the show. It's incredible to watch storm fronts roll across the bay. There are no bad days or bad views.
I n t e r e s t i n g  d e t a i l s  a n d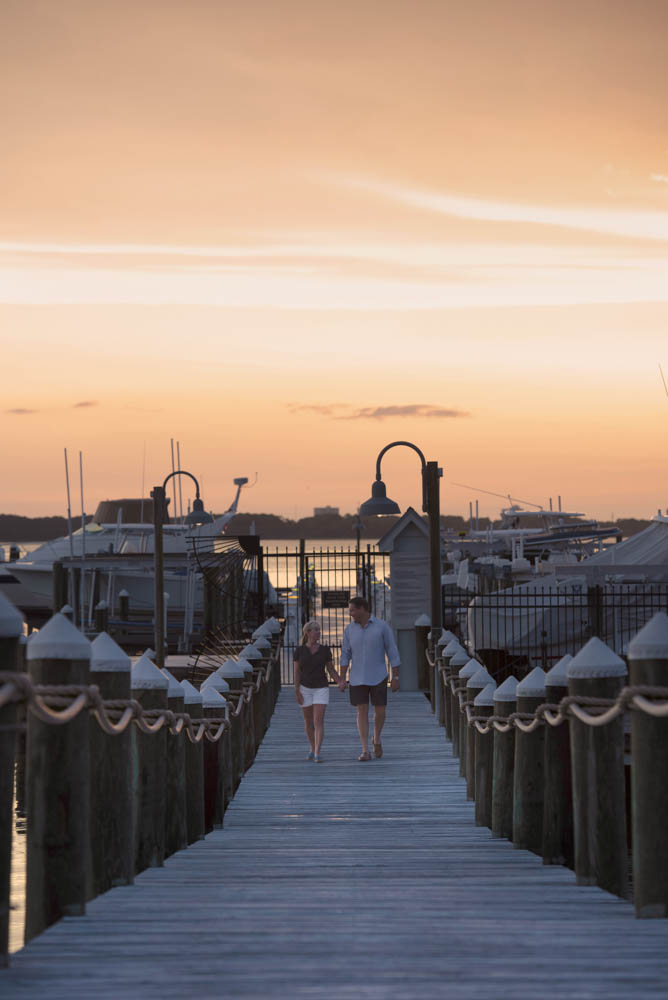 d é c o r  c a n  b e  s e e n  i n
e v e r y  r o o m
Could you provide more information on your furniture? Is there a particular style or favorite pieces?
Charla: Our interior designer, April Crosby, was a wonderful help. I would show her photos of what I liked and she would either provide an estimate or a very sweet, "let's think on that," which meant–do not do it. I am very thankful for her help and am thrilled with the final product.
Describe your lifestyle, how has it changed?
Charla: One of my favorite things is that Chuck is mine on the weekend. He is not worried about the yard or cleaning the pool. We are free to enjoy our time together because someone else is in charge of the honey-do list.
Chuck: I love living on the water. I often wade out and fish early in the morning or late in the day. We have a boat at the marina club, which offers quick and easy access to Shell Island and the Gulf. We can literally be sitting on Shell Island within 15 minutes of deciding to go. The greenspace offers a place for me to toss the ball around with the kids when they are home. There's a great fireplace outdoors where we hang out during the cool nights. The St. Andrews area offers a unique lifestyle. Access to Bay and Gulf, so many dining choices, great local businesses, the farmers market, it is truly what community is all about.
Who made the design choices and what were the biggest decisions?
Charla: Chuck was determined to use a gray color palette from the start and I was skeptical. I thought gray was depressing. I was leaning toward the blues and greens of the coast but, after speaking to the decorator, I learned that gray is neutral and very happy. So, we went in that direction.
Interesting accessories and décor can be seen in every room. Sparkling details reflect the sun and bathe the rooms in a different light from hour to hour. Charla and Chuck's home truly reflects their open and bright personalities, down to the artwork in Charla's office that pays a humorous homage to her profession.
These new St. Andrews residents are here to stay and we welcome them to the community.
Leave a Reply
comments
Powered by Facebook Comments