BY VAL SCHOGER
PHOTOGRAPHY BY MICHAEL BOOINI AND HAROLD BRAMTON
Generations of families remember vacationing in Panama City Beach – once the tan (or sunburn) was obtained, once the beach was walked, the fish caught, and the sandcastle built, traditionally, there were things-to-do that promised fun and good times – from roller coasters to the observation tower that opened in April 1966 until its demolition after sustaining damages from Hurricane Opal in 1995.
With a projected completion of August 2018, Skywheel, an observation wheel with a diameter of approximately 187 feet might be the latest indicator that Panama City Beach is making strides toward becoming an ultimate family destination. Skywheel offers a slow, some might say sophisticated, way to see Panama City Beach.
Passengers will ride in fully enclosed, climate-controlled glass gondolas. There will be 30 gondolas including one VIP gondola. It is a modern-day Ferris Wheel, with all the comforts.
On a sweltering day in May, the construction of the foundation and anchoring of the Skywheel is complete. The assembly of the structure is underway. What will later become a designated parking area and minigolf course is abuzz with cranes, supplies, materials, and a team of people in temporary offices. The company's CEO, Matthew Stack, is working alongside the construction crew, barely recognizable compared to his photo on the company's corporate website that shows him in suit and tie. The projected start of Skywheel's Panam City Beach guest operations is August 2018. What does it take to plan and construct a project like this? Matthew Stack has the answers.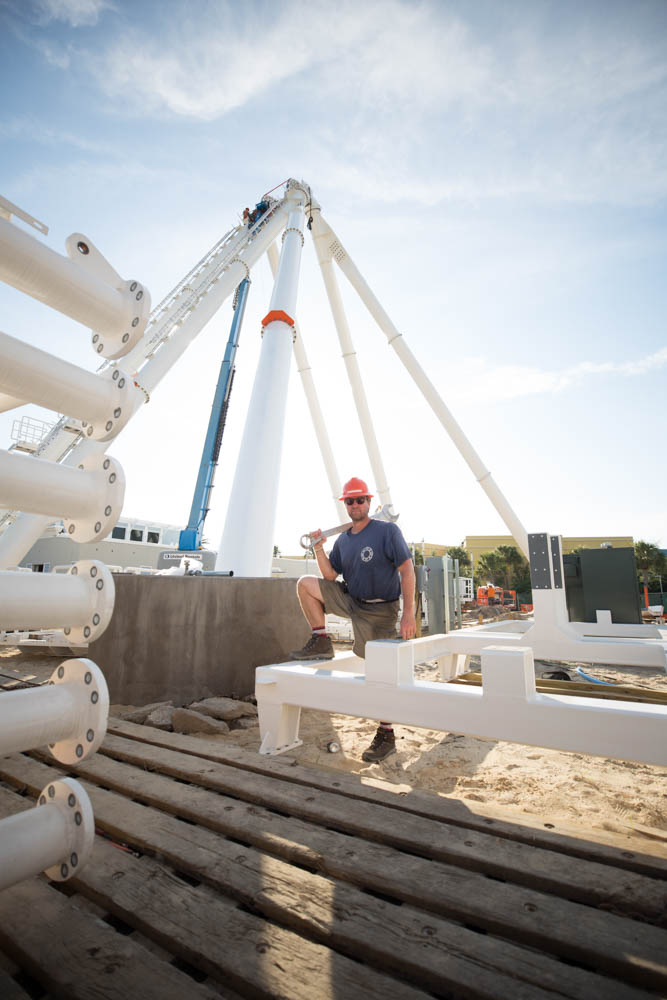 Skywheel in construction: How many tons of glass, concrete, steel, etc. are used?
The total weight of the Skywheel is over 300 tons. There were over 6 miles of wiring used in the construction of the Skywheel. More than 1,500 cubic yards of concrete were poured, and more than 3,100 individual bolts were installed. The foundation of the wheel goes more than 70 feet deep. Skywheel was shipped from Vlodrop, The Netherlands, and arrived in 30 shipping containers.
How do you pick your locations? What role does local government play?
Site location is key to the success of the Skywheel. Both the market and the actual site are critically important. We selected Pier Park in Panama City Beach because it offered a collection of entertainment venues where visitors could spend time in one location without getting back in their car. We were very impressed by the potential number of visitors to Pier Park annually and we estimated that a percentage of those visitors will ride the Skywheel. Local government and authorities are instrumental in a successful development. The officials at the City of Panama City Beach have been tremendous to work with and we appreciate their support of bringing Skywheel to Panama City Beach.
How does Panama City Beach compare to your Myrtle Beach location?
We expect that Panama City Beach will compare very similarly to Myrtle Beach.
From planning to development and completion, how long does it take to build a Skywheel?
My first trip to Panama City Beach for Skywheel site scouting was in 2012. After we had selected the Pier Park location we began to work with Simon Property Group [Pier Park's owner/operator] on a deal. By 2016, we were in full swing of planning and engineering. We officially broke ground in fall of 2017. From groundbreaking to grand opening it will be approximately one year of construction, however, all in all, this project was three to four years in the making.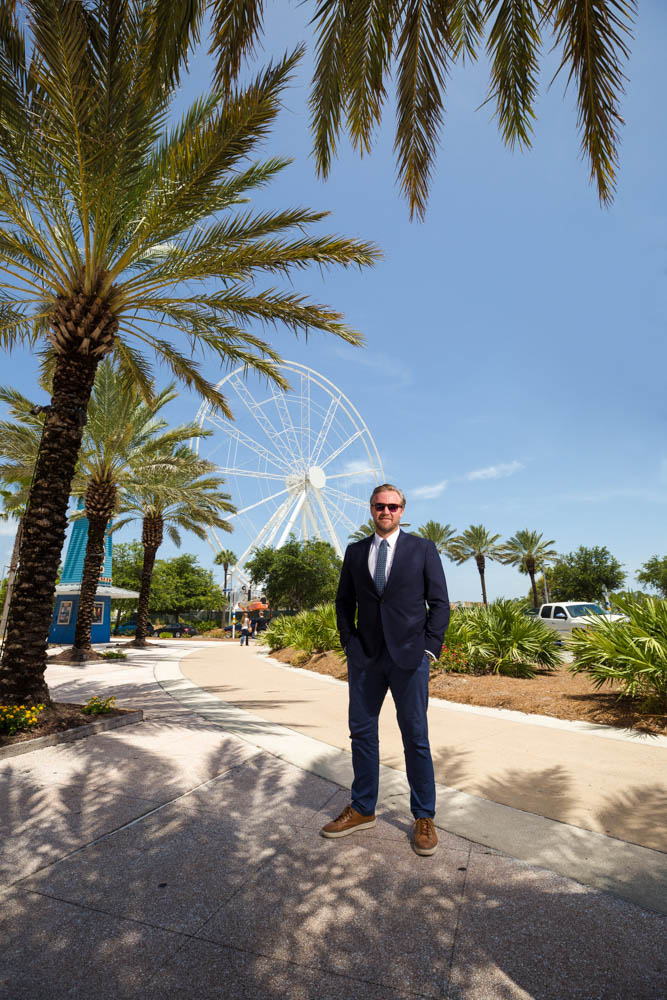 Please give us a brief history of Koch Development. Who are the founders? When did you join Koch and what is its focus?
Koch Development is a third-generation family-owned company. The current shareholders are brothers, Paul and Roger Koch and their wives, Elke and Fran. The focus at Koch Development has always been disciplined investing and entrepreneurial spirit. I joined Koch Development in 2009 as EVP and COO and I am now co-managing director of Koch Development and president of Skywheel Attractions.
What prompted Koch Development to venture into developing Skywheel?
Koch Development was intrigued by the real estate fundamentals that are necessary for a successful entertainment venue. The traditional retail landscape has been in flux over the last several years and will continue. We recognized that successful real estate projects need to offer visitors and customers experiences that they cannot get online or elsewhere. Skywhweel certainly offers a one of a kind experience.
What are the highest risk factors for this attraction? How do you prepare for hurricane season? What type of weather shuts the operation down?
There are several risk factors involved with entertainment/amusement development and operation. From construction risks to market risks. Although riding the Skywheel is not a thrill ride like a rollercoaster and is therefore very low risk, the business of Skywheel is inherently a risky business. The biggest risk factor for our business is weather. In periods of time of severe weather and wind, we will cease operation of Skywheel for safety. Everything we do at Skywheel is focused on the safety of our guests and staff. We are fully engineered and prepared for hurricanes.
How many Skywheels are you planning for the future? Can you share other locations planned?
We would like to add several more Skywheels across the country in the next five years. We are currently working on obtaining approvals for a Skywheel to be located in Newport, Kentucky on the Ohio River banks looking directly across the river at downtown Cincinnati, Ohio.
Can you share statistics and other numbers? How many Skywheels are there worldwide or US-wide? Would you say the most famous of its kind is the London Eye? How big is it in comparison to the PCB Skywheel?
It's important to understand that Skywheel is our brand of giant observation type wheels. Just like Coke is different from Pepsi, Skywheel is different from other wheels in the world. Worldwide there are several dozen permanently installed wheels. The London Eye is one of London's most popular tourist attractions and is approximately two times larger than the Skywheel in Panama City Beach. In 2011, Skywheel opened the first giant observation wheel in the United States in Myrtle Beach, SC.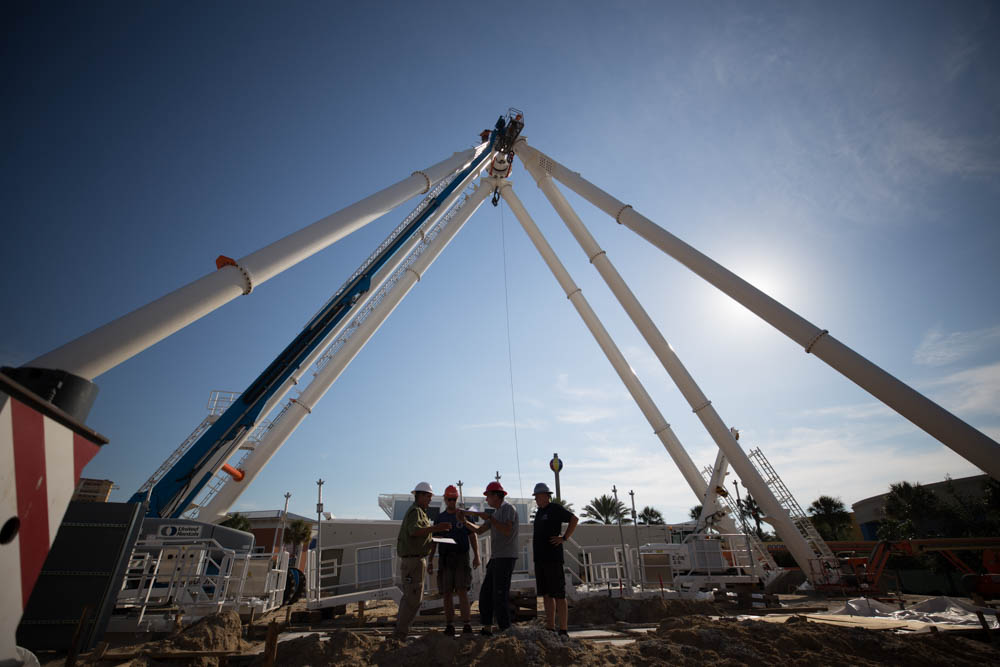 Following Myrtle Beach's opening, other wheels have developed in other parts of the United States, including a brand-new wheel on Navy Pier in Chicago, Illinois.
Can you share any statistics on how many weddings, proposals, or other unusual events the Skywheel hosts per year?
There are countless proposals and other events that are hosted at Skywheel. One of the most unusual things that you can do is light the Skywheel pink or blue for expecting parents' gender reveal. Last year Skywheel Myrtle Beach was featured on "The Today Show" for a gender reveal.
Do you think the Skywheel can become a destination of its own or will its success always depend on the number of summer vacationers?
Skywheel will always be a destination within Panama City Beach but its success will be dependent upon the Panama City Beach market and Pier Park as a destination. We are confident that Panama City Beach and Pier Park will see more growth to continue to draw visitors to the area.
Have you visited other "Ferris wheels" in the US or other parts of the world?
We have visited all the giant observation wheels in the United States and several of them throughout the world. One fun fact is that my colleague and I were the last two people to ride the original Ferris wheel that was installed on Navy Pier before it was dismantled in preparation of construction of a new wheel. The original wheel on Navy Pier has transported more than 20,000,000 guests before it was dismantled in 2016. We were the last two to ride it (we also assisted with the original Navy Pier Wheel being refurbished and put back up in Branson, Missouri).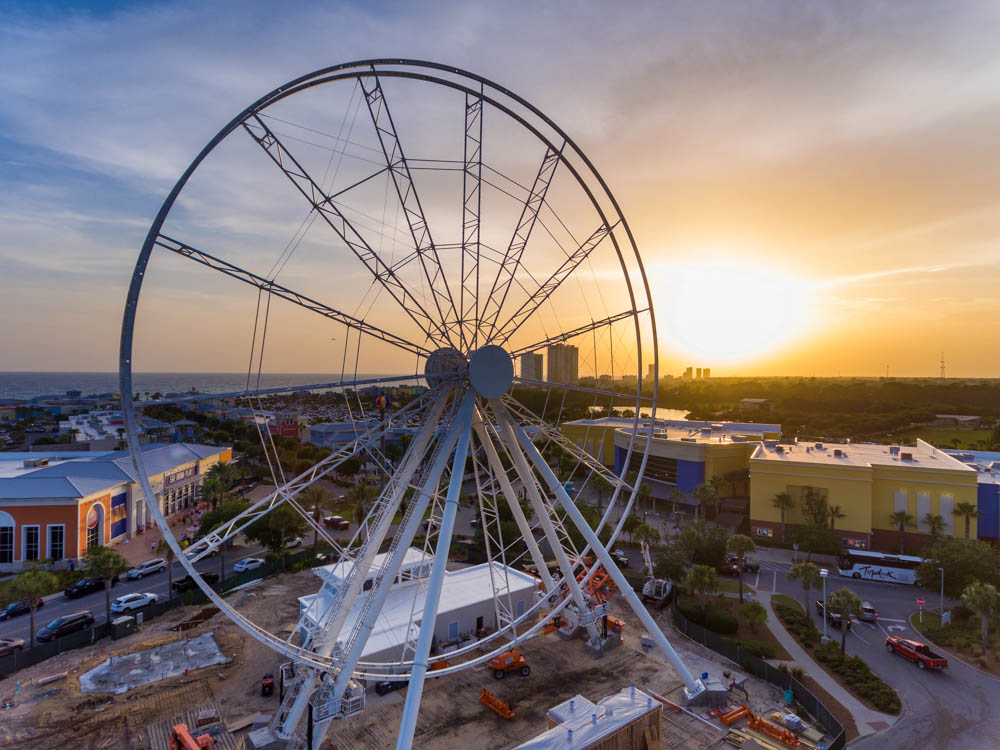 Leave a Reply
comments
Powered by Facebook Comments