PHOTOGRAPHY AND STORY BY MIKE FENDER
For more than four decades, Buddy
put on an old apron to shield
himself from ink stains and start
up one of several mechanical
presses that put ink on paper and
brought documents to life. While
the surroundings in St. Andrews
changed through the years, the
publishing and printing company
became a time capsule.
For 41 years, Charles "Buddy" West would set his alarm for 6 a.m. and wake up ready for work. He'd make the short trip to St. Andrews and slip in the backdoor of the Panama City Publishing Company, where he worked as a printer in the family business.
The shop was the same place his father worked, the same place his great-great-grandfather had built for commercial printing and to publish three local newspapers. All are gone now, but the Panama City Pilot, the St. Andrews Bay News, and the Lynn Haven Free Press were all printed in the historic building. In a time before computers and copy machines, the print shop was a vital business.
For more than four decades, Buddy put on an old apron to shield himself from ink stains and start up one of several mechanical presses that put ink on paper and brought documents to life. While the surroundings in St. Andrews changed through the years, the publishing and printing company became a time capsule. "I watched St. Andrews boom in the '60s and then hit a downhill trend," Buddy says. People left, good businesses closed, and less promising ones moved in. "And then it started coming back." Now he beams with pride when he talks about St. Andrews. "It's here to stay."
In 2005, the building changed hands. The City of Panama City purchased the building, with all the equipment and mementos included in the sale. What once was the West family's publishing company would be turned into a museum. Buddy was thrilled. Three years later, in 2008, the Panama City Publishing Co. Museum opened its doors.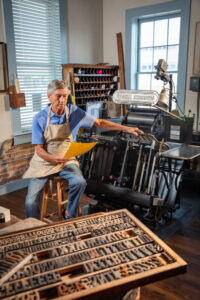 The century-old building was built in 1920 by George Mortimer West and his third wife, Lillian Carlisle. West had first come to St. Andrews in 1887. He was a writer, promoter, publisher, botanist, horticulturist, taxidermist, attorney, and railroad supervisor, among other things. Historians consider him as one of the founding fathers of Panama City. With his advocacy for bringing the railroad to the area, West helped jumpstart the economy.
By the time West moved here permanently in 1905, St. Andrews was close to becoming incorporated. West is one of the individuals credited with giving Panama City its name. The official name change from what once was known as the City of Harrison became effective on July 16, 1906 with the post office. West operated a number of businesses under the Gulf Coast Development Company umbrella and founded Panama City Cotton Compress, Panama City Dredging and Dock Co., and the Bank of Panama City along with other businesses, including the Panama City Publishing Company and the three newspapers it printed.
Buddy, now 78, never met his great-great-grandfather. West died at his home in 1926. In his youth, Buddy says he didn't realize how important and influential a man his great-great-grandfather was.
But he remembers West's third wife, who many remember as "Miss Lillian." To him, she was "grandmama." Lillian married George Mortimer West in 1909 when she was just 24 and he was 63. She had come to the newspaper office to request that her editorial, which aimed to promote the construction of the East Bay Canal connecting Callaway to Apalachicola, be printed in the newspaper. This canal would help her family business. When the canal was completed in 1915, Lillian was quoted to have commented, "I got my husband and my canal."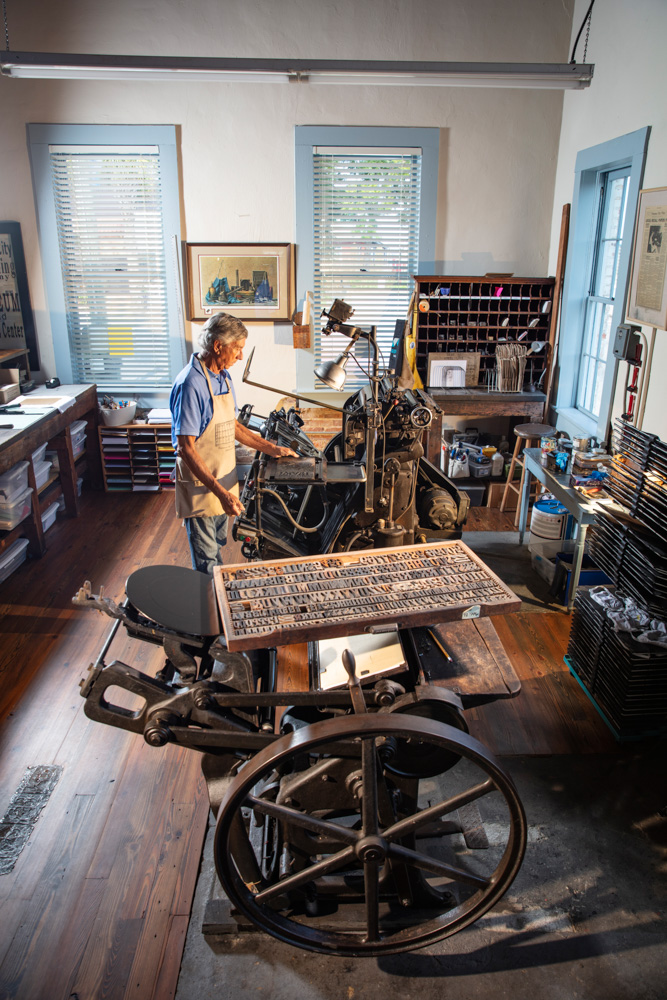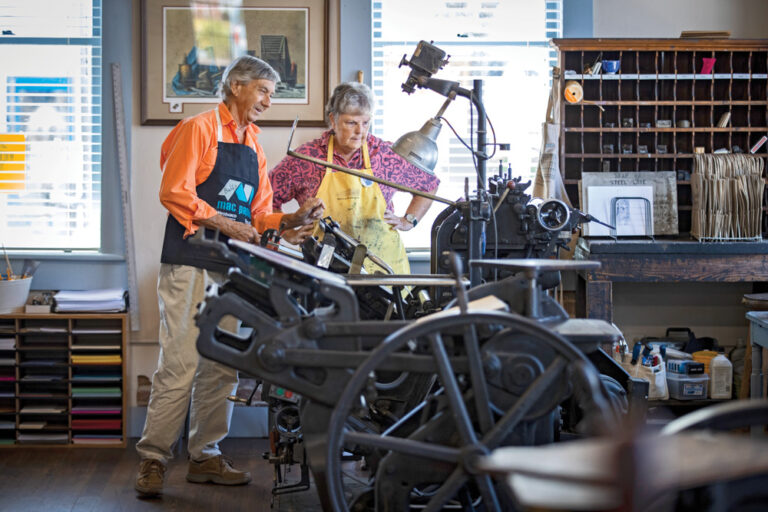 West calls volunteer Celeste Hansel his sister. While they are not related, they have worked together for a long time. Hansel works the presses and has volunteered at the museum for over a decade.
"When people find out I am her great-great-grandson, they always have stories to tell," Buddy says with a smile. She was known for her erratic driving; he remembers riding in a car with her one time and knowing he would never do that again. "She scared me to death," he says with a laugh, and adds that she always wore an old print dress with two large front pockets where she kept her billfold. She also wore a large brimmed straw hat.
Lillian died in 1970 and the printing company and building went to Buddy's father. When he retired in the early 1980s, he sold it to Buddy for $100,000. "It's been a good life; I have enjoyed printing," Buddy says. He admits he probably didn't make the money he could have made with the business because he always thought you should give people good service at a good price. "I made a living. I can say that," he remarks.
When he thinks about the old times, Buddy remembers working in the printing business at all times and temperatures. He would use a kerosene stove for the winter and would open all the windows in the summer. "I never had air conditioning in the building. I don't have it here at the house. Working all those years without it, I don't need it. In fact, I really don't like it," he says.
When it was time to retire, Buddy says neither his son nor stepson were interested in keeping the printing business going. Seeing the family business preserved as a museum has been the perfect outcome and he values the work of the volunteers and staff. "They do such a great job with the museum," he says. "They have a lot of talented people working with it."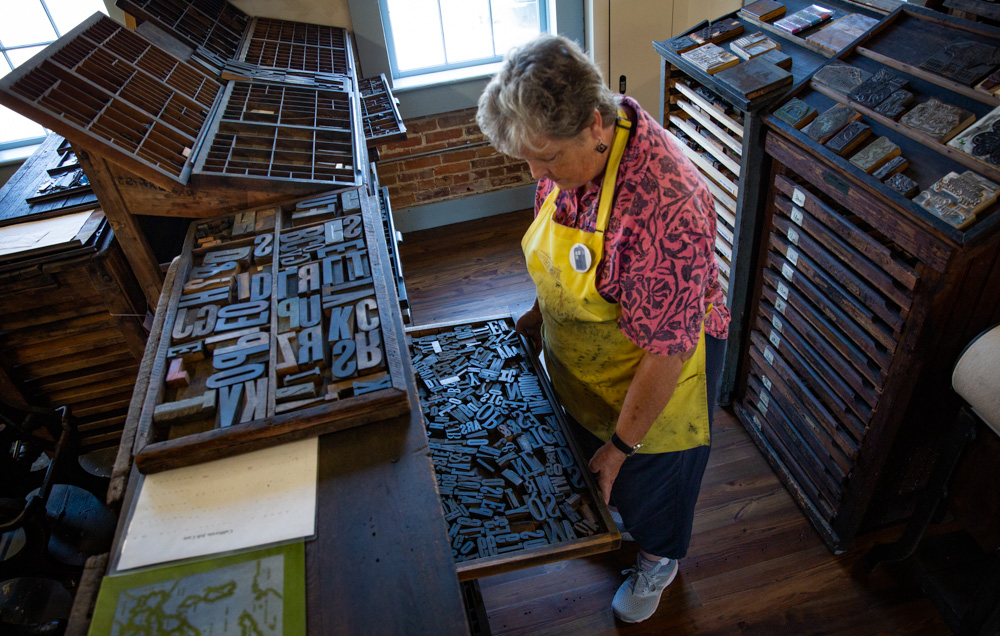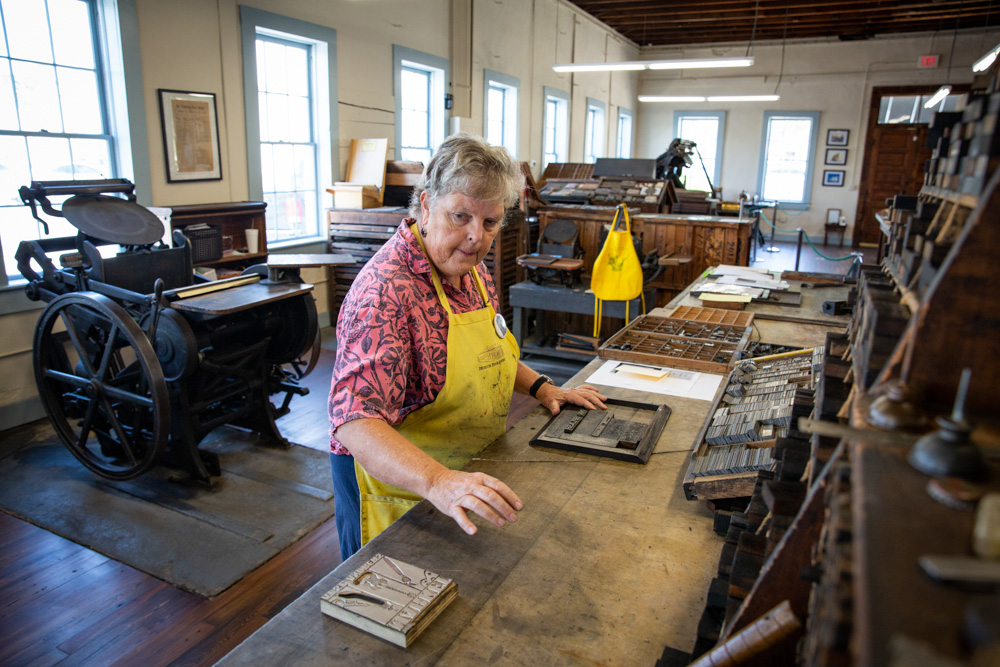 The museum welcomes visitors of all ages from across the United States and even from England, Australia, and New Zealand, according to Lisa Barnes-Tapscott, executive director of the Historic St. Andrews Waterfront Partnership, the volunteer group that operates the museum. She says younger visitors like to use the perforator and crimper tools, while others tend to be interested in all the history in the museum and the print shop. "I am always excited when local visitors come in who have never been to the museum and are so interested," she says. "They leave the museum talking about bringing their visitors back."
The museum runs with the help of a large group of volunteers. Some come in to help with printing demonstrations on Tuesdays and Wednesdays, while others work to maintain the butterfly garden or work the Waterfront Farmers Market on Saturdays. One of the volunteers, Nancy Hudson, serves as the historian and the museum collections manager. Hudson recently oversaw a project to produce a 24-foot timeline exhibit for the museum to mark the 100th anniversary of the building. The exhibit features photographs, original documents, newspapers, stories, and other items. The timeline will be on display through September 2020.
The exhibit wall changes regularly and has featured displays on swimsuit fashion through the years, the fishing history of St. Andrews, and love letters from Lillian to George. The museum also sells cards printed on the historic presses, among other items.
Celeste Hansel volunteers a couple of days a week at the museum. She is a research scientist who retired from working with the Navy but just loves tinkering with "mechanical things." She works one of the presses on demonstration days and has been dedicated to the museum and its visitors for more than a decade.
When the print shop was an active business, the most popular printed items were cards, invoices, letterheads, and envelopes, according to Buddy. His pride and joy was and is the 1950s Heidelberg letterpress that the company purchased in 1960. "It was exciting that summer when it came in," he says. "For the first time we didn't have to do everything by hand." Nicknamed "The Windmill," the Heidelberg's long mechanical arms picked up the paper and dropped it in a windmill fashion. Prior to that, every piece of paper went into the press by hand.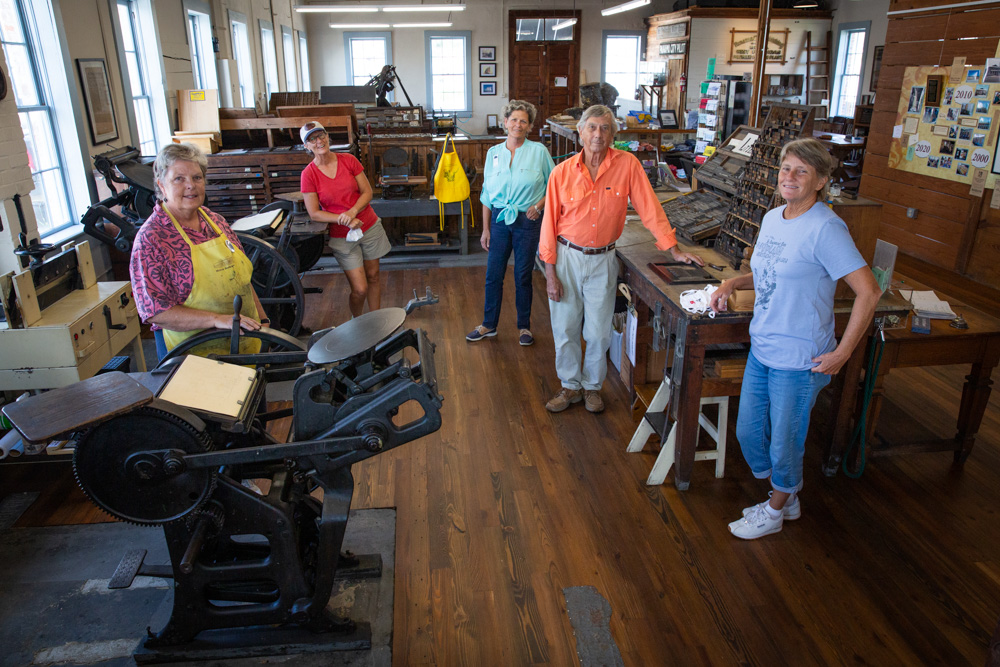 A few of the many volunteers who keep the museum running include, from left, Celeste Hansel, Robbie Fehrenbach, Lisa Barnes-Tapscott, Buddy West and Nancy Hudson. Hansel and West regularly work the presses, Fehrenbach is the board president, Hudson is the museum historian and collections manager while Tapscott is Executive Director of the Historic St. Andrews Waterfront Partnership, the volunteer group that operates the museum.
Letterpress is considered a dying art that the museum helps preserve. Buddy will tell you, on some jobs it could take an entire day to set type and print. It is a slow process compared to later developments with offset and computer printing. But the print quality produced with letterpress is still held in high regard. The process has a three-dimensional quality to it, not just in its look but in its feel as the type makes an impression into the paper. The process was invented by Johannes Gutenberg in Germany and the first printing press was built in 1439. The Heidelberg letterpress printer has a crisp, clean look that comes from individual pieces of inked type imprinted on the paper.
The Heidelberg press is on display in the museum and is demonstrated to visitors alongside five other working presses including two 1915 Chandler and Price presses and a 1920 Linotype machine. A composing bench where type was assembled in backwards fashion so it would print forward is also part of the exhibit. The museum has over 200 cases of type in various sizes and fonts. The front office where George M. West ran his businesses is still intact and part of the museum. West's manual typewriter still sits on his desk.
When the press is running, it seems more like a work of art than just a machine. The mechanical marvel moves smoothly and has been well maintained throughout the years. Ask Buddy how many parts he thinks make up the Heidelberg and he laughs and says "thousands." He describes the sound it makes as something akin to an old train coming down the tracks.
Back in his younger days, Buddy says he would run jobs all day and then go back and run some jobs at night. When he thinks back of working in the summertime heat, he remembers opening all the windows and the fans were purring. "With that Heidelberg running, it would lull me to sleep," he says with a grin.
Even though he sold the building 15 years ago, Buddy remains active and serves as a volunteer, running the presses during demonstrations alongside other volunteers.
Buddy still wakes up each morning at 6 a.m. A couple of times a week, he'll make the short trip to St. Andrews, where you can find him in the print shop "fiddling around," as he calls it. He still comes in through the back door, like always. The presses and the tools he worked with for more than 40 years are all still there, waiting for him to bring them to life.
"He's our master printer," Hansel will tell you. "We took over Buddy's shop, but it's still Buddy's shop."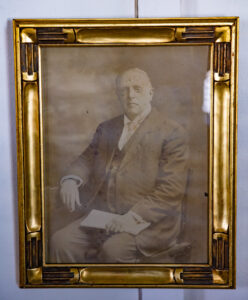 ABOUT George M. West
Publishing Museum historian Nancy Hudson recently authored the book "George Mortimer West, His Path in History." West was a prolific writer who kept a daily diary from 1872 to 1926. His last diary entry was on the day he died, October 29, 1926. Hudson started reading the diaries in 2019 and used entries to tell his story, in his words.
Hudson says that for years West has been referred to as the "founding father" of Panama City. She says that conjures a grand and titled image of him. "I was surprised to really get to know him and how real and alive he became. He suffered immensely through so many tragedies and my heart broke when his did, like he was a personal friend. He was never a wealthy businessman. He was hardworking, lived modestly, sometimes pay check to pay check, and the development of this area was his vision that kept him pressing forward."
One revelation Hudson uncovered was that West purchased his first camera in 1884 and often mentioned what he had photographed and the subject's name in his diary. The museum has a collection of more than 500 photographs from West. Many of the people, locations, and dates could be identified from the diary entries.
Hudson says the diaries did leave one mystery. In 1916, an entry mentions that he and Lillian had started another newspaper, The Chicago Daily Pilot. It even goes on to say Lillian had gathered over 100 subscriptions from Midwesterners. Hudson says that, to date, not one single copy of that newspaper has been found.
The author says it was fascinating to learn so much about a variety of topics from reading the diaries. "He wrote about fishing with Hawk Massalina on St. Andrews Bay, hurricanes that struck, gardening, and local politics," she says. In the entries, West mentions personal interactions with the people that have predominated local history. The book includes an extensive index for reference.
The book is available at the Publishing Museum, the Bay County History Museum, History Class Brewing Company, and can also be bought online at Barnes and Noble and Amazon.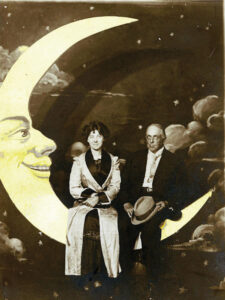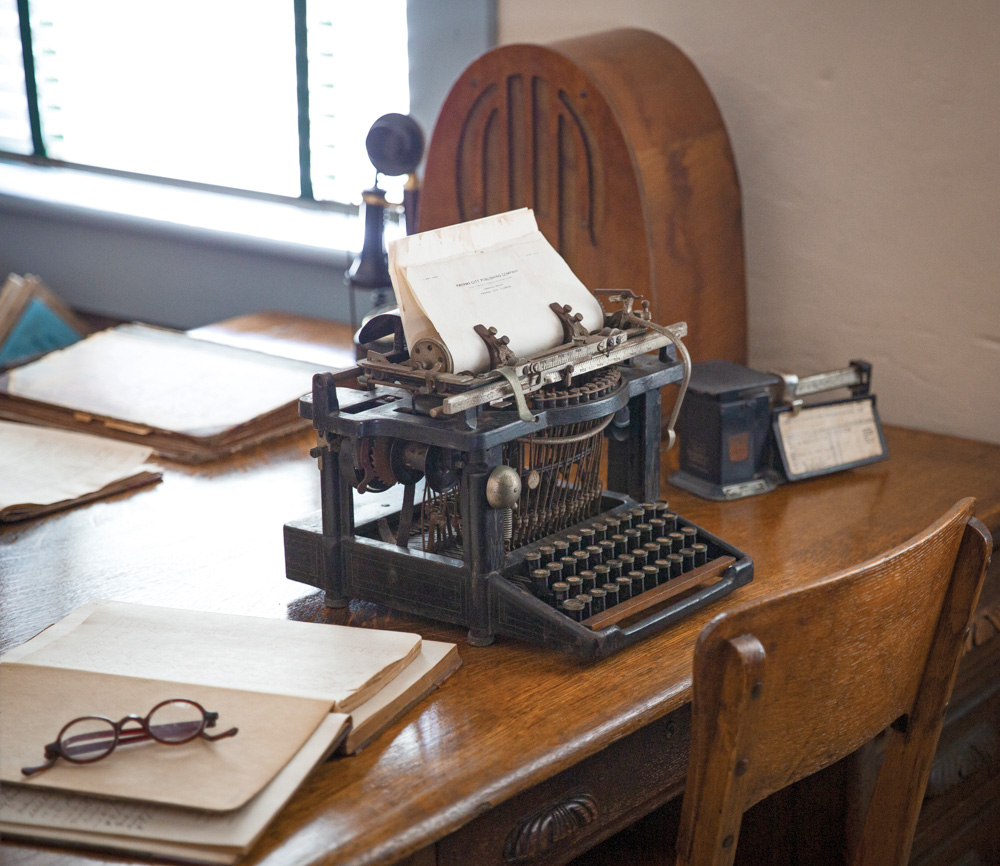 IF YOU GO TO THE MUSEUM
The Panama City Publishing Co. Museum is located at 1134 Beck Avenue in Historic St. Andrews. Admission is free and the building is open to the public Tuesday through Friday from 1 p.m. to 5:30 p.m. and Saturday from 9 a.m. to 1 p.m.
The printing presses are demonstrated on Tuesdays and Wednesdays.
On Wednesdays and Fridays: A walking tour of St. Andrews leaves from the museum building at 1 p.m. The tour is led by volunteer Ellen Mapelsden, a lifelong resident who shares interesting historical details.
The museum has a butterfly garden and offers a map that guides visitors along the trail as well as other gardens in St. Andrews that were planted and are being maintained by the Historic St. Andrews Waterfront Partnership. The Butterfly Garden also has a backpack check-out program for children and families to take out on the trail. The backpacks have soil thermometers, magnifying glasses, sorters, and activity sheets for families to look for information and record their findings.
On Saturdays, the Waterfront Farmers Market is open from 8 a.m. to 1 p.m., featuring locally grown produce along with arts and crafts.
Leave a Reply
comments
Powered by Facebook Comments