- By Val Schoger, Photography by Michael Booini
"If you hurt her, I will not get dinner and we will all be in trouble," Jimmy Croley laughs. His voice is decisive as he watches a seven-year-old wrestle with Barbara, Jimmy's wife. With a grin and a taunting "You can't beat me unless you know karate," she easily keeps the zealous little karate student at arm's length.
It is a typical Thursday evening for the Croleys and their students at the Lynn Haven Rec Center. Several parents watch with large smiles as their kids follow instructions closely and with serious faces. Moves, kicks, stances – the students crane their necks to watch the precise movements of their six-foot tall instructor.
They repeat his moves with reverence and discipline. Barbara, a good foot shorter than her husband, is right by his side and weaves quickly through the rows of students, correcting here, nudging there… everyone is in their element with sharpened senses.
Every Monday and Thursday, the Croleys teach Yoshukai Karate, a traditional Japanese karate style, to students ages 3 to 15. Several groups of little ninjas, as Barbara lovingly calls her students, flock through the doors to train to reach their next level of achievement and skill, marked by different colored belts around their waist. The coveted black belt defines one of the highest skill levels of karate.
The Croleys, of course, have long surpassed the black belt level. Students and fellow instructors refer to Jimmy Croley as "Shihan," the Japanese designation of an advanced level instructor who has achieved examiner and judge ranks. Jimmy Croely is a sixth degree Shihan. Barbara is addressed as "Sensei," denoting her advanced instructor's level. It is quite riveting to watch as they teach and laugh with the kids – each student's attention is fully captured.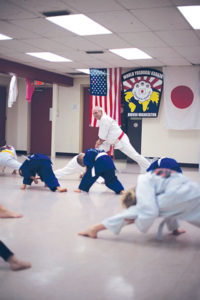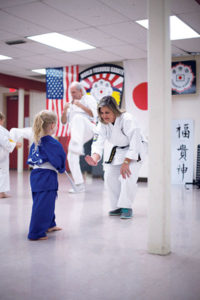 PC Living: How did you two meet, what got you started with karate, and how long have you taught karate together?
Barbara Croley: We met in May, married in August, and have been married 40 years. I was 17 when I met Jimmy. That was in 1976.
Jimmy Croley: I started karate right after graduating, before meeting Barbara, and learned a different style at first. I continued throughout the years.
Barbara Croley: I started karate in the 80s. Once we found Yoshukai, we stayed with it. We just love Yoshukai because it is family oriented. They do a lot with the kids, and a lot with the community, and that's what we were looking for.
Jimmy Croley: We have full-time jobs. I am retired now from my work as an electrician but Barbara still works full time as an accountant. This is a pastime but I love it because it keeps us in shape and we love teaching. When I first started, I thought I would get a black belt and I might teach a bit. That was 44 years ago. I am 62 and I still compete in tournaments. Four of our students received the grand champion title in their division at the last tournament. Barbara Croley: Matter of fact, Jimmy took grand champion as well at the tournament.
Barbara Croley: In the beginning, I thought I was never going to catch a black belt. Never was going to run a dojo and I ran a dojo for two years. It was good. I enjoy staying in shape. I'm 57 and I think I'm pretty strong for a 57-year old woman. Without karate, I wouldn't have as much muscle tone and stay strong and have confidence in myself. I can take care of myself.
PC Living: How many children have you taught throughout the years?
Jimmy Croley: Let's see… I have been teaching for 44 years.
Barbara Croley: I'd say even if only counting 100 students a year, we had about 5,000 over the years. We see many of the kids that were 5 and 6 years old in our class and we see them now grown, with families of their own. They will ask us, "Don't you remember us from your class?" We remember them. I remember them. They are just doing good. All of our current students get AB honor roll. We check report cards. We make sure they're doing good outside of this dojo.
PC Living: Who does what in your training classes? How do you divide responsibilities?
Barbara Croley: Jimmy does all the books. He registers all the attendance and he keeps the books. He takes all the payments. I am pretty much the discipliner. The mean one. (laughs)
PC Living: You are the one everyone's scared of?
Barbara Croley: Yeah, Jimmy is a softy. They're all scared of me. I have a nickname; the torturer. One of the kids named me the torturer. We do stretching. At least 15, 20 minutes of stretching and exercise to warm up, and you get all kinds of complaints about it… I tell the kids, "I've got 40 years on y'all and I'm over here still doing great." Other than keeping everyone in line, I'm the organizer of the Christmas banquets, the sleepovers, the summer camp, the winter camp.
I'm pretty much the organizer.
Jimmy Croley: Oh, back in the day, we traveled all over the United States.
Barbara Croley: We've been to St. Louis, we've been to Texas, we've been to Fort Worth and, of course, places like Dothan, Birmingham, and Pensacola… Jimmy ranked all over the United States, and he and our son stayed number one for about 10 years. There are many tournaments every year. The schedule comes out in January. Our own Panama City tournament will be the second week in September. It will be the 30th year anniversary of the Panama City tournament.
PC Living: Your training with the children looks very impressive and skilled. Do you have certain strategies or techniques when you work with the children? What do you do if a kid absolutely doesn't seem to be good at this sport?
Barbara Croley: Well, it all depends on the child. Every child is different. Once I learn what gets to them, then I'm in there with them. We sometimes have kids with learning disabilities.
Jimmy Croley: Several years ago, we had our first special needs student and she was always excited to come to our training and never missed a class. Her mother told us that the first thing she asked in the morning when she got up was if she would have karate that day. I suggested that our Yoshukai would create a special needs division and we did.
Barbara Croley: Jimmy started the special needs division in Yoshukai. We just had a tournament in Dothan where special needs dojos from other areas participated.
PC Living: Do people remark on women in the sport?
Barbara Croley: Oh, yeah.
Jimmy Croley: Well, just through the years.
PC Living: What do you tell them?
Barbara Croley: I've fought them all. They don't want to fight me. (laughs)
Jimmy Croley: One of my instructors, actually my first instructor's wife, was my Sensei. She outranked me. I have the highest respect for women in this sport.
Barbara Croley: Originally, women were not allowed in karate. Our grandmaster's wife in Japan practiced karate all her life and their daughters as well. She runs a dojo in Japan right now. I think it's changed a little bit.
PC Living: If you think back, being a couple, doing this together, what advantage does that give you?
Jimmy Croley: I taught quite a lot longer than Barbara and I might know more than her, but still, she sees things sometimes that I don't see. Items that I am not noticing.
Barbara Croley: Well, four eyes see more than two.
Jimmy Croley: It makes it so much easier.
Barbara Croley: Being married for 40 years, you know, we are not in competition. We love working with people and the kids and we take pride in teaching karate and take it very seriously. But we still have fun. We have parents who tell us, "Y'all need to have a reality show. We would watch it."
Jimmy Croley: If I were to teach by myself, because there are so many different ranks, you might neglect the upper rank. At lower levels they're learning basics and it is good to have a partner who can teach the basics and I can help more advanced students achieve higher ranks.
Barbara Croley: If he is ever out sick, I jump in and teach for him. Throughout the years, training with children has taught us many lessons, too, on how to deal with different kids. Especially the kids with learning disabilities, or others with a physical disability. It's helped us even raising our boys, it helped us understand and advance personally and it has built our experience.
PC Living: How old are your own kids now?
Barbara Croley: 43, 32 and 28. Jimmy Joe Croley is the oldest. Michael Adam is the middle child, and Jeremy is the youngest.
PC Living: Now, the last question, what do you do for Valentine's Day as a
couple?
Jimmy Croley: Last Valentine's Day, we were in Hawaii!
Barbara Croley: That was in March but yes, we celebrated my mom's birthday
and Valentine's Day, and went to Hawaii.
Barbara Croley: Last Valentine's Day, he came to my work, dressed in a suit with his guitar and he always does it, he sings me a song and brings me flowers. He makes all my coworkers jealous … he's done that a couple of times. We have pictures of it and video, too. All the time he's doing something. He's in a gospel band, too. In a group. A gospel group. He's wrote a couple songs for me and sang them for me. He sang an Elvis song one time.
PC Living: That's one of the best Valentine's initiatives I have heard of.
Barbara Croley: He does things like that all the time. Around Christmas he's bad about stuffed animals and ducks. He puts flowers on my car seat. When I'm getting in the car, there's always something there. I finally said, "Stop," because I had to take all of the boxes of stuffed animals and gave them to my boys to give to their girlfriends. What am I going to do with all this stuff? I appreciate it but it's like every day there was something in my car. He's a romantic. He's very
romantic. He's been that way for 40 years.
Jimmy Croley: (smiles)
Jimmy and Barbara Croley teach Yoshukai Karate twice a week at the Lynn Haven
Recreation Center, 2201 Recreation Drive, Lynn Haven. Learn more about
Yoshukai at wykko.com
Leave a Reply
comments
Powered by Facebook Comments