BY VAL SCHOGER
PHOTOGRAPHY BY MIKE FENDER
Rebecca Smith, owner of JetSurf Panama City Beach, talks about her active lifestyle and balancing family and entrepreneurship
Living
an active and successful life is brought to an entirely new level by Panama City Beach resident Rebecca Smith. As a mother of four, an avid volunteer at her kids' schools, a fitness overachiever, and now
a successful entrepreneur, Rebecca makes everything she touches look like the ultimate fun experience.
"I love yoga, jet-skiing, snorkeling, diving, surfing, ziking— my stair step standing bike … I like to dance, listen to music, read, although I rarely have time," she tells us. "And, of course, jetsurfing." Rebecca explains that she has always loved riding Jet Skis and has been surfing for more than 20 years. "I'm not great at it, but I continue to try and love every minute, still. JetSurf offers the perfect blend of those two activities in the best ways. I don't need a trailer, I don't need to load or unload a ski, and I don't have to wait for waves. I simply carry a board down to the water and go!"
She shares this passion with thousands of JetSurf enthusiasts worldwide. The sport consists of a motorized and light weight carbon fiber board that lets its rider attain speeds around 30 miles per hour and can be used on any body of water that is at least 20 inches deep. Originating in the Czech Republic, a landlocked European country, some 20 years ago, the sport has spread to the United States and grown to include 59 dealers worldwide. Rebecca is one of eight dealers in the United States, and her location is also a JetSurf Academy, with training courses for beginners.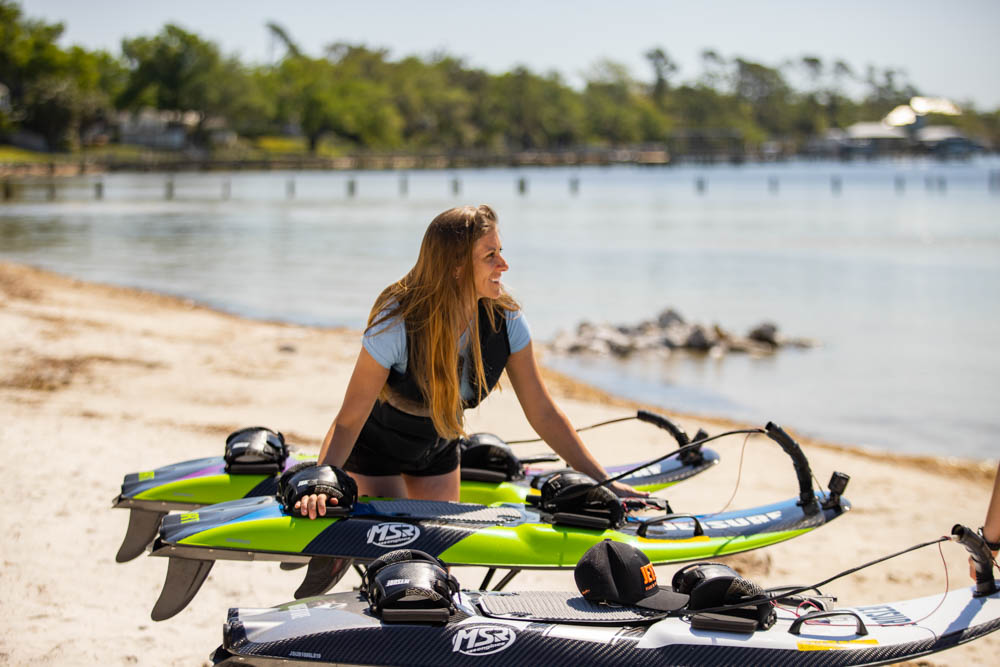 Rebecca brings multitasking to a new level and her excitement and passion for jet surfing are contagious.
She explains that most people will only need about 15 to 20 minutes to ride and then get better as they practice control, steering, and have fun. "It does take a positive attitude and patience. Most people think they will struggle with balance; however, with jet surfing, it is all about throttle control," she says and we get the impression that this might also be the answer to her own high-achieving lifestyle and accomplishments.
Share a few facts about you with our readers.
What are your other passions and hobbies? What's your general outlook on life?
I will start with the fact that I have four children: Jacob (18), graduating from Arnold High School this year; Jessica (14), attending eighth grade at Surfside Middle School; and Jemma and Jordan (twins, 12), attending sixth grade at Surfside. My kids are my driving passion for everything I do in life. I always try to lead by example. I think learning is a journey that should never end. Individuals can always be improving themselves and contributing to their community. I truly feel like it takes everyone doing small parts to make big differences.
I have an addiction to volunteering at the schools. I started volunteering when my son was in kindergarten at Patronis and have never stopped. After witnessing firsthand what is expected of our teachers and school staff, I was filled with gratitude and the desire to help. I have been helping in any way I can ever since. I also currently have a part-time job at Surfside Middle School as the volunteer/business liaison. That job also comes with many hats.
"I also know that in order to do this job to the best of my ability, I must take care of myself."
With JetSurf PCB, how many hats do you wear in running your business?
I am owner, operator, instructor, mechanic, web designer, marketing director … If you name a job for a small business, I am doing it right now. I have tons of support from my family and friends, and have made connections with people who have been tremendously helpful in this venture. I like to be active; I love progression and productivity. So, opening JetSurf has been amazing in that I am always learning, improving, and working.
As a new business being a part of a young sport/activity in the U.S., I am constantly trying to raise awareness. JetSurf USA, headquartered in Miami, is always working on this as well. Most people have never heard of jetsurfing or even seen a board. I am a water enthusiast and only discovered JetSurf in 2018 and immediately fell in love.
Do you think jetsurfing will become a mainstream sport?
I do believe it will become a mainstream sport. There are competitions such as Motosurf America: motosurfamerica.com, and the Motosurf World Cup motosurfworldcup.com, that bring a lot of people together. One of my goals is to host a Motosurf race here in Panama City Beach.
What kind of skills or talents does someone need to jetsurf?
There are no special skills or talents required to learn to jetsurf. At JetSurf PCB, we have had riders of a wide range of ages, from 14 up to 58. They had various athletic skills, some who have never participated in any type of board sport or even ridden a Jet Ski before. They were successful in learning to jetsurf. Of course, I have had several people who have a history in surfing, snowboarding, and wakeboarding, as well as other board sports.
Who are the instructors here in Panama City?
Right now, JetSurf PCB has two instructors: myself and my son, Jacob Smith. We have an instructor in training, Thomas Watts; he is a local wakeboarder and also a photographer and videographer who has made multiple promo videos for JetSurf PCB.
I am hoping with growth in the future we can train more, which would allow for more ride and lesson availabilities, and possibly even more locations along the Gulf Coast.
In terms of health, wellness, fitness, and beauty, how do you balance it? What do you prioritize? What is your philosophy?
My philosophy in life is to be proactive, not reactive. I do not wait till I gain weight to work out; I do not wait till I feel bad to take care of myself; I do not wait till I am sunburned to apply sunscreen. It is making the individual choices in every moment that are going to make the next moment better. I do not always get it right, but I learn when I get it wrong.
I love to learn; I crave knowledge and feel I will never gain enough to be satisfied. It is because of my constant desire to learn that I have gained the wide range of skills that enabled me to open JetSurf.
I have never been someone who sits for very long. I thrive in chaos and spontaneity, I strive for organization and advance preparation, and I do not like rigid scheduling or inflexibility.
The most valuable lesson I have learned is that I cannot predict the future, no matter how sure things seem. Choosing to be stuck in one path or way of life simply does not work. Adaptability is my key to achieving any goals and living a happy life.
Life is chaos. I am constantly challenged with choosing between doing yoga or running an errand; going to the beach for fun or working on marketing; doing a nightly beauty routine or squeezing in extra minutes for work before bed. I would love to say my day-to-day is perfectly balanced and my choices consistent. Every day, the best choice for my moments changes. My balance is not dwelling on what cannot be changed in past moments, but focusing on what can be changed in the future ones.
Above all, I prioritize my children. It is my most important job in life to ensure they are healthy, happy, and grow into the wonderful people they will become.
I also know that in order to do this job to the best of my ability, I must take care of myself. When my girls decide to try a new sport, I want to help them practice. If I am physically healthy, I can do that. When my son decides to change career paths, I want to help him learn how to do so. If I am open-minded and willing to learn, so can he. When my daughter decides she wants to run a billion-dollar corporation—yes, I have a child whose goal that is—I want to support and encourage her. If I believe in myself accomplishing what seems impossible, I can show her that it can be done.
I said before, my children are my passion for everything, and I meant it.
Leave a Reply
comments
Powered by Facebook Comments