BY WENDY LECHNER; PHOTOGRAPHY BY RICK COOPER
When we think of things British, we think of fine tea, fine manners, and lackluster food. At Ms. Linda Smith's Willows British Tea Room on Harrison Avenue, the tea and manners are indeed fine, but so is the food. My first visit to Willows occurred during a special event to celebrate the beginning of the new season of the highly-acclaimed PBS series Downton Abbey. Upon being greeted at the door with "Good Evening, M'Ladies," guests were swept into a delightful room of rustic brick walls edged with several dozen teapots, pretty willow-patterned china that gave the tea house its name, and greeted by staff wearing Edwardian period costumes. Making the evening even more special were the number of guests dressed in clothing of the 1920s that would have made Lady Mary Crawley of Downton Abby very proud.
If the Downton Abbey-style High Tea is any example of what's to come, Panama City is in for a treat. The five-course High Tea of authentic British food began with an exquisite light, fragrant leek and potato vichysoisse topped with seasoned croutons.  In recognition of England's time in India, the next course was a delightful kedgeree, a delicately curried white fish and rice dish, that was followed by Scotch eggs on a base of spinach and cucumbers topped with Hollandaise sauce. The savory sausage surrounding the hard-boiled egg was a delight.  Two sweets followed the savories – a delicate scone served with clotted cream and raspberry preserves and then a mouthwatering strawberry and mango pavlova. Closing the tea was a tasty cheese board with biscuits and locally-made herb crackers.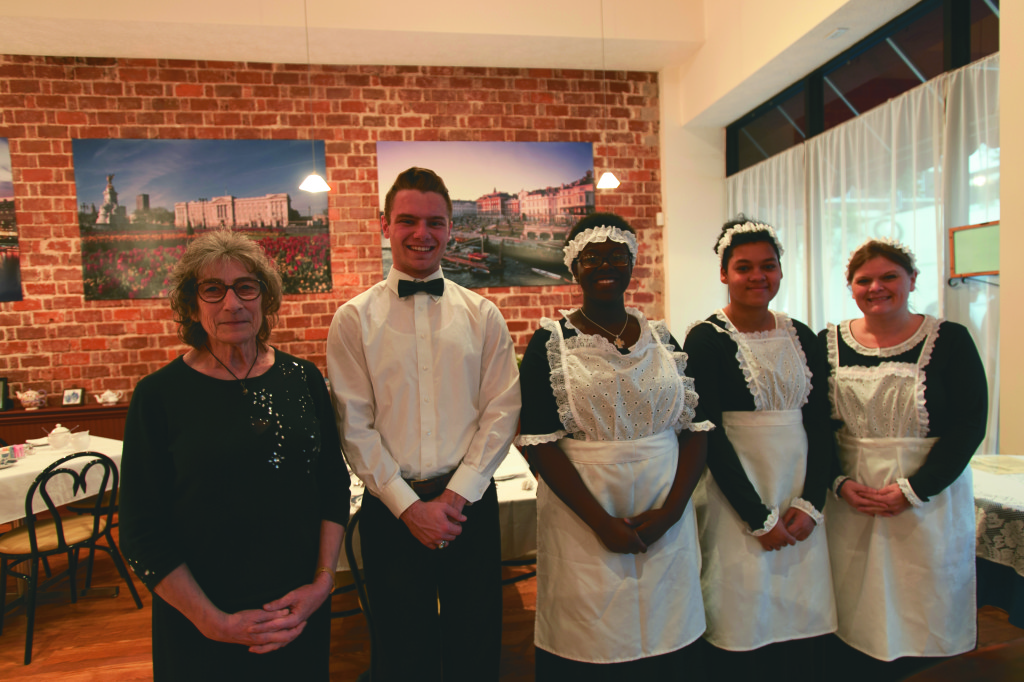 In addition to the Tea Room's daily menu, Ms. Smith has begun to offer a special event each month, including a Tea and Trivia night, Mothers' and Fathers' Day High Teas, and Harry Potter-themed events.  She is also hoping to offer a Tea and Tales program for children, adding to the children's corner in the tea room, fully equipped with hats, books, and accessories for children. If her recent Downton Abbey High Tea is any example of what's to come in future events, one had better make reservations early.  Events can be found at www.willowstea.com.
In addition to offering wonderful food and tea, the Tea Room has a small store that carries true British specialties such as teas, steamed pudding, HP sauce, and teapots.  It's fun to browse and pick up a few items.
The menu items during the themed events will differ significantly from the regular menu but the offering of classic black and Earl Grey teas are always a great choice and are delicious. At any given occasion, the estate blend of Earl Grey and vanilla or the English Rose blend with fragrant raspberries, are excellent picks.
Willows British Tea Room is known for its classic English lunch specialties such as Shepherd's Pie and Bangers and Mash, which are English style sausages with mashed potatoes. Each month, a number of different dishes and desserts are offered, including a dainty scone with clotted cream and jam, that should not be missed. Here, tradition reigns. The owner, Ms. Linda Smith is a warm and delightful lady from Essex. Several of the dishes served originated from Ms. Smith's mother's cookery book from 1938. Other recipes have been made in England for more than 300 years. Ms. Smith has chosen dishes that are truly the best of British cuisine.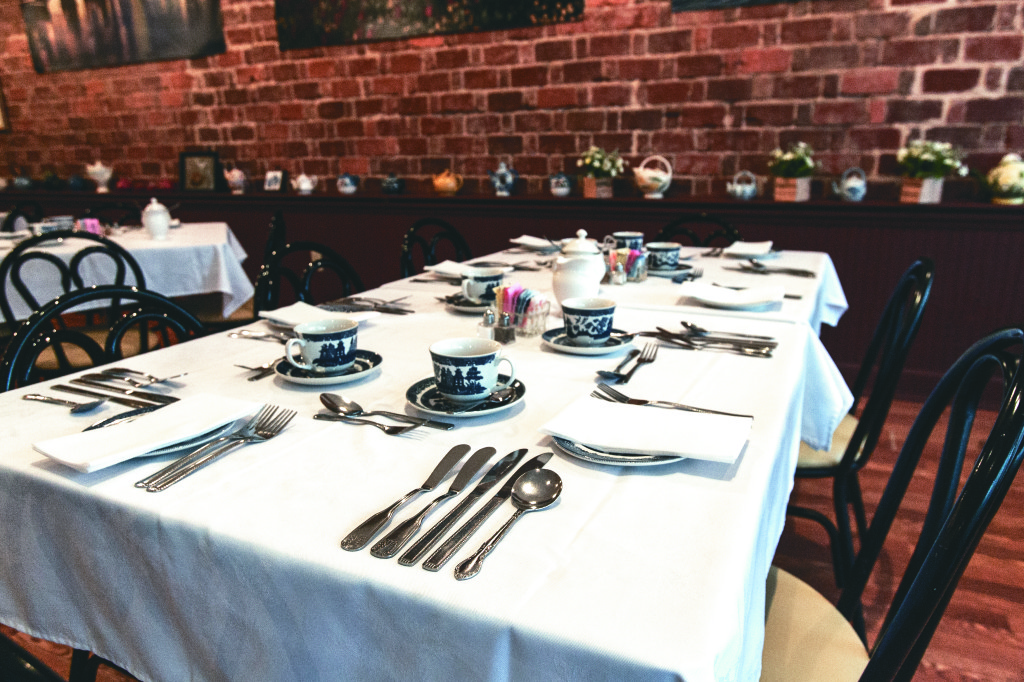 Ms. Smith's daughter, who had married an American and moved to our area, suggested she come live in the sunshine here in Florida. Since she was retired and ready for a change, she moved to Panama City in 2006. One day in 2009 when she was enjoying tea at the original Willows British Tea Room, she found out the business was for sale, and in two days' time, an offer was made to buy. In less than a year, the owner of the building on Fourth Street that housed the original tea room informed her he was selling the building and she would have to move. She then found the present site at 461 Harrison Avenue and opened for business. Within two months, the BP oil spill and the recession hit our area and put a crimp in Ms. Smith's plans. However, with "a stiff upper lip," perseverance and the support of loyal customers, the Tea Room today is hitting its stride in offering a tasty array of classic, high-quality dishes and delicious teas in true English style. Ms. Smith is as fascinated with the science of food as she is with the traditions of her heritage, and they both show in her classic offerings to customers.
Most recently, a new kitchen manager, Kristi Sellers has helped pare the menu and organize the kitchen to make the Tea Room a lovely lunch and afternoon tea venue in the downtown area. It is open for lunch and afternoon tea from 11 a.m. to 5 p.m. Tuesday through Saturday, and noon to 5 p.m. on Sunday by reservation.
Afternoon tea and high tea date from the 1800s when two meals per day were the norm in England. Among the upper class, these two meals were spread farther and farther apart over the years. In 1864, the Duchess of Bedford complained to her butler that she was fatigued with hunger in the later afternoon. He brought her tea and bread with butter, that he served on a low side table in her boudoir. Thus began afternoon tea. In following days, he improved his offerings with finger sandwiches and sweets. The Duchess shared these delights with friends who visited, and they then began the same practice in their own homes.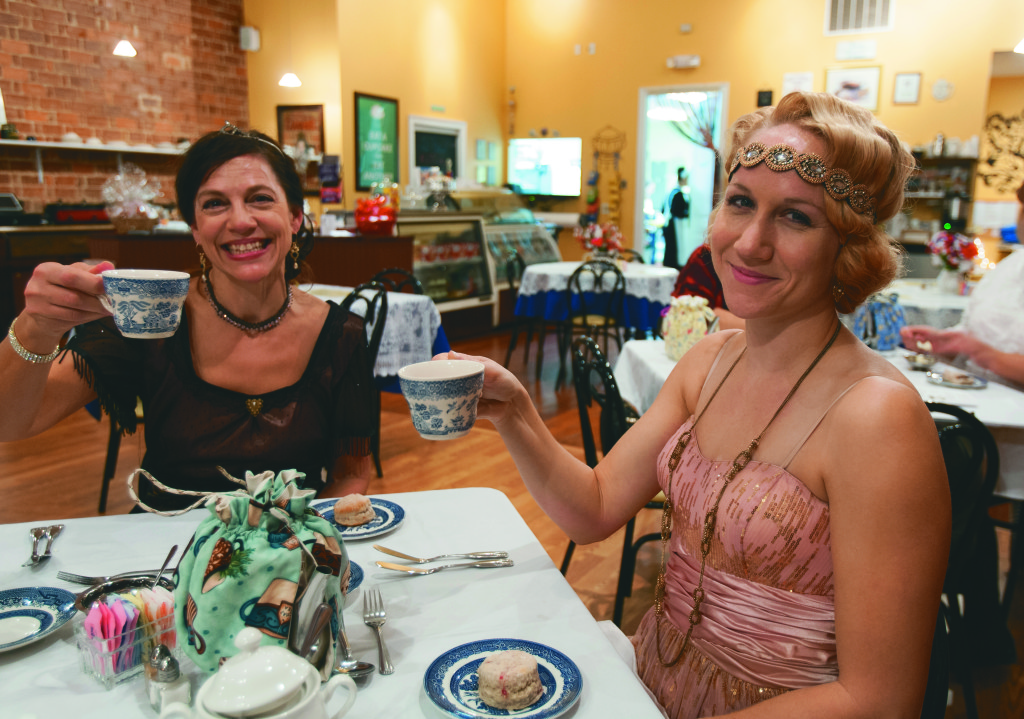 With time, afternoon tea became so elaborate that it was moved to the dining room and the "high" table, and the gentlemen were invited as well. Thus, High Tea became a light supper in place of a full meal. Butlers vied to serve ever-better offerings. The aristocratic exclusivity of afternoon tea and high tea eventually made them popular in England among all classes.  Tea rooms began to pop up throughout England in every town and at nearly every major crossroad. Today, the British still love their tea, and now Ms. Smith is sharing this tradition with us.
Willows British Tea Room
461 Harrison Ave., Panama City
(850) 747-1004
Open Tuesday – Saturday, 11 a.m. to 5 p.m.
Sunday for High Tea/Afternoon Tea, Noon to 5 p.m. (24 hour prior reservation required)
www.willowstea.com
Leave a Reply
comments
Powered by Facebook Comments