This is something they have not done before. Valli and Joe Sorci sit at the conference table in their offices in Panama City and answer inquisitive questions about their life and work together. It is obvious, they are having fun. Joe chooses his words carefully. Valli's eyes sparkle with wit and laughter.
Framed pictures of finished design projects hang on the walls and are a shining backdrop for Joe and Valli Sorci's shared thoughts. Since 1988, they have worked together, they say. It is evident. The mutual respect and understanding is palpable. After several career moves, in 1995 Joe founded Florida Architects, an Orlando-based architectural firm. Valli joined the firm a few months later. In 2009, one of their projects, the design of the Advanced Technology Center (ATC) at Gulf Coast State College, brought them to Panama City. They loved our area so much they decided to open a second office. It was not a tough decision a few years later to migrate the Orlando office to Panama City, they explain. Today, Florida Architects employs a team of seven and Joe and Valli continue to travel all over Florida for clients and projects.
PC Living: How did you meet? And after so many years of working together, how did you finally become a couple?
Valli Sorci: (laughs) Do you want to take that one?
Joe Sorci: No, you tell the story.
Valli Sorci: Actually, we met in high school in Orlando. He is a transplant from Chicago. I'm a transplant from Ohio, not far from Cleveland. We lived in the same neighborhood, but didn't really know it. He is two years ahead of me and we went separate ways in life until we both started working for the same company in Orlando in 1988. We have worked together since. We married in 2004.
Joe Sorci: We kind of grew together. There was a lot of trust there from long history. We have always worked well together.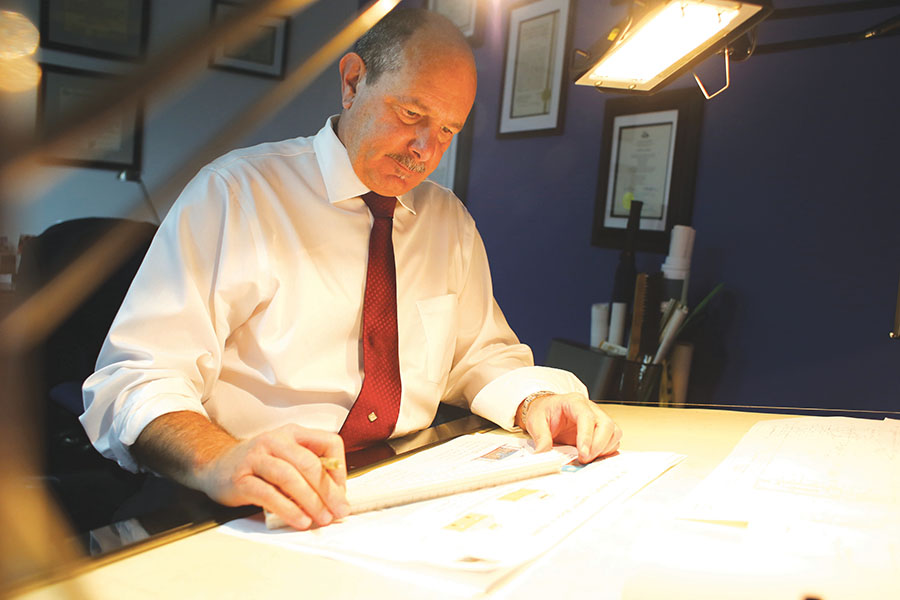 PC Living: How do you share responsibilities in the company? Who does what and how do you work together?
Valli Sorci: He's the Principal Architect, Director of Design and manages the studio and I cover business services which is everything else, from IT to marketing to accounting. Sometimes I jump in and help him get started on project tasks that involve writing or coordination. We don't do the same thing exactly – that's probably one reason why we work well together. When not at the drawing board in "Design World," Joe spends a lot of time on the phone and out of office at the jobsite or meeting with clients taking care of immediate needs. I try to anticipate what has to be done next and get it started, so that he can jump in and delegate, fill in details or finish.
Joe Sorci: Other than running the office, she responds to requests for proposals. She has the ability to open up a new proposal that took weeks and months of work, she takes one glance at it and finds a typo or blunder.
Valli Sorci: And I make sure it gets corrected even if it's the day of the presentation and we are with one foot out of the door.
PC Living: What was the deciding factor to move the business from Orlando to Panama City?
Joe Sorci: The timing was just right. In our business and our lives, it was the right time.
Valli Sorci: Our kids had left home and we came up and looked at the area and loved it. And Joe wanted to live on good fishing water.
Joe Sorci: During the Advanced Technology Center presentation to the GCSC Board of Trustees, I told the committee that if they selected us I would move here. Of course, they didn't believe me at that time. Later, the chairman remarked, "You actually did that." We've made a lot of friends here in Panama City since. It is a community that we can integrate with. We got involved with several organizations and we give back.
Valli Sorci: We are more social than we ever were. The lifestyle is very different here. When we lived in Orlando, we shared a boat that was stored in Cape Canaveral. To get out into the deep water, we had to get up at three o'clock in the morning, drive long hours, get the boat out, and go far out, and then deal with security from the cruise terminals and the Space Center.
PC Living: In working together, what drives you the most? What gives you the most satisfaction?
Joe Sorci: Many of our projects are large and complex, which takes a long time to develop, design, and construct. For me, it's working through that process on a shared mission with other talented people that are excited about what they are doing and delivering a well-designed, well-received building. When we are able to go back after completion and observe how the owners and the users feel about their space, how they use it, and how they embrace it. Just feeling that success, for me it makes me feel good about what we all do. You can't buy that.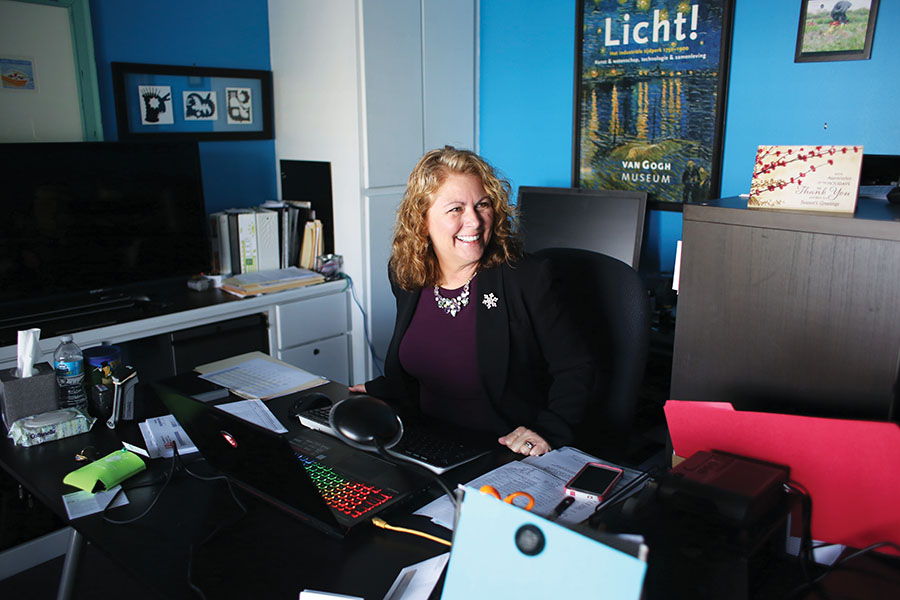 Valli Sorci: He is really, really, really good at presenting the project. His design and architectural talent and the ability to understand and translate the owner's vision to the built environment is obvious. For me, watching him when he is talking about a concept that he believes in and is very passionate about, comes through and ignites others. It's something to see. People say, "Wow" after one of his presentations. That's what attracts me to him. It even calms me down at presentations when I have been covered in numbers for weeks.
Joe Sorci: She takes that part away from me. I don't have to deal with the business organization, which allows me to be uplifting and passionate. If I didn't have her doing that, I don't know…
PC Living: You both take a lot of pride in what you do. What were your biggest moments of success? Is there ever a time when it gets tough?
Valli Sorci: The most fun part is the brainstorming, when I get to sit in workshops, bouncing ideas off with people. It could be the president of the college, or other people who are involved, especially when we are talking about improving facilities where kids will be educated. We are looking at the upcoming workforce, and upcoming leaders… they are 10 or 12 years old now and they are our future.
Joe Sorci: We have and are designing facilities for kids, K12 all the way to university age. We see a cross section, and we see gaps, we see bridges. We have actually helped some institutions create new educational models and those models are highly successful.
PC Living: You helped develop educational models based on your architecture?
Joe Sorci: Yes. People don't realize that when you are focused in a segment for 35 years, you see and learn a lot. We've traveled all over the U.S. to see the latest and greatest and have invested a lot of time in research. We see things from a different perspective. We could talk for hours, probably days, about the effects of environment in education. The same holds true for businesses of any kind. Once you understand there is a basic framework, [and] what those elements are, depending on how you put them together, you can have a high impact and effect on the operation of a business or facility and the user experience. The magic happens when you create from the program needs and you connect dots. The ATC at Gulf Coast State College is a good example. The way the culinary program exposes out to the corridor and you can see the bakery. You can see the students making chocolate. Just as the dining room opens into the lobby and flows out. It's those connections, those dots, which bring life to the buildings. When that happens, there's an energy that flows and the occupants, the users, the visitors all feel it. They connect to that, and they increase that energy. They all like being there. When you do that, you've been successful.
PC Living: Last question. For Valentine's day, what do you do? Do you go out together?
Valli Sorci: Is there a deadline? (laughs)
PC Living: Yes, the deadline is February 14th. Valentine's day, that's your deadline.
Valli Sorci: Valentine's day, no. It's just nice not to have to meet a deadline, because we're so driven by deadlines with everything else that we do.
Joe Sorci: I hate to be disappointing in that area. We're traveling tandem every day, and we don't need that hard date thing to celebrate. We celebrate when we can and when it feels the best. We may take a trip, and we may do something and set our goal on being able to do that, which is more important to us.
Valli Sorci: Sometimes we are excited to find out, "Hey, we don't have anything we have to do today. (gasps) Hey!" (laughs)
PC Living: You're not running with the crowd. You're waiting for the moment when it's right for you.
Joe Sorci: I think that's probably a good way to put it.
Valli Sorci: We avoid the crowd.
Florida Architects is located on 648 Florida Ave., Panama City
floridaarchitects.com
Leave a Reply
comments
Powered by Facebook Comments