PHOTOGRAPHY BY MICHAEL BOOINI
I was influenced by the great style mavens of the 1960s, Jackie Kennedy and Audrey Hepburn. From a very early age I loved all things "classic." I studied history and developed a fascination with Classical Architecture. Travel and history have informed my style more than anything.
Several years ago, I embarked on a trip around the world to see all the UNESCO Heritage sites—to cross them off my bucket list. At each destination, I was the oddity. For example, in Lhasa, the women were surprised that I was not worried about covering my face with a mask, protecting it from the bright Himalayan sun as they do. Style is so personal, I don't believe there are any perfect rules. Each of us is influenced by our own set of experiences and our culture. When I was young, we visited my aunt in Lake Wales, Florida, for two weeks every summer. Her family owned the Chalet Suzanne, a famous inn and restaurant. It was very posh and decorated with furniture and antiques from around the world. Many guests came for dinner or a weekend respite by plane, landing on the private air strip. The walls of the restaurant were lined with pictures of the famous people who visited frequently. At night, my cousin and I played dress up in Aunt Vita's closet. Wearing her fancy heels and clothes, we made our way to the restaurant's kitchen. The employees were always tickled to see our regalia and let us eat ice-cream and peek through the window at the glamorous guests. I knew then that there was a difference in how people dressed, dined, and behaved—especially behaved—that pertained to style. It looked so magical peering through the window.
I am happy to share a humorous story that I think I handled in style. My late husband, Earl Durden, and I were to entertain 50 people for dinner. Our guests were traveling from all over the state and would be staying in a nearby hotel for two nights. I marked the calendar and started preparations for a vast dinner at our residence. One night before the event, Earl and I were watching the evening news when he remarked on how calm I was. I told him that I would finish up all the details "tomorrow, before our guests arrive." He said, "You are kidding, aren't you?" "No, I am not kidding," I responded. Incredulously, he told me that our dinner guests would be at our front door in 30 minutes.
Stunned, I realized that we had miscommunicated the date. I had to dig deep for a solution. Fortunately, the words of a mentor came back to me. She believed that the most important thing when entertaining is to set the tone for the evening by meeting each guest warmly at the door with a smile and kind word. She believed that the best food and flowers are a waste if the guests are not comfortable and not having a good time. With only 30 minutes to spare, I called a neighbor with an amply stocked pantry. We set up the bar, I brushed my teeth, and then called Captain Anderson's Restaurant. A few minutes later, I met each guest at the door with a smile. The night was lovely and fun and unpretentious. No one really knew my predicament until I told on myself. From time to time, I see some of the people who were on the guest list, and they think the night was legendary. Sometimes you just have to own it and be authentic. I think it important to be comfortable in your own skin and embrace the fact there is no one like you in the whole world. That's style.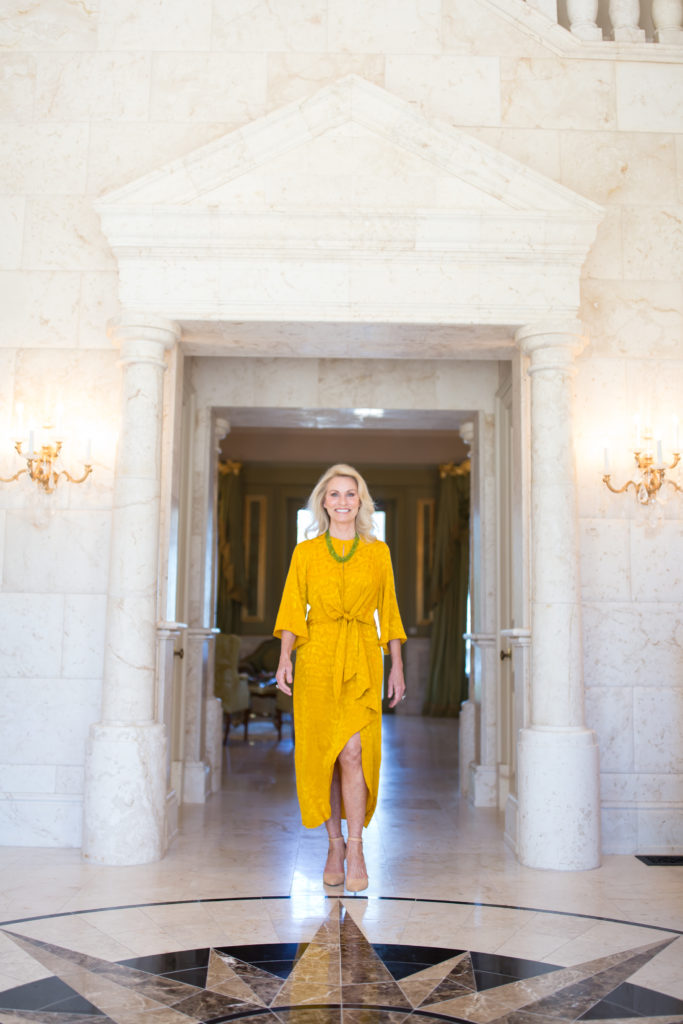 ABOUT KAREN DURDEN
Karen Durden, née Karen Levy, grew up in Tallahassee. Her family is one of the founding families of Tallahassee and settled in the Lake Bradford area before Florida was proclaimed a state – they have lived on the same land since 1825. After college, Karen worked as a flight attendant and flight attendant instructor. She married a professional golfer and Panama City, Florida, became her "home base." When her sons, Patrick and James Green, were born, they became her "most rewarding career of a lifetime." The family traveled the PGA tour until the sons were school-age. After a divorce from her first husband, Karen worked as an interior designer and became an avid volunteer for charitable efforts in the community. She met the love of her life and second husband, Earl Durden, while planning a fundraiser for a Children's Play Park in memory of friend Rick Seltzer. At that time, Earl and his son, Michael, owned and operated 16 railroads, including the Bay Line, and travel and entertaining were a necessary part of life during that time. Karen works with stepson Michael Durden at Kedrick Cerry to operate the Durden Foundation, an organization that supports prostate cancer research and other charitable causes. She recently completed 12 years of service on the board of trustees at Gulf Coast State College. She served for 12 years on the board of Gulf Coast Regional Medical Center and was a volunteer with Guardian Ad Litem, a volunteer organization for child advocacy.
Leave a Reply
comments
Powered by Facebook Comments