By Val Schoger, Photography by Nick Trail

One of the most remarkable aspects about Northwest Florida: No matter where you live, the water's edge is never far away. You might say all roads eventually lead to the water, whether to the white sandy beaches of the Gulf of Mexico, the calm waters of a bay or bayou, or one of the many streams and ponds surrounding us. Living by the water is a dream that became reality for our featured home owners. Follow us on a tour of two remarkable and unique homes, one on the beach and the other on the bay. Meet the happy home owners who enjoy breathtaking water views.
Several years ago, Dr. Scott McLelland and wife, Connie, decided to fulfill their waterfront-living dream. After searching for a year, they found the perfect property with beautiful views of North Bay in a neighborhood that seems tucked away but is centrally located. They fell in love with the vibrant colors of the sunsets, the convenient location for boating, and the peacefulness. The construction of their custom-built home was completed this year and went very smoothly, they say.
A long driveway leads to wide stairs with an oversized walnut door opening to a large foyer with captivating views of North Bay and Posten Bayou. The generous floor plan features three bedrooms, three and a half bathrooms, a music room, a separate study, and extensive outdoor living areas. Tray ceilings in the living area and coffered ceilings in the kitchen frame the views of a manicured lawn, sparkling pool, and wide boat dock.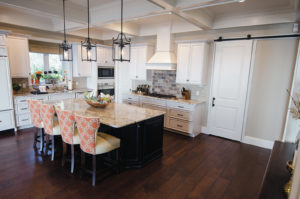 The kitchen, with its granite countertops, large island, and temperature-controlled wine cellar is reminiscent of a French country home. Large doors open from the living room and kitchen to the outdoor area where a vented grill with ample counter space and seating areas offer plenty of room and convenient amenities for indoor-outdoor parties and entertainment. An added bonus is offered with remotely controlled floor to ceiling screen enclosures that transform the outdoor area into a living space with the push of a button.
The open floor plan was a must-have for Connie McLelland. She explains that the new house was built around several existing furniture pieces, such as her large dining room table, chairs, and cabinet. "What we didn't like about the house we lived in previously in Bay Point was the closed-off kitchen. It was separate from the family room. The openness that we have now was my goal for the new home," she adds.
Throughout the house, several furniture pieces and photos provide clues about Connie and Scott's early life and upbringing. Scott's family lived on an estate in France when he was a child and his family owns antique furniture pieces from the estate. The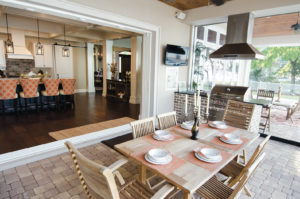 McLellands refer to the "Old World" side of the house where several heirlooms offer focal points and integrate effortlessly with modern furniture.
A veterinarian by trade, Dr. Scott McLelland is now semi-retired. With a lifelong hobby of playing music or, to be more precise, Rock 'n' Roll, a room dedicated to instruments and sound equipment was a must-have feature for the house. His band practices once a week in the music room that overlooks picturesque Posten Bayou.
A large staircase leads to the third bedroom that is reserved for youngest son, Tyler, who is currently in chiropractic school. The main room on the second floor is used as a craft room and serves a double purpose as granddaughter Olivia's playroom with a large terrace offering stunning bird's-eye views of the bay.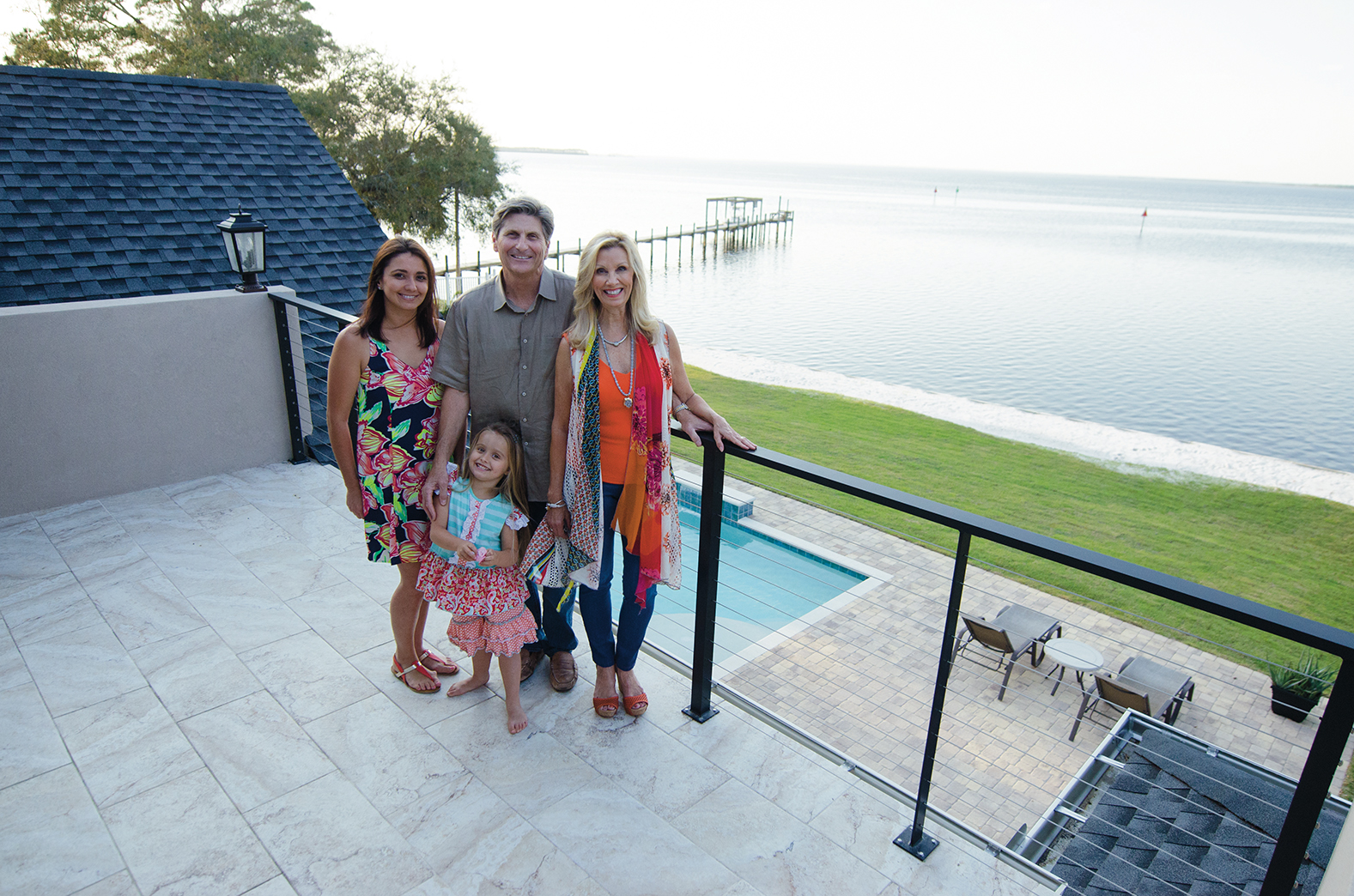 Olivia's happy laughter and the excited barking of the family's golden retrievers, Lucy and Bentley, are often heard in the McLelland home. Olivia brightens every room with her sweet voice and radiates so much happiness that it almost makes it possible to forget the recent tragedy the McLellands had to cope with. Their oldest son, Travis, was killed in a bicycle accident, leaving daughter-in-law, Inna, widowed and Olivia without a father. The construction of a home stood in new light as a project and a distraction.
As they watch the sunset with rays of red, orange, and gold stretching over the entire property, the family reflects, "We have never built a house before. It was customized for us and our taste. We kept going back, changing the plans and it is exactly what we envisioned. Our dogs love it. They chase the pelicans. Our granddaughter has plenty of room to play and enjoy the outdoors. Often, we see dolphins and other wildlife. We truly feel at home."
Leave a Reply
comments
Powered by Facebook Comments