By Nick May, Photography by 

Joe Alonzo
The idea of an all-girl band is almost an anomaly in today's music culture. It's unorthodox. It might even be downright unfamiliar to you, but there's no denying it's something special.
Bay County is full of bands. Unique bands. We've got a chip on our shoulder for those who say we'll never amount to anything more than bar tunes and Buffett covers. But even in this culture, it's hard to find a composition that doesn't include at least a few Y chromosomes (dudes).
The Krickets are one such composition, living and flourishing right here in Panama City. With influences like Fleetwood Mac and The Civil Wars, their sound is one that invokes grander ideas than mere toes in the sand. It's Folk. Raw. Woodsy. Three voices married to their strings and to each other. Maybe you'll swear to having heard them at a peace march long ago.
When Melissa Bowman (Panama City), Lauren Spring (Port St. Joe), and Emily Stuckey (Santa Rosa Beach) decided to start The Krickets, it wasn't just about girls playing music. "Part of it is the music and how much fun we have, but part of it is that we are forever connected to The Cricket Fund," says Bowman, who sings and plays guitar. The Cricket Fund (named for Kristina "Cricket" Russell, who died of breast cancer at 22) is established through Sacred Heart Hospital and helps to provide mammograms to the uninsured in Gulf and Franklin counties. Though they only met a handful of times, Cricket's story had a big impact on the band. Big enough to become their namesake. "We asked Cricket's mom if we could call ourselves The Krickets in her honor," they explain.
Fully funded in their first crowd funding campaign, the Krickets recently released Spanish Moss Sirens, a 10-song, full length album with Single Lock Records in Muscle Shoals, Alabama. One dollar from each album sold will directly benefit The Cricket Fund. I caught up with The Krickets to learn a little bit more about what makes them who they are, and just what it is they've set out to do in addition to making great music.
Nick May: Congratulations on your first album!
Melissa Bowman: Thank you! What a crazy few months it has been!
Nick May: Let's get to know you. How long have you been a band?
Melissa Bowman: Technically, the three of us have been together since last August. We call ourselves a musical unicorn, to have an all girl band with three lead singers.
Nick May: It's just the three of you, correct?
Melissa Bowman: Emily, Lauren and I make up the permanent members of the band. Katrina Kolb lives in Alabama and plays upright bass with us when she can. She plays on the record with us.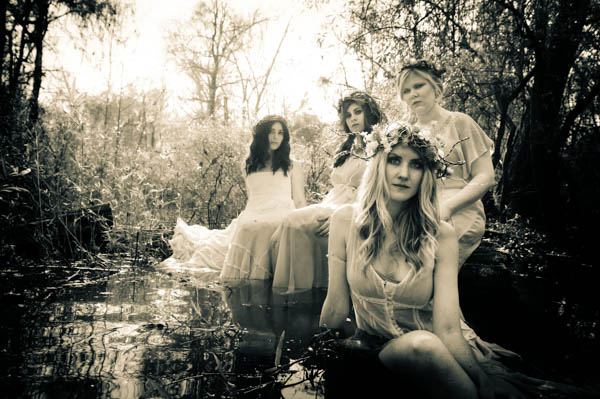 Nick May: You all play guitar, correct?
Emily Stuckey: I like to say I attempt, but enjoy it. My voice is my main instrument.
Melissa Bowman: Emily also plays mandolin and percussion. Lauren plays fiddle and mandolin. I stick to guitar and stomping with my boot.
Nick May: No lady drummers yet?
Melissa Bowman: That would be Emily with her little red drum kit.
Nick May: Who writes a majority of the music and lyrics?
Melissa Bowman: We each write the "bones" of our own songs, musically and lyrically, and then we leave it up to the others to "Kricket-fy" it.
Nick May: Are any of your songs about Kristina ["Cricket"]?
Melissa Bowman: We don't have any songs about Cricket, yet. We have a lot of recurring themes in our songs; water, trees, death, life. Songs that tell stories and some that are more emotional and internal.
Nick May: What are some of your musical influences?
Emily Stuckey: Well, I know we all love Dolly Parton!
Lauren Spring: Allison Krauss, The Civil Wars, Led Zeppelin, The Beatles, Fleetwood Mac.
Nick May: I love seeing Zeppelin and Dolly Parton in the same list. How would you describe your music to someone who has never heard it?
Emily Stuckey: Folk, for sure.
Melissa Bowman: Harmony driven, eery folk/rock with strong Southern influence. Our originals flirt with a darker side.
Nick May: Do you feel that comes from where you grew up?
Melissa Bowman: I was raised in Alabama. My dad was from The Shoals area, and that pretty much shaped my life.
Emily Stuckey: I grew up partly in a small town in Alabama and Jackson, Mississippi. My Mom is from the Mississippi Delta. We grew up listening to The Delta Blues.
Nick May: What do you think you were able to accomplish sound-wise for the record? What vibe does it carry?
Melissa Bowman: We managed to come out of the studio with a very authentic, haunting 'swamp folk' sound.
Nick May: Let's talk a little bit about your crowd funding campaign. How much money did the band ask for originally?
Melissa Bowman: $15,000. We reached that in a week I think.
Nick May: How much did you end up raising?
Melissa Bowman: $24,079 dollars.
Nick May: You must have a crazy loyal community of fans.
Melissa Bowman: We do! I've never felt so loved. It makes me feel like this was our purpose. This very moment.
Nick May: What has the release response been like so far?
Melissa Bowman: The record came out in May and debuted at #2 for Movers and Shakers on Amazon. We also have been #3 on global downloads for radio stations across the world.
Nick May: So exciting. Congratulations on all the praise!
Nick May: What does the band hope to accomplish, aside from merely recording and releasing the album?
Melissa Bowman: To help The Cricket Fund grow.
Lauren Spring: Agreed
Nick May: Would you say you are activists with a heart for music, or musicians with a heart for activism?
Melissa Bowman: Musicians first.
Emily Stuckey: My heart is definitely in music. Always has been.
Lauren Spring: Same.
Nick May: So the opportunity to help others is definitely an added bonus to fulfilling a passion.
Melissa Bowman: A bonus and a joyful responsibility. The Cricket Fund created the band!
Nick May: What hopes do the three of you have for the future of the band?
Melissa Bowman: I just want it to keep being fun and meaningful!
Emily Stuckey: Really and truly, as long as I'm singing, I'm happy!!
Nick May: Emily, Lauren, Melissa, thanks so much for your time.
See The Krickets play live at Marie's Bistro, Lookout Lounge, Little Village, The Bowery Station, The Ghetto Palace and more. Buy their album from Single Lock Records this year, and check out their website at thekrickets.com.