By Laura Roesch, Photography by Nick Trail and Laura Roesch
Jim Griggs is the owner of an exquisite collection of classic American cars that have earned him several titles in two of the most prestigious car shows in the U.S., the Hilton Head Island and Amelia Island Concours d'Elegance.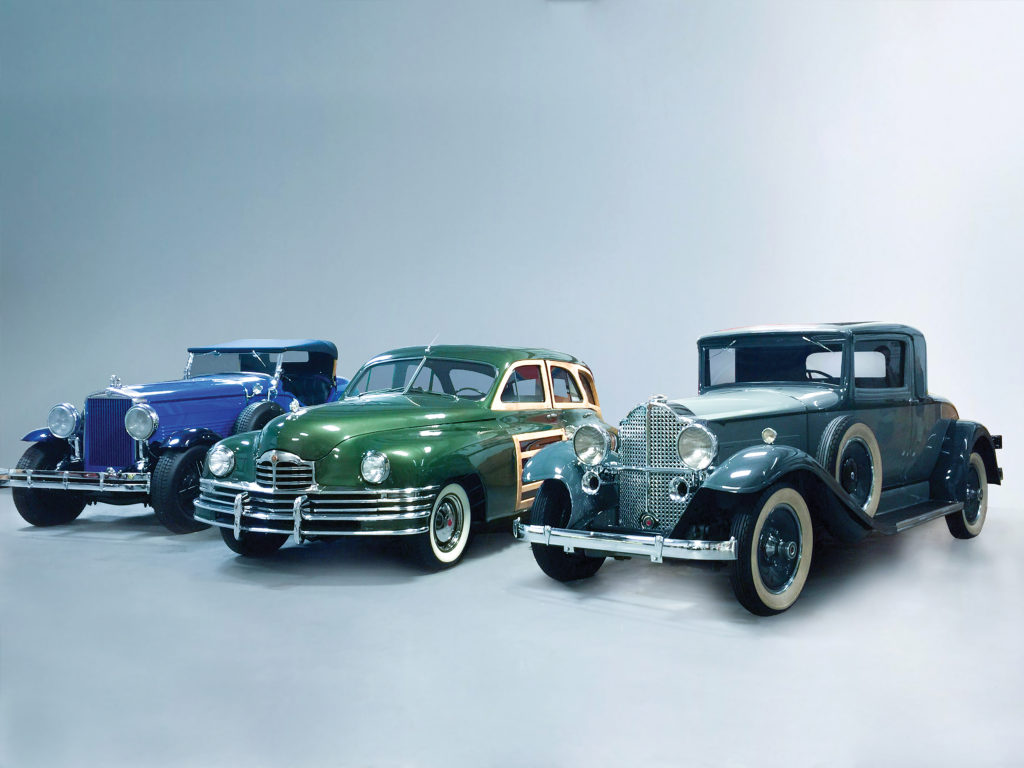 The collection includes the most beautiful American classics and reflects milestones of car manufacturing history: 1907 Holsman Model 11 High Wheeler, 1930 Stutz Boattail Speedster,  1932 Packard, 1948 Packard Series 22 Woodie Station Wagon, 1950 Oldsmobile 88 Holiday, 1949 Hillegass Hudson Sprint Car, 1971 #32 Indy race car, and 1959 Corvette. All of these classics were rebuilt or refurbished by Jim personally. He admits that he prefers rebuilding classic Indy racecars, as he finds them more interesting to work on than full-sized cars.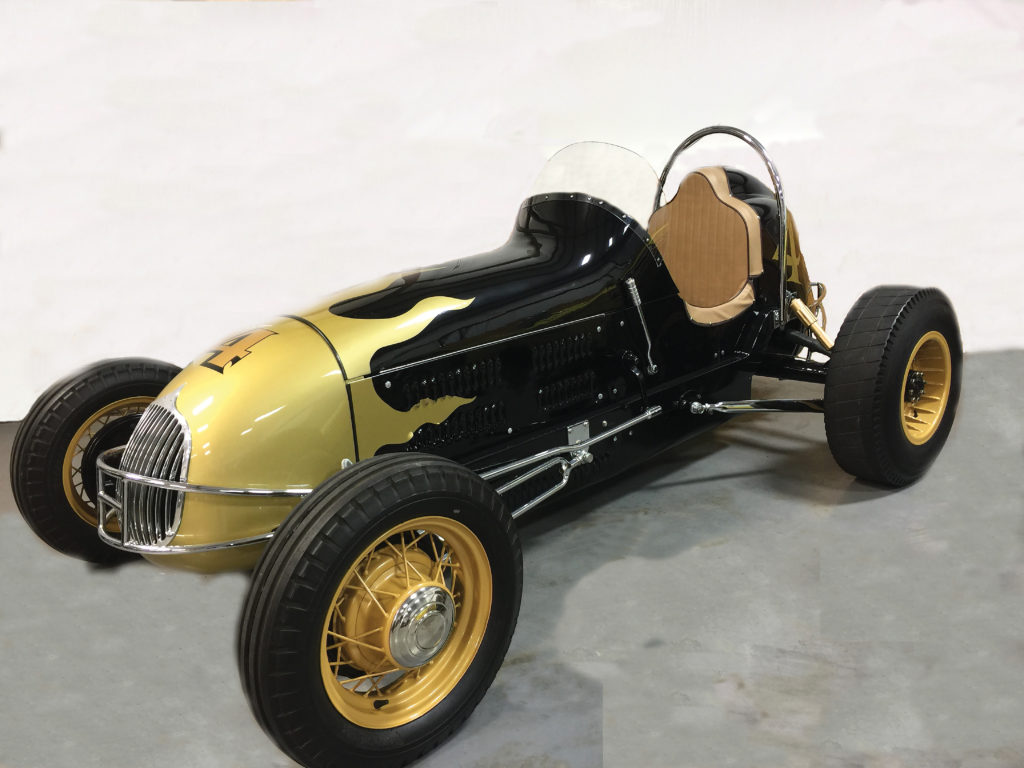 His passion for racecars was sparked during his childhood, as he watched his father build open-wheeled modified cars that were raced on oval dirt tracks throughout the Midwest. Jim vividly remembers helping his father in the family automotive repair shop in Michigan while growing up. As a young boy, Jim would sweep and clean, eager to spend time around whatever cars were on hand. His wife, Cindy, refers to his devotion to cars as "a 24/7 condition."
For years, Jim has participated in "Legends Day" at Indianapolis Motor Speedway, an event where vintage cars are driven in honor of past winners of the Indy 500. There, he first drove his restored 1914 Stutz Indy car and later his 1971 #32 open-wheel Indy racecar. A two-year project, the 1971 racecar stands out among the other classics in Jim's climate-controlled garage.
The first time he drove the #32 around the 2½ -mile track at the Indianapolis Motor Speedway was an "unbelievable, almost out-of-body experience," he says. "The first time I was in it and driving the track, it almost brought me to tears. The car initially shook so bad it took me a while to get acclimated to the fact that the engine vibrated so much. The wind buffeted my head. It was physically demanding and that just compounded the fantastic experience!" Of course, the faster he went, the smoother the ride became and he was able to accelerate to 140 mph. "Once I got cookin', it was quite an exhilarating experience," he says with a wide smile. In its day, the four-cylinder racing "Offy"-engine-powered sprint car raced in the Indianapolis 500 in 1968, 1969, 1970, and 1971. Legendary driver Bill Vukovich, Jr. drove it in 1971 and finished fifth. Slow by today's standards, the open-wheel racecar qualified at 172 mph.
Six or seven years ago when Jim purchased the car it had no engine or transmission. He was able to locate an engine in California. Jim drove to Texas to meet its owner half way. The 90-year-old gentleman unloaded the engine from his truck to Jim's truck, and they both turned around and drove back home. Jim restored the #32 to the condition in which it appeared in 1971 at the Indy 500, with all the original parts, including the seat and the steering wheel.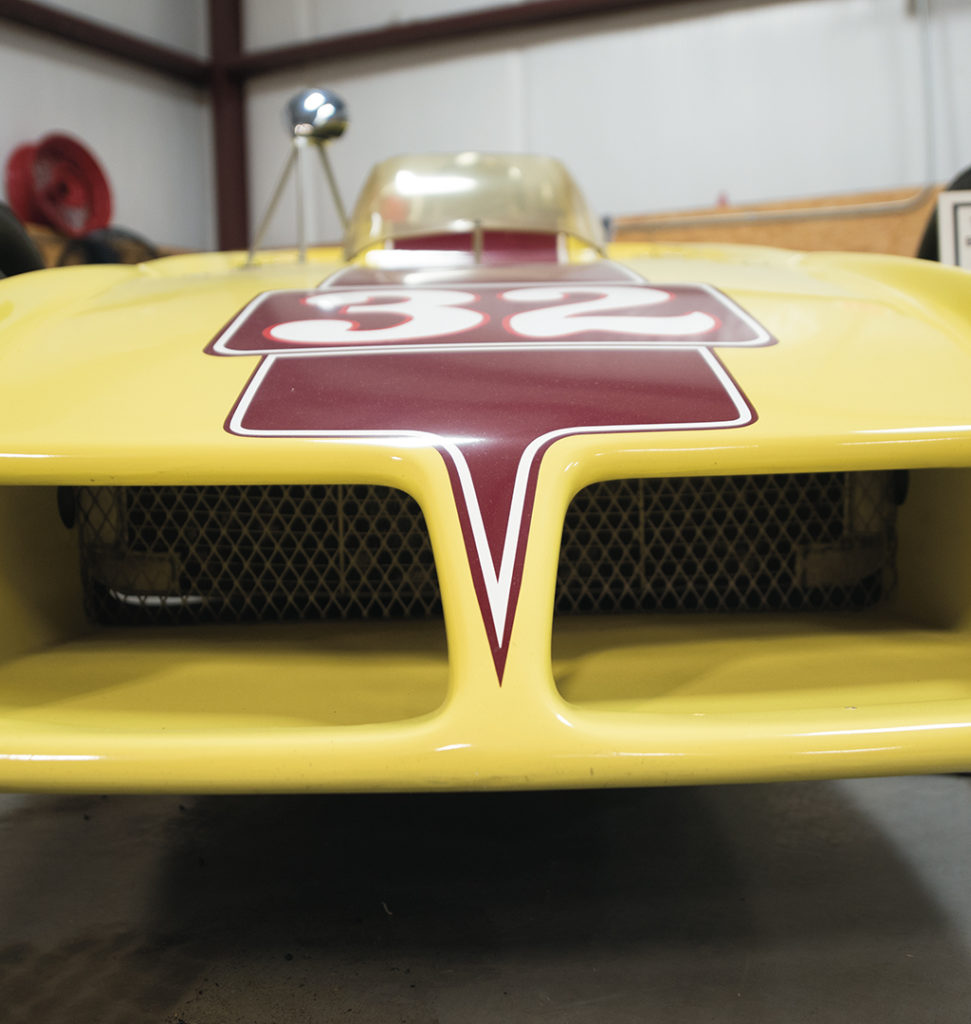 A 1949 Hillegass Hudson Sprint Car is yet another very rare classic in Jim's garage. It is one of only three originally built by Hiram Hillegass, a member of the Hall of Fame for sprint and midget cars. Before Chevy debuted the V8 motor in 1955, the Hillegass Hudson motor was "the" racecar engine of choice, even on the NASCAR circuit. When Jim purchased the car, it had a Chevy V8 engine installed. Jim was able to locate and acquire the original engine that had been onboard in 1949. Jim was drawn to the sprint car's authenticity. It had the original tires, shock absorbers, and seat belt. It was raced by Jim "Smoke" Smolinski, who is also a member of the Sprint Car Hall of Fame.
A car's history is worth half the value of any car Jim purchases. "If I can get the history and the car, then I feel like I really have something," he says. He has not driven the sprint car on a track, but when he took it around the block it was an event his neighbors could not help but notice. Jim doesn't work for anyone else, but will help any fellow car enthusiast. The beauty of the automotive community, he says, is sharing with people who will appreciate the car. "If you are a person passionate about cars then that's what you do. I love to help someone who needs a widget that I have because someday someone will have something I need. That's how we keep this love affair alive and, hopefully, pass it along to the next generation to appreciate and cherish."
Jim notes that from time to time someone will ask him, "What do you have in that car?" Or, "What did it cost?" It is evident he has answered such questions a few times as he and Cindy both chuckle when he repeats his response, "Well, that car cost me new furniture for the house; this car cost a new addition on the back of the house." Cindy and Jim Griggs met on Panama City Beach 30 years ago. Cindy, born in Holmes County, Florida, is a fan of antiques and vintage items, so she fully supports Jim's car collection. "Whatever makes him happy, makes me happy. I'm thrilled that he has such passion for cars. It is not like we married when we were teenagers… he had evolved his way when we met and I had mine. But gardening, bridge, and junking is all mine!" The Griggs typically don't go looking for specific cars; rather, cars find them.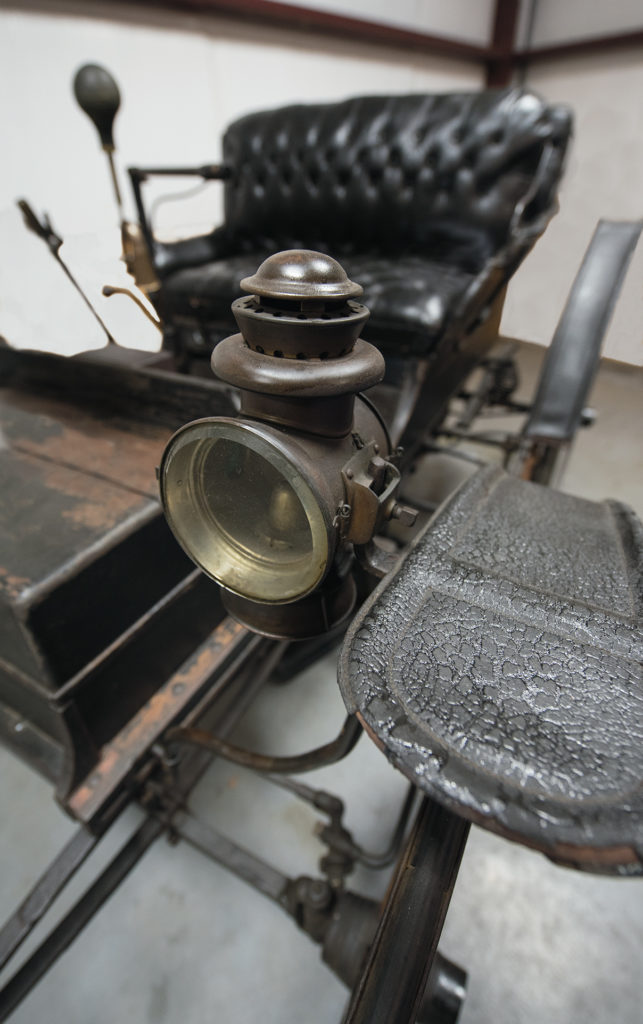 Of all the cars Jim has ever owned, it is the 1907 Holsman Model 11 High Wheeler that captures his imagination. When he touches it, Jim says he can just feel the people who have driven itover its 100+ year life. It is probably his favorite, even though it is not a racecar. He stumbled upon it in Hershey, Pennsylvania, covered in straw and cobwebs, just as it had been drug out of a barn. Jim marvels at how he became its owner. "You had to write what you wanted to pay for it on a $100 bill. Whoever wanted to bid, put the figure on the bill, and gave it to the fellow that owned the car. I thought the worst-case scenario would be that I would be out $100. That evening, everyone who had bid on the car got his or her $100 bill back, except for the highest bidder. That was me!" Jim acknowledges he had no idea what the car was worth, but he knew it was completely original and had never been touched. For him, knowing the value is relevant, but the question he always asks himself is, "What is it worth to me?" Today, he says, "We don't know if we got a good deal or not, but it is a beautiful historic car." The 1907 Holsman Model 11 High Wheeler is considered one of the finest unrestored automobiles of its kind in existence, the granddaddy of all high wheelers.  Only 1,960 were sold in the entire United States. Powered by a two-cylinder air-cooled engine with a two-speed transmission with reverse, it also has its original dual ignition with original spark plugs and wires. The engine produces 12 hp to achieve the maximum speed of 30 mph.
In 1907, the average annual income was $200−$400. At the time, a new Holsman cost $800 and a top had to be purchased separately for an additional $35. In 2013, the Holsman was awarded the prestigious FIVA Trophy for the most well-preserved vehicle at Amelia Island Concours d'Elegance. To qualify in the event, Jim was required to start the car and then drive it up to the podium. Jim still recounts the surprise when the Holsman started on the first try. "I couldn't believe it. That's probably why we won the award," he realizes. "And what an honor to have this car recognized for its history." Cindy recalls the ride, once Jim got it started. "We had to drive almost three miles on a paved highway with those skinny little tires, at about 10 miles per hour. I'm thinking, any minute one is going to pop! But the good ole' girl made it."
The 1932 Packard was also found in Hershey. It was in rough shape, but Jim was attracted to the car because it was also "unmolested," which, in the automotive world, means a car that is original, has never been torn apart, and is 100% complete with every widget imaginable for the era. It has the original drive train and four-speed floor shift transmission. The car's body is encased in wood, with steel wrapped around its wooden frame. The restoration took almost seven years to complete as Jim took it all apart, had all the wood reconstructed to original specifications, and rebuilt the entire vehicle from the frame up.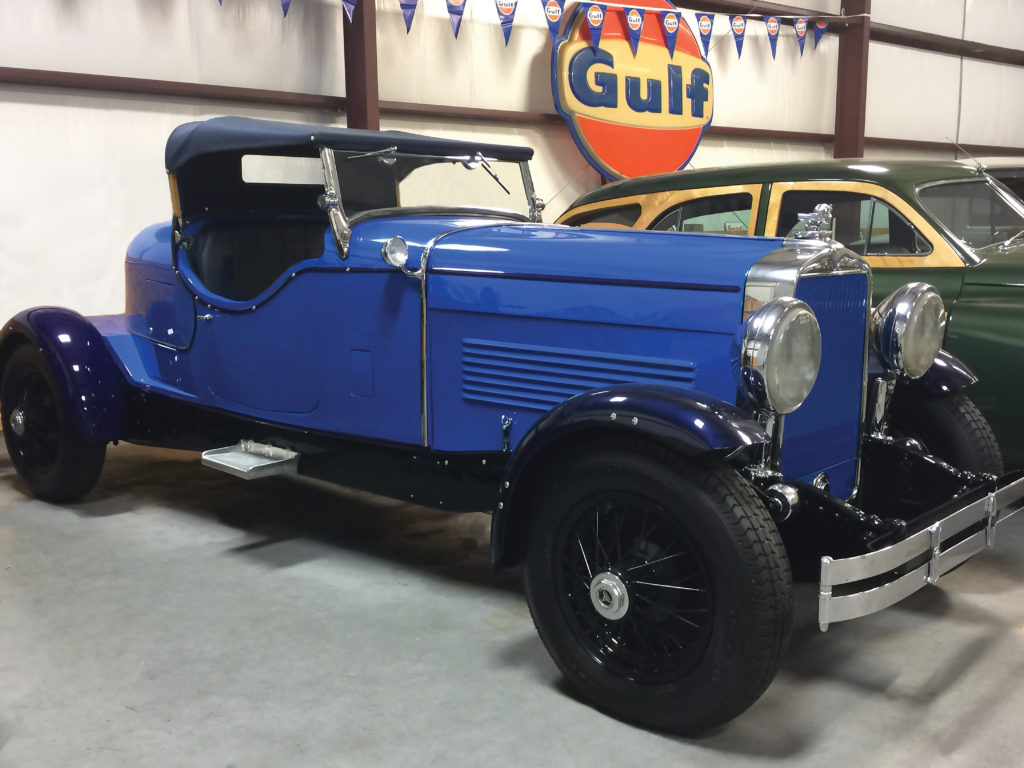 The 1930 Stutz Boattail Speedster was found in pieces too numerous to count among the biggest accumulation of Packard, Stutz, Auburn, and Cord automobile cars and parts Jim has ever seen. It took two days to gather all the pieces. The Stutz was considered the hot rod of its time, and Jim says its manufacturer guaranteed that the car "would do 90 mph and if it didn't, bring it back and we'll fix the speedometer." The Stutz Company, based in Indianapolis, Indiana, started automobile production in 1911 and one of the cars was immediately entered into the Indianapolis 500, where it finished 11th. Jim plans to drive his Stutz in a future "Great American Race"—an annual automotive event where pre-1972 automobiles race across the United States, competing against the clock. Navigation is "old school"; no modern technology is allowed, just pen, paper, and a stopwatch.With this event as top priority on his bucket list, Jim spent three years restoring the car and upgrading the entire drivetrain to ensure that it will survive the rigors of the cross-country race. The transmission is a 1986 Ford truck 4-speed all-aluminum unit, with the 4th gear as overdrive. The flywheel has been lightened and accepts a modern clutch and pressure plate. In 2015, the Stutz received the People's Choice Award at the Amelia Island Concours d'Elegance.
One of the most eye-catching cars in Jim's collection is the 1948 Packard Series 22 Woodie Station Wagon. It won the People's Choice Award at the Concours d'Elegance at Hilton Head Island in 2016. Cindy and Jim stumbled upon it in Moultrie, Georgia. It, too, was in pieces, most of which were crammed inside the car itself. Cindy recognized its potential right away and kept walking back to see it. She laughs, "How many wives would say, 'Honey, get that one'?" Three hours later, they bought it and prepared to haul it back to Panama City. While Jim agrees that it was a rare find, he also recalls that, at the time, it just looked to him like a lot of work, as the exterior was covered in primer, with all the trim, the glasswork, and rotten wood heaped inside the car. The Woodie underwent four years of restoration, during which time Jim traveled to the Gilmore Museum in Kalamazoo, Michigan on three separate occasions to take photographs and measure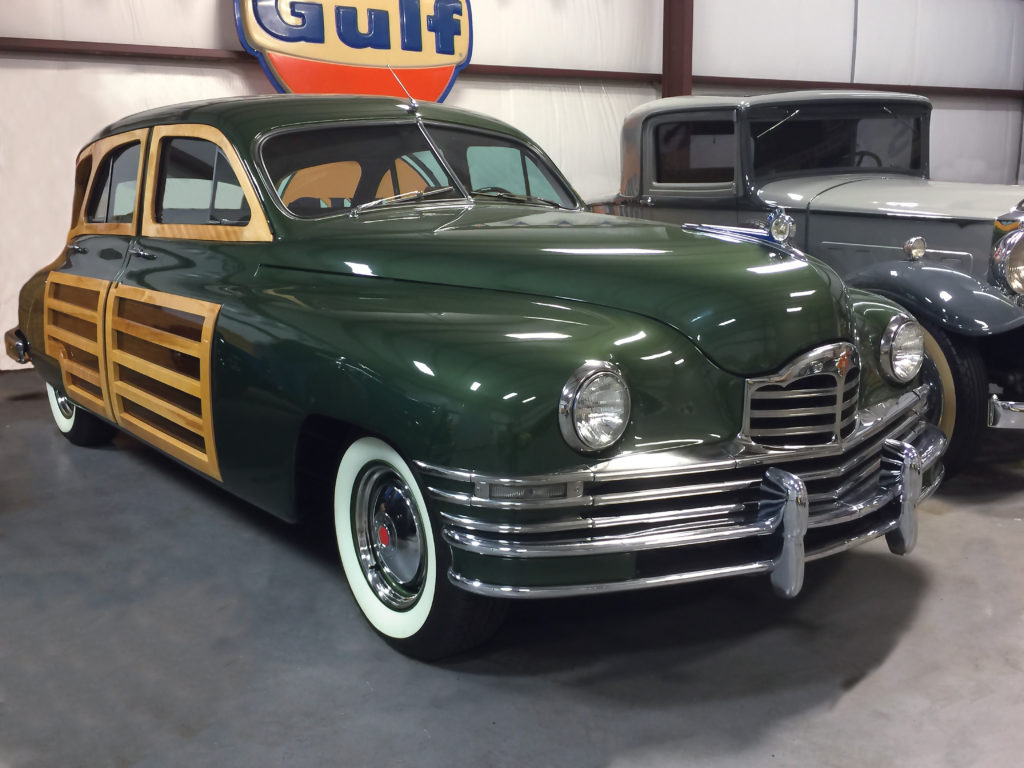 ments of a similar model. Unable to determine the original exterior color, Jim chose Serpentine Green, the same color as the model at the Gilmore Museum, which was an original Packard color for that year. A closer examination of the upholstery revealed just enough material on the seats to help discern the original look that could be recreated with the help and craftsmanship provided by Billy's Trim Shop in Panama City.
While proud of all the cars he has lovingly and carefully restored over the years, Jim still regrets having to let the 1914 Stutz Indy race car go. Jim bought the frame in California and found the original engine for an exact recreation of the original driven by Barney Oldfield in the Indianapolis 500 in 1914. Oldfield was the first man to drive a car at 60 mph. Restoration was a challenging project that took years to complete before Jim and Cindy could drive it on the Indianapolis Motor Speedway track, a memory they both treasure. Jim needed room in his garage for other projects, so he sold the car to a friend, a Tallahassee collector. Jim readily admits the car has a great home and is appreciated, but he stands first in line should the opportunity arise to own it again.
What's next for Jim? As usual, you'll find him in his garage. There is a certain ambiance to the space. This quiet tranquil place is his refuge. Time seems to stand still when he works on his beloved cars. Jim says that he also derives great pleasure from just sitting and talking with friends who appreciate cars. Of course, he is busy rebuilding another race car, a 1948 Indy car that raced the Indy 500 in 1946, 1947, and 1948. Jack McGrath, a well-known driver in Indy circles, took it to the 21st place in 1948. So the next time Jim's 96-year-old mother asks, "You're not still racing, are you?" he will reply, "Yes I am!" with great enthusiasm.
Leave a Reply
comments
Powered by Facebook Comments