By Elodie Madewell, Photography by Savannah Dean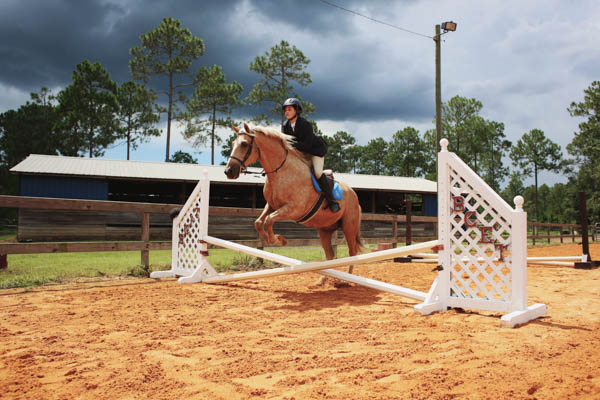 Minutes before going into the arena to compete, Isabelle Cox mounts Godiva, a light bay Welsh pony. It is day number one of the Inerscholastic Equestrian Association (IEA) competition in Tampa and Isabelle is riding this horse for the first time. "For this competition, make sure you set up for the leads. If in doubt, don't make any big moves. Stay organized to the fences, and really focus on having a good rhythm," team coach Karema Moheisen advises her student. Karema has been analyzing the competition horses all day. Gaining familiarity with a horse is part of the competitive process and challenges a young rider to adapt to new situations. Confidence is half the battle won and horse and rider master the course in a display of precision and grace.
'Nerves of steel' takes on a new meaning for the Bay County Equestrian Team, a group of middle- and high-school aged competitors. Whether jumping or showing equitation on the flat, the team has to be mentally and physically prepared. Later, Isabelle grins from ear-to-ear. She placed first in her group and earned the qualification to compete in the final year-end regionals.
Giving students the opportunity to learn to ride and compete is exactly what the founders of IEA, the International Equestrian Association, have intended, "to promote and improve the quality of equestrian competition and instruction available to middle and secondary school students."
In 2001, two coaches, Roxane Lawrence and Wayne Ackerer, thought that middle and high school students should receive the same respect as their fellow athletes who participate in other sport activities. They developed an equestrian competition concept so that younger equestrians could gain recognition and thought these exceptional athletes should have the ability to earn letter jackets and trophies and, most important, gain the learning experience that comes with team sports, while also excelling as individuals. Currently there are 12,500 young IEA riders across the country.1
Locally in Bay County, Karema Moheisen formed the first IEA Bay County Equestrian Team at Misty Meadows Stable in 2011. Currently, seven Bay County middle and high school students compete regionally in equestrian sports and compete in Zone 4 which includes Alabama, Florida, Georgia, Mississippi, South Carolina, and Tennessee. Each competition venue provides the horses to be ridden that day. The selection of horses is much like a lottery.
"For the Team," says Karema, "A rider must train at least one year with professional instruction, be proficient at the trot and
canter and be able to compete on unfamiliar horses. Students have to ride at least twice a week during the fall season and spend three weekends showing." The best part about being on the Bay County Equestrian Team is that students don't have to own a horse. Misty Meadows Stable is providing well-trained school horses for the team. Karema is proud to say, "We create a strong foundation of basics in our riders with safe, quiet school horses.
This is an ideal way to progress in the sport. We are very successful at getting clients from their first ride on a horse to being competitive in the show ring."
Misty Meadows Stable is the local hub for all IEA training in Bay County. "We are very proud of everyone's accomplishments in IEA. We were awarded a team sportsmanship award in 2012 and two team members have been awarded individual sportsmanship awards in 2011 and 2014. The IEA Team brings riders together. They support each other, and cheer each other on. It helps them with responsibility, and they learn how to work together as a team. Also, it helps them build their resumé for college and compete at the college level," says stable owner Beth Graham.
Previous Bay County Equestrian Team member, Lynda Mockler, is currently competing in her last year on the equestrian team at Becker College where she is pursuing a Pre-Veterinary major with a Veterinary Technology minor. Becker College is rated No. 1 in New England and No.15 nationally among four-year private institutions in awarding undergraduate animal studies degrees. Thanks to the equestrian team association, Linda has met professionals who have helped her with letters of recommendation. This summer she is interning at Tufts University in the large animal department. "I would recommend riding on your school's equestrian team," she says. "You will make the most amazing friends."
Victoria Tuzinkiewicz, also a graduate from the Bay County Equestrian Team, is now president of the University of West Florida Equestrian Team. She agrees, "Because of IEA, I know what it takes to make a team stick together and be successful. Horses in general will teach you a lot of valuable life lessons."
This year's team consists of newcomers Grace Smith (already experienced in competing at 2'6" Fences and Equitation from the Dallas Hunter/Jumper Scholarship Circuit), Kaitlyn Strickland, Allie Byrd, Vivian Von Hoene, and Meagan Swearington. Kylie McEuen is a returning five-year IEA Bay County Equestrian Team member who has been practicing at Misty Meadows Stable since she was 8 years old. She has shown up to 2'6″ fences and has been awarded many championships. Returning fifth year veteran Isabelle Cox has competed in regional finals in 2013 and 2014.
Isabelle specializes in show jumping because she finds it "exciting to take the horse over jumps at breakneck speed within a certain amount of time." All the girls have dreams of a career with horses someday but they all agree it is extremely hard work. "When you do something you love, it doesn't seem like work at all," says Allie Byrd with much passion in her voice.
Only two out of every 12 riders in each class at Regional Competition advance to "zones," and every year Bay County Equestrian Team riders have been represented in zones. Only about 400 riders advance to Nationals each year. Bay County Equestrian Team member Cassie Gaasch competed in the Nationals at the highest level of flat and jumping, Varsity 2'6 in 2015. "I love a challenge," says Cassie, "with horses there will always be one. Horses have given me a passion and a sense of belonging to a sport and a career."
About Misty Meadows
Misty Meadows Stable, surrounded by woodland, borders on Highway 388, just a few driving minutes from Highway 77. With a covered arena, outdoor jumping arena, full size dressage arena, round pen, riding trails, stables, and paddocks, it is an ideal place to learn to ride, train, and board. Owner Beth Graham attended North Carolina State University and the University of Wyoming majoring in Animal Science and is a graduate of Meredith Manor, School of Horsemanship in Waverly, West Virginia. She opened a stable in 2003 in the mountains of Pennsylvania. Eleven years ago when Beth's husband secured a job in Florida, Beth moved the stable. Her daughters Karema and Nadia Moheisen currently work as trainers at the facility. Karema specializes in hunter/jumpers and Nadia specializes in dressage. Karema has trained and primarily worked with well-known equestrian Cricket Clark who studied under Olympians Bezzie Madden and Greg Best. She has worked for and taken lessons from Michael Newman. Nadia has attended many clinics with Fédération Equestre Internationale (FEI) trainers in dressage. She worked at Friesians of Majesty and has also worked and trained with David Donnelly and Eliza Sydnor. For more information, visit mistymeadowstable.com or Facebook under Misty Meadows Stable & Training Facility, LLC.
Source
1www.rideiea.org/news/2016-15th-anniversary-season.html
Leave a Reply
comments
Powered by Facebook Comments