Photos by 

Holly Gardner
Katie, do you want to go fishing?" That is the question that started it all. Six-years later, he asked her an even bigger question."Will you marry me?"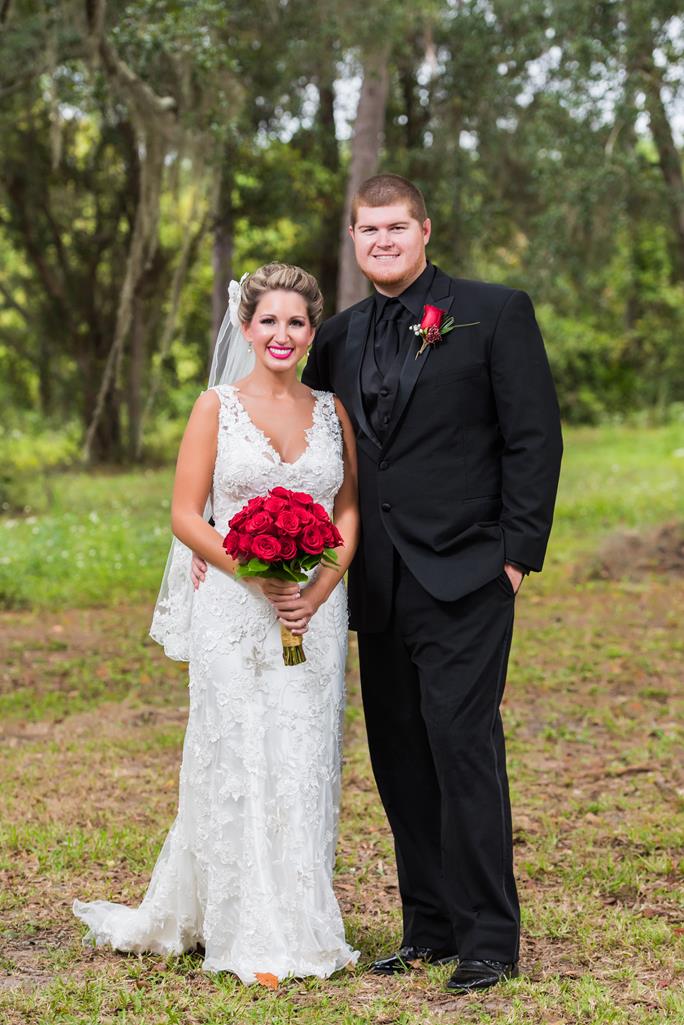 Katie Buchanan and Steven Clements tied the knot on September 27, 2014. In true southern style, complete with mossy oaks and a breeze off the lake, their wedding was full of dancing, love, and laughter.
The couple first met while working at Gulf Asphalt Contractors as they were entering college.Katie had already decided to follow in her mother's footsteps and become a teacher while Steven was pursuing a degree in Civil Engineering. After completing their degrees from FSU, they were ready to start a life together.
On the morning of July 28, 2013, Steven told Katie that he had won a helicopter ride. Despite her fear of heights, she reluctantly went.It was a gorgeous summer day and, as they were flying over Shell Island, four of Steven's closest friends were holding a 50-foot banner that read "Katie will you marry me?" "I was so surprised that I could barely say yes!" Katie laughs, thinking back to that perfect day. "It was truly like something that you see in a movie."
Katie says about Steven, "Steven was put into my life for a reason.He is such a good man, with a positive attitude. I knew I wanted to spend my life with him."
Steven states about Katie, "She is so easy going, and always up for anything. Her sense of humor and laughter brought something special to my life."
The Buchanan/Clements wedding was held on September 27, 2014, at the home of long-time family friends, Mr. and Mrs. Derwin White. The three-hundred guests attending the waterfront ceremony were greeted with twinkling lights, mossy oaks, and gorgeous flowers, despite the fact that Mother Nature seemed to be working against them. "My Dad called me on the Thursday before the wedding and, when he said we were going to need another tent, I almost lost it!" Katie can laugh about it now, but for a while the weather did not seem to be agreeable. But the rain held off and guests danced the night away with moonlight on the water, accompanied by good friends, and good food.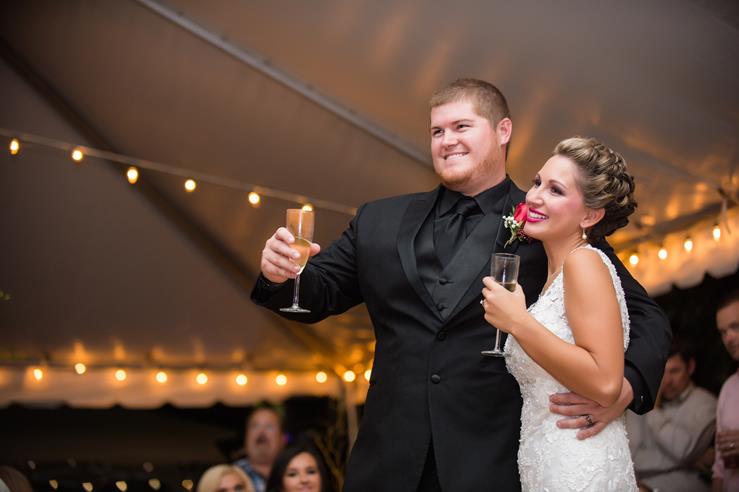 "She is so easy going, and always up for anything. Her sense of humor and laughter brought something special to my life."
Katie looked stunning in a full lace, fitted gown with crystal beading, turquoise shoes, and carrying a two-dozen red rose bouquet in honor of her Grandmother. Why turquoise shoes? Katie tells us "Turquoise has always been my favorite color. Steven has always laughed at me because I will buy anything that is turquoise. We even painted the front door to our house turquoise! I knew Steven would get a kick out of me wearing turquoise shoes on our wedding day and he did!"
Katie and Steven both agree that not much has changed since they became husband and wife. "We still like to have fun together and enjoy family and friends." The couple's plan for the future is to enjoy their new home in Panama City with their kitten Sophia. They are looking forward to starting a family soon. Katie is a fourth grade teacher at Bay Haven Charter Academy. Steven is a project manager for Gulf Asphalt Contractors. If Katie and Steven were to give advice about marriage: Take things slow and enjoy your life.

THE COUPLE WOULD LIKE TO EXTEND A SPECIAL THANKS TO KATIE'S PARENTS, HER TWO SISTERS, AND ALL THE FRIENDS AND FAMILY WHO HELPED MAKE THIS DAY POSSIBLE, GIVING HER THE WEDDING OF HER DREAMS.
Bride's Parents
BOBBY & MARCIA BUCHANAN
Groom's Parents
JOHN & ELAINE CLEMENTS
Matron of Honor
CAMILLE BUCHANAN BARRENTINE
Maid of Honor
COURTNEY DELL BUCHANAN
Bridesmaids
HOLLEY GREENE FRANCIS, AMY CLEMENTS PFAU, GABRIELLE ROXANNE PITTMAN
Best Man
JOHN CLEMENTS
Groomsmen
STEVEN ROY PETERS, JR., CORY RICHARD FOWLER, JOSEPH ANTHONY MERTES
Flower Girl
DELANEY KATE BARRENTINE
Officiant 
JASON ROBBINS
Wedding Director
TANYA RAFFIELD
Special Thanks To
Photography
HOLLY GARDNER
Catering
VITTLES
Flowers
JUDITH WRIGHT OF HALLMARK FLOWERS
Cake
CAKES BY TANIS
Wedding Gown
DREAM GOWNS
Hair Stylist
KIM GUYNN
DJ
BRIAN BULLOCK
Venue & Reception
THE HOME OF DERWIN & LYNN WHITE
Leave a Reply
comments
Powered by Facebook Comments