BY SHARON MICHALIK | PHOTOGRAPHY BY MICHAEL BOOINI
Entrepreneur Avalon Dudinsky, 21, can be called a seasoned business owner. A full-time college student pursuing a business degree at Troy University, she owns a spice company named "Stan's Stuff."

When the opportunity to buy a business presented itself, Avalon did not hesitate. "I worked for three summers at Howell Tackle and, while I was there, I met Stan Cooper, a long-time local fisherman. He and his wife told me the back story of their tasty blend of spices, Stan's Stuff, which was quite popular locally when he retired in 2015. I bought the recipe and the name and went into business for myself," Avalon remembers. At the time, the packaging of the secret combination of spices had just been moved from a kitchen-table operation to a small manufacturing plant in Alabama where it remains today.
When she met the Coopers, Avalon was a biology major with dreams of going into dentistry but an incidental business class enrollment and the opportunities presented by the seasoning business were "too spicy" to pass up. "I decided that I just needed to follow my heart and I realized that I really, really loved business and where this could take me," she says.
With just one business class on her resume and the enthusiasm of a visionary, Avalon "blindly jumped in." She says today, "The best way to learn is just to be in. You get busy and figure it out as you go."
Tell us about Stan's Stuff and what it is used for.
Basically, anything you put salt and pepper on. Use Stan's Stuff instead and it makes it even better. It's an all-purpose seasoning, developed by a local fisherman on a hunting trip – it can be used on everything. My favorite, by far, is to use it on vegetables.
Describe the taste of Stan's Stuff for us.
I would describe Stan's Stuff as the perfect balance of salt and spice to give your food an extra burst of flavor. All my customers say that they love the taste and find ways to use it on everything. They like that it has some spice in it, but it is not overpowering. Some parents have told me that they use it to please the picky eaters in their family, because it's so tasty that the children will clean their plate! They also love that it's gluten free and doesn't have any MSG in it.
What are the challenges of studying and running a business at the same time?
Well I can't say enough about the faculty and staff at Troy University … they have all been an extremely big blessing to me. I'm on a first name basis with the Chancellor. Everyone there has done everything they can to help me. It's been a challenge when I am in school, though, and can't devote as much time as I would like to the business but my parents have helped with that.
What role have your parents played in all of this since you are a young college student?
I was 20 when I bought the company, but my parents have been very supportive through the entire process. My father had always encouraged me to start a business and has been there to talk me through situations and offer his advice. While I am away at Troy University, they have been helpful in delivering product to my retail locations and managing my inventory in Panama City.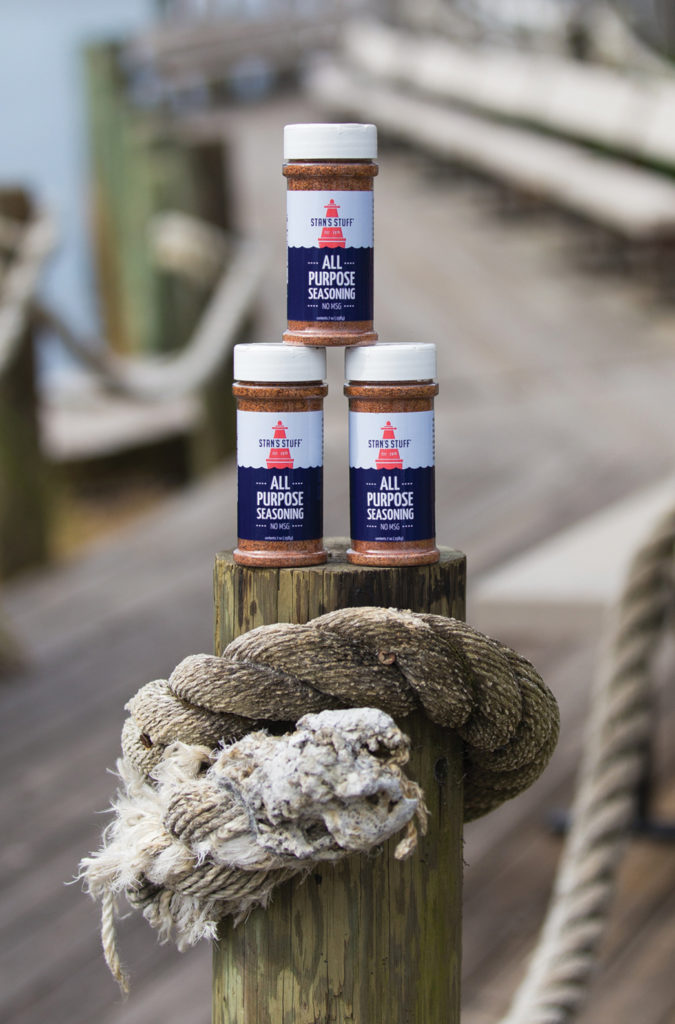 How does owning a business compare to being a business school student?
I think you learn more and retain more when you're doing it as opposed to studying it. It's interesting to learn things and look at them as book knowledge and then compare that to how they really work in practice. For example, in class we learn about the cash-to-cash cycle and planning inventory, but it is a very difficult task to sit down and forecast every expense I will incur in my business and make sure I will have an adequate amount of inventory. I have a couple of classmates who are also entrepreneurs so it's been great to be able to bounce things off them and for us to be able to help each other. If you look at my website there are two videos there that were shot and produced by classmates so that's a place where my business intersected with a classmate's business. I've really reached out to everyone in my network for help and advice. My logo was designed by Troy students as part of a class project … I could select from 20 excellent designs to choose the one that best represents my product and Panama City.
Have there been any "aha" or memorable moments along the way?
My biggest aha moments were selling to my first retail customers. It was terrifying because I didn't know exactly what to say and how to approach the situation. But, over time and with practice, I gained the confidence that I needed to feel comfortable approaching business owners and discussing why they should stock my product. Another important moment for me was when I realized that I need to reorder another pallet of product only six months after I received my first shipment. This was a good indication to me that my business was working and growing!
What is it about owning a business that appeals to you?
Ultimately, I think it's the realization that I am the owner of my own business, at an age where most young people are trying to figure out what they are going to try to do with their lives. I have complete control over the creative angle of my business and I can take this wherever I want to take it. I love walking through the doors that are being opened for me and the opportunity to build relationships with people. I want to learn all I can and to have the opportunity to mentor others.
Since you purchased the business, how has it grown?
The business has grown since I have owned it. Stan Cooper, who owned the business for five years, had the product being sold in only one store at the time that I purchased the business. Since I bought the business I have established 31 different retail locations in Panama City, Panama City Beach, Inlet Beach, Marianna, Perry (Florida locations) Florala, Dothan, and Troy (Alabama locations). I sold over 100 cases of Stan's Stuff since June 20, 2016, the day I received the first shipment.
Do you have plans for continued expansion?
Well, I am currently working to broaden my exposure on the 30-A corridor, because it is a local product, I think would be well-received there. Once I graduate from college this spring, I plan to start focusing on longer distance markets in the Southeast, that are currently too difficult for me to service as a full-time student. I am engaged to a wonderful young man and we plan to be married in June! After that, I'll have some additional full-time help and we'll be able to add some more seasoning lines in the future. I think there's a demand for it. Eventually, I'd like Stan's Stuff to be on a shelf in the big grocery stores. What's next for us is that we're experimenting with sample packs that people can pick up and take home to try. I believe once someone tries Stan's Stuff, they will fall in love with it and become a loyal customer for life. That's what I'm counting on!
LOADED CAULIFLOWER CASSEROLE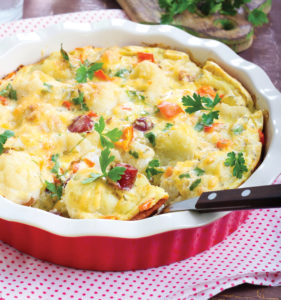 Cook Time: 50 minutes
INGREDIENTS:
1 head of cauliflower
4 slices of thick cut bacon
½ cup of shredded cheese
1 cup of light sour cream
1 tsp of Stan's Stuff
DIRECTIONS:
1. Preheat oven to 400 degrees
2. Place the slices of bacon on a pan and place it in the oven for 15 minutes.
3. Chop the cauliflower into small florets and add to a large bowl.
4. Add the cheese, sour cream, and Stan's Stuff to the bowl and mix it together.
5. Remove bacon from oven and chop into small bits to mix in the bowl.
6. Pour mixture into casserole dish and place it in the oven for 35 minutes or until tender.
Currently, Stan's Stuff retails for approximately $6 per bottle and is available in 22 retail locations in the Bay County area including Howell Tackle, Ace Hardware stores, and the Carousel Supermarket on Panama City Beach. Ordering information and recipes are online at www.stanstuffseasoning.com
Leave a Reply
comments
Powered by Facebook Comments