BY OLIVIA CROSBY | PHOTOGRAPHY BY MICHAEL BOOINI
Dannon Glover's life was unexpectedly spiced up last year. He works as the Branch Operations Manager for a welding and gas company retail store – his career path for the last ten years. As a hobby, he started growing "spicy things"… Jalapeno and Tabasco peppers. He soon planted Carolina Reapers, a variety that held the title as world's spiciest pepper, according to the Guinness World Records, from 2013 to 2017. Glover decided to plant a few of the seeds he was given. This was last November and, just a few months later, the hobby has taken off… or should I say, heated up?! Dannon remembers thinking, "go big or go home" when he planted the first Carolina Reapers.

The experience is a fun learning process for his entire family. Dannon's daughter, Shelley, 7, has her own garden adjacent to the pepper plants. She greeted me with a freshly picked cucumber. She is right by her father's side in the garden. If he is outside, she will be, too. The family has just started growing pumpkins but it is no question where Dannon's love and passion really are burning; the peppers!
Glover explains that the process is slow. The pepper seeds start in seed starters and, as they grow, are transferred to larger containers up to five times, from 16 oz. cups, to one-gallon pots and then three- to five-gallon planters. That is where they stay until fully grown and ready to be picked off the plant.
To put things in perspective, the spiciness, called "pungency" among scientists and connoisseurs, can be tested and measured – the spicy heat of peppers and other spicy food is expressed in Scoville Heat Units (SHU), so named after the pharmacist Wilbur Scoville who devised the test in 1912. The jalapeno pepper has an average rating of 2,500 to 8,000 Scoville Heat Units and the habanero is rated at 200,000 to 300,000 Scoville units. For comparison, the Carolina Reaper has an average heat rating of 1,569,300 Scoville Heat Units, although its rating has peaked at 2,200,000 SHU. The Reaper beat out the previous record holder, the Trinidad Scorpion "Butch T," which had an average Scoville rating of 1,463,700.
After walking through the garden and seeing all the tiny (but deadly hot) peppers on the plants and realizing what a hot commodity they are, questions for the self-made pepper farmer burned on my tongue.
How many peppers do you grow and harvest per week, month, year?
The harvest really varies depending on the cycle the plants are in at a given time. At its best, five to ten pounds of peppers per month, the least is maybe one pound per month.
What does a pepper plant need to grow? Does Northwest Florida offer good conditions?
Our area is perfect for growing peppers. They love tropical climates, lots of heat, sun, and water.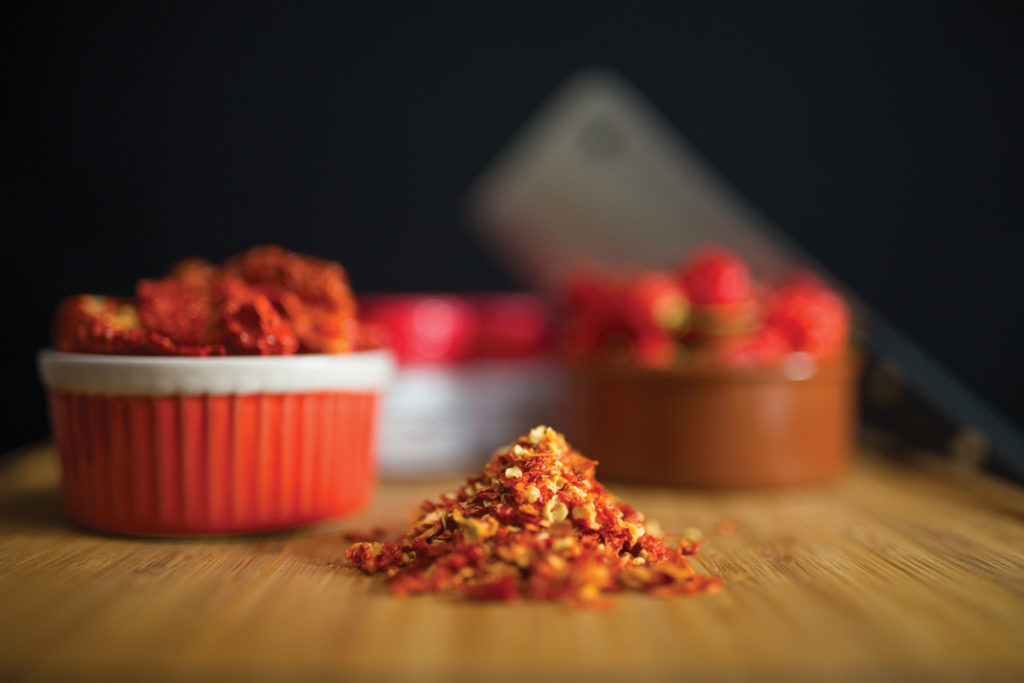 Why peppers? Do you like eating spicy food?
I love to grow peppers because of my love for cooking. I have always enjoyed eating spicy food and peppers. But these peppers are too hot to eat. You have to have them in a hot sauce or even dried as a spice. Even then, you only can add a small amount.
Describe the business logistics, the demand.
Currently the demand for fresh peppers is huge! People like to buy fresh peppers from a grower they know personally. We are trying to expand into more pepper products. We have had a hard time keeping up with the demands, which is certainly a good thing! Not only do I have 35 full size plants in my back yard already producing and 35 more halfway there, I have 72 sprouts already growing for the winter. Currently, I am building a greenhouse, so that will help me grow plants in the winter to keep up with the demand.
Describe the taste of the different peppers.
Peppers have distinct flavors depending on the variety. Some describe them as having a sweet, smoky or, some even say, they taste a nutty flavor.
Are peppers a vegetable?
Funny you ask… I call them fruit. They fit the definition of fruit because they carry seeds. A vegetable, on the other hand, is always defined as part of a plant.
Who usually buys the peppers?
People who like a challenge. I sold some locally to a group of guys who had a competition to see who could go the longest without milk, ice cream, or peanut butter. They purchased 10 Reapers and posted it on Facebook. Within a few minutes only one was left in the competition. I also sold to a group of groomsmen in California for gifts from the groom. Of course, it was a "funny gift" and they all posted a video of them eating the peppers! A lot of people found me through social media. I normally sell to people who make salsa or hot sauce. Some even add them to their favorite spicy dishes.
What are your plans for the future?
Ultimately, I would love to have a storefront with homemade products that come from my peppers. Specifically, hot sauce and, more recently, I have gotten into cracked, dried pepper. I would love to come up with my brand and sell that in my storefront as well. One day in the future, I hope everyone sees my brand name on a building in St. Andrews!
Dannon Glover ships his peppers all over. He has sent them to California, Guam, and filled orders for people located all over the U.S. Inevitably, the goal is to grow the pepper company. He hopes it can become his primary focus. It is his dream to have a St. Andrews Peppers storefront with participation and support from his entire family.
How cool – we have a Panama City native growing the hottest peppers in the world right here in Bay County.
SPICY SHRIMP PASTA WITH TOMATO CREAM SAUCE
INGREDIENTS:
2 tablespoons olive oil
1 pound shrimp, without shells, and deveined
1/2 teaspoon St. Andrews Pepper Company Crushed Carolina Reaper Flakes
1 teaspoon paprika
salt to taste
1 small onion, finely chopped
4 garlic cloves, minced
2 cups crushed tomatoes
1/4 cup chicken broth
1 tablespoon basil
1/4 teaspoon oregano
1/2 cup heavy cream
8 oz penne pasta (for gluten free version, use brown rice penne by Tinkyada)
DIRECTIONS:
Heat 2 tablespoons of olive oil in a skillet on medium-high heat and cook shrimp on one side for about 1 minute, until shrimp turns pink on that side. While it cooks, GENEROUSLY sprinkle the top of shrimp with crushed red pepper, paprika and SALT to cover every single shrimp. Do not crowd the shrimp and don't skimp on spices.
In a skillet, heat 2 tablespoons of olive oil to medium heat add shrimp for about one minute. Then sprinkle with St. Andrews Crushed Carolina Reaper Flakes, paprika and pinch of salt. Flip shrimp and cook for another two minutes on other side.
Remove shrimp and place on plate. In same skillet add onion and garlic, cook until onions become clear.
Add crushed tomatoes, chicken broth, basil, and oregano bring it to a boil. Let everything simmer for 10 or 15 minutes, mixing occasionally until reduced.
Add heavy cream while simmering slowly. As soon as all cream is added to skillet, remove from heat.
Add shrimp and pasta and mix well until combined.
Be on the lookout for his products at the St. Andrews Waterfront Farmers Market or visit his website, standrewspepper.com.
Leave a Reply
comments
Powered by Facebook Comments