BY OLIVIA CROSBY | PHOTOGRAPHY BY MICHAEL BOOINI
Locals and visitors are familiar with Capt. Anderson's and everything the popular restaurant offers, from fresh, just-caught seafood to excellent service. Grilled bay shrimp is one of the most frequently requested dishes. Freshness makes the entree famous; a special spice blend makes it delicious. Capt. Anderson's secret blend of spices was created more than 35 years ago by head chef, Alonzo Keys, Sr. Today it is a best seller in the restaurant's gift shop.

Opened in 1967, Capt. Anderson's is more than a local favorite, thanks to the hard work and dedication of the Patronis family and head chef, Keys. Fifty years later, the name and brand is recognized nationwide. Founded by brothers Jimmy and Johnny Patronis, Sr., the restaurant is a family affair, with several of the Patronis family involved in its operation. And family traditions are kept alive. "The evolution of the restaurant has been remarkable and it continues to grow," says Nick Patronis, one of Jimmy Patronis, Sr.'s sons. It seems the secret recipe for the house seasoning is much like the family's recipe for success. Customers can certainly feel the vibe when they walk into the restaurant – it's almost as if patrons become part of the family tradition just by stepping through the door. Some things will never change, such as the house seasoning, just like family traditions! Remember, the house blend has remained the same for 35 years.
With growing demand and expansion of the restaurant, will the spice production and sale also expand?
We hope. We blend it in-house and we are very sensitive to keeping it consistent.
On which dishes do you use the house seasoning?
We use the house spice on almost everything we cook. If it tastes good, then the magic dust is most likely in the recipe.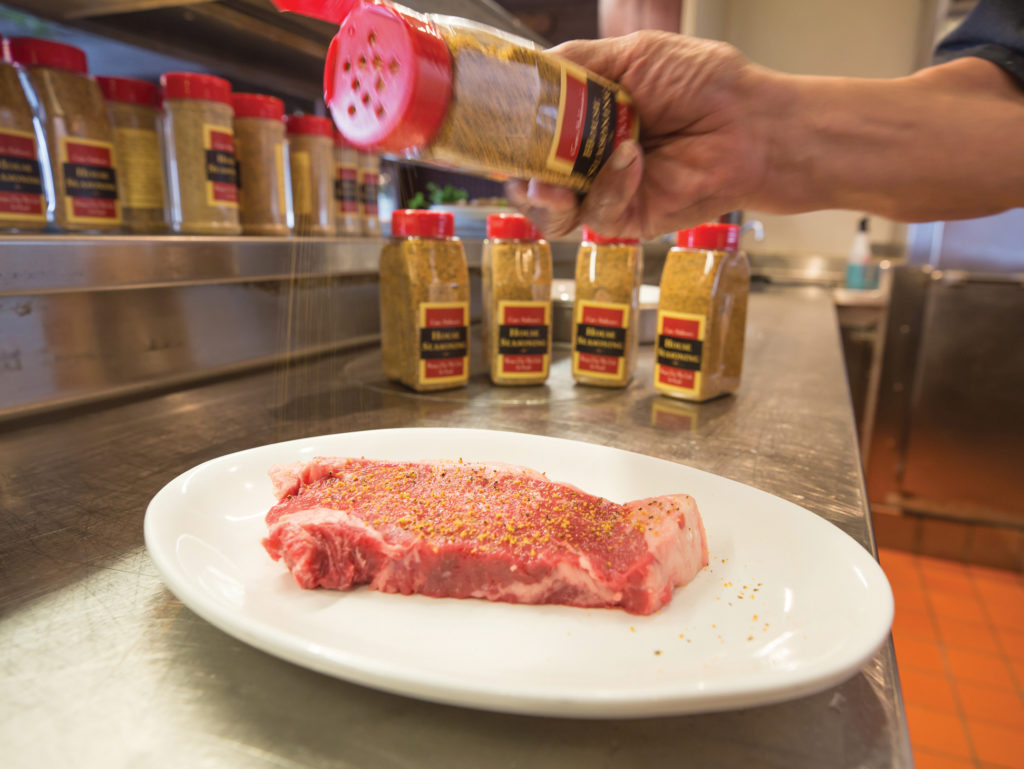 I admire your "wall of fame," with its hundreds of photos of famous people who have visited Capt. Anderson's over the years. What did it take to get where you are?
The family invested in the restaurant and we always believed in it. It is a highlight when famous visitors, from actors and actresses, to singers, to famous politicians tell us that they love our house spice as much as we do.
Do you have high-volume buyers for your house seasoning? Do you sell the spice to other restaurants? And when do you sell most of it?
Yes, in Panama City, Somethin's Cookin' [restaurant] buys it for their retail shop. We have a huge rush on it in November when we close Capt. Anderson's for the season. Folks want it for their holiday cooking.
Which are the most popular dishes that incorporate the spice?
Grouper, scamp, shrimp, steaks, and grilled vegetables. The charcoal-grilled specialties at Capt. Anderson's would not be the same without the house seasoning.
Do you keep track of customers who purchase the spice? Do they ever come back with stories about their favorite way to cook with it?
No, but you just gave us an idea!
GREEK STYLE FILET OF FISH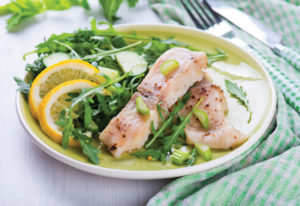 INGREDIENTS:
8 ounce of filet of fish of your choice
Juice 1 lemon (reserve 1 juiced lemon half)
House seasoning to taste
1 stick of butter
DIRECTIONS:
Heat a large, seasoned cast iron skillet to a very high heat. It will take nearly 10 minutes. Melt the butter in a seperate pan. Spread the seasoning on a flat surface. Dip both sides of the filet, first into the melted butter, then into the House Seasoning.
Cook filet for 2 minutes on each side, check for doneness, be careful not to overcook.
High heat will give it a crust and will also dry out the center if you are not careful.
Pour lemon juice with melted butter on top of fish, once it is done.
Add chopped onions with lemon to top it off.
Enjoy, and don't forget to save room for dessert!
Capt. Anderson's House Seasoning can be purchased at Capt. Anderson's Restaurant, 5551 N. Lagoon Dr., Panama City Beach
Leave a Reply
comments
Powered by Facebook Comments