BY SHARON MICHALIK | PHOTOGRAPHY BY MICHAEL BOOINI
They say a dog is man's best friend. For Baron, the Labrador Retriever, and his owner, Matt Anderson, the role is much more significant. "He's the CEO of this company, I'm just the president," laughs Anderson who named his Cajun spice company after his best friend and "business partner."

Before he became a successful entrepreneur, Matt had a 25-year career as a private investigator. He discovered the basics of his spice recipe more than two decades ago while working in New Orleans. "I happened to strike up a conversation with a sous chef at a local restaurant there late one evening and he sort of gave me the partial list of ingredients," Matt remembers. "Over the past 25 years, I've really mastered the recipe to get it where it is today." Today, Baron's B.B.Q. Shrimp Marinade and Rub (complete with a picture of Baron on the packaging) is distributed in stores throughout the Panhandle and the rest of Florida and is ready for much larger exposure according to Matt. Following the recipes that are shared on each Baron's jar, with just a few additions, each jar yields "authentic New Orleans-style barbecued shrimp with an unforgettable flavor," Matt explains.
Baron obviously plays a large role in your company, tell us a little about him.
Baron was an abandoned dog. He came to me one chilly afternoon and I tried to run him off. But he came meandering back, sleeping at the end of my driveway. I felt sorry for him. After a couple of days, I was sitting outside when Baron decided he wanted to be friends. He walked up to me, paused for a second and then jumped up on my lap and kissed me and that was it. I adopted him or he adopted me … I am not sure which … and we've been together ever since.
What made you decide to go into the spice business?
Well I've been making this recipe for parties for years. It's always been my "go to" dish when someone asks me to bring something or when I have people over. I guess you could say it's my 'signature dish.' So that was very gratifying and people were always very complimentary about it so I decided to see if I could take it to the next level.
Tell us a little more about Baron's B.B.Q. Shrimp Marinade and Rub – what is it used for?
Have you ever had New Orleans-style barbecued shrimp? Well this is it! You just follow the recipe on the bottle, mix it all up and add your shrimp, bake it in the oven, and there it is. It's something very different for this market but, once people try it, they absolutely love it. But the great thing about this spice combination is that it can also be used as a dry rub. One of the chefs at Destin Ice and Seafood told me he uses it on a pork shoulder he puts in the smoker. I love to use it with some onions and a little Worcestershire sauce and a pork shoulder in the crockpot. It's very versatile and the flavor is amazing.
What were the challenges as a neophyte entrepreneur?
I've learned a few lessons (laughing). When I first put the spice mix together, I packaged it in a clear bag. It had whole rosemary and other herbs in the mix. I thought the bag was the way to go until I approached Publix and they told me they couldn't work with a bag. So, I had to figure out the jar, like other spices, so that it could get shelf space. After that conversion, packaging and distribution became easier.
So, tell us about the opportunity to work with Publix
Baron's is being sold as part of what is called a 'Florida Local Project' for Publix which means it's available on end caps in 322 Florida Publix locations. All the products are from Florida companies and are manufactured in Florida. So, that was an exciting opportunity and I was very happy to be able to take advantage of it.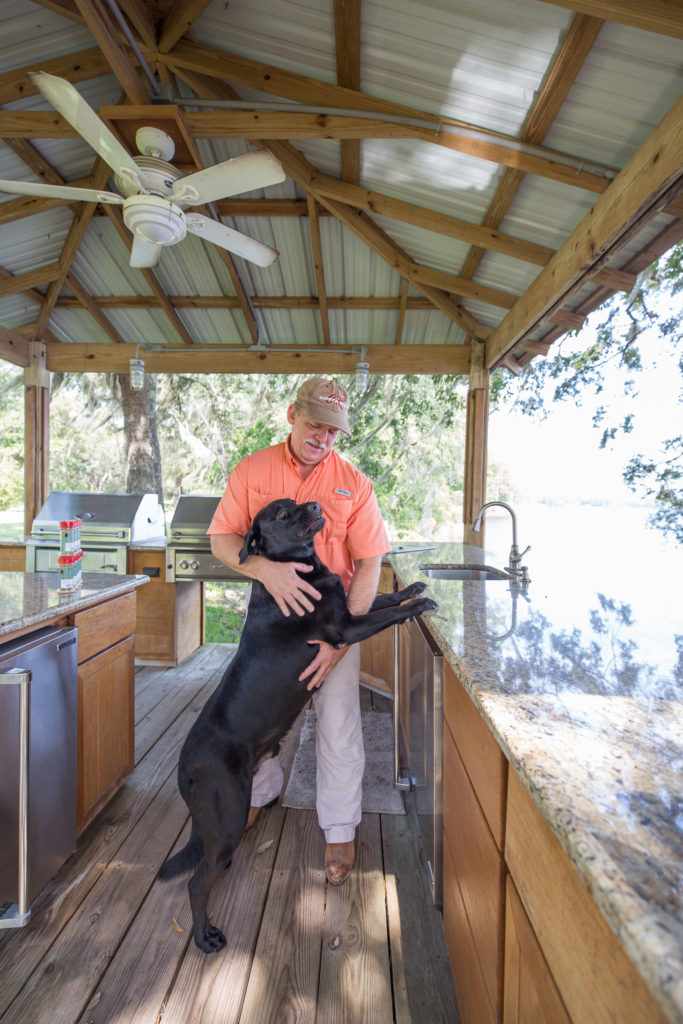 Do you have bigger plans for expanding retail options?
I definitely do. Right now, I am talking with Walmart. Tens of thousands of people solicit Walmart to get them to carry their products. I was one of 800 people invited to come and meet with them in Bentonville, Arkansas which was very exciting. It's an honor just to be asked. So, someone clearly liked my product. I'm hoping to hear something later this year about that opportunity. Thankfully we have two distributors and two manufacturers ­– this will give us nationwide capability. We are also talking to Bass Pro and Kroger right now as well. It just takes a little time to become a vendor for the bigger chains. Baron's has only been in operation for a little over two years, so we are happy with the progress.
In the meantime, other than Publix, where can people find Baron's?
You can find us on the shelves at Tarpon Dock Seafood, Buddy Gandy Seafood, Cahall's Deli, the Piggly Wiggly on 15th Street and in Port St. Joe and Apalachicola, and Destin Ice and Seafood on 30A and in Destin. We are in one Publix locally. Right now, I'm doing personal sales and soliciting local businesses. It's just Baron and me. So, he really is the CEO and I really am the president, the sales guy, and the stocker.
To what do you attribute your success?
I personally vouch for the great taste and a superior product. Everyone who has my product for sale has had the opportunity to try it first. I take the product out to the businesses first, before I ask them to stock it, so they can take it home, give it a try and make sure they like it. That's important to me because if a customer has a question about the product, there's someone in the store who can recommend it, someone who can say "I tried it.'
Do you have plans for expansion?
I see us expanding into Baron's Foods in the future. I want to add a product called "Boom Boom Sauce," a fry mix and a marinara sauce, in the next two to three years. To do that, though, I have to find another manufacturer and that will take some time.
What exactly is Boom Boom Sauce?
It is a dark tomato-based sauce but it's not going to be a traditional barbecue sauce and it's not going to be a steak sauce. It's going to be something in between A-1 and Sweet Baby Ray's with a little kick. I think people are going to love it.
Circling back to Baron, how does he play a role in the future of the company?
Well, Baron was a rescue dog as I said earlier. It's important to me to support organizations that work with rescue dogs. As the company grows so will that support. I want people to know this is a local company. When they buy Baron's, they are supporting a local company but, more importantly, they are supporting a local company that cares about animals and is working to support those who help rescue dogs like Baron.
BARON'S RIBS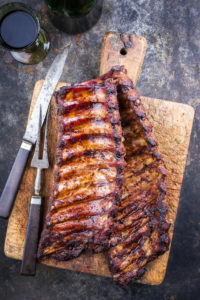 PREPARATION:
Mix Baron's and light brown sugar to taste. Rub ribs liberally and wrap with plastic wrap for at least four hours in the refrigerator. Remove and cook the way you like to prepare ribs i.e. smoked, grilled, etc.
About 15 minutes into the cooking process mop the ribs with Baron's marinade which goes like this:
Mix juice of a lemon
3 sticks butter
1/4 cup olive oil
3 Tablespoons of Worcestershire
1/2

 

bottle of beer
Mop ribs throughout the cooking process as needed or preferred. YUM! Now those are some fine ribs!
Find more recipes at: baronsbbqshrimpmarinade.com/Baron-s-Favorite-Recipes
Baron's BBQ Shrimp Marinade retails for approximately $5 per 7-ounce jar. Each jar contains enough spice mix, when mixed with other ingredients, to make three pounds of barbecued shrimp, according to Matt. More information about the product and additional recipes can be found online at www.baronsbbqshrimpmarinade.com
Leave a Reply
comments
Powered by Facebook Comments