By Sharon Michalik, Photography by Michael Booini
Like many women, Brandy Carter is obsessed with shoes and often finds herself dreaming about her next pair. Unlike most women, however, Brandy makes her own shoes and can dream up endless combinations of fabric and design elements to customize her creations. Brandy and her husband, Brent, are the owners of McGraws Boot and Shoe Service on Harrison Avenue. Shoes, she explains, have featured prominently in her life since her childhood.  "My family has been in the shoe repair business since 1982. I've been doing this since I was 10 years old." Brandy explains.
McGraws is a well-established name and is synonymous with shoe repair for multiple generations of Panama City residents. The store originally opened in 1931/32, according to Brandy. Her parents bought the business in 1982. She and her husband, Brent, inherited it 10 years ago. "My uncle had a shoe repair business in Montgomery," she explains. After completing what she remembers as "shoe school," Brandy says her father heard about this business and moved the family to Bay County.
There is a steady need to nail on a new heel or fix a broken buckle. The repair business flourishes but a new idea took shape last year; Southern Soles. Brandy designed and made her first pair of custom sandals with a unique combination of marine grade materials and a soft, cushioning sole that "molds to your feet as you wear them." You might call the handmade sandals deluxe flip-flops. Available in a plethora of colors and sizes, Southern Soles are currently carried by 10 retailers in our region. They are only available as women's sandals at this point but there are plans for expansion soon. "We're hoping to get into the men's' market and make them for children as well," Brandy says. "We're working on those designs right now."
The advent of Southern Soles has pumped new life into the shoe repair shop. It gives Brandy and Brent a creative outlet. Both are involved in the construction, distribution, marketing and, not to forget, wearing of Southern Soles.
So how did Southern Soles get started?  
Brandy: For years, I wanted Brent to build sandals and then we went to a trade show in Jacksonville and saw some similar items. We came home and started experimenting with materials and designs. I knew we could do it. We just had to experiment to get it right.
And where did the name come from?
Brandy: Well, we didn't change the name of the shoe business when we took over because everyone just knows it as McGraws but when we started working on the sandals I knew we needed a different name. We were on our way to a cheer competition. I just threw the need out there, that I needed a name for my sandals. We came up with Southern Soles.
Are you both involved in making the shoes?
Brent: Yes, it takes both of us. Brandy sews the top part on her machine and then I do the stitching on the soles … She does the tops and I take care of the bottoms (both laugh). Together we can make about two pairs in an hour.
Have there been design changes along the way?
Brandy: Well, the actual design has kind of stayed the same after we learned which materials to use for the best results. What we're experimenting with now are the design elements that we can add; monogramming, fashion snaps, and other decorative pieces that let people make the sandals their own.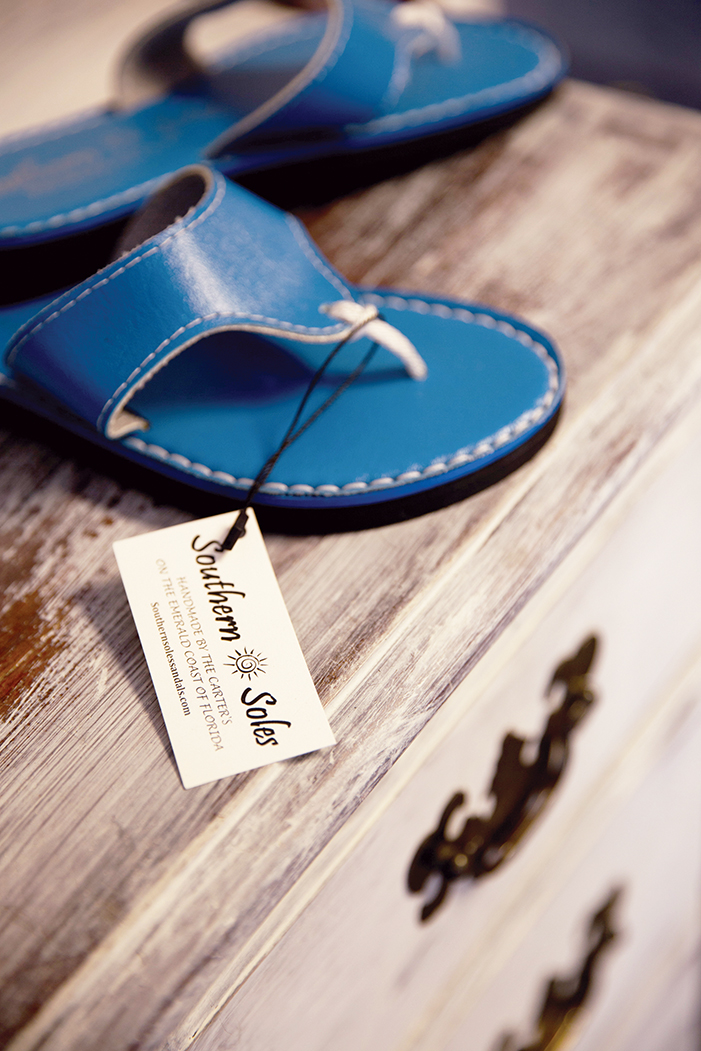 Brent: And we have custom options now. We can literally trace someone's foot and make a custom sandal for that person.
Brandy: So, people with wide feet, narrow feet or any other foot issue can come here and we can help them with a custom sandal just for them.
So how has sandal making changed your business?
Brent: It's really helping us continue to grow and expand. Right now, I'd say it's about 20 percent of our business but we really see that growing in the future.
Brandy:  Our long-term goal is to have a sandal factory right here.We're just looking for the right location. We want to make the sandals on site and have a storefront as well.
What's your favorite aspect of making and selling a product in your hometown?
Brandy: It's absolutely humbling to see people wearing our sandals. This town has embraced us so much with our shoes and we really appreciate that support. It's so exciting to me when I see people wearing them. Sometimes I just want to walk right up and approach them and start a conversation about the sandals.
So, what's next for Southern Soles?
Brandy: We're looking at designing a couple of models that won't have the strap between the toes because some people don't like that. We're looking at expanding our design elements. (While she can't use trademarked names, Brandy notes that jeweled snap-ons designed for jewelry also work on their sandals. They are expanding into other decorative items like shells, seahorses, and beach-related items.)
Brent: Comfort is a big deal to us, so we're not going to do anything that isn't comfortable.
Brandy: (glancing at her own Southern Sole-clad feet): I pretty much don't wear anything else (laughs), I love them so, so much because they are so comfortable.
More information about Southern Soles and all the services offered by McGraws can be found on their website  mcgrawsshoerepair.com
Leave a Reply
comments
Powered by Facebook Comments