Voting has ended for the 2017 Readers' Choice Awards – winners will be published in our upcoming September/October issue!!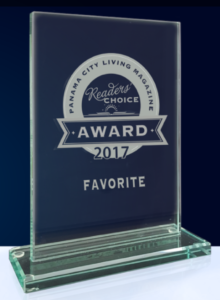 Congratulations to all the winners!
The award celebration will be held
on August 17, 2017, from 5:30 p.m. to 9 p.m.
Location: OUT OF THE BLUE,
the new venue at Bay Town (Bay Point)
3900 Marriott Drive, Panama City Beach, FL 32407
Tickets are $25.00 per ticket and include drinks,
delicious food by G. Foley's Chef Chris
and Firefly's Chef Derek Langford
and live entertainment by Anthony Peebles & Band.
Click here to see the photos from last year's event.
Make your ticket choice below and click on "Buy Now"
Leave a Reply
comments
Powered by Facebook Comments