By Caroline San Juan Czubaj, Photography by Sonja Revells
There's a wise, old saying that reads, "When the student is ready the teacher appears." Yet, I wasn't ready for Prudence Farrow Bruns when I initially met her almost two decades ago. She and I chuckle when we chat about our first meeting because we seemed worlds apart. I was finely coiffed, arriving in my designer sports car, and she looked serene without an ounce of makeup or pretense.
At the time, I was the director of the wellness center  of one of  Bay County's hospitals. Prudence contacted me to discuss implementing a mind-body program in our facility. It's not that I was opposed to yoga or meditation… rather, I was in a stage of life where adrenaline constantly pumped through my veins and the thought of taking a yoga class or sitting still was as appealing as slamming the brakes while going 90 mph. I preferred pounding the pavement to keep my heart pumping, or sweating to loud, rhythmic music in a group fitness class.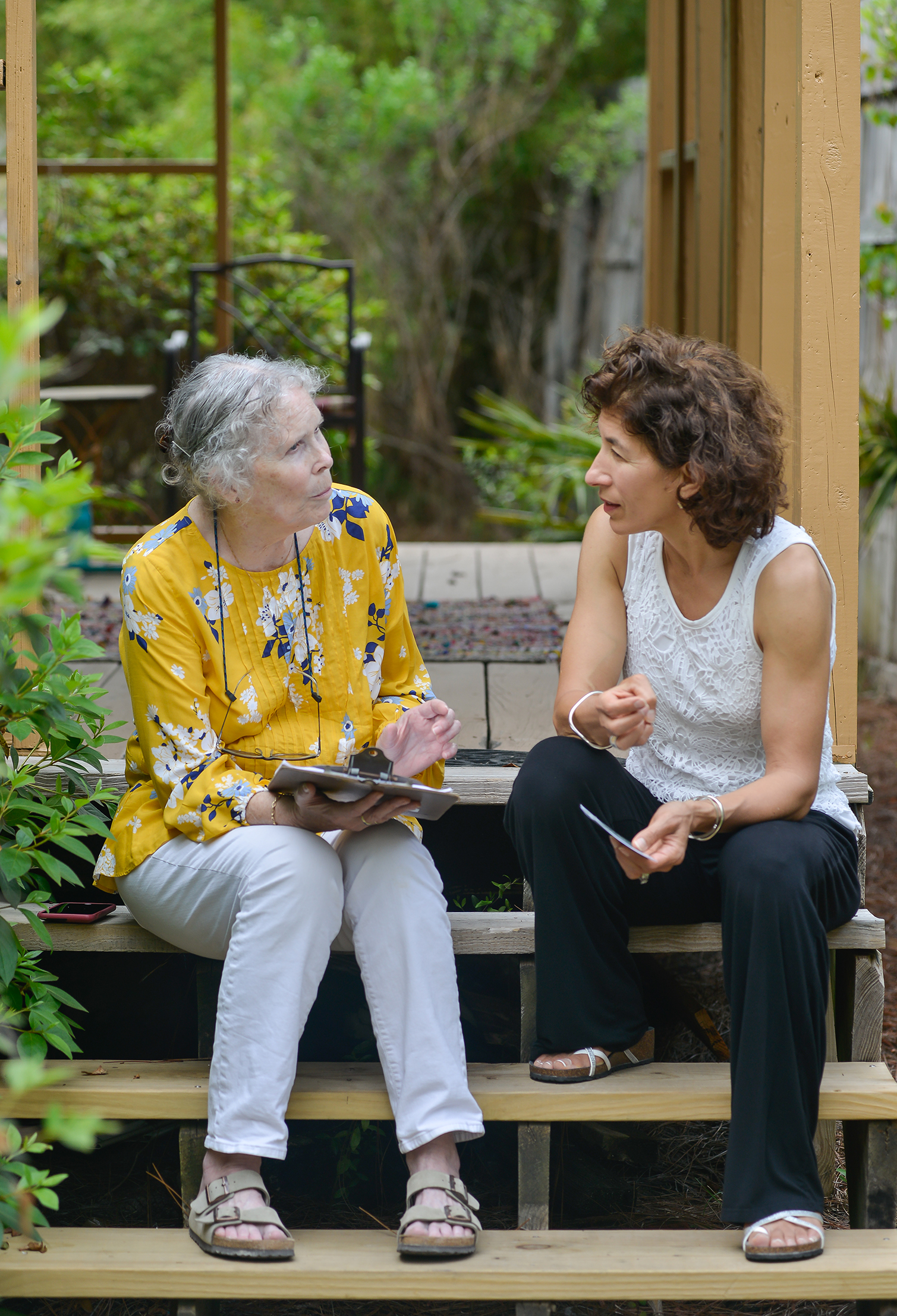 Prudence was charmingly convincing and yoga classes were soon introduced at our center. Shortly afterward, I accepted a position in South Florida and moved before advancing the program any further. It would be years before I would return and be ready for Prudence's simple, yet profound, teachings. She insists her purpose back then was to plant seeds and, 20 years later, we find ourselves soulfully connected in our passion to understand truth and teach people to experience the peaceful silence within.
Prudence calls the sandy-white beaches of Santa Rosa her home but spent much of her childhood in the seemingly fairytale world of Beverly Hills. As the daughter of two film industry staples, actress Maureen O'Sullivan and film director John Farrow, she was raised in the lifestyle of the rich and famous.
Prudence's privileged Beverly Hills childhood ended abruptly when her parents began working in Europe. Continually uprooted during her impressionable, adolescent years, she found herself leading an unsupervised life as a destructive teenager in Connecticut while her mother performed on Broadway. It was the age of peace, love, and drugs in the backdrop of the Vietnam War, and Prudence succumbed to the temptations. It is remarkable that she lived to share her story of inner turmoil, faith and ultimately, joy, while many of her friends did not survive.
After experiencing a horrific, drug-induced nightmare, she became desperate to find inner peace, purpose, and meaning in life. The turning point came in 1968 when she journeyed to
Rishikesh, India with her older sister Mia Farrow, who was seeking peace in the midst of a divorce from Frank Sinatra.
It is here in the foothills of the Himalayas, where Prudence, Mia, and the Beatles gathered to study Transcendental Meditation (TM) with the Maharishi (the title means "Great Sage"). From this pivotal journey, Prudence courageously healed herself through faith, TM, and yoga, and the Beatles captured a generation through their music, which catapulted their success to new heights. Influenced almost entirely by their experience in Rishikesh, the Beatles recorded their number one selling White Album with a song that captured Prudence's devotion to her studies and dedicated the song "Dear Prudence" to her.
Almost 50 years later, this namesake song appropriately became the title of her memoir, "Dear Prudence…The Story Behind the Song."* In the decades that have followed her transformative studies with the Maharishi, Prudence has devoted her life to inspiring and teaching thousands of others, such as me and my family, to journey inward through meditation to the serenity that lies within.
It is in this light and shared passion for making a difference in the lives of others through yoga and meditation that our paths crossed again. And this time, the student was ready.
Her audience, young or mature, is captivated by Prudence's soft-spoken voice and the powerful, insightful, and yet simple message it delivers. Her students' questions are always enthusiastically answered, which inspired me to sit down with Prudence and ask questions specifically for our Panama City Living audience.
What was your inspiration to eventually earn a PhD from the University of California at Berkeley at the age of 58?
I had been teaching TM since I was 20. I was greatly inspired not only by my own profound experiences but also by those of the people I was teaching. People had questions about India, yoga, and its history, which I could not answer. So, at the age of 50 when my children were old enough, I decided to explore the background of this technique and learn its native tongue, Sanskrit, the language of the ancient literature coming from the east. I wanted to personally translate these ancient texts of yoga philosophy since none of the brilliant scholars who had translated them in the past were able to apply the same yoga and meditation background I had to their translations. I could see the gulf between the two and I wanted to get the proper understanding. So, I applied to the best Sanskrit program in the country, University of California at Berkeley and, to my surprise, I was accepted. It was such a great honor that I gave all my attention to completing the PhD program, which took eight years. It was absolutely thrilling… one of the most fascinating and exciting times of my life and I loved every moment.
How do you think your life would be today if you had not learned how to practice TM?
My life would be very different today. I was a very unhappy person. The stress in my life seemed insurmountable. TM reduced the stress in my life enormously and I will always be extremely grateful.
Can you pinpoint a situation or a point in your life that was fundamentally changed by TM?
Yes, I can pinpoint many times. TM enabled me to gain relief from the stress I carried with me from the early death of my father and brother. I could then face my life as I came of age and return to school. I began to believe in myself and in life once again.
How has TM changed you throughout the years? And have you "gotten better" at TM over time?
TM has enriched my experiences and empowered me to fulfill my dreams and my destiny as a wife, mother, film producer, writer, and teacher. I have far more potential than if I didn't meditate, so I'm able to focus in ways that I never would have been able to do otherwise. TM gives me clarity of mind in what I'm doing and clarity of intention in regard to my goals. I'm a happier person and continue to grow in this direction because of the depth and richness I achieve during my meditation, which has translated into how I approach my life and relate to others.
TM is a natural process, a way of going deep inside and finding inner peace. You receive its benefits right away. The goal is to integrate those benefits you receive during meditation into your outside life on apermanent basis.
What is your definition of TM? 
TM is an ancient wisdom from the east. It is an easy technique for inner peace and wellness. A way of going deep inside and tapping into a state at the basis of the mind that is silent but dynamic and has the potential of propelling us into a more creative and productive life.
Who benefits from it the most?
Everyone benefits from TM. Those who are experiencing greater suffering may feel more contrast, but we all gain benefit.
Does TM need to be learned or do some people have the natural ability to meditate without instruction? 
TM needs to be learned from a certified TM teacher.
How does TM work? Can it "cure" the mind? Can it help people with depression, grief, aggression, etc.?
The deep rest TM provides to the body as the mind settles inward triggers the body's own ability to heal. Recovery time from injury or trauma for people  practicing TM is 40% faster. There are more than 700 peer reviewed studies done on TM that can be found on the TM website – www.tm.org.
The American Heart Association only recommends one meditation and that is TM.     Yes, TM definitely helps with depression, grief, and aggression by stabilizing the mind into a more settled state as it is anchored with the silent foundation within. This brings peace, heals grief and depression, and we become happier, more accepting and loving. For patients with clinical issues, I work with their doctors or therapists to create a comprehensive approach for which TM is supplemental.
The song "Dear Prudence," insinuates you were not very sociable as a young woman. Yet, today you teach people to meditate. Tell us about the transition. 
I have always been very social, but at the time when the song was written, during the extended retreat in India, we were all there to meditate and spend time in reflection and silence. So, at that time I purposely withdrew myself. I write about this in my book. It is a story of the 1960s from a spiritual perspective, explaining what led me (and many from my generation, including the Beatles) to sequester ourselves in deep meditation for four months in Rishikesh, India.
You learned TM from the very man who popularized it in the west, Maharishi Mahesh Yogi. Have you studied other forms of meditation?
I had tried many forms of meditation before I found TM. Because of this searching, I was very appreciative of TM's directness and simplicity when I finally found it.
Describe your perspective as a teacher of TM?
I love teaching TM and realize how privileged I was to have been made a TM teacher by Maharishi in India way back in 1968. I am grateful every day as I see the sincere gratitude from those who learn.
Describe the movement in the 60s and 70s… do you think the movement towards peace was much stronger in those days or is it continuing to progress today? 
Back in the 60s and 70s there was a tsunami of events including the Viet Nam War and the assassination of President Kennedy. We were still in a cold war with the potentiality of a hydrogen bomb being used as a weapon. The Bay of Pigs was very real, and the threat of a third world war was firmly implanted in our minds. The culture, my generation, was deeply disturbed and we were looking for a solution. Many of us turned to the east to find peace inside. Today, people are coming together to create a better world by bettering themselves through a healthy lifestyle of organic eating, yoga, and meditation. Even though there continues to be disturbing issues throughout the world, individuals remain drawn to TM as a solution to peace within their own lives. Millions have been trained in TM since it was introduced to the west in the 60s. Physicians and reputable medical institutions are recommending it. So, its influence is continuing to expand in our culture.
"Expansion of happiness, cosmic intelligence, and bliss," these are the words Maharishi used to describe TM… do you think people who have achieved this state are less interested and aware of problems? In other words, do people who practice TM have the motivation to confront and solve problems or are they "hiding" and finding inner peace by practicing TM instead?
People once said [in the 60s and 70s] that closing our eyes and meditating was a way of escaping life. Now, after millions of us have been practicing TM over the last 50 years, we see that by closing our eyes we are recharging, stabilizing, and deepening our minds, thereby, becoming more resilient and empowered to embrace and achieve our goals,
reaching our full potential.
What ultimate message would you like to leave with our readers?
There is a very important element many of us are missing in this beautiful world we live in, and that is the peace and joy that underlies all we do, see and feel. This applies to each of us, regardless of race, color, religion, or creed. Obtaining this peace and joy brings a fulfillment to life on all levels and will translate to those we love, bringing peace in our families, society and the world. It is within each of us, we need only to dive deep inside to bring it to the surface of our life. TM is simply an extremely effective method of doing so.
Leave a Reply
comments
Powered by Facebook Comments