By Nick May, Photography by Mike Booini
He was nominated for four Pulitzer Prizes and two Grammys. He was named Outstanding Alumnus of two different universities and inducted into the University of Wisconsin, Platteville Hall of Fame. He taught at Houghton College, Pfeiffer College and DePauw University, where he was named Outstanding Professor. Twice. He was the Conductor of the Northwest Florida Symphony Orchestra, the Conductor of the Philharmonic of Northwest Florida, and the composer-in-residence at both the University of West Florida and the Indianapolis Symphony Orchestra. His works are some of the most widely played of any of America's post-World War II composers and have been performed by orchestras all over the country, including the National Symphony. He is the recipient of numerous accolades, the author of two books, the creator of a television series about music in American history. And he has, somehow, managed to maintain a brand of humility and kindness that is uncommonly rare today. He is the new conductor of the Panama City POPS Orchestra. Ladies and Gentlemen, meet Dr. David Ott.
Nick May: The first thing I noticed when reading your bio, was the sheer amount of places your education and professional life have taken you (Michigan, Wisconsin, Indiana, Kentucky, New York, North Carolina, ultimately landing you in Florida in 1996). I would imagine, as a person of distinction, you've probably received your fair share of offers from all over the world. What was it about Panama City, Florida that made you say, "That's where I want to be!"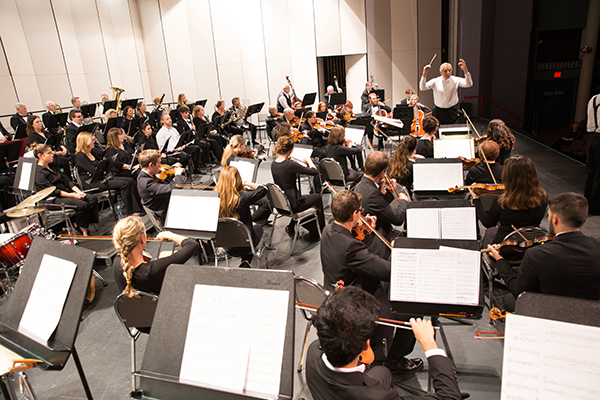 Dr. Ott: It's interesting. When I came here in '96 I was tired of the winters up north and the sunny outlook down here just seemed like a great environment for writing music. It didn't take me very long to realize that walking the beach and writing music wasn't exactly exciting. In fact, it was a lonely activity. I really wanted to be around people. Social interaction is important and helps to balance us in our lives. I was offered a position with the Northwest Florida Symphony, as the conductor. I had never really conducted up to that point, but it gave me a chance to get involved in that social part of things, teaching people about music.
Quite accidentally, I made a discovery while accompanying one of the church choirs. The choir was complaining about having to sing a piece by Vivaldi, and I just said, "Stop, everybody. Let me explain…" And when I talked to them about Vivaldi and his life, a spark ignited. I realized the more people knew about composers, about their lives and the times they lived in, the more they were inspired to sing better.
Although I'd been teaching college for twenty-five years at that time, this was a different audience. When you teach students in a classroom, it's structured, but to simply talk to people about the life of the composer, about what he was thinking when he was writing the music, the influences, what was happening, historically, I realized this is what my real mission was in coming here! It wasn't necessarily to write music, but to create an interest in music. The educational component will be a very, very important part in leading the Panama City POPS Orchestra forward.
Nick May: I remember, when I was a kid, asking my classically-trained violinist mother if "classical" music was still being made. She understood my question to mean, "Are we still living in the classical era?" And she said "No." In my mind, I was probably asking if there were people like you, still writing and composing music with those sounds and movements that we recognize as "classical-sounding." Do you ever find yourself fighting that perception of an aging genre?
Dr. Ott: What you're asking is an interesting thing, because I, too, when I was young, asked the same question. The fact is, there are probably more people than ever writing [classical] music around the world. Which, in a way, has kind of created a problem. When you consider certain geographical areas – say, Germany or Italy or even France – they were centralized locations, where composers were living. Their fame was also centralized, but it broke out from there.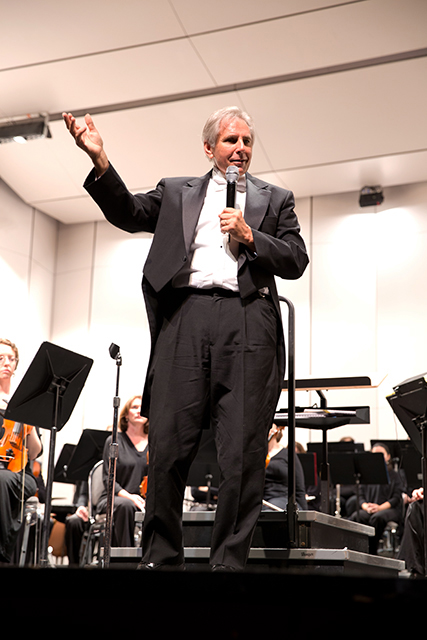 Today, worldwide, it's hard to emerge as a significant composer. What happened, in the middle part of the twentieth century, is that a great chasm developed between composers and audiences. Very few people honestly wanted to hear the kind of music that was being written. Very few players even wanted to play it. The music that was being played was ugly, dissonant, harsh, rough. Not the kind of thing you really wanted to study. Composers were beginning to speak politically instead of musically.
Even as a student in college, I said, "I'm not interested in writing music like that." So, I started writing music on my own and passing it to friends, saying, "Would you like to play this?" and they'd say, "Hey, we kind of like this…" In the late 1970s and early 1980s, a group of us – although we didn't all know each other – were beginning to emerge as what somebody in the New York Times called, "Neo-Romantic Composers." Composers who wanted to go back and instill melody and rich harmonies into music. Not like it had been done in the nineteenth century, but a new way.
People ask is classical music dead?" No, it isn't. It will continue to live because people want what classical music offers: beauty, aesthetic, human emotion, human passion, all, being expressed in a unique way. And audiences will continue to gravitate towards that. I think the challenge, for those of us who lead orchestras will be to find the characteristics of a community that will draw folks in. Once we have them in the music centers, then we can expand their horizons.
Nick May: You've been in Northwest Florida for the last two decades. I don't think you would have stuck around as long as you have if this part of the world didn't at least have an inherent appreciation for orchestral performance already instilled. Do you think this is a place where symphonic music has a chance to flourish and thrive with a new generation?
Dr. Ott: I do. The thing is, interest is growing quickly. For people from Cleveland or Chicago or Indianapolis, places with very strong, established, cultural programs, the weather here might be the draw, but what will keep them here is the hope of sustaining those cultural experiences they've had in the North for years and years.
As I've travelled across the country over the last twenty years, I've been amazed by the quality of orchestra performances in places the size of Panama City. Twenty or thirty years ago, in a city of 50,000, it was excruciating to sit through a concert, because the players just hadn't advanced enough. Over the last twenty or thirty years, there have been some great players coming out of our universities. FSU is a great example. The University of Southern Mississippi is another. Those programs are extremely strong. In fact, the recruiters and conductors at these schools are literally flying to South America, they're flying to Europe, and they're bringing students into our schools. These students are willing to drive to play with us here at the Panama City POPS if we need them.
Young people are performing in orchestras. What we can do, as orchestra conductors, is take groups out of the larger group, send them to the schools and teach the children about classical music. We try to instill a love or interest in classical music at a young age.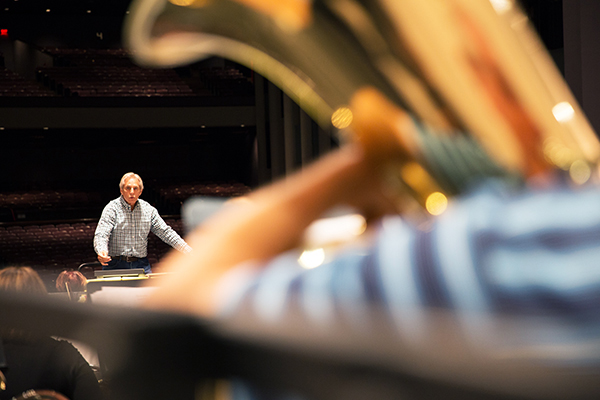 During our last concert of the season, "Beethoven, Beatles and Blue Jeans," we will be playing a Beethoven symphony, followed by a whole set of Beatles melodies. We're saying, "Okay, folks. Bring your blue jeans. You don't have to wear a tuxedo or formal gown. Come dressed as you are." Because music should be an expression of real people.
Nick May: We live in an age of instant gratification. People want to pick up an electric guitar and just rip from day one. If someone does decide to devote any time to learning, they want to be Jack White. They want to be Questlove. They want to be Katy Perry. This may be a cyclical thing, but it's becoming more and more difficult to get kids to pick up a telecaster, let alone a cello. Millennials have stopped playing golf. Do you think they'll stop playing music?
Dr. Ott: Music requires a special kind of intelligence. It also requires a lot of muscle memory and things that go beyond just the brain. It involves so much and one of the things we're trying to develop in the Panama City POPS Orchestra is a mentoring program where students come in and, hopefully, get inspired and driven to improve their playing.
This question of instant gratification, of being able to just pick up a guitar… what music is, it is a very structured discipline that requires daily or consistent attention and practice. It's the idea of getting far enough that you jump over the hump.
I like to tell students a story from my childhood. When I was in 5th grade, I said, "Mom, I want to quit the piano…" and she said, "Okay, let's make a deal. If you stay with it until you're in 7th grade you can quit." Well, what happened was, I got to 8th grade and I realized I had forgotten to quit in 7th grade. I had gotten over the hump. All of a sudden, music was paying back to me. I have now made a whole life out of it. My mom wasn't thinking about that back then. She just knew that discipline was important, it's a way to have a better life.
See Dr. David Ott and the Panama City POPS Orchestra Friday, November 25, at Aaron Bessant Park for "Beach Home for the Holidays." The event is outdoors and free to the public!
For more information, visit www.panamacitypops.org
See photos  of the 2016-2017 POPS Orchestra Members below:
Leave a Reply
comments
Powered by Facebook Comments