By Val Schoger, Photography By Savannah Dean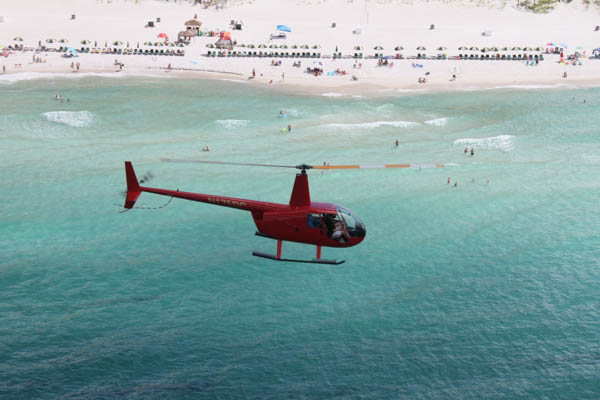 From hundreds of feet of elevation, the Gulf of Mexico presents itself in all shades of blue and green. The panoramic views of beach and bay are simply breathtaking. Boaters, sunbathers, and even the tallest condominium appear small from the cockpit of a helicopter that flies high above. For JR Hott, pilot and owner of Panhandle Helicopter, it is business as usual.
The Navy had moved JR to Panama City Beach in 1998 where he was stationed at the Naval Diving and Salvage Training Center as a dive instructor when he decided to pursue his flight certificate. "I have always been interested in flying helicopters," he explains. "After 20 years in service, I was 49 when I got out of the Navy with my commercial helicopter license and this business became available. My brother, who had been a helicopter mechanic for years, had gotten his commercial helicopter license in 1999. We went into business together with Panhandle Helicopter." The thriving business is centrally located on Front Beach Road in the immediate vicinity of Pier Park, just a few hundred feet away from the shoreline.
In the summer months, Panhandle Helicopter's three Robinson R-44s zip back and forth from mid-morning until sunset, flying as far as Shell Island to the east and Seaside to the west. The majority of flights are dedicated to excursions but other services such as aerial photography, frost protection of crops, and environmental or land surveys are offered as well.
Several pilots work changing shifts and JR Hott is proud to say that he has a diverse team and offers employment opportunities to female pilots. "Our female pilots are proving to be very focused on the job. I do all I can to not have them battle any stereotypes," he states and explains that they stand equal to their male colleagues.
This season, Heidi McBride and Chynna Rosett joined the team.  Kristen Stonecipher worked last season and is a part-time pilot this season. With career paths and goals far from ordinary, all three agree that flying in Panama City Beach is a dream come true.
Heidi McBride has been flying for five years. She moved from San Diego to Alaska and is now in Florida in pursuit of her career. "I started out in aviation when I joined the U.S. Coast Guard back in 2002 when I was 18.
I served active duty for eight years and was a crew chief on MH 60 Jayhawk helicopters." The Coast Guard uses a fleet of 42 Jayhawk helicopters for offshore emergency rescue missions and can safely transport up to six passengers in addition to the crew. "As an avionics technician, I flew around in the back of a helicopter for about six years," she says as if it was the most normal thing in the world. She decided to pursue a career as a pilot and left the Coast Guard in 2011. Several years of civilian flight training followed. She obtained her commercial rating in 2015 and is also certified to fly single engine land airplanes. "I have also had nine years of experience as an aircraft mechanic," she adds.
Chynna Rosett says that the first time she flew in a helicopter; she knew she wanted to be a pilot. She was 15 years old at the time. "Thanks to JR, I am now a helicopter pilot," she states. "My family lives in Louisiana. JR came to Shreveport and did helicopter tours and I flew one tour and loved it. My mom spoke to him and he suggested that I take a flight lesson. After that I was hooked." As enthusiastic as Chynna was, her mother prayed that the idea was just a fluke, but Chynna was determined. "It just took that one little flight lesson. I begged my mom for two years to let me go to flight school. It took a lot of convincing. I couldn't really start flight training anyway until I was 17, but I begged her every single day until she finally said 'all right.'" In the years following, Chynna juggled school and flight training. "When I got my private helicopter rating, I stopped because I had to go back to high school for my senior year, but I picked the helicopter training back up over the summer. Then during my senior year, the beginning of 2012, I started training in airplanes, went through my training and worked up to my commercial rating. After college, I went back and finished my training at Bristow Academy for my instrument, commercial, CFI (Commercial Flight Instrument) and my CFII (Commercial Flight Instructor Instrument)."
Originally from Logan, Utah, Kristen Stonecipher fell in love with flying during an introductory lesson that was offered at her hometown's flight school. Her parents and friends were very supportive from the start and encouraged her to take flight lessons. After graduating from high school, she sent an application to Embry Riddle Aeronautical University in Arizona. She was 18 when she started and had quite the resolve. "I did not even apply to any other college," she states.
After earning her degree, she went on a job hunt and met JR Hott at Helicopter Association International's Heli-Expo in Orlando. "He was looking for a summer pilot," she remembers. Kristen started working at Panhandle Helicopter last summer. She is now 21 years old and has found full-time employment as a pilot at Panama City Beach-based tech company Edge Aerodynamix (see page 65) where she is gaining flight hours on multiple types of aircraft.
Apart from the obvious passion for the job, Chynna, Heidi, and Kristen know that they have made smart career moves. Pilots are much sought after, Heidi explains. "It is absolutely true that the military has provided a significant percentage of the pilots that are flying helicopters today. Just like the airlines are experiencing a shortage of pilots, the helicopter industry is experiencing the same shortage. The industry is actually looking to a younger generation to fill those positions."
According to news headlines, airlines will be facing a pilot shortage as fewer people seem to be interested in the profession.1 But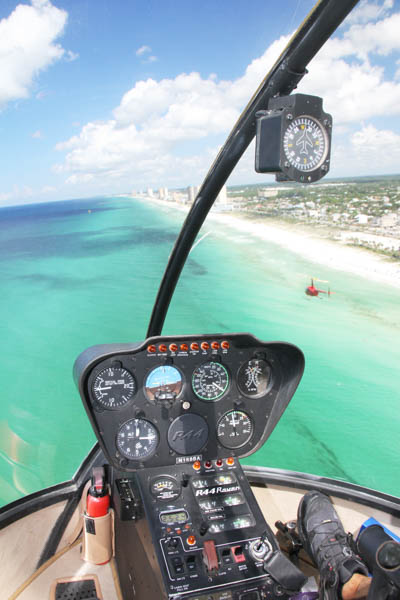 female pilots are still in the vast minority. Heidi says, "There are hardly any female commercial pilots in Florida. I think the percentage worldwide is actually about 5 percent. I believe out of all pilots 10 percent of them might be women, and probably 5 percent of those pilots are helicopter pilots.
So, it's a very, very small niche of female helicopter pilots in the world. To have two of us here, working for the same company, is a huge percentage."2
But do they want to fly for the rest of their lives? Chynna gets this and similar questions all the time. "People are asking me 'Are you going to be a career woman or are you going to have a family?' I have friends who went to flight school and when they got all their ratings they decided to do something else or might have wanted to have a family. But I think you can have both."
All agree that at this point they are definitely pursuing a career. "That's why we're here. Not only having a great time, but to build flight time. That's why we started flying in the first place and, hopefully, soon we'll be flying bigger helicopters and really making our mark on the industry."
Kristen reflects that the advice she would give others who are interested in a career as a pilot is to consider carefully if it is something they can commit themselves to. "There is a lot of studying and hard work. As a female pilot, you can't get intimidated by the fact that the industry is male dominated. If it's something you want to do, then you can't let anything hold you back. The industry does not hold us back; we are the ones who hold ourselves back. It's a matter of mindset. People are respecting if you are showing your determination and they will not treat you differently because you are a girl. I felt treated as an equal in flight school and in my jobs."
All three are weighing their options for the future and they agree, "The exciting thing about the helicopter industry is that there are as many jobs out there as you can possibly imagine. You can work on inspecting power lines, firefighting, and EMS. There are many other companies who are looking for pilots worldwide."
But Florida is a good place for them right now. "It is really hard to get jobs coming straight out of flight school," Heidi explains. "I am grateful for the opportunity here. Who would turn down Florida?" Chynna hears compliments all the time. "My friends and old classmates think it is the coolest thing. I definitely have a lot of people asking me, "When are you going to take me flying?" And I usually respond, "Come see me in Panama City Beach, Florida."
Go to www.Panhandlehelicopter.com for more info about the business. Find out more about women in aviation at www.wai.org.
Sources:
1http://www.bloomberg.com/news/articles/2016-06-29/shrinking-pool-of-future-pilots-keeps-major-airlines-on-edge
2www.wai.org/education/resources/women-aviation-stats