Historical Photos Courtesy of the Bay County Library Local History Room
– – A first time visitor to our area will not know to distinguish between Panama City and Panama City Beach. The addition "Beach" might only be an indicator for the location of the sandy shoreline and this is where Panama City Beach found its origins, in the enjoyment of the clear waters and white sandy dunes. Panama City Beach's origins and a selection of historical milestones, with focus on the most enjoyed, are highlighted on the following pages.
Early Days
The Long Beach area had been homesteaded by Hubert Brown in the 1920s. W. T. Sharpless purchased land there about 1928 and became a partner with Brown when they purchased a building known as the Pavilion. They moved it, from what is now Shell Island, over the sand by mule and wagon. The building had a  huge wooden floor above some bathhouses, which were rented. J. E. Churchwell purchased Long Beach, which included 220 acres, from them in 1932 for $10,000. He constructed some rental cottages and dug a well for a water supply. Later he built the famous Hangout by the beach. 1
Harry Edwards built Larkway Villas and the Lahans developed Laguna Beach.2
First Hotel
Just east of Long Beach, Gideon Marion Thomas purchased 104 acres in March 1935 and began construction of a 12-room, 2-story hotel, which he named the Panama City Beach Hotel. He had moved there in February from his 2,000-acre deer farm on Camp Flowers Road. Included at Panama City Beach were some cottages, a water supply, three windmills, and a 1,000-foot pier. Unfortunately Gideon died in 1937; his daughter, Claudia, and her husband, Angus W. Pledger, continued the development. Later they built the famous entrance arch that welcomed everyone to Panama City Beach. In 1939, a post office was approved for Panama City Beach and A.W. Pledger became the first postmaster.1
First Mayor
On May 11, 1953 the towns and communities were Long Beach, Edgewater, Gulf Beach, Panama City Beach and Dutchville. On May 12, 1953, Playville and Julia were added.2 In 1953, Panama City Beach was incorporated. In the first election, Claudia Pledger was elected mayor. That same year, Thomas Drive was named for her father, Gideon "Gibb" Thomas, who had developed the original Panama City Beach and whose land was used to create part of Thomas Drive. On June 30, 1959 West Panama City Beach was added. On August 12, 1970 Long Beach, Edgewater, old Panama City Beach and West Panama City Beach became Panama City Beach.2 Mrs. Pledger, the matriarch of the Pledger family, lived to be 105 years old.
Hathaway Bridge
In 1929, with the opening of the Coastal Highway (now U.S. 98) and the Hathaway Bridge, the land connection was made to those beautiful white-sand beaches to the west of Panama City. That ended the ferry rides, boat rides, or that long drive around West Bay to get there.1
Jetties
Until the new pass was cut in 1934, the channel from the Gulf of Mexico into St. Andrews Bay was too shallow for large boats and steamers to enter far enough inside the bay to dock. To make St. Andrews Bay a viable port for business interests, a project was approved by the Army Corps of Engineers to widen and deepen the entrance channel to St. Andrews Bay.
Work was done from 1935 to 1937 to make this approach channel that was to be 450 feet wide and 29 feet deep, and protected by two jetties, each approximately 100 feet long. At that time there were no roads to the spot of the construction, so workers had to make a 6 mile boat trip each way to get to work every day. The many tons of marble and granite were transported from Birmingham and Sylacuaga, Alabama by train to Bay Harbor. From there the materials were transported by barge to the job site.
During early 1937 a short railroad, approximately 3,100 feet long, was built from the west beach to the jetties to facilitate work on this project. (…) This is still touted as the only marble channel in the world.2
Long Beach
J. E. Churchwell continued to build his empire, which is remembered today as Long Beach Resort. The development there grew to include cottages, a casino, a restaurant, amusement rides, a skating rink, mini golf, a barber shop, a grocery store, a gas station, a souvenir shop, a shooting gallery, Petticoat Junction, Ghost Town, and, of course, the Hang Out.1
Amusement Parks
Long time visitors and residents will joyfully remember the amusement parks with their rides and iconic and often gigantic fiberglass constructions. Goofy Golf is the only still standing attraction from the old days. It was built and remains almost the same as on the day it first opened in 1959.
Churchwell family's Petticoat Junction amusement park, and Lee Koplin's Tombstone Territory were both named after popular TV shows. What would become the Miracle Strip Amusement Park had begun some time after World War II. Jimmy Lark came along in 1963 and built the Starliner, a 2,403-foot roller coaster. Other additions came later as he began to enlarge the park. The Miracle Strip Observation Tower was built in 1967.1  The two hundred foot tall tower was opened in April 1966 and was officially known as Top o' the Strip. By 1995 the tower had fallen into a state of disrepair and the elevator had stopped running.2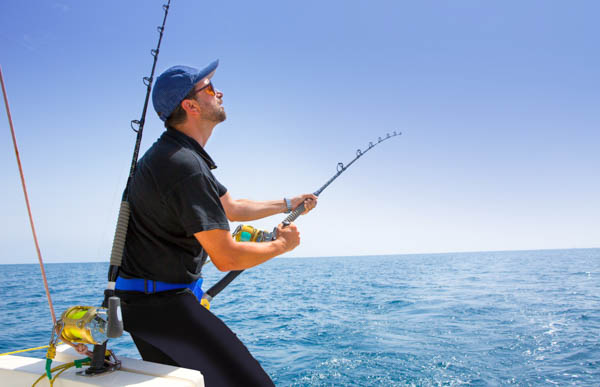 Recreational Fishing
The tradition of recreational fishing is intrinsically linked with Florida's identity, ( ) The number of saltwater anglers in Florida exceeds that of any other state in the nation (United States Department of Commerce, NMFS). During 1999, an estimated 2.4 million anglers went on 19.5 million saltwater recreational fishing trips. These anglers harvested 60 million saltwater fish, while an additional 75 million fish were caught and released. In addition, Florida ranks eighth among all states in terms of the number of freshwater anglers. During 1996 (the most recent data available), a total of 1.1 million anglers engaged in freshwater fishing activities in Florida, spending 18.4 million days fishing while taking 16.5 million freshwater fishing trips (United States Department of the Interior, Fish and Wildlife Service).
In Bay County, 31,737 saltwater fishing license were sold to non-residents in the fiscal year 1999-2000. It put Bay County on fourth place in a top ten list of other Florida Counties.  Only Colier, Lee and Monroe County sold more saltwater fishing licenses.3

Condominium and Hotel Boom
The early days catered to the local, small, family-owned and operated hotels, motels and cottages. During the 70s and 80s the tourism industry continued to develop with new and more modern hotels and condominiums. Today it has become a year round premiere destination for millions of visitors from all over the world.
To meet the growing demand to attract tourists, a Bed Tax Referendum was passed in 1986 and the Bay County Tourist Development Council was formed. In 1998, the Panama City Beach Convention and Visitors Bureau was formed, and contracted with the TDC to perform tourism promotion, which remains the same today. The CVB has worked through the leadership of the Board of Directors to market Panama City Beach as a resort destination and their efforts have paid off with new development of hotels, condominiums, restaurants, retail stores and year round events.2


Northwest Florida Beaches International Airport
In the early years of Bay County, several private airports operated followed by a municipal airport operated by the city of Panama City. Northwest Florida Beaches International Airport opened May 23, 2010 with service provide by Delta and Southwest Airlines. The airport was an integral part of the previously approved West Bay Sector Plan formulated to develop a large tract of land surrounding West Bay. The airport is operated by an Airport Authority established by the Florida Legislature with representation by members from Panama City, Panama City Beach and the counties of Bay and Walton.2
Sources
1Weeks, J. D. (2005-10-12). Panama City (Postcard History Series), Arcadia Publishing. 
2http://www.baycounty100.com/Moments-Bay-County-Archive.aspx
3Recreational Fishing License Sales in Florida: 1990-2001; by Kristina Stephan and Chuck Adams, University of Florida, Institute of Food and Agricultural Sciences (UF/IFAS)
Leave a Reply
comments
Powered by Facebook Comments