BY VAL SCHOGER; PHOTOGRAPHY BY VAL SCHOGER, MATT KOEHNEMANN
Lake Powell is considered the largest Coastal Dune Lake in Northwest Florida. To the east, the lake borders on Camp Helen State Park with the Gulf of Mexico on its south side.
With its ever-changing mix of salt and fresh water, Lake Powell, has a unique biodiversity. It is the perfect place to explore nature in Bay County and enjoy one of its most tranquil settings.
Gabriel and Natalie Gray did just that in 2011. They explored the local waters on their standup paddleboards. "We were paddleboarding on Lake Powell and there were boaters and people on jet skis but we were the only ones who could really enjoy the quiet and the peace of the lake." They decided to start their own business, Walking on Water (WOW) Paddleboards, in Carillon Beach to share their experience.
Standup Paddle Boarding, or simply SUP, is one of the fastest growing new sports. From its purely functional origins of transporting people or food in the island nations of Africa and Asia, to surfing the waves in Hawaii where surf legends Laird Hamilton and Dave Kalama help perpetuate paddle boarding, to the mainstream sport it is today.
Natalie and Gabriel were early adopters and, what started as a hobby, flourished into a business. Natalie recently completed her degree as a physician's assistant and Gabriel works as a firefighter for South Walton Fire District. According to him, paddle boarding is an easy sport. "We have had everyone on paddleboards, from 4 to 80 years old," he says.
Standup paddle boarding quickly went beyond recreational aspects for Gabriel. "I grew up on a farm playing in the woods and local waterways, so it was natural for me to gravitate towards the expedition side of the sport."
The expedition side is definitively not for beginners. Gabriel will travel to secluded areas of the country, packing only his paddle board, the bare necessities, light gear, GPS, hammock, tools, knives, a spare paddle, and fishing gear. Food is mostly sourced while underway. The journey down a river usually takes up to a week. Gabriel is sharing his latest adventure on page 50.
But there is a more somber side to Gabriel's expeditions. The enthusiasm for the sport and the exposure to the elements led to a consciousness and awareness that both Natalie and Gabriel knew they had to share with others. Paddleboarding has become more than a way to exercise and explore. They were made aware of fracking and the potential dangers it could have for our local rivers and the groundwater in Northwest Florida and started project Fight to SOAR, Save Our American Rivers. They hope to raise awareness about the imminent danger the permitting of fracking would have. "When I first found out about fracking in Florida I was not seeing a lot of exposure about the problem. We are trying to get the youth reconnected with the outdoors and aware of the problems they might have to face. Water is the number one resource in the country and we have to protect it. To date, seismic testing is allowed in our area, even if fracking is banned. The negative impact of fracking was proven in Colorado and other areas where fracking is allowed, and our geology is much different. The Floridan Aquifer is connected throughout Florida and our karst topography acts much like a sponge. There is high potential for a catastrophe if we allow fracking."
In April 2016, one of Gabriel's expeditions will lead several like-minded people down the Chipola River to raise awareness about impending plans to permit a Texas-based oil company to conduct seismic testing in Gulf and Calhoun County. The proposed area is comprised of one third wetlands. Permission for testing was sought along the Chipola River and Dead Lakes. At the time this article was written, a hold had been placed on the permitting procedures. While the Gulf County Commission banned fracking in 2015, the Calhoun County Commission did not ban fracking. It is an ongoing concern.
"Whenever Gabriel does an expedition, he meets people along the way with high interest and curiosity, young people are especially interested," Natalie explains.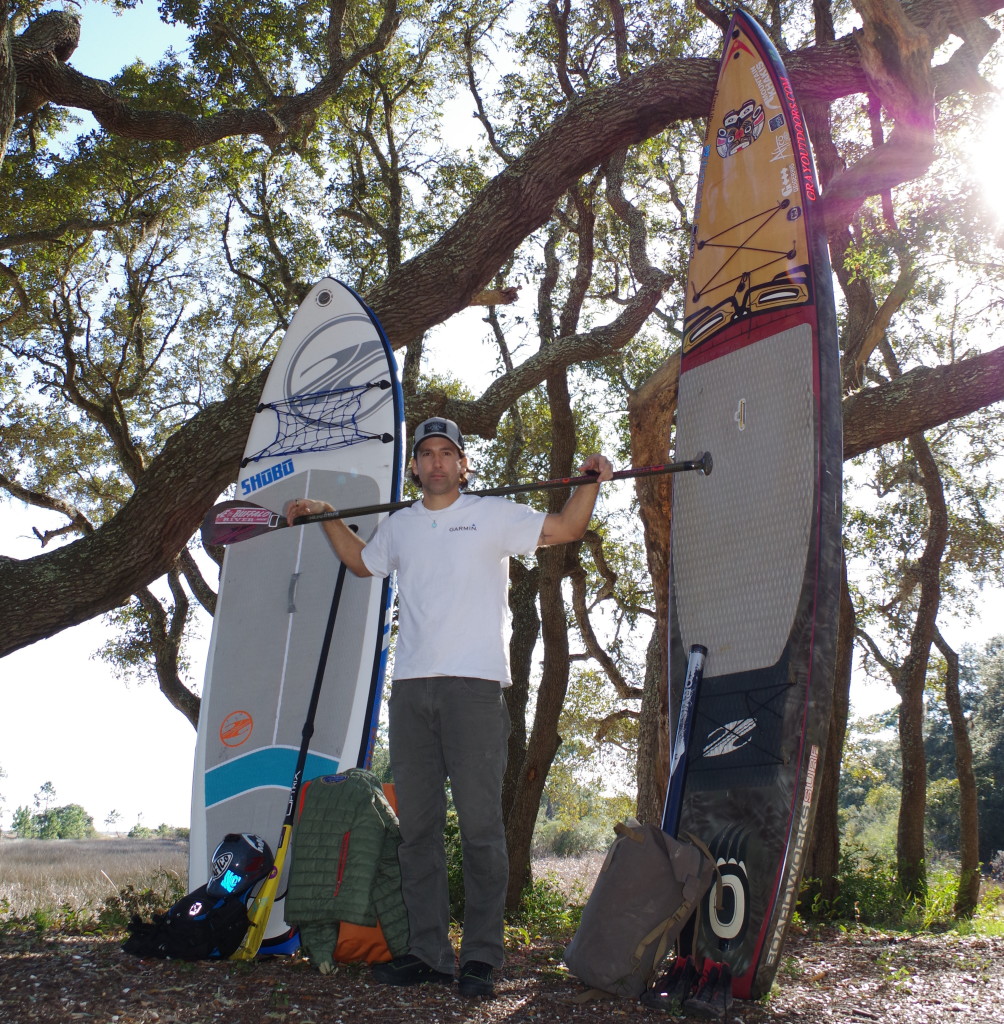 "People also pose the biggest threats while on the water," says Gabriel. "I can deal with any type wildlife, and bears and other animals don't scare me.  Except, there was this one instance. I slept in my hammock one night and without warning, a raccoon put both of his hands on my back and pushed me, I jumped out of my skin," he laughs. He recalls an instance where he was on the water and passed a group of young kids along the river. They were loud and were drinking. He felt uncomfortable. "The most dangerous and unpredictable threats are still humans," he knows.
Leave a Reply
comments
Powered by Facebook Comments