By Nick May, Photography by Michael Booini

For most of us, "Kombucha" is one of those things we just haven't gotten around to defining yet. Maybe you bought a bottle in the supermarket, just out of curiosity. Maybe it's on your list of obligatory things to try. You know it's some sort of beverage. But did you know it's being produced locally? Stephen and Summer Kole began brewing and bottling Kombucha from their Panama City Beach home a few years ago and have since partnered with a handful of local businesses, cafés and stores to sell small batches of this refreshing and healthy beverage and branded it Noli South Kombucha.
Okay, first thing's first: What is kombucha?
A fermented tea beverage. Basically, it's a solution of tea, sugar and SCOBY (symbiotic culture of bacteria and yeast), which is used for fermentation. It's not dense like a smoothie. It's more like a soda or beer replacement. People drink it with their meals.
What does it taste like?
Like an all-natural, sweet/sour soda.
Was making Kombucha an instant success or more trial and error?
We had a bit of trial and error for the first couple of years while we were brewing it at home. We had everything from flat kombucha to exploding bottles. We had a lot of fun experimenting with different flavors. But it wasn't until we perfected our process and our recipes that we started to share it with our friends and family.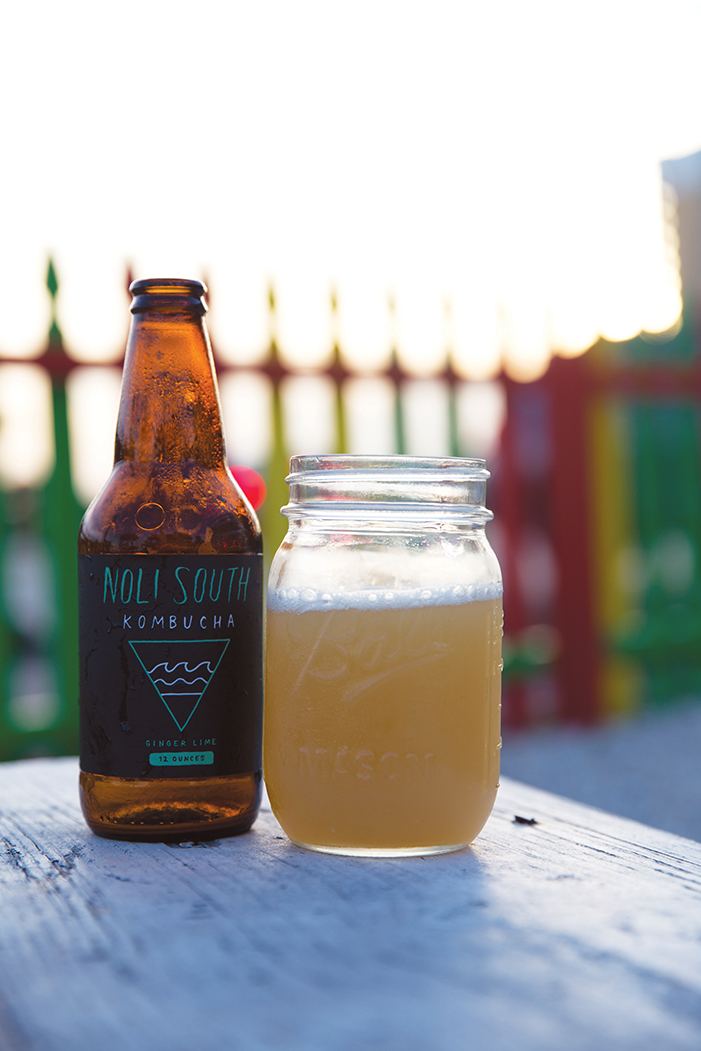 How is it made? 
First, we introduce the SCOBY to the sweetened tea, which, after about fourteen days, turns it into kombucha. Afterward, we add our cold pressed fruit juices and cap it for better carbonation.
Do you have to comply with certain rules? Can you deviate from recipe to recipe?
We do have to comply with a lot of safety rules, which requires us to closely monitor our kombucha. But as far as the recipe goes, that part is pretty much in our hands.
How long does it take to make a batch?
We let the brew tell us when it's done. We are always tasting and monitoring it. Usually, the batch takes two to four weeks.
How often do you make it?
Every 10 to 14 days.
What are some benefits of drinking kombucha? 
It's a good source of B vitamins, Vitamin C, probiotics, amino acids. It's raw/vegan. It gives you energy. It helps with digestion. It helps to balance PH levels and increases strength, etc. It's the same energy you get from caffeine, only, it's slow-burning and healthy.
Can you describe some of the different flavor profiles?
We brew Ginger Lime, Blueberry Lemon, Hibiscus Grape and Carrot Orange, all made with tea blends we created and different cold pressed juices.
Which flavor is the best seller?
The Ginger Lime is always number one. Hibiscus Grape and Blueberry Lemon are tied for number two. Our newest one, Carrot Orange is sure to make some kombucha lovers go head over heels. We have been testing it on draft at Finns Barista Bar, and people are falling in love with it. It's our new fav!
How did you get into the business?
We started drinking kombucha back in 2012. We enjoyed it, but we thought the commercially-brewed brands were too expensive, so we tried making our own at home and sharing it with our friends. From there, it just grew as a result of demand, but we've kept to the small batches, because we care most about the handcrafted quality and really putting our hearts into it. It took us about six full months to become an official, certified business with a commercial kitchen. Noli South got its name after our daughter, Magnolia.
Where can someone buy your product?
We started selling Noli South first at Finns Barista Bar, eventually expanding to Amavida Coffee & Tea and a few other places. We're in about 20 different locations now.
We don't ship or sell online, because Kombucha needs to stay refrigerated for carbonation purposes. You can buy from restaurants and cafes like Amavida, Liza's Kitchen, Wild Root, Finns Island Style Grub, and stores like Twin Oaks Farm Stand in Grayton Beach, and others.
What else is there to know about the "Made in PCB" aspect?
Well, summer is a true PCB native, born and raised here. She even has the local Native American blood in her. I moved here 25 years ago. We love our town and are passionate about supporting our community. PCB is a small town. We are a small, family-run business. So to us, "Made in PCB" is a little representation of the passion and hard work that we put into growing our business and educating our community on gut health.
What other advantages are there to buying local Kombucha?
The local production is cutting out fuel and distribution costs and is more sustainable. We also accept bottle returns in order to recycle and reuse as much as we can on a small local scale. We take pride in knowing our trash impact is super minimal. We recycle all cardboard, reuse every bottle that is returned to us, and compost everything that is compostable in the manufacturing process.
What would you say to people (like me) who are apprehensive about trying it?
Just give it a try. Some say it's weird. Others love it right away. The people who are scared of it at first typically only have good reactions.
What do people say when they taste Noli South Kombucha vs. other brands?
We really only get great responses from established kombucha drinkers. A favorite was something along the lines of: "A perfectly balanced sweet and sour." One of the most common (and one we really like to hear) is when people tell us they have tried kombucha and can't seem to acquire a taste for it and then they try ours and love it. A great response is also, "For being such a healthy beverage, I thought it was going to taste terrible. This stuff is delicious!"
Will you be expanding into different products and/or markets?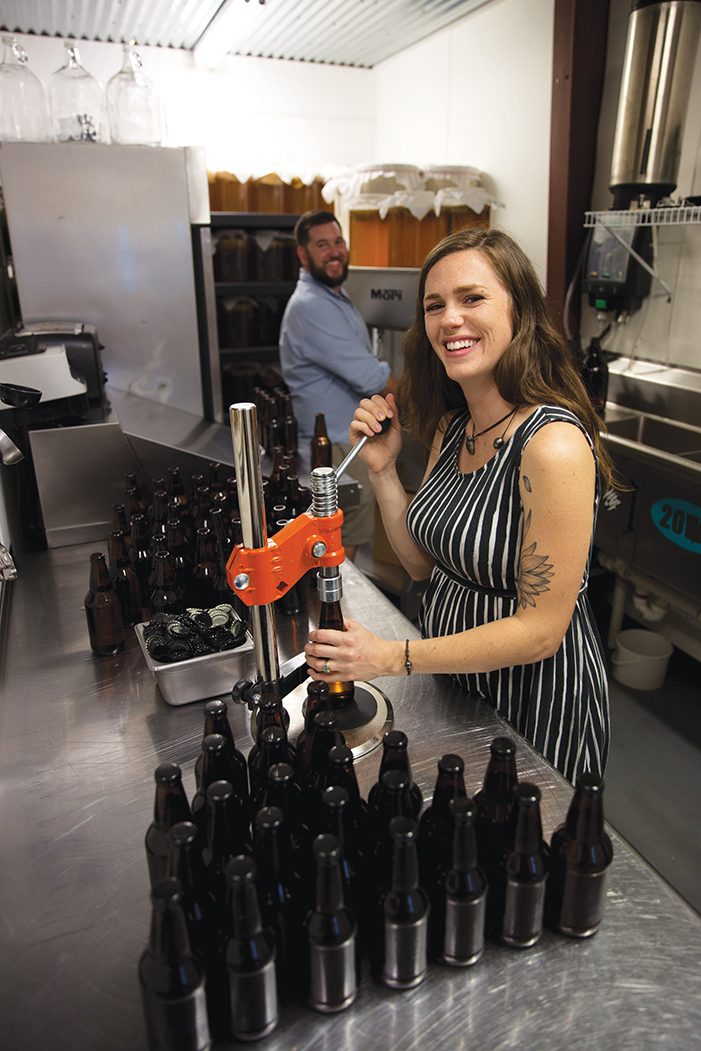 Maybe another flavor. But as far as other products, we plan to pretty much stick to kombucha, with the demand being as high as it is. We'd like to expand to other parts of Panama City and 30A, maybe even to the Pensacola area.
What does the future bring? Is growth and the production for Supermarkets in your plans?
We hope to see growth. We already have seen a lot more than we expected, just in the six to seven months that we've been in business. We don't intend to be on the shelves of mainstream supermarkets. We target local businesses or businesses that are supportive of the local communities. The closest we would want to get would be panhandle organic Co Ops and Whole Foods markets.
What's your goal for the next five years?
Wow, we haven't discussed a five year goal yet. We, as a family, are constantly setting goals, but they are ones that we work towards accomplishing as quickly as we set them. It makes it to where we are always working towards bettering ourselves and our business without being too overwhelmed. Some long-term goals are to get a larger work area that will be certified USDA organic. We'd like to produce enough kombucha to sustain our family financially without other means of income. We are working on building up our consumer base west of PCB, and after we are established that way, we intend to spread east. We are thinking in a 100-mile radius. Pensacola to Tallahassee. Right now, we just want to continue to make the best kombucha out there and to connect consumers' minds and guts.
Check Instagram, Facebook, and http://www.nolisouth.com/ for more locations and info!
Leave a Reply
comments
Powered by Facebook Comments