By Katherine Mapp and Dan Broadstreet, NSWC PCD Public Affairs
PANAMA CITY, Florida – The Joint Services Maintenance Interservice Support Management Office (MISMO) has determined the Naval Surface Warfare Center Panama City Division (NSWC PCD) is uniquely positioned to function as a depot for the MH-60S Seahawk Carriage, Stream, Tow and Recovery System (CSTRS).
The ultimate goal is to deliver a total of 42 CSTRS kits to the fleet by FY17 with Full Depot Capability required to be available by Oct. 1, 2019, according to NSWC PCD CSTRS depot manager Torger Reppen.
"Independent assessments performed by Naval Air Systems Command (NAVAIR) indicated NSWC PCD is expertly qualified to transition from acquisition to sustainment," said Reppen. "This NAVAIR facility on a NAVSEA base, NSWC PCD, makes the CSTRS depot the first of its kind in Panama City."
Assemblies the depot are expected to support include CSTRS subassemblies such as: base structure assembly, carriage/deployment kit assembly, automated secondary winch, actuation mechanism guide assembly, sheave system assembly, cable catch assembly, hydraulic winch assembly and a levelwind assembly. In addition, there is a Winch Control Assembly (WCA), which will interface between the operator and winch.
"The WCA is an intricate electronic box that is already 100 percent designed and manufactured at NSWC PCD," Reppen said. "This was certainly a factor in NAVAIR's decision to send the entire depot work here."
According to Reppen, CSTRS is designed to employ/deploy an Organic Airborne Mine Countermeasures (OAMCM) sensor from an MH-60S helicopter. It is configurable for a deployable Airborne Mine Neutralization System (AMNS) and a non-towed Airborne Laser Mine Detection System (ALMDS).
In addition there is prominent interest from the Department of the Navy to add an unmanned underwater vehicle (UUV) capability very soon. All these systems are minimizing danger by taking the warfighter out of the minefield, according to Reppen.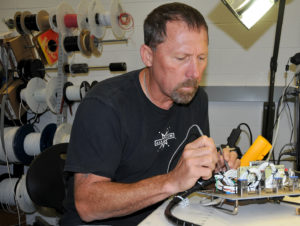 "Once these systems are fully delivered to the fleet, every three years they will need to come back for an overhaul, which is what establishing this CSTRS depot facility has as its primary focus," said Reppen. "So, when the system is broken or damaged, the fleet will be able to send it back here to NSWC PCD to be fixed."
Reppen described how NSWC PCD is uniquely staffed and equipped to meet the needs of the fleet, particularly regarding how CSTRS helps facilitate the OAMCM mission requirements.
"Because NSWC PCD is the original equipment manufacturer (OEM), we have subject matter experts who know best how to provide a complete kit," said Reppen. "NSWC PCD will be responsible for production contracting, test support, depot maintenance, kit shipment, trouble shooting, data analysis, performance, correction of deficiencies, logistics documentation, baseline system documentation, as well as configuration control of all existing assets."
Although Reppen said becoming a depot for the CSTRS system is rewarding, it is mainly achieved by NSWC PCD's high-performance engineering that earned their notoriety as CSTRS subject matter experts.
"Over the years, the MH-60S team has had a large number of top-notch leadership and engineering talent. And I find that talent everywhere I go at NSWC PCD. Our job isn't just showing up, and doing engineering well. Our job is to give something to the warfighter they can rely on," added Reppen. "It's that kind of feedback from the fleet that motivates our engineers. It's knowing we're doing our part to keep the warfighters out of danger."
Leave a Reply
comments
Powered by Facebook Comments