Photography by Candace Nelson
Alex Gentili and Hannah Nix became friends while growing up in Panama City. Their life-long friendship remained strong even when they enrolled at different universities. During Hannah's senior year at Troy University, Alex and his two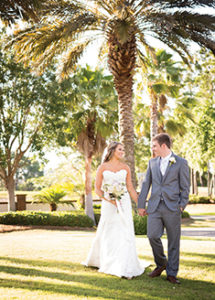 brothers visited the campus to attend a Troy football game. Hannah remembers thinking, "Alex is such a great guy, whoever ends up marrying him will be a lucky girl!" Many months later, when Hannah returned to Panama City after college graduation, her path often crossed Alex's. They were in the same Sunday school class, attended the same Bible study group, played on the same indoor soccer team, and were in the same social circles. The more time they spent together, the more their friendship transformed into something deeper.
When Hannah and Alex started spending weekends together, although they both knew that there was mutual romantic interest, neither was bold enough to broach that subject until a fateful Thanksgiving two years ago. After texting extensively over the holiday, they finally admitted their affection for each other.
"Dating Alex was such a fun journey with many smiles, laughs, and memories along the way," Hannah says. After a year, they both felt ready to take the next step. Alex formally asked Hannah's father for her hand. After receiving his blessings, Alex began planning the perfect proposal, with the help of his and Hanna's parents. On November 25, 2016, at Hannah's favorite location, the pier at her grandmother's house in Orange Beach, Alabama, Alex popped the big question. "From the time Hannah and I first started dating, she shared many memories of her Mamaw's house. Every story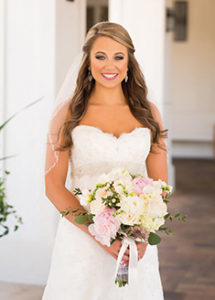 centered around the water and, specifically, the pier. Throwing the cast net, cleaning fish, sun tanning, jumping off the end of the pier when she was little, the list went on. I knew that her grandmother's place was pretty special to Hannah. After visiting it personally, I understood why this was Hannah's heaven on earth. When I thought of the most special place that was close to her heart, it was a given that I would add one more memory to her list."
On that special Thanksgiving, as always, Hannah's family visited her grandmother. They decided to go out for breakfast the next morning. As the bride's family ate breakfast, the groom's family traveled to Orange Beach to transform the end of the pier into a perfect spot for a proposal. When Hannah returned, pulling into the driveway, she remembers seeing Alex at the end of the pier under a beautifully decorated arch with rose petals lining the sides of the pier. Laughing happily Hannah says, "Walking down the 100-foot pier seemed to take an eternity! Alex got down on one knee and asked me to be his wife! It was absolutely perfect!"
The Nix/Gentili wedding was held at Emerald Coast Fellowship in Lynn Haven, where both families are actively involved and Alex is the college minister. The bridesmaids wore dresses of the same soft, petal pink color, yet their individuality was reflected in the variety of beautiful and elegant dress styles. As the couple shared the Lord's Supper during the ceremony, they were joined by their parents as the fathers of both bride and groom prayed, blessing their marriage. The reception, with an outside bay front view, was the perfect setting for a reception filled with laughs and happy memories.
Hannah is reminded daily of how fortunate she is to have Alex as her husband. "Alex is the most loving, patient, compassionate, and selfless man I know. He strives to be more Christ-like every day. I feel loved," she says.
Alex similarly says, "Hannah is the best thing that has ever happened to me. When I look at her I just cannot help but to smile. She makes me understand what true love is. I thank God every day for blessing me with the opportunity to get to have life with her every single day. I look forward to loving her every day and cherishing the moments we spend together."
Currently, Hannah works at the Navy Base and Alex is the College Director at Emerald Coast Fellowship. He plans to continue his education by pursuing a master's degree at New Orleans Baptist Seminary. His goal is to be a full time pastor upon graduation.
Leave a Reply
comments
Powered by Facebook Comments