By Silvia Rueda and Patti Smith, Photography By Sonja Revells and Tyler Admunsen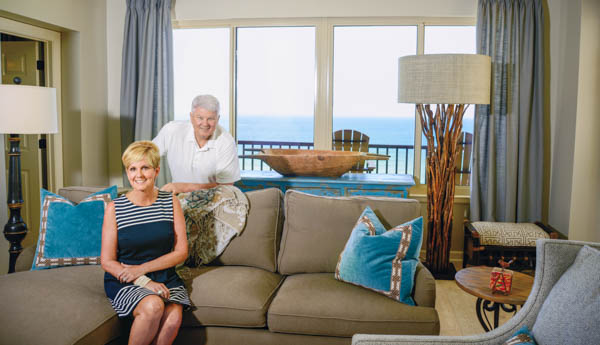 Entrepreneur and television star Lori Burns Allen enjoys a perfect beach getaway with breathtaking panoramic views of the Gulf of Mexico. She walks through her home-away-from home with the same air of elegance and sassy, upbeat spirit she is known for on TV. Her successful business, Bridals By Lori, a three-story showroom of designer formalwear, serves as the setting for TLC Network's "Say Yes to the Dress: Atlanta." The highly popular show follows Lori and her coworkers as they help brides find their perfect wedding gowns with all of the resulting motions and emotions. Now in its 10th season, "Say Yes to the Dress: Atlanta" airs all over the world.
Lori Allen is known to get personal on the show, even documenting her breast cancer battle in a special episode titled "Say Yes to the Cure: Lori's Fight." In real life, just as on-screen, Lori is outspoken, easy to relate to and approachable. For three decades, Panama City Beach has been Lori's paradise, a sweet escape from the busy life in Atlanta and it is the place where she regained strength during her cancer battle.
As soon as the ink dried on the condo's closing contract in May 2015, Lori and husband Eddie Allen started top-to-bottom renovations. This is their first summer season with the waves crashing just beyond her balcony, and Lori invites us on a tour of her new home and tells us about the joys of condo ownership, her career, and family.
PCL: Is this completely different from your home in Atlanta or do you follow the same style?
Lori: No, it's completely different. You will find more off-whites at our home in Atlanta. It's not traditional but this is different.
PCL: Why did you choose a condo and not a house?
Lori: We didn't want the upkeep – we've got a big house in Atlanta with the pool and all the maintenance, and we own the building where "Say Yes to the Dress" is filmed so we have enough to take care of.
PCL: How long did you have to look for the condo?
Lori: I looked at this particular condo for two years. We walked in here and I told Eddie, I've got to have this condo because of the view. So we looked all over the beach for a large condo but I kept coming back to this one.
PCL: It sounds as if you had the same experience your brides have when they are making the connection with their perfect dress.
Lori: I connected, you're right! I'm as bad as a bride! Nothing was going to do 'til I had it [this condo].
PCL: Who worked on the renovations with you?
Lori: Well I had two people. I had a designer out of Atlanta, but she became ill so my daughter and I did a lot of it. She is the marketing director of Mohawk Flooring Company.
We worked with someone locally as well.
PCL: What was your foremost consideration for designing the condo?
Lori: It [the condo] really is kid-friendly. My daughter and her husband have two girls, Caroline is one and Charlotte is 4 years old. They vacation with us frequently. There's not a lot of dangerous stuff for them here. We tried to think of the children in every room because this is a family condo, and I wanted them to come down and be comfortable, too. My son recently married so maybe one day he'll have and bring his children, too.
PCL: What were the major changes and custom elements implemented?
Lori: We gutted the entire condo and have redone everything. We even moved walls. I wanted a dressing room area and we modified the closets accordingly. We took out the bathtubs, and put in big showers in both bathrooms. None of us are coming down here to take long baths. I say, "Take a shower and let's go. If you want to take a long bath, go home!" The children have their own room with lights underneath the beds and plugs for their iPhones and all that sorta thing. So they like their room, especially the little 4-year-old. She thinks it's a cave. There is a water view from their room, too. Lastly, we made an office for Eddie, because you know he thought he might want to work while here.
PCL: But you're on vacation!
Lori: Yeah no, but you never really get away from your business.
PCL: How long have you been a part of "Say Yes to the Dress?"
Lori: We started filming in February of 2010 and we are now getting ready to start season 10. Our show airs in more than 100 countries. So I speak southern Russian, southern Spanish — whatever, ­­I speak it!
PCL: How did you become a part of the show?
Lori: They contacted us. There aren't many stores the size of ours. This is my 36th year in business. I started two weeks after college in a thousand square feet and now my store is five times that size, it's 25,000 square feet. When we are filming, the film crew consists of about 12 people so you've got 12 people with five cameras and sound and people are running around like crazy in carts and we're trying to do business at the same time. We were celebrating 30 years in business when TLC asked us to be a part of the show. I have worked very hard, nothing has been given to me and there is a selection process where the business is evaluated. Our business matched their brand. I consider myself the girl-next-door who works really hard and good things happen.
PCL: What do you think makes the show such a success not only with brides-to-be, but to everyone?
Lori: I think that our show has a lot of heart. We have brides that have had really sad, extenuating circumstances and we tell their story. I've had breast cancer in the time that we've been filming. One of our highest rated episodes was the one that showed my breast cancer journey, so I feel that people find I am very approachable.
PCL: What role did Panama City Beach play in your breast cancer recovery?
Lori: A big part in my recovery! We would come down and we would go to my parents who live in the building next door to ours (we didn't have the condo yet) and I would just sit and chill out and I loved it because Eddie would just go get me food and bring it back. That's the one thing about being on TV. When you leave here and you walk out the door you're on. Everybody thinks they know you and everybody stops you. It doesn't matter where you are – you're on. It's part of the show and I don't mind it. I love everybody, don't get me wrong, but I can't just go out looking junky anymore.
PCL: Do you get recognized a lot when you come here?
Lori: Oh my gosh! We went to a local restaurant the other day and, I mean, people were lining up! I'm like, okay girls, let's go!
PCL: Do you get a lot of brides from Panama City?
Lori: I get a ton of brides from Northwest Florida! I talk to the brides and tell them 'I'm down there all the time,' and then we talk about Panama City. We actually draw people in now from all over the world because of the show. They see our selection and we've just got a huge selection of couture gowns.
I remember one bride in particular from Panama City, she was the sweetest and so nice to work with, Mariah Baker. [See this issue's wedding feature here] PCL: What are some of your favorite things to do in Bay County?
Lori: Nothin'! [laughs] Okay what do I like to do… I love Capt. Anderson's! I go there a lot and we go all over eating, places like Schooners as well. We also just like to chill out on the beach and read a book. It's my place to just relax. I don't like to have an agenda while we're here. We do a lot of fishing. We've got two boats here. The boys like to go out on the boat, well I go out too and get a suntan.
PCL: Do you go out to Shell Island?
Lori: Yes, we do that, take the kids to Shell Island and the boys go deep sea fishing.
PCL: What do you love the most about the area?
Lori: Well there are several things that I love about Panama City, but the main thing is the beach. I mean we travel all over, and I'm like 'Eddie, let's just go back to the condo.' The ocean is just crystal clear 99 percent of the time, the sand is incredibly white and it's gorgeous. I can send the boys out fishing and they will leave us alone. I also love that if you want to shop you can. I've had fun traveling around here trying to find things that fit into the condo and that we would like.
PCL: You have been visiting the area for a very long time, 30 years to be exact. What are some of the special memories you've made in Panama City Beach?
Lori: It's just so great to have a spot where we are all relaxed. I've taken my kids out to this beach and I'm going to do the same with my grandchildren. We bought the condo for our family and I told Eddie, we'll never sell this place. It will stay in our family for generations to come. When you find something magical, a place for you with wonderful views and where you can really relax, then you can't duplicate it.
Leave a Reply
comments
Powered by Facebook Comments