By Sharon Michalik, Photography by Nick Trail
Nine-year-old Evan Fulton has not quite decided what he wants to be when he grows up, but plans to make an important accomplishment along the way. "I want to be a cop, a firefighter, or a scuba diver," he says, "but first I want to try to get
to the Junior Olympics." Evan has a strong chance of achieving that Junior Olympics dream. He started practicing gymnastics when he was only five, but quickly became a fierce competitor, according to his mother, Madeline Fulton. "My older son Alex participated in an athletic event for kids. Team managers saw his talent and invited him to join the team," she remembers. Just a few weeks later, Evan began gymnastics practice, and the same manager recruited him for the team as well.
In a typical week, Evan balances four days of practice in the gym with competitive swimming and a rigorous third grade curriculum. He is home-schooled, as he spends about five to six months of the year competing in local, state and regional competitions. During the school year, he puts in at least 16 hours a week in the gym and more during the summer. With a penchant for pasta and "green juice," Evan won Level 4 Pommel Horse State Champion in 2015. Competing as a Level 5 has earned him the 2016 Grand Champion Award at the Blue Grey Men's Gymnastics Invitational. Evan has won several events at other gym meets. In 2017 he became the Florida Men's Gymnastics Level 5 Rings State Champion and 2nd All-Around State Champion. In addition to winning "Fifth Place All Around" at the 2017 Region 8 Men's Gymnastics Championship, Evan won 2nd Place Rings and 3rd Place Pommel Horse. Region 8 is comprised of seven states and only the top athletes from each state championship who qualify are permitted to compete at the regional level.
Evan is a bit shy as he answers our questions just before one of his practice sessions at Gallagher Gymnastics in Panama City Beach. Like any third-grader he lights up when talking about basketball, the Golden State Warriors, and math, which are among his favorite topics. He also shares the fact that some of his fingers are double-jointed and "gross people out." While it's all fun in the pool and at home, Evan is a serious competitor for someone so young. Indeed, when the conversation turns to gymnastics, it's clear that he has a laser-like focus on his goals and on achieving them.
What has gymnastics taught you thus far?
Mostly, I think I've learned to encourage my teammates. It's important to have a good time, to have fun with your team.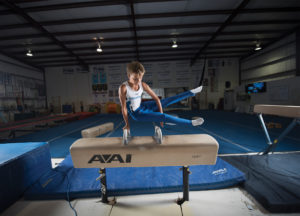 What would you say to encourage other young athletes to work as hard as you do?
Definitely that it's not really scary once you believe in yourself. You can't look at something new and say 'I might be able to do that.' You have to say 'I'm going to do it for sure.' You have to really believe in yourself.
Is gymnastics your only sport?
No, I'm on the swim team too.
So, what have you learned from being a member of the swim team?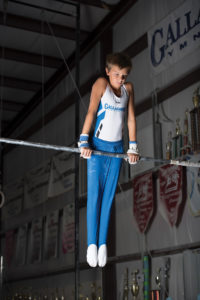 Well, that's different. I've learned different strokes and how it's important to have good technique. You have to learn that you can't be all floppy in your stroke. That's important.
With gymnastics, swimming, and schoolwork, do you have time for any other hobbies?
Absolutely! I play basketball and soccer. I love to kick the ball around. (At this point, Evan's mom interjects, "Don't forget about your magic tricks," and Evan breaks into a huge smile). I do magic tricks as well and card tricks, and I have a box that can make things disappear.
Tell us what keeps you coming back to the gym every week.
It's really fun to learn new skills. Right now, I'm learning a kip on the parallel bars (a connecting move between bars) and it's not too hard.
Do you have a ritual or lucky item that you need before a competition?
I do. I have a Star Olympian towel, that's my lucky towel. It goes with me to the competitions and sometimes I just take it out for good luck.
At this point in the interview, Evan (whose mom notes that he's also "very good at volleyball") is itching to return to the gym where the parallel bars beckon and no one is asking nosy questions. The Level Six competition awaits, bringing the realization of his Junior Olympic dream one medal closer.
Leave a Reply
comments
Powered by Facebook Comments