Photography by Paul Johnson Photography
Mariah and Jared's love story began when their mothers planted the idea of getting together. They went to the same high school and even grew up on the same street. Since high school, the two would bump into each other once or twice a year and would say hello, but nothing more than a few words were exchanged.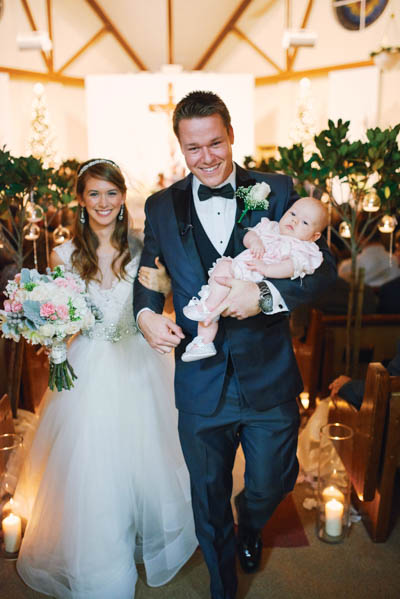 Seven years went by before they went out on their first date in 2012. "Initially neither Mariah or Jared wanted a relationship," Mariah's mother, Laura Baker, remembers. But something happened once they started seeing each other. Romance blossomed and Mariah and Jared knew almost immediately that they were meant to be together. "We fell in love quickly and adopted the motto, 'when you know, you know,'" Mariah says. The happy groom says Mariah is the best person he's ever met. "I immediately fell in love with her after our first date and knew I wanted to be with her every day." Mariah echoes his sweet words saying Jared is the kindest and happiest person she knows.
At the beginning of their relationship, Jared was the head football coach at North Bay Haven Charter Academy. The couple had been together for seven months when Mariah had a hunch that a proposal was on its way but she thought it would happen on an upcoming vacation. Jared, however, gave Mariah the surprise of her life when at a game she was called to the football field where he knelt in front of her and asked to spend the rest of their lives together. Mariah, of course, said yes while the entire field and all spectators cheered them on. When Jared asked for Mariah's hand, she was so elated and nervous  ,her entire body was shaking. The couple began planning for a wedding in the summer of 2014. 'Save the dates' were sent and the venue was booked, but nature had other plans for them. Mariah and Jared found out that they would be welcoming their first child together, a baby girl. The bride- and groom-to-be considered their options. They tried to move up the wedding but sacrifices would have to be made to make it work and, finally, they opted to postpone the nuptials until after their daughter's birth so they could focus on her arrival and have the wedding they always imagined. The addition to their family may have been unexpected, but Mariah sees it as the best thing that ever happened to them. "It really made us stronger and it validated all the feelings we were having," she says.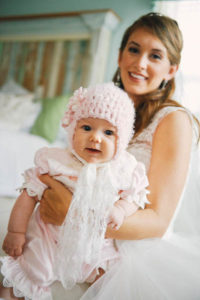 Leighton Belle Hale came into the world on September 17, 2014 weighing 6 pounds, 14.7 ounces.
The wedding planning continued and Mariah and Jared finally said "I do" on a wintry day in January 2015. "Looking back, we wouldn't have had it any other way," says Mariah.
The ceremony and reception were the very definition of happiness. After exchanging vows, Mariah and Jared walked down the aisle of St. John the Evangelist Catholic Church with Leighton happily cooing in daddy's arms. Mariah remembers thinking she had never seen the church that beautiful. To her, the location was very special because her parents said their vows on the very same altar. Mariah was also christened at the church and, only days before the wedding, Leighton was christened there as well. Mariah walked down the aisle in a stunning Lazaro gown with her 10 bridesmaids who were outfitted in long, dusty plum gowns. The reception was a dream. Following the ceremony, Mariah changed into another Lazaro gown, that was custom made for her. Towering centerpieces and botanical themes enveloped guests in a cloud of romantic air. Jared's favorite cover band, Fly By Radio, entertained guests and kept them dancing through the night. "Our reception was filled with great music, dancing, a few happy tears, and enough love to last a lifetime," Mariah says.
Since tying the knot, Mr. and Mrs. Hale say the biggest change in their lives has been their daughter, Leighton. The young girl is now a toddler and keeps her parents running after her. Their love, however, makes all the difference.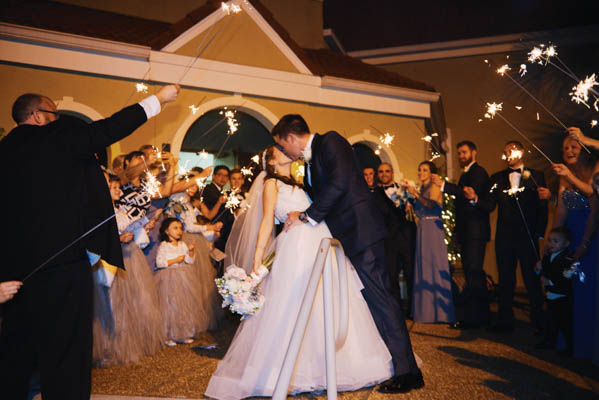 "Love life together and have fun. Positive thoughts equal positive results."
"Our loving marriage has made growing into parenthood extra special," Mariah says.
Jared recommends to couples that they always work as a team and try not to take life too seriously. "Love life together and have fun. Positive thoughts equal positive results." Mariah is a kindergarten teacher at Patronis Elementary School and Jared is a teacher at Palm Bay Academy as well as being an assistant football coach and head weightlifting coach at Bay High School. Mariah and Jared would like to thank their community for helping make their wedding special. Currently, Mariah and Jared are planning an anniversary trip to watch their favorite hockey and football teams play in Pittsburgh. In  the future, the Hales look forward to growing their family and raising their children in the Panama City community.
Leave a Reply
comments
Powered by Facebook Comments