By Laura Roesch, Photography by Michael Booini
Wesley Smith is a long-time Nissan enthusiast. When he was a teenager, his father helped him buy a black four-wheel drive 1999 Nissan Frontier pickup truck, but it was the Nissan 350Z that captured Wesley's imagination. When a new model was released in early 2003, Wesley and one of his friends visited a local dealership just to look at the car's dramatic shape and curves. He was not able to purchase one back then, but knew that his time would come. Six years later, he owned his dream car, a 2004 350Z. The six-speed manual car was "stock." It did not stay that way long.
You have found your Z, and your dream car. But you have modified it.
Yes! It started out pretty much original, with a stock interior, exhaust, and motor. Over time I have made many modifications to improve performance – first for autocross and now for track racing.
A quick look reveals it cannot possibly be your daily driver.  Are you your own pit crew?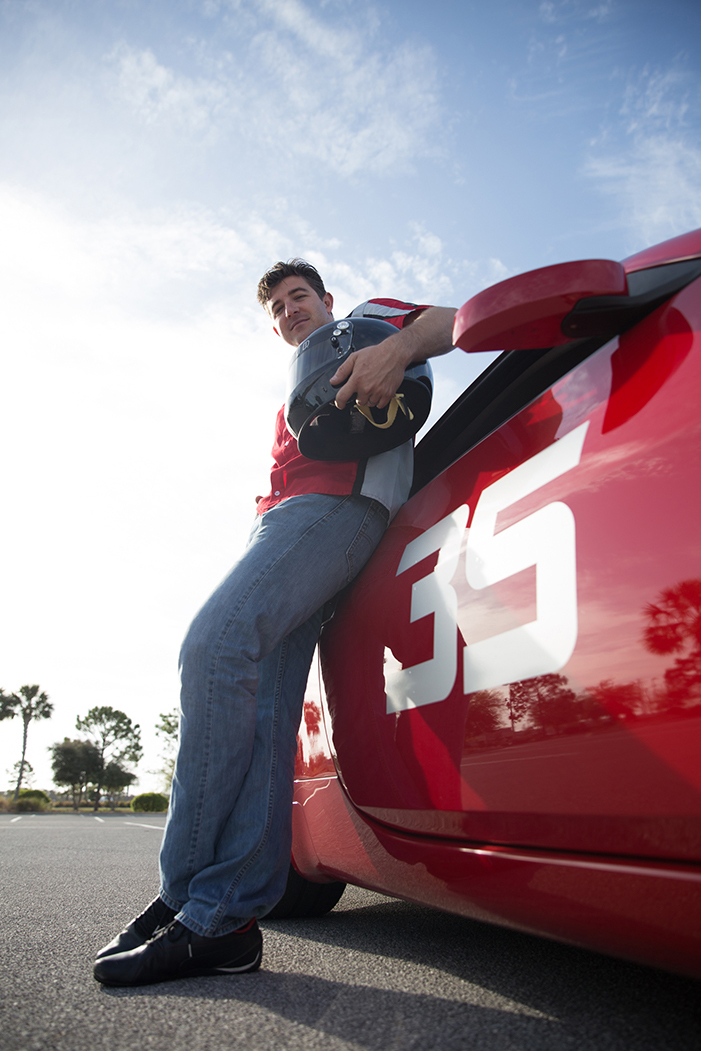 Definitely not my daily driver. I will occasionally drive it on the last day of each month to Cars & Coffee, a gathering of car owners and enthusiasts on Panama City Beach. Or to local car shows and cruise-ins. I do all my own work, except for a professional tuning. I've changed the wheels out, installed a fully adjustable suspension, and all the control arms are after-market. The bushings are also aftermarket, either urethane or solid. I installed an upgraded flywheel and clutch, exhaust, and intake. I installed a vented carbon fiber hood, which is much lighter than the stock hood. And the lighter weight also increases engine-cooling efficiency. I have also added an oil cooler, upgraded radiator, and a NISMO-finned differential cover to counteract heating issues. Most of the interior has been removed, again to decrease the car's overall weight. A roll bar, racing seats, and racing harnesses were added, too. I also installed a big brake kit, as well as having a dedicated set of racing brake pads for track events.
It looks like you've also changed the spoilers on the front and rear?
Yes, to improve the car's aerodynamics at high speeds. The splitter on the front end helps produce a little bit of down force on the car, which is then counteracted by the rear NISMO racing spoiler.
What experience did you have for this kind of driving?
Absolutely none! I just worked up to it.
Surely one does not "work up to it" in normal daily driving?
(laughing) I started off with autocross driving. I had just installed a new suspension and took it to Zephyr Stadium in New Orleans for my first autocross event. I had a blast; people were so encouraging! You race against a clock through a course outlined by cones; there is no wheel-to-wheel interference. It is a safe environment for learning. Then I began going to autocross in Dothan.
Later I met Dave Smith and a few of his crew from Smith Motor Works here in Panama City.
Although my car is nowhere near the caliber of theirs and the other cars that go to these kinds of events, they welcomed me like one of their own. That is what is so wonderful about cars, you meet so many great people. And I have so much help from my friends in preparing for and going to these events.
How did you move from autocross to road track racing?
With Dave's encouragement, in 2015 I went with him to Roebling Road Raceway near Savannah, Georgia, and drove my first race. The 2.02-mile asphalt road course is a good track for a novice because of its forgiving runoffs, so if you make a mistake you don't have to worry about slamming into a wall or barrier, unlike some other tracks. Fortunately, Dave was my instructor.
What does it take to race a car that you have put so much work into?
I was petrified! Having a seasoned driver like Dave in the car critiquing my every move was very intimidating. Also, that particular event was the first time the event host, Porsche Cars of America (PCA), required instructors of novice drivers to actually drive the car first. So Dave drove for the first three laps. We were lined up behind a C7 Z06 Corvette. Dave was just sticking to that guy's bumper; and we were flying through the corners on cold laps!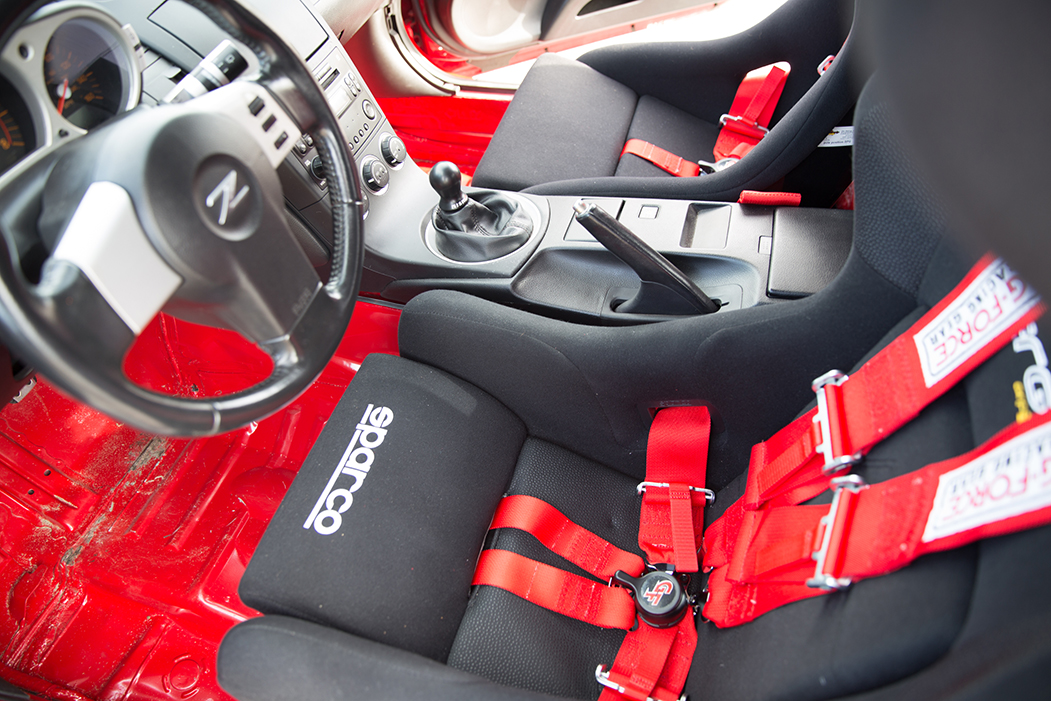 What were you thinking at that point?
"My car cannot do this!" But it did, without hesitation! And then I realized I had no concept of the Z's capability. My only experience was autocross, although I always did pretty well in overall standings and finished well. But autocross could not be more different than road track racing. In autocross everything is intense. Steering input is abrupt; you run hard on the brake, the gas, and turning.  That's the opposite of a road course where driving must be fluid, smooth, subtle, without harsh inputs. Afterwards, I was on Cloud 11! I was, and still am, addicted. And the Z performed far better than I ever imagined.
Is it accurate to call it a race?
A better description is that it is high performance driver education, also called HPDE. The point is to teach a driver advanced car control, or high-speed car control. The setting on the track is very structured. The drivers and their cars are divided into groups based on driving experience. There are clearly-defined safety rules such as no passing of another car, unless that car gives you a signal acknowledging you can pass. This diminishes the risk of car contact. But there is always a competitive spirit!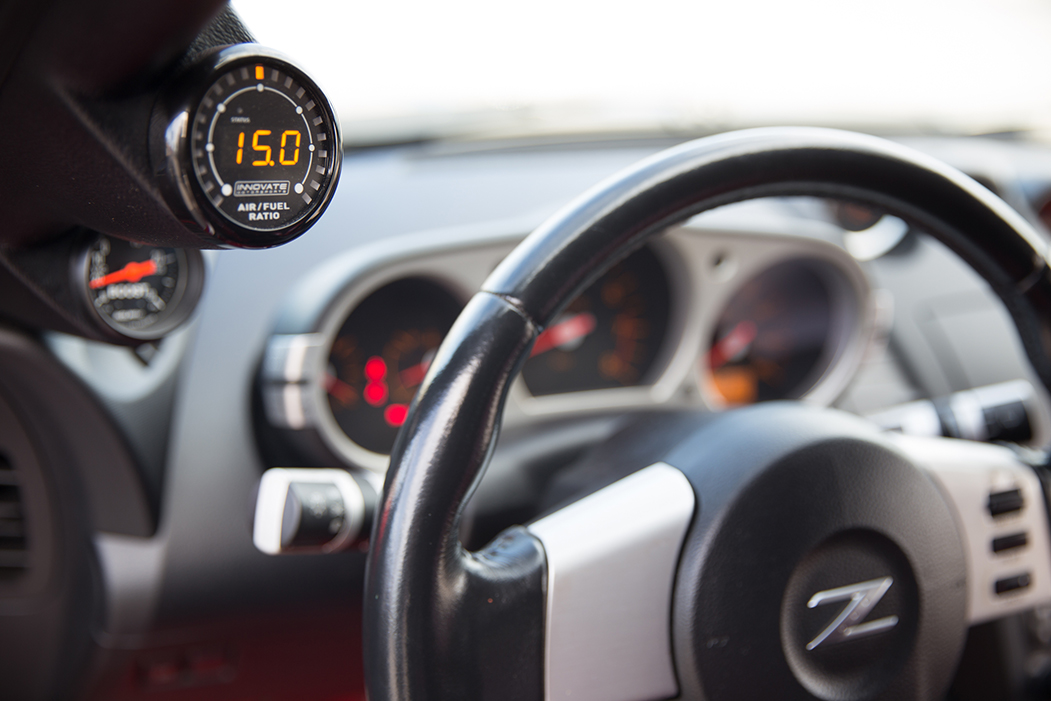 You say that with a bit of a twinkle in your eye… 
Yes…In my particular running group that day, there was a Dodge Viper. A Viper had been one of my childhood dream cars and I had made many models of Vipers in my teen years. So when I spotted that Viper on the track, I made it a personal goal to pass it by the end of the two-day event. And by Sunday afternoon I had gained enough confidence with the Z that we were able to catch the Viper and stick to his bumper so that he had to give me the sign to pass. And I did; I was able to overtake that car! That gave me confidence; I set a goal early on, and worked my way through it.
What other tracks have you driven?
The NOLA Motorsports Park track in New Orleans. It's a 2.75-mile course with 16 turns. This spring I will also run the course at Barber Motorsports Park, in Leeds, Alabama. It's a 2.38-mile asphalt course with 16 turns.
I seem to recall a video clip taken from an onboard car camera following behind a certain red Z at NOLA, with a big "35" visible on the side…I also recall a bit of excitement caught on camera… 
Oh, yes; I was running well that day, except when I managed to go off the track. I didn't actually spin out. I was able to save it, but I went "4 wheels off," which means I had to exit the track and speak to the track's safety steward and show that I was able to demonstrate an understanding of why I went off track. It was a driver error on my part as I was trying to catch up with a friend ahead of me. I closed in a little faster than I should have. Fortunately that track has a lot of runoff and is fairly forgiving, except for one corner, and I am quite mindful of that particular corner. Lesson learned: Don't be so cocky!
I understand you had a bit of a hiatus last summer involving a particularly special trip?
Yes! For our tenth wedding anniversary, my wife Katie and I traveled to Thailand, Cambodia, and Japan. In Japan we toured NISMO, Nissan's racing division.  We met some of the mechanics there who autographed a towel for me. We then visited the Nissan Global Headquarters, and saw the cars Nissan had on display there. It was a fantastic opportunity to see the origin of Nissan. It was a trip of a lifetime . . . and a great wedding anniversary, too!
Wesley plans to continue fine tuning the Z to make it the best it can possibly be. He will continue honing his racing skills in pursuit of advancing time trials and other competitive racing opportunities.
Leave a Reply
comments
Powered by Facebook Comments