BY LAURA ROESCH | PHOTOGRAPHY BY BONNIE BRANT
Matt Law's daily "commute to his office" is a walk of 100 feet from the back door of his home to his luthier workshop where he repairs and builds string instruments. With all the virtues that you would expect from a luthier; patience and dedication to an artisan profession, attention to detail, superior knowledge of materials and instruments, and the talent to play several of them, including drums, mandolin, bass guitar, guitar, and ukulele, what does Matt do for balance and relaxation? The answer is parked in his garage where he stores an impressive collection of British motorcycles.
Why British? He ponders the question for just a moment, then grins and says, "Back when I was a kid, British bikes were all the rage: BSA, Triumph, Norton. You name it. I loved them all. Steve McQueen rode one. Marlon Brando rode one. Fonzie rode one. And I still think they're cool, so I ride one."
Matt also remembers the motorcycle his stepdad owned years ago. It was a brand-new 1973 Triumph Tiger 750. At the age of 9, Matt made a promise to himself that when he grew up, he would own the very same model his stepdad owned. Matt kept that promise. Yes, he has owned other motorcycles as a young man, but they became less of a priority after marriage and children, so he sold them. Later, when his children were in middle school, Matt was stunned to receive a medical diagnosis that meant he would eventually lose his sight. It was a catalyst for his decision to own another motorcycle before losing his sight – he bought his first Royal Enfield Bullet. Fortunately, the medical diagnosis turned out to be in error but the motorcycle and all the passion for it remained, sparking the beginning of a larger collection currently consisting of three Royal Enfield Bullets and the Triumph Tiger 750 he coveted as a young boy.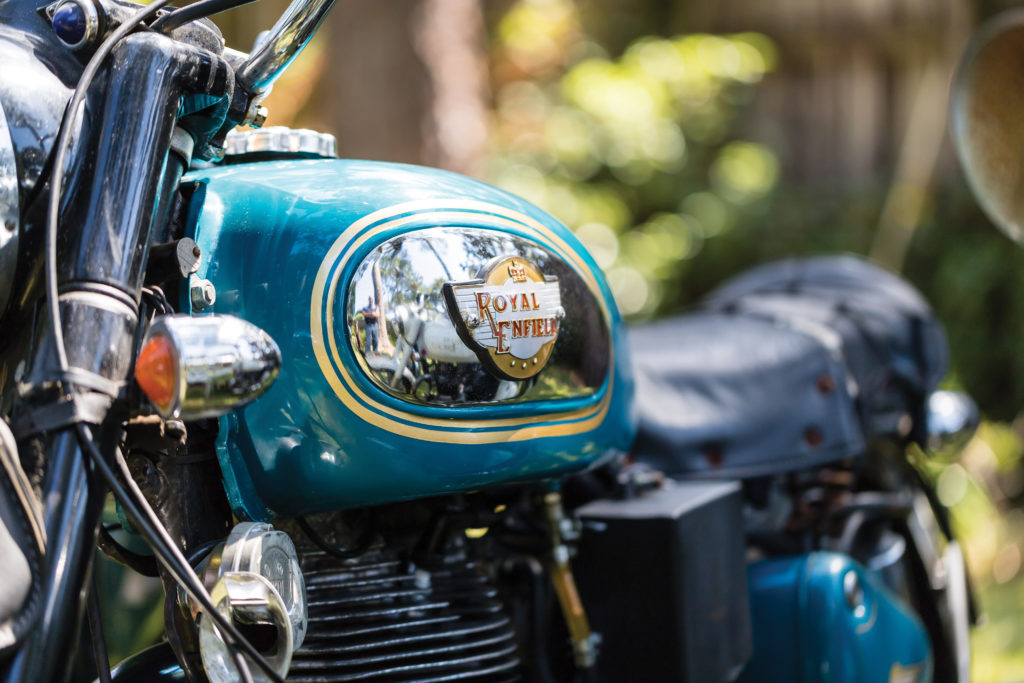 Royal Enfield is considered the oldest continually produced motorcycle brand still in production. First built in 1901 by the Enfield Cycle Company Limited in Worcestershire, England, the motorcycles are now produced exclusively in India by a subsidiary of Enfield. The 500cc single-cylinder iron head Bullet is the longest-lived motorcycle design in motorcycle history. Matt describes his bikes as 1955 models, noting that, although they were manufactured in 1999, 2000, and 2002, Royal Enfield has manufactured basically the same model from 1955 to 2008 (when fuel injection became an option) with little change in appearance. The parts are interchangeable, yet each of his bikes has its own distinctive quirks, different sound, and each rides differently, despite having identical seats, suspension, and tires.
Thanks to the Bullet's deep, gravelly rumble and its powerful low-end torque, the motorcycle is sometimes called a two-wheeled tractor. Matt acquired his Bullets separately – each inoperable when he first bought it. Now they all run and, he says somewhat hesitantly, they are reliable. Matt keeps all the bikes in running condition and credits his mechanical skills to military training, "Give me a manual and some tools and I can figure out how to fix anything," he says. He candidly acknowledges the frequent occurrence of oil leaks, and he never rides anywhere on the bikes without making sure that he has a spare spark plug. "I keep a spark plug in a pocket of each jacket I own," he laughs and adds, "So the bikes leak oil, and maybe they are not always the most reliable. To me, the character is more important." He also carries spare cables onboard each bike; if a brake or clutch or a throttle cable breaks, Matt can fix it on the side of the road, a circumstance that is not out of the realm of possibility.
For years Matt's motorcycles were his daily drivers, but now that his commute no longer requires vehicular means, he doesn't ride as much as he would like. Yet he can't resist tearing himself away from his luthier workshop on gorgeous, sunny afternoons to go for a quick ride. "I will always own a motorcycle, as long as I am able to throw a leg over one," he chuckles and reports on his latest project, a 1959 Indian Chief, another bike he has always wanted. The bike doesn't run yet, but Matt says it will. And that's another promise he plans to keep.