- By Laura Roesch, Photography by Michael Booini
Henry Day is a distinguished gentleman with a calm voice and a confident and relaxed presence as he speaks about his life-long passion for fine automobiles and a penchant for fast cars.
The faster the better, according to his wife, Jo Ann. "He has a real need for speed," she chuckles. We are standing in the middle of their immaculate garage admiring their car collection. All around us are beautiful examples of hot rod muscle cars, or "restomods," cars that have been restored and modified so that their exterior is classic in appearance, but their mechanics and interior completely modern. The Day's car collection is all-American. Well, except for the 1984 Pantera, but that's another story.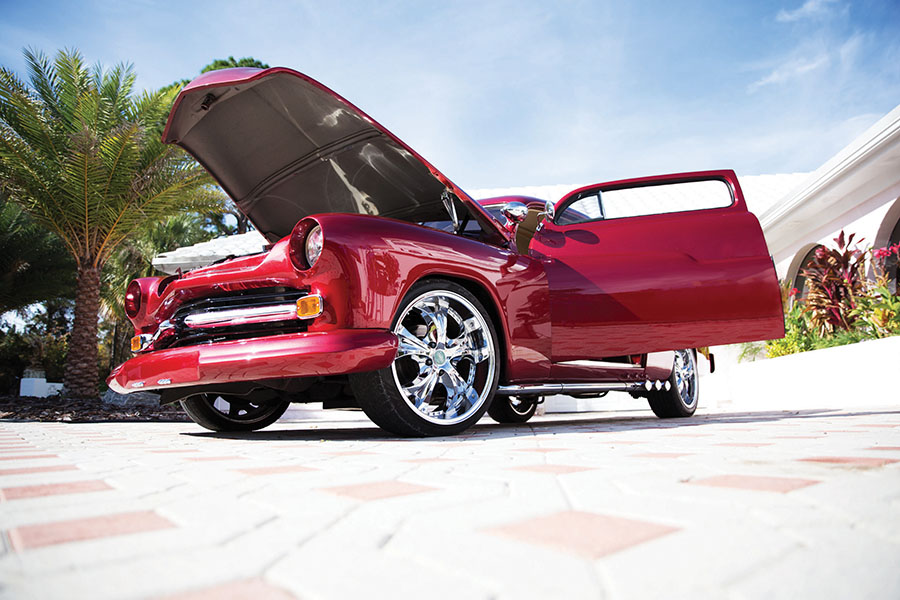 The most eye catching is a sleek 1951 Mercury Monterey two-door coupe. Looking at it in profile, it appears to be "hunkered down," ready to launch when the light turns green. The look is intentional. The roof has been chopped four inches and with a 525 cubic inch 600 horsepower Cadillac engine and 1979 Cadillac Coupe De Ville suspension, it easily reaches 87 mph in 8 seconds on a 1/8 mile drag strip. The hood corners have been rounded and front and center is a Gremlin grill. Its interior includes all possible modern amenities, including Lexus seats of luxurious leather and suede. Most of the wrench-turning maintenance is done by Henry, and Jo Ann is no stranger to turning a wrench when smaller hands are needed. The mirror-image paint job is the work of local Elliott Brothers Paint and Body. Of all the cars owned by the Days, the Mercury is likely Jo Ann's favorite. "The car's ride is so smooth; it feels just like gliding down the road," Jo Ann explains. Henry loves them all, and is constantly trying to figure out how he can make them go faster.
Henry vividly recalls riding in his friend's 1949 Mercury Monterey in the 1950s. It looked much like the Mercury the Days now own.
Movie buffs will recognize the Mercury Monterey coupes from the 1955 movie of teenage angst, "Rebel Without a Cause." James Dean's "cool factor" was certainly enhanced by the 1949 Mercury he drove in the movie. The distinctive looks of a 1950 Mercury Monterey also played a prominent part in the 1986 Sylvester Stallone movie, "Cobra."
Henry searched for years to find an especially nice Mercury that he could restore himself. Ten years ago they finally found theirs near St. Louis, Missouri and drove it home. The condition was "so so," he says. The car came with paperwork documenting its history, including records about the person who owned the car from 1972 to 1994 after buying it at a junk yard for $50. Originally, a Mercury Monterey's base price was $2,325 when bought new. Today, after extensive modifications, it is precisely the car Henry envisioned – "With a hopped up engine, gorgeous paint, and a new interior."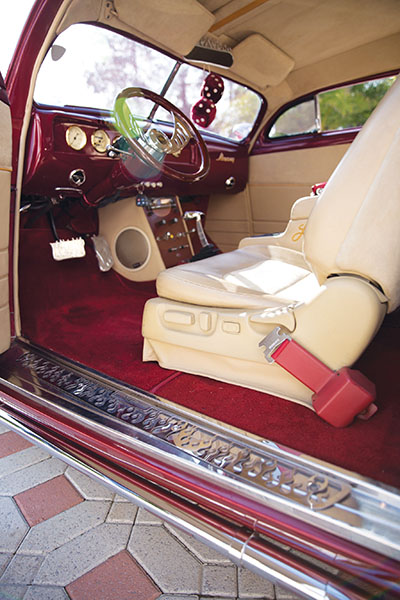 Muscle car aficionados will recognize the Day's Mercury as a "Lead Sled" which, in automotive speak, is a phrase used to describe production cars that undergo certain modifications, including having the roof "chopped" and their bodies smoothed by the application of molten lead to conceal joints and repair damaged body parts. This method was common in
the era before plastic body filler and fiberglass came into existence. "Sled" refers to the requisite lowering of the cars. Headlights, taillights, radio antennae, and license plates are recessed, a technique called "frenching." All factory trim, emblems, and badge work is removed as these are considered undesirable distractions from the car's smooth lines.
Lead sleds are known for their stylized appearance, although not necessarily for speed. Not so for the Day's "lead sled." It is both sleekly stylish and seriously built for speed. Henry and Jo Ann enthusiastically describe their drag strip experiences with the Mercury and their other cars. They have raced all of them at Breakaway Dragway, an 1/8 mile concrete and asphalt drag strip in northern Bay County that operated from 1991 until its closure a few years ago. Local car clubs from all over the Florida Panhandle competed there in bracket racing competitions. Bracket racing, Henry explains, allows all cars regardless of engine type to race, as it factors in a handicap between predicted elapsed time of the competing cars over the length of the race. He modestly says they "did real well racing all cars" and estimates their time anywhere from mid 7 seconds to 8 seconds in a straight-line acceleration between two competing cars on the drag strip.
Jo Ann points out that Henry's need for speed is not limited to four-wheeled vehicles. He was a three-time world-champion tunnel hull boat racer in the late 60s to mid 70s. A 35' Fountain Sport Boat docked behind the home, designed for speeds in excess of 100 mph, makes Henry's eyes twinkle. He can vouch for the boat's capabilities, he remarks. Jo Ann is proud of her veteran 82nd Airborne Paratrooper husband, and the very thought of him jumping out of an airplane seems to fall right in with his passionate desire for that larger than life feeling!
Henry owned various automobile dealerships during his 35 years in Atlanta. He moved to Bay County in 1987, traveling back and forth between Atlanta and Panama City Beach for work. He retired in 2010 and Panama City Beach became his full-time home. Henry and Jo Ann seem like newlyweds, and Henry points out they have been married just 17 years. Jo Ann admits she was not a "car person" before they met but she definitely is one now. You may see the Days out and about in their Mercury as they often drive all their cars. As Henry says, the cars "like to be driven," but the one car he would drive anywhere, regardless of distance, is the Mercury because simply put, they could arrive wherever they were going very quickly, if they chose to.
Leave a Reply
comments
Powered by Facebook Comments